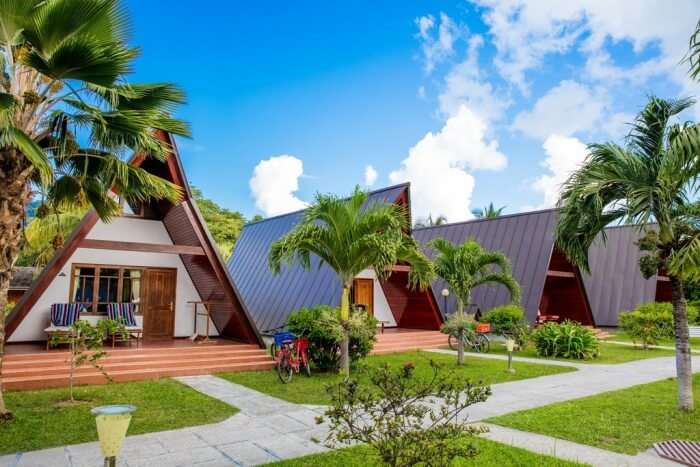 Overview
La Digue is a part of the paradise called Seychelles and is located in Mahe. The best way to be in this paradise is by staying in La Digue hotels. The beaches of La Digue appear on many of the glossy magazines that feature beach destinations. Jade green waters and gorgeous beaches surround this tropical paradise and bordered with lush green mountains. La Digue is very laid back compared to other islands of Mahe and Praslin, and La Digue Seychelles hotels offer an unprecedented experience. There is a lot to do in La Digue other than just lounging on the beach like visiting the vanilla plantations under the giant palm trees.Rent a bicycle and ride through the dirt roads of these plantations in hotel La Digue of Seychelles. The Granite Mountains are never out of sight, and this makes La Digue an entirely outdoor place. The best way to experience this amazing sight is to stay in hotels in La Digue. Though La Digue is a small island, it offers many activities and attractions to visitors. La Digue Island hotels offer easy access to hiking, trekking, walking and kayaking through vanilla plantations, and this experience can out of this world for many visitors. Tourists can learn about the unique fauna and flora that grow on the island. Once they reach the top of the island, the views are a treat for the eyes and breathtaking.
Special Experiences
Some of the best experiences in life remain in the memories and photographs capture them forever. If tourists are looking to capture such memories forever, then La Digue is the picture perfect beach. Many La Digue hotels offer fantastic views of the place right from the balconies of the suites. Chez Michelin has an excellent location and is one of the best hotels in La Digue Island Seychelles. It is located at the foothills of Granite Mountains and where the beach touches the base of the mountains. The location is the best in Seychelles. This La Digue hotel has a contemporary décor and is surrounded by lush green tropical garden. The amenities provided in the best hotel in La Digue Seychelles are good room service, beautiful lobby and private access to the beach and the panoramic plantations around the hotel. The resort also includes a spa and wellness centre. The rooms also have a hot tub and a Jacuzzi. High-speed internet is free here along with a buffet breakfast. It is a 3-star resort, and it offers five-star quality services at 3-star prices.
Facilities
There are so many hotels in La Digue Seychelles that one will be spoilt for choices. Patatran Village is a 3-star hotel in La Digue located on the beach with a beautiful view of the ocean. All the rooms here face the sea and offer an unobstructed view of the entire La Digue Beach. This is one of the highly rated La Digue hotels and is very popular among tourists. There are different types of properties to rent like a bungalow, suite, and private rooms. The hotel has an in-house laundry service and guides to take the tourists around. Every room has a mini bar and a refrigerator stocked with soft drinks and water. This La Digue Island Seychelles hotel has been rated very high for its cleanliness and the prompt housekeeping services. However, Wi-Fi is available only in the lobby.
Dining
There are several options for dining in the best hotels in La Digue. There are 5-star La Digue hotels in Seychelles which have high-class restaurants for fine dining and also local restaurants that serve local food, including takeaway. Chez Jules Restaurant serves all types of food, and their octopus curry is to die for. Many people come here only for the fantastic fresh food that is served made with a lot of care and recipes that are sourced from different cuisines. All they serve are specialty dishes and is not available anywhere else in Seychelles. It is worth a visit for dinner and this also a La Digue island lodge hotel in Seychelles. For fine-dining, there are hotels like Hilton and Imperial which serve food from all over the world. They are highly priced, and if budget is not a constraint, it can be a great experience as well. The 5-star La Digue hotels and restaurants are rated for their high-quality service and ambiance. However, it will be more like formal dining.
FAQs
Q1. Why is La Digue such a popular place?
A. La Digue is popular for its endless attractions and the range of activities that tourists can indulge in.
Q2. Are pets allowed in beach hotels in La Digue?
A. Yes, pets are allowed in most La Digue hotels and beaches of La Digue
Q3. Which beach hotels in Seychelles are the closest to the airport?
A. Many beach hotels that are close to Victoria and Eden Island are actually within a stone's throw distance from the airport.
Q4. What cuisines are served in hotels in Seychelles?
A. Creole, Italian, Spanish, French, and Asian cuisines are served in most La Digue hotels and restaurants.
Q5. Which are some of the best resorts in La Digue?
A. Chez Michelin, Patatran Village, Moonlight Beach Villa and Hilton Beach Resort are outstanding in La Digue.
La Digue hotels undoubtedly are a tourist's paradise as it offers them a lot more than any other island in Seychelles. The restaurants and resorts of La Digue serve their guests in the best possible way and provide them with an unforgettable experience. The best part is Seychelles La Digue hotels are located on the turquoise beaches and close to the plantations as well. Some are nestled in the forests offering superb views of the mountains and the tropical vegetation. The water is warm throughout the year and is ideal for surfing. In fact, it is the perfect spot to surf as it is windy and this gives the waves a roll and makes surfing exciting and thrilling. There is so much a tourist can do in La Digue, and the adventure activities are the highest on this island. A range of activities like hiking, trekking, biking, kayaking, parasailing, scuba diving, snorkeling and much more is offered on this island.