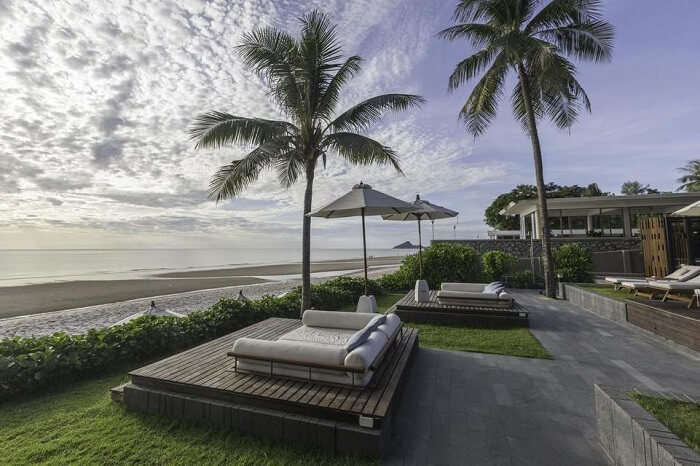 Overview
Hua Hin is one of the latest places with the spotlight when it comes to tourism for fine resort experiences. It is a resort town in the northern part of the Malay Peninsula in Thailand. As it is, Thailand has a number of beach towns with booming tourism industries and this one added to it just makes it quite an experience to ponder. After Phuket and Bangkok, Hua Hin comes next when it comes to must-visit tourism hubs in Thailand, with a large exodus of beach-enjoyment and shopping in a store. It is an ideal spot for honeymoons, family trips but it is tailor-made for couple visits, especially ones who're newly wedded or celebrating a milestone in their relationships. Luxury resort Hua Hin are certainly aplenty here, with no shortage of plush multi-facility enabled resorts of the highest range when it comes to entertainment and other such aspects. If travelers are looking for the ultimate beach and pool all-in-one experience, then Cape Nidhra Hotel could be a go-to-place for all the best amenities on offer. Located by the sea, it has a clear-beach view along with lush coconut trees that border the ocean, making for a great view and time
Special Experiences
Such trips can be very important to families for bonding time as well as putting one's feet up, to relax in the sun. For a true 5 star-experience (or beyond), V Villas Hua Hin, MGallery by Sofitel is the place to be. With villa-side pool, plush massage and body spa on service, this place can get quite thrilling. Or even the Anantara Hua Hin Resort will settle the deal when travelers are looking for luxury 5-star experiences. The massages and spas are just not to be missed, along with water sports adventures that are quite close within the area of one's choice.
Facilities
Hua Hin has a large variety of activities to choose from, luxury resort Hua Hin, in particular, won't be short of such facilities, which are mind-blowing and beyond one's imagination. Thai food is the most recommended delight here apart from the stay and massage services. If That food isn't the thing, one can still choose from a plethora of cuisines to suit the palate perfectly. The pool services in all the aforementioned luxury resort Hua Hin are just brilliant, and it's recommended that travelers should spend every morning there, to soak in some heat as well as a warm-up for the beach experience, by dipping into the water at the pools. If beach-side shacks are on one's mind, then Putahracsa Hua Hin is the perfect destination. With affordable rooms, this resort is located by the beach, where one can relax on sleeping-chairs, soaking in the best beach experience. Hyatt Regency Hua Hin has some amazing ambiance and hospitality. The usual laundry, house-keeping, and room-service facilities are beyond up-to-standard, with them bettering the standards set by resorts in other holiday destinations.
Dining
Since the luxury resort Hua Hin would be an empty experience without restaurants, all or if not all, most of them have attached restaurants where the chefs serve up exquisite dishes to match the other luxuries doled out by the resorts. As mentioned, one gets a variety of cuisines to choose from, and Thai food is just mind-babbling in any of the in-house restaurants. Alcohol is served in limitless quantities, so travelers can enjoy the stay more than ever. If guests are too inebriated to drive, don't worry as they have great shuttling services across the city to give one extravagant view of Hua Hin. The staff are beyond friendly and will go onto help one decide the choice of visits to the city as well, just tip them, and they'll be happy to serve the guests for the trip duration. There are good resto-bar services along with bars by the pool and even the beach if the luxury piece is located by the beach that is. Professional bartenders are found making luxury drinks to match one's taste.
FAQs
Q1. Which area should one stay in Hua Hin?
A. The nightlife is said to be the best in the Northern part of Hua Hin.
Q2. Are the hotels in Hua Hin pet-friendly?
A. No, the resorts in Hua Hin are not pet-friendly.
Q3. How early should one book their tickets and reservation?
A. At least a month or two in advance, if the traveler is looking to visit in the best time, which is summer.
Q4. Are there good transport facilities?
A. If checking into a 5-star, one should have airport pick up service, and then great shuttling services make life easier.
Q5. Do hotels in Hua Hin serve Indian food?
A. Yes, hotels in Hua Hin serve Indian food, but be sure to check at the time of reservation of resort, most of them have mainly Thai delicacies but are known to serve Indian or versions of Indian food.
With an abundance of luxury resort Hua Hin to choose from, picking the right one can be a hard task. If one is looking for a true 5-star experience then travelers can go for the services at Hilton Hua Resort & Spa, with Thailand being known for its amazing massage and spa service, Hilton is the ultimate experience that one cannot afford to miss when in Thailand. If ultimate luxury is in one's mind, then travelers should hop on over to Hua Hin Marriot Resort and Spa, both these luxury resorts have excellent spa services, something to give one both an amazing time and a feeling of relief as well, to go with. If couples prefer having single villas attached with pools, then Itz Time Hua Hin Pool Villa will do the trick. Luxury resorts Hua Hin in Thailand certainly aren't to be missed and here's a few other notable ones that fit the duck's bill too – Intercontinental Hua Hin Resort, Devasom Hua Hin Resort, Aleenta Hua Hin Resort.