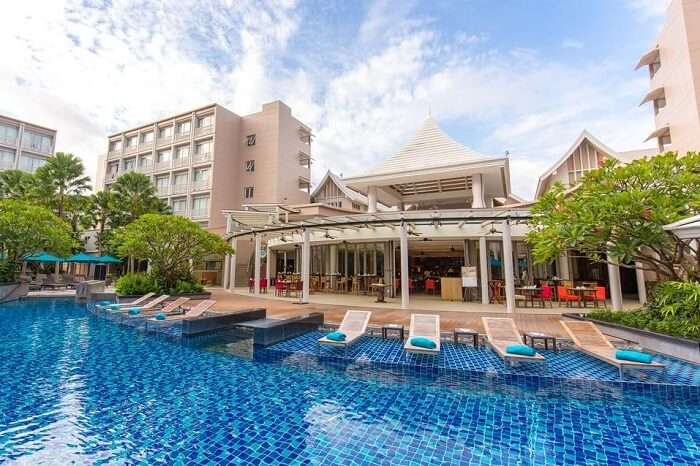 Overview
Whether traveling with family, a group of friends, or as a newly married couple, finding the ideal hotel is as essential as taking mini-breaks in a year. To help one avail the best hotel experience, we have the Patong 5 star hotels. Thailand is a lovely country popular for its Thai massages and temples. It is also home to several animals, watersports, birds, and beaches as well. The majestic elephants are the glory and pride of Thailand. Over 5000 elephants are present in Thailand. It was previously known by names such as Sukhothai, Ayutthaya, Siam, and Thonburi. People here not just warm and welcoming but they also live as traditional joint families too. Thai is the national language of the country. However, people here also speak Chinese and Vietnamese also. Thailand comprises of numerous islands. It's the largest island is Phuket that is located on the west side of the country. It is also the wealthiest islands of Thailand. It is a great area where people can live out of tourism and trade activities. The island is covered with brooks and mountains. It is a popular destination one must visit if one steps into Thailand. Before missing out on the chance, book marvelous Patong 5 Star Hotels
Special Experiences
There are diverse special experiences that are offered by Patong 5 star hotels. Tourists residing at these hotels get to go visit theme parks, cultural shows, and feasts that are extremely popular in Phuket. Some hotels open to vast sandy beaches where travelers can chill in sunbeds sipping on coconut waters. Tours and customized itineraries are also offered by numerous hotels at this location. The hotels also have relaxation centers that loosen and regenerate every point on the body of senses of any visitor. Some exotic massages include Thai massage, Swedish massage, Shiatsu massage, and Balinese massage. There is luxurious massage also conducted separately for newly married couples and partners.
Facilities
There is a wide range of facilities provided by Patong 5 star hotels. The hotels come in various styles of accommodating which include standard, family, friends, connected, and suites. Some also include business rooms as well. There are special honeymoon suites for couples too. These rooms have personal care and bathroom accessories provided. They also come with electronics, beverage makers, seating areas, kitchen, balcony, wide windows, and indoor heated swimming pools with music systems. The hotels have hospital staff that responds to discomfort and other requirements immediately. The hotels also provide customers with car hire facility with chauffeur service. Other incorporated facilities include fire alarms, telephone, laundry, housekeeping, and parking.
Dining
The Patong 5 star hotels. have the world's most exquisite menu available in their restaurants. They include all international and continental food which comes in more than 7 cuisines. The cooks are extremely disciplined and make sure people eat clean and healthy food only. Couples enjoy a special dining menu at candlelight dinners or private dining sessions. Other travelers and tourists enjoy a special poolside menu. Children and young kids are provided with eye-catchy and mouth-watering eateries as well so that do not fuss over eating food. Dining facilities also include bars. These sports bars have their own restaurants that provide guests with starters, appetizers, and alcohols.
FAQs
Q1. What are the best places to visit at Phuket?
A. The best places to visit at Phuket include Karon Beach, Phuket FantaSea, Big Buddha, Wat Chalong, Kamala Beach, Karon View Point, and much more.
Q2. What is the best time to visit Thailand?
A. The best time to visit Thailand is between the months of November and April.
Q3. What is the weather at Phuket like?
A. During April to June, the weather is hot and from July to November, it is rainy.
Q4. Can one drink from tap water at Phuket?
A. No, it is not recommended to drink from tap water at Phuket.
Q5. Are there any precautions I should take care while swimming at Phuket?
A. Yes, do not swim in the sea if there is a red flag. Also, sometimes the tides could be rough, avoid swimming in such situations.
This summer break, revive senses, muscles, and thoughts at the Patong 5 star hotels. Get to avail special services which include rejuvenating and awakening spa sessions, a state of the art fitness center and amazing pools. Get to taste inviting and tasty food that is undeniably splendid. Children and young kids get to have their own toothsome meals. If traveling as a couple, one can enjoy a private candlelight dinner that has a special romantic menu. Other travelers get to try out the smoky barbeque and grilled treats alongside swimming pools. The hotels also offer customized trips too as they are well-connected and are located alongside beaches. So, wake up every morning to scenic waters of the Andaman Sea and go sunbathing with friends. This year make this expedition everlasting by lodging at Patong 5 star hotels.