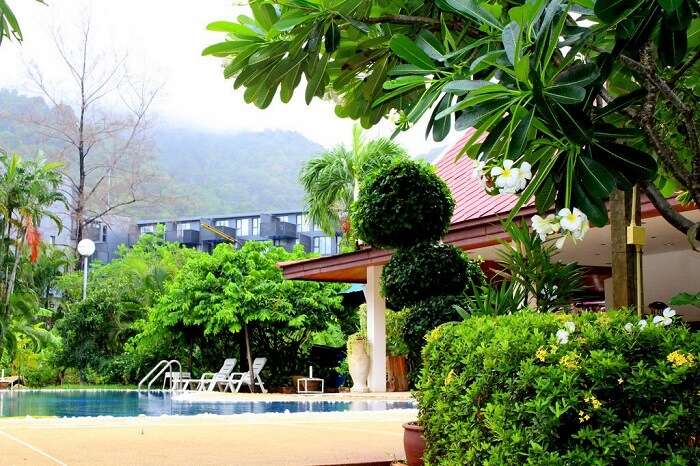 Overview
When traveling to Phuket, one of the biggest questions is the best place to stay on Thailand's largest island. There are many different places here which appeal to different kinds of people, but one destination here is undoubtedly the best spot for a vacation: Patong beach. As such there are quite a few famous Patong boutique hotel that one can look at when planning to stay here. Patong is by far the most diverse and scenic town in all of Phuket. During the day, Patong is all about wide, white-sand beach and its magnificent crescent bay and endless diving and spa opportunities, by night this town converts itself into a hub for Thai boxing, extravagant cabarets and multitudes of nightclubs and party places. While the town outside can seem disorganized and chaotic, the boutique hotels in Patong are a perfect picture of serenity and peace that can transport one into a different world. Lush green areas decorated with tropical trees and hammocks tied between their shades where one can lounge on a sunny afternoon, well-manicured gardens for leisurely romantic walks with the loved one, and amazing views of the ocean from all living quarters make the Patong Boutique hotel a favorite choice among all those who travel here.
Special Experiences
Patong boutique hotel are as well known for the divine views of the ocean as well as their close proximity to the beach. Hotels like the Phuket Marriott Resort & Spa, Merlin Beach stand true with their promise to provide thrilling water sports activities on site so that the guests do not have to travel far in the search for their daily dose of adrenalin along with other facilities like exciting water slides and mesmerizing infinity pools. Should one book at a boutique hotel in Patong that is away from the beach like the Reuan Thai Villa, travelers need not worry as the hotel provides a salt water pool where they can enjoy the feeling of being in the ocean without having to leave the hotel. Needless to say, the Patong boutique hotel also have amazing massage and spa services on board for the guests to relax with some hotels like the La Flora Resort Patong going the extra mile with a hot tub/jacuzzi where one can relax after a tiring day.
Facilities
Having risen to fame fairly recently, the Patong boutique hotel are all equipped with world class amenities and all the services one might ever require to make the holiday as amazing as possible. Rosewood Phuket is one of the many places where travelers can enjoy cycling tours along with other facilities like gym and fitness center, swimming pools with a pool bar and much more. Common facilities that can be found in all these Patong boutique hotel including room services and daily maids, well-stocked bathrooms, air-conditioned rooms with televisions, kids network channels, Concierge services, and tour desks to help vacationers plan the days. Yoga classes are also an amazing experience provided by these hotels like the U Zenmaya Phuket where one can find zen amidst the tranquillity of the wonderful hotel.
Dining
Patong boutique hotel features well-trained chefs who make every dish here a culinary wonder that is sure to take everyone's taste buds on a spin. The Andaman Sea at Baan Kamnan Restaurant at The Bay and Beach Club is one such amazing place to enjoy the famous seafood in Patong. But not just local cuisine, Flavours restaurant at the Swissotel Hotel Phuket Patong Beach also boasts of international cuisines where one can enjoy many different flavors from all around the world. For guests with special dietary requirements or restrictions, the chefs here can work wonders and make the most amazing dishes. Should travelers like to go on a day tour around, the coffee shops and other 24-hour dining restaurants at these Patong Boutique hotels can also give a packed lunch that one can enjoy during the tour.
FAQs
Q1. Are hotels in Patong pet-friendly?
A. All the hotels in Patong may not be pet-friendly, however, there are a few that happily allows guests to vacation with their pets.
Q2. Do these boutique hotels in Patong provide shuttle services?
A. Yes, all the hotels provide shuttle services to and from the airport as well as private airport pickup and drop services at a small extra cost.
Q3. What languages are spoken by the staff in these hotels?
A. The staff at these hotels understand French, Russian and a few other languages along with the standard English and Thai. If someone faces difficulty in communicating with the staff, they can always request for a translator.
Q4. Can a car be hired for sightseeing from the hotel?
A. Some hotels do provide car hire services from within the hotel itself. Or else guests can always ask the concierge to book a sightseeing taxi for them that will pick them up from the hotel itself.
Q5. Will there be a gift shop or a shopping area at the Patong boutique hotel?
A. Yes, all the boutique hotels in Patong have a gift shop or a designated shopping area where the in-house guests can enjoy discounts and reductions in price when shopping.
As mentioned earlier, boutique hotels in Patong boutique hotel pride themselves on the fact that they provide everything their guests might need right within the hotel and dining options are an important part of that promise. Almost all the major hotels here in Patong feature a nightclub where the young and party animals all come together to have an unforgettable evening. One can always ask the concierge services to secure passes to any parties that might be happening at the hotel nightclubs. For those who wish to enjoy their drink in peace, there are on-site bars with live bands playing soothing music where the guests can sit with loved ones and enjoy a beautiful evening looking out on the amazing views around the hotel.