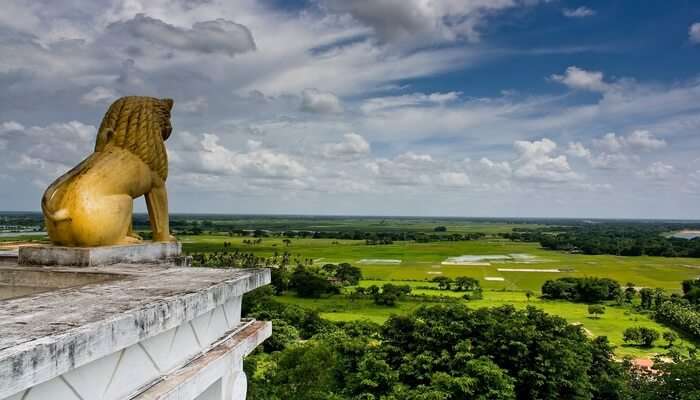 Bhubaneswar, otherwise known as the "City of Temples" is the capital city of Odisha. The city has taken the number 1 position in becoming a smart city and boasts of architectural marvels, natural beauties and a clean environment. There is a lot more when it comes to things to do in Bhubaneswar, including a visit to hot water springs, shopping at artisans' villages, scrubbing for handicrafts, and more.
List Of 10 Things To Do In Bhubaneswar
Here's a list of some of the best things to do in Bhubaneswar that will give you a rich and unique experience. The good thing about Bhubaneswar is that it is largely underrated and yet serves as a prime point for all things major in Odisha.
1. Lingaraj Temple – Take Lord Shiva's Blessings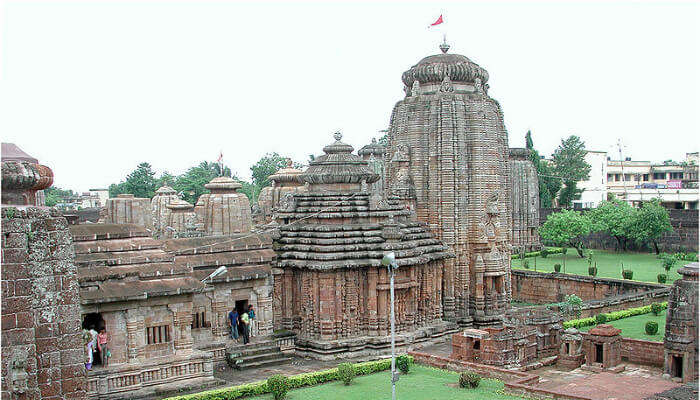 The marvelous Lingaraj Temple is a masterwork and a revolution in terms of temple architecture in Odisha. The temple has 54 meter high buildings which are enclosed by dozens of smaller temples and shrines in a widespread complex. People are not allowed to enter the main temple, but there is a viewing platform from which one can catch a sight.
The temple is a thousand years old and stands as a testament to the wonderful Kalinga architecture. You will find astonishing details and traditions, including the granite block signifying the lord, bathed daily in milk, water and bhang.
Location: Lingaraj Road, Old Town Bhubaneswar, Odisha
Timings: 5:00 AM to 9:00 PM
Entry Fees: No entry fee
Must Read: 10 Fascinating Odisha Museums For Your Love Of History And Art
---
Looking To Book A Holiday Package?
---
2. Nandankanan Zoo – A Date With Nature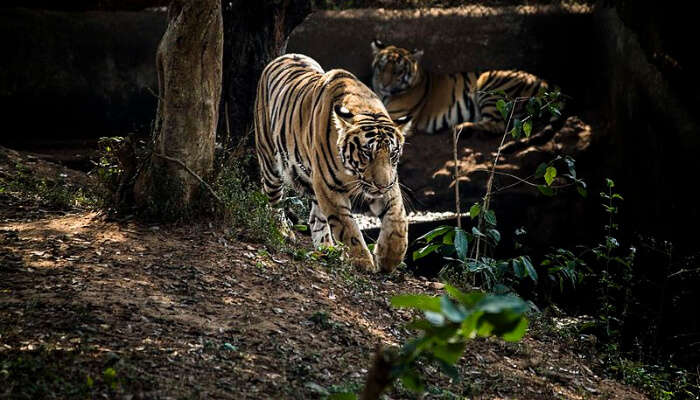 Nandankanan Zoological Park is spread over an area of 400 hectares in Chandaka forest. The zoo is situated on the banks of Kanjia Lake, and is home to over 81 species of birds, 67 kinds of mammals, and 18 varieties of reptiles and also a botanical garden.
Nandankanan was the first Zoo from India to join the World Association of Zoos and Aquariums. It is among the most fun things to do in Bhubaneswar as get to see black panthers, gharial crocodiles, white tigers, and many other animals, birds, and reptiles.
Location: Nandankanan Rd, Near Police Station, Barang, Bhubaneswar, Odisha 754005
Timings: 7.30 AM to 5.30 PM (April – September) and 8.00 AM to 5.00 PM (October – March); Closed on Monday
Entry Fees: INR 50 for Indians and INR 100 for Foreigners
Suggested Read: Top 10 Haunted Places In Odisha And Their Paranormal Activities
3. Odisha State Museum – Endorse Some Culture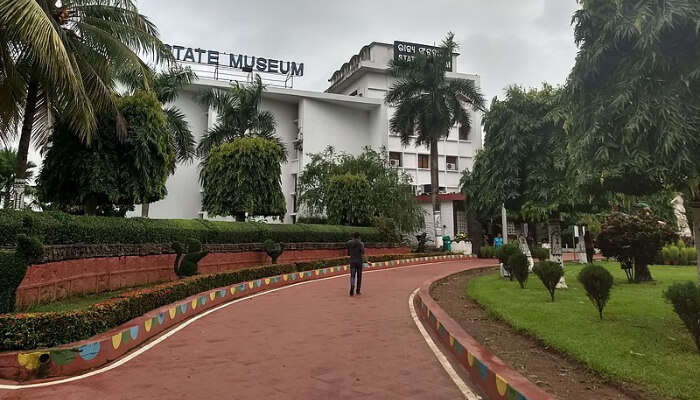 Wondering what to do in Bhubaneswar? Visit Odisha State Museum which houses a treasure trove of artifacts emphasizing the magnificent history of the state and the families which ruled it for centuries. The museum, established in the year 1948 houses the best collection of erratic palm-leaf manuscripts, scroll paintings, folk musical instruments, and Bronze Age tools.
Location: Near Lewis Road, Kalpana Square, BJB Nagar Bhubaneswar, Odisha
Timings: 10 AM to 5.00 PM
Entry Fees: INR 10 for Indians and INR 50 for foreigners
Suggested Read: 8 Beaches In Odisha That Are So Lit That You Will Want To Visit Them Again
4. Rajarani Temple – Get Some Sensual Vibes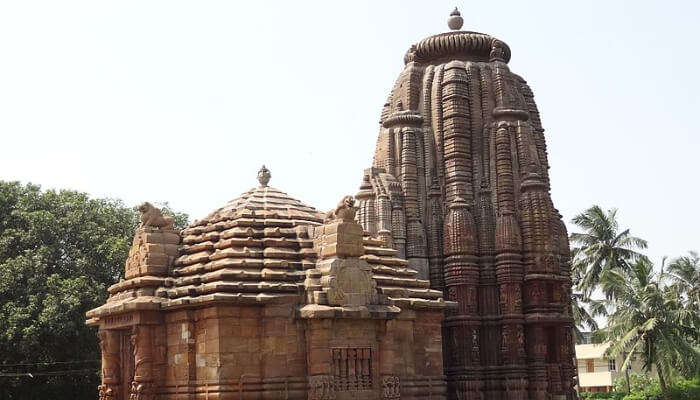 Built in the 11th century, the Rajarani Temple is a renowned temple in Bhubaneswar. The name of this temple originated for the delightful red and gold sandstone, commonly called Rajarani, which was used to build it. The temple is enclosed by gardens and paddy fields. The unique feature of this temple is the absence of a ruling deity. The temple is famous as the 'love temple' for the many intricate and attractive carvings of nymphs, and sensual scenes of women and couples.
Location: Tankapani Road, Rajarani Colony, Bhubaneswar, Odisha
Timings: 6:30 AM to 7:00 PM
Entry Fees: INR 15 for Indians and INR 200 for foreigners
Suggested Read: Sea Ports In India: Know About The Important Ports Which Stands As A Glory Of The Country!
5. Indira Gandhi Park – For A Relaxing Walk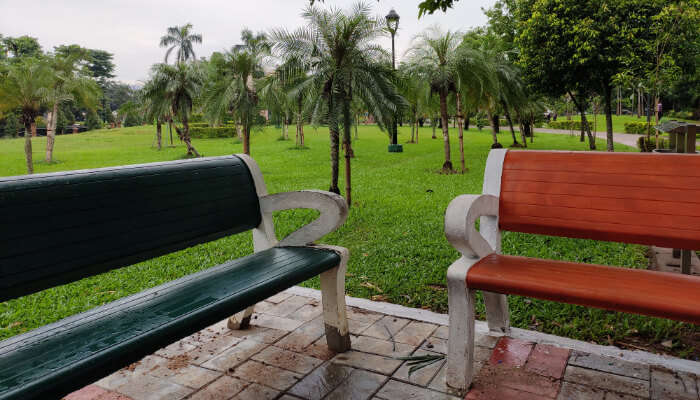 Indira Gandhi Park transmits an enormous historical significance into India's political history. Late Prime Minister Indira Gandhi delivered her last public address at this park. Today, visiting the place is among the best things to do in Bhubaneswar city where you'll see joggers early morning and families spending some quality leisure time. The park is attractively decorated with flower gardens and fountains, making it one of Bhubaneswar's most loved places.
Location: IG Park Walk Trail, Unit-2, Ashok Nagar, Bhubaneswar, Odisha
Timings: 5:00 AM to 9:00 PM
Entry Fees: INR 10
Suggested Read: 20 Tourist Places In Odisha To Visit In 2020 For A Fun Vacation
---
Planning your holiday but confused about where to go? These travel stories help you find your best trip ever!
---
6. Pathani Samanta Planetarium – Become A Science Nerd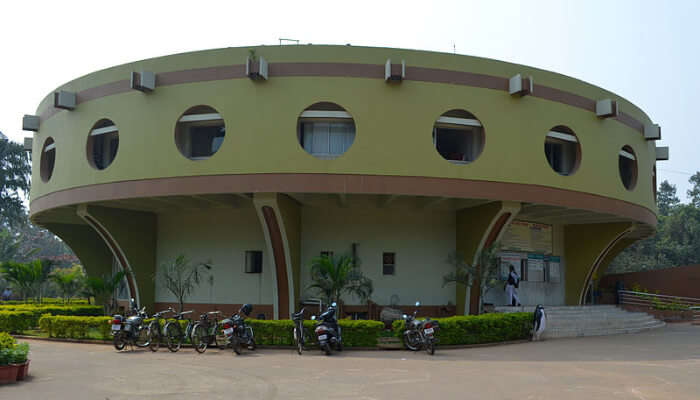 The Pathani Samanta Planetarium was recognized to create awareness of astrophysics, astronomy, and space science. Multiple shows, workshops, regular conferences about outer space are organized here. There is an extensive library with an impressive number of books from the field of astronomy, science and technology are there.
Location: Sachivalaya Marg Acharya Vihar, Bhubaneswar, Odisha
Timings: 1.00 PM to 5:45 PM
Entry Fees: INR 30
Suggested Read: 8 Places Near Cuttack That You Must Surely Visit On A Long Vacation
7. Udayagiri & Khandagiri Caves – Indulge in Ancient Culture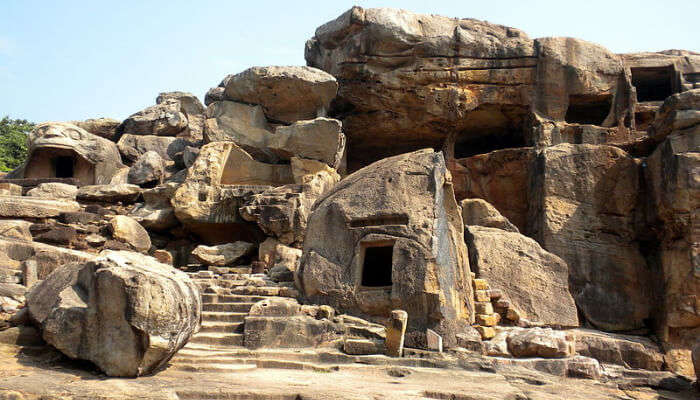 Udayagiri and Khandagiri caves are located six kilometres to the west of Bhubaneswar. These caves offer a brief look into the history of Jain religion and Kalinga Empire. The names of these caves were derived from the hills on which they are located. The caves have been numbered according to the Archaeological Survey of India, Hatigumpha, and Ganesha Gumpha are the most popular in the area. Cave 1 is decked out by sculptural wall painting with carved figures of athletes, women, elephants, and geese carrying flowers.
Location: Khandagiri, Bhubaneswar, Odisha
Timings: 9.00 AM to 6.00 PM
Entry Fees: INR 15 for Indians and INR 200 for foreigners
Suggested Read: 15 Spectacular Caves In India That Should Be Explored At Least Once In A Lifetime
8. Tribal Museum – Learn About Tribal Communities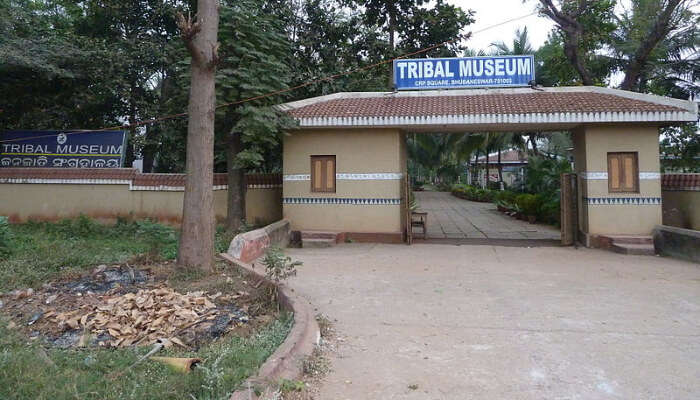 The Tribal Museum is also known as The Orissa Museum of Tribal Arts and Artefacts. The museum is located around three km from Bhubaneswar railway station. When it comes to things to do in Bhubaneswar city, then it is the best place to learn and understand tribal communities.
There are around 62 tribal communities who call the state of Orissa their local home. And it houses around 2,247 artifacts that display a rich collection of tribal instruments, weapons, dresses, jewelery, and textiles giving one an exclusive insight into the lives of the tribal communities.
Location: Unit – VIII, CRP – DAV Rd, CRPF Colony, Nayapalli, Bhubaneswar, Odisha 751003
Timings: 10:00 AM to 5:00 PM
Entry Fees: INR 10 for Indians and INR 100 for foreigners
Suggested Read: 7 Enthralling Things To Do In Cuttack Which One Must Experience When They Are Visiting Orissa!
9. Dhauli Giri – Study Buddhist Origins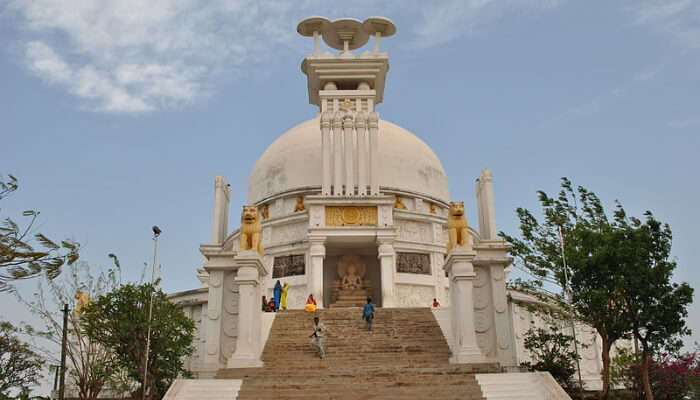 Dhauli Giri is a Buddhist structure built jointly in the year 1972 by the Japan Buddha Sangh and the Kalinga Nippon Buddha Sangh. It is well-known as the peace pagoda. Its structure has a stupa which is a mushroom-like dome and ornamented with stone panels. The main panels are decorated with an elephant pageant, a resting Buddha, a Bodhi tree, and the footprints of Buddha bearing the chakra. The panels also exhibit Emperor Ashoka abandoning war and presenting his sword to Buddha at Dhauli Giri. Exploring the ancient sculpture and diverse art forms at this place is one of the best things to do in Bhubaneswar.
Location: Dhauli Road, Dhauligiri, Bhubaneswar, Odisha, India
Timings: 6.00 AM to 6.00 PM
Entry Fees: No entry fee
Suggested Read: 42 Famous Historical Places In India To Visit In 2020
10. Regional Science Park – Where Science and Modernity Marry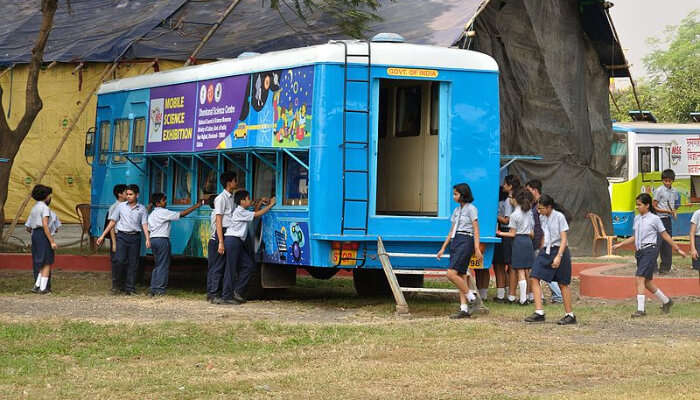 Regional Science Park is spread over an area of eight-acre. The park consists of 84 collaborative exhibits that help individuals to understand and escalate science and its role on a global and local scale. Tourists' visit this park centres as they get the chance to view exotic plants or can understand the fundamental principles of motion, from the molecular level to the motion of planets. Also, the park provides you with the opportunity to come face to face with three-dimensional figures of dinosaurs.
Location: Acharya Vihar Bhubaneswar, Odisha
Timings: 10:00 AM to 6:30 PM
Entry Fees: INR 10
Further Read: Shopping In Orissa: Head To These 7 Places For An Ultimate Shopping Experience
Don't miss the chance of experiencing these amazing things to do in Bhubaneswar city while you are planning your trip to explore the beauty of this well-known city in the state of Odisha. Pack your bags and get ready for a fun and awesome time together with family and friends!
Frequently Asked Questions About Things To Do In Bhubaneswar
Q. Is there any beach in Bhubaneswar?
A. Paradeep Beach, Cuttack is located about 100 kilometres from Bhubaneswar. It is one of the most peaceful and tranquil beaches of Odisha. The beach is not just a conspicuous tourist spot but also a major seaport of the country. Also, the famous Puri Beach is located 75 kilometres from Bhubaneswar.
Q. What is Bhubaneswar famous for?
A. Bhubaneswar is the largest city and is the capital of Odisha. It is a centre of the educational, economic, and cultural importance of East India. Along with the old town, the region historically was often portrayed as the Temple City of India.
Q. Which are the best shopping places in Bhubaneswar?
A. There are several famous markets in the city. Some of them are listed as follows:
1. Ekamra Haat
2. Bapuji Nagar
3. Shahid Nagar Market
4. Unit 2 Market Building
5. Ashok Nagar
6. Konark Wood Products
Q. What is the famous food of Bhubaneswar?
A. The main crop of this region is rice. So, most of the dishes in Bhubaneswar comprise of rice. Almost, all the people in this area are non-vegetarian and dishes made from fish, lambs, crabs, and chicken are popular.
Q. What is the traditional dress of Odisha?
A. The traditional dress of the men of Odisha is dhoti and kurta and the women dress up in saris.
Q. How far is Tribal Museum from Bhubaneswar railway station?
A. Tribal Museum is located 6 kilometres away from Bhubaneswar railway station and it takes around 23 minutes to reach the place.
---
Looking To Book An International Holiday?
---
People Also Read:
Things To Do In Parwanoo Things To Do In Chennai Things To Do In Calicut
Comments
comments