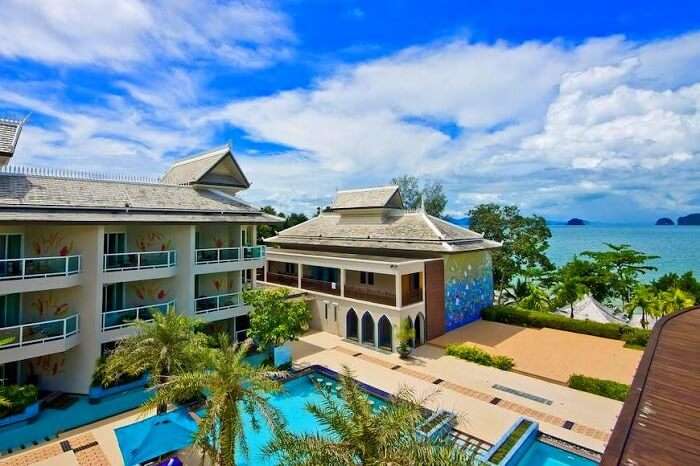 Overview
A relaxing break from the strenuous and tiring daily routine to enjoy a pleasurable vacation in Krabi is always a great idea. The 4 star resorts in Krabi provide their customers with deluxe rooms and lavish suites full of comfort, luxury, relaxation, and adventure. The 4 star resorts in Krabi have amazing deals to offer and ensure an unforgettable holiday for anyone visiting the destination. The exquisite locations of their accommodations, restaurants, and bars and the stunning views that they offer are a delight to watch. These hotels take care of the comfort and expectations of guests with their best possible plans. The special facilities provided by each resort are exclusive and worth going for. One can enjoy each moment of the stay with gorgeous views, beautiful accommodations, refreshing spa, fun activities, exciting entertainment, superb facilities, and amazing hospitality. In a nutshell, the 4 star hotels in Krabi have got everything that one is looking for to have a perfect holiday experience.
Special Experiences
The special experiences provided by 4 star resorts in Krabi guarantee a luxurious stay for the guests. Panam Krabi Resort offers absolutely free airport shuttle service for its customers which ensures comfort and feasibility for whosoever checks-in here. Also, Anyavee Tubkaek Beach Resort has the provisions for live music performances that please the hearts of one and all and also chic spa and pool. Further, fitness centers available at 4-star resorts in Krabi enhance the hospitality standards massively. Separate living areas and chic spa are also offered at Anyavee Tubkaek Beach Resort to make the stay more relaxing. Facilities like Jacuzzis, lagoon views, library and serene spa at Peace Laguna resort make the package more tempting.
Facilities
Most of the 4 star resorts in Krabi provide the general facilities that one desires. The delicious Thai food in the restaurants and breakfast buffets cater to any guests' delight. With magnificent interiors, beautifully decorated rooms and suites, the 4 star resorts in Krabi promise a comfortable and luxurious stay. Most of them offer outdoor pools, spa services, fitness centers, and massage centers. The Panan Krabi Resort has got 2 outdoor pools with one of them at the rooftop which is absolutely stunning. Free Wi-Fi facility, hospitable room service, minibars, seating areas, delightful ambiance, kids friendly features act as an icing on the cake. Other facilities include laundry services, cleaning, rental cars, and exotic bars. All of these resorts are beautifully built and have breathtaking exteriors and interiors that are sure to leave guests mesmerized.
Dining
4 star resorts in Krabi serve delicious food in the delightful ambiance of their restaurants at exquisite locations. Thai food is the most popularly served cuisine here but these restaurants have some other cuisines as well on their menu. Ban Sainai Resort has a wooden open-air restaurant with a water view terrace that feeds the stomach a well as the eyes and soul. Anyavee Tubkaek Beach Resort has a superb alfresco dining service. Many of the resorts provide buffet breakfast as well. The amazing restaurants in these resorts are every customer's weakness. The bars are handled by skilled bartenders and highly professional staff. The 4 star resorts in Krabi satisfy the foodies the most and rarely gives them a chance to complain.
FAQs
Q1. Do all the resorts have bars?
A. Very few of these resorts have banned alcohol and hence do not have the bar service, like Ban Sainai resort. Otherwise, most Krabi resorts have bars that serve alcohol.
Q2. Are the live performances at the resort to be paid for?
A. No, most times, the live performances are complimentary in the package a person books.
Q3. Do these resorts serve vegetarian food?
A. Yes, one can easily find and also relish on vegetarian food here.
Q4. Is wheelchair accessibility provided in any of these resorts?
A. Yes, most of the resorts here provide this service. However, it's best to check with the resort and confirm before making the final booking.
Q5. Are these resorts pet-friendly?
A. There are a few pet-friendly resorts in Krabi. One such resort is the Anyave Tubkaek Beach Resort.
Stay at the 4 star resorts in Krabi and enjoy every moment of the stay in the best possible ways. Guests can revel in the stunning views, heart-warming ambiance and delightful services at these resorts to make the most of Krabi in Thailand. From comforts to entertainment, these resorts cater to every expectation of a visitor and usually gives them a lot more than they can ever imagine. With resorts like Panan Krabi Resort, Ban Sainai Resort, Anyave Tubkaek Beach Resort and Peace laguna resort offering the wheelchair accessibility, the comfort of their customers reaches another level. While not many places in Thailand in general, allow pets, the Anyave Tubkaek Beach Resort in Krabi ensures that its guests can enjoy their vacation along with their pets. The hospitable staff and management at 4 star resorts in Krabi make the smallest of efforts to ensure customer feasibility. If one plans to visit Krabi, then these resorts have the capability to transform their trip into a perfect stay and vacation, such is their hospitable charm.