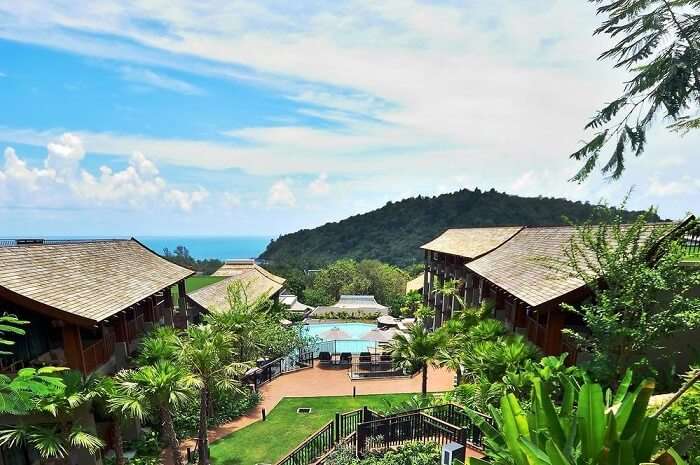 Overview
Holidays are a complete package filled with fun, relaxation, and lovely memories with close ones. While choosing an option of hotels, vacationers' first priority is to find comfort and contentment while the stay. Thailand, a popular tourist destination houses a plethora of 5 Star Hotels In Phuket that offers a world-class stay to all their guests. If one is looking for a destination to stay away from the chaotic city life, these hotels have the best to offer. From basic facilities like laundry service, 24-hour front desk, airport transfer, free wifi, parking etc. to some luxurious facilities like spa centre, fitness centre, massage services, sauna, steam bath solarium etc, 5 Star Hotels In Phuket leave no stones unturned to give the guests their best stay. For the perfect entertainment and fun of the vacationers, a wide variety of hotels provide several water activities like canoeing, fishing, diving, snorkeling and many more. While providing all these luxurious and basic facilities, the hotels also take care of the special needs of their guests including kids meal, babysitting services, specialized diet menus etc. One should definitely book a stay at 5 Star Hotels In Phuket to experience the magic of these 5-star properties.
Special Experiences
The best 5 star hotels in Phuket provide guests with the best experiences that make the trip more special. One can get to enjoy a lovely Thai massage that is originated in the country. Vacationers can relax all the pressure points of one's body at this steamy session. Couples can avail the massage together making the journey more special for the two. Guests can also make complete use of the indoor pools that are located alongside their room's balcony. Also, one can soak at the hot waters while listening to some upbeat music. The guests can also book a private poolside dining area on special occasions as well. For the convenience of avid readers, many 5 Star Hotels In Phuket house a well equipped library.
Facilities
The 5 star hotels in Phuket Thailand offers a complete package by including top-notch amenities and facilities to make the guest's stay quite comfortable. The rooms come in various styles and infeasible prices as well. They have a living room, kitchen, and pools incorporated within them. The room is also well-furnished with essentials such as closets, lockers, beds, curtains, décor, and much more. There also high technology equipment such as television, personal computer, speakers, ovens, and much more. The hotels also have extended the duration for check-in and check-outs as the staff understands that it can become late partying at the clubs or sightseeing at the places. The hotels have free internet, parking, and storage services too. They also have tour packages that can be customized by the guests as they like. Spa services along with a facility of a fitness centre make one feel pampered and give an opportunity to have a fit mind, body and soul while the stay at 5 Star Hotels In Phuket.
Dining
The 5 star hotels in Phuket do not just provide customized trips or outings, but also customized dining menu too. The menu has loads of dishes that are part of unique cuisines. This menu can be personalized with favorite or extra toppings and dressings as the guests like. The chefs also accept special requests during special events such as surprise birthday cakes, anniversaries cakes, special dinner, and a lot more beyond one's imagination. The cooks are a team of professionals that are always ready for any type of flavor to savor. A wide range of 5 Star Hotels In Phuket also own a bar and a poolside bar where guests can enjoy their sizzling drinks with light snacks.
FAQs
Q1. What are some free services provided at the hotels?
A. Some of the free services provided at the hotels include internet connectivity, television, and iron with ironing board, parking, storage, breakfast, and telephone.
Q2. Do the hotels provide pick-up and drop facilities?
A. Yes, some hotels do provide pick-up and drop facilities on request.
Q3. What are the water activities hosted at Phuket?
A. The water activities hosted at Phuket include snorkeling, wakeboarding, scuba diving, swimming, and many more.
Q4. What is Thailand famous for?
A. Thailand is famous for its Thai massage, temples, islands, hotels and resorts.
Q5. How many days are enough for holiday in Phuket?
A. 5 days are enough for holiday in Phuket.
Guests can make their summer break or work break the best by tagging at the 5 Star Hotels In Phuket with friends, families, and mates. While staying at these hotels, one get to accommodate in lavish and luxurious hotels that are totally worth the money. Guests can also get to take complete advantage of the special facilities too provided by most of the hotels. These facilities include Thai spa sessions that are originated in the country. One can also chill after a long sightseeing day at the private pool that is located in the room. The rooms are fully-furnished with essentials and particulars that meet all requirements. They also come with high-end technological equipment too. One can culminate the day by savoring the finest cooking of the chefs at these hotels. Various cuisines are served at these restaurants including Thai, Italian, Chinese, Asian and sometimes Indian too. The menu is not fixed in some hotels, so the guests are given the liberty to customize as they like to. The 5 Star Hotels In Phuket make sure to provide the guests a memorable and joyful vacation.