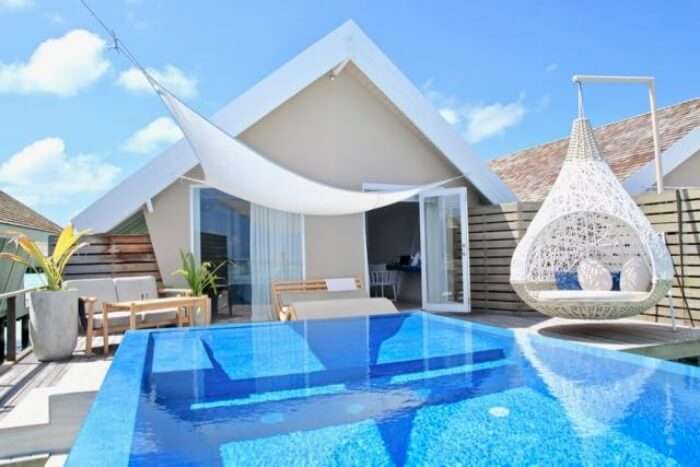 Overview
Ari Atoll, one of the natural atolls of Maldives, is one of the biggest atolls. Famous for its excellent weather and spinner dolphins, Ari atoll can be a perfect spot to spend a relaxing vacation. Whether traveling as a couple or family, this island gives travelers a variety of choices to pick from its luxurious resorts. From presidential suites to standard beach bungalows, Sun Island Resort and Spa located at South Ari Atoll is one of the best Ari Atoll resorts and provides with many choices and luxuries. With miles of blue water and breezy winds, families can enjoy some quality relaxed time here. Veligandu Island Resort and Spa located at North Ari Atoll is the only resort at Velingandu Island and can serve as a fantastic experience with its beautiful lagoons and sandy white beaches.
Guests staying here are offered a wide range of basic and luxurious facilities for a blissful stay. while enjoying a beachfront property, the hotels provide their guests with many water activities. The watersports include snorkeling, canoeing, diving, windsurfing, kayaking, and fishing. Some of the hotels also comprise a kids room which is filled with many toys and gaming options for little travelers. For the comfort and convenience of business travelers, these resorts also feature a business centre. Catering to the need for every kind of travelers, Ari Atoll Resorts strives hard to offer their guests a memorable stay.
Special Experiences
A traveler always seeks a new innovative experience in his holiday which he can remember for the years to come. Ari Atoll Resorts not only provide a refreshing air but also provides with great experiences including both land and water sports. One such resort is the Veligandu Island resort and spa which not only gives a variety of games to choose from but also provides with entertainment nights with its DJ nights and live music. Drift Thelu Veliga Retreat, situated at South Ari Atoll is just 30 min away from the whale shark point. This resort not only provides with snorkeling experience but with a professional team gives one a chance to swim alongside unique whale sharks. Another resort which needs a special mention is the Gangehi Island Resort located on the outskirts of North Ari Atoll. With its fishing choices and yoga, this resort can serve as a calm place for the travelers are basically running away from a chaotic life.
Facilities
The provision provided by almost all the Ari Atoll Resorts is exceptional. Whether it's fine dining or live bands or spa treatments, these resorts compete in all the spheres and never disappoint. Lily Beach resorts and Spa at South Ari Atoll is the perfect destination for families traveling with kids. Its turtle kids club is filled with toys, events, small library, pool, buffets, and even special movie screenings.The drinking and dining options at these resorts leaves guests spellbound. While searching for an elite experience and hide away, one should definitely pick a resort in Ari Atoll with not just beautiful beaches and blue sea but also luxurious resorts with all the amenities and friendly services.
Dining
Food being the primary experience at any place, at Ari Atoll resorts travelers will not get disappointed with a varied range of food choices and cuisines. Mirihi Island Resort with its most exceptional location serves food in different settings ranging from private beach dinner, Tapas dinner, sail and dine and elemental spa and dine. Along with this they also provide with cooking and cocktail classes for the ones who like their curry with their own twist. With buffet restaurants, bars and dine on the beach, another resort that attracts travelers is Vilamendhoo Island Resort and Spa located at South Ari Atoll. Constance Moofushi at the South Ari Atoll also provides with a variety of fruit drinks and cocktails at their Manta bar. The bars at these resorts are well stocked and maintained by well trained bartenders. Special requests for kid-friendly meals and customized diet menu are also catered to guests staying at these resorts. Guests are also offered comforting room service by availing which they can have meals privately in their rooms.
FAQs
Q1. What is the best time to visit Ari Atoll?
A. The best season or the best time to visit Ari Atoll is between December and March.
Q2. Is there Indian food available at Ari Atoll resorts?
A. Yes, there are good Indian food options at various Ari Atoll resorts like LUX south Ari Atoll and Mirihi Island Resort.
Q3. Which resorts have the best water sports activities?
A. Mirihi Island Resort, Sun Island Resort and Spa, and Constance Moofushi, make it to the list of the resorts in Ari Atoll offering the best water sports.
Q4. Which Island Resorts have children's facilities?
A. Vilamendhoo Island Resort and Spa, Veligandu Resort and Spa have the best facilities for children in Ari Atoll.
Q5. Are water sports offered at these resorts?
A. Yes, most of the Ari Atoll Resorts offer a wide range of water sports for the entertainment of guests.
While searching for a holiday destination, Ari Atoll Maldives resorts can be a very good option with its various options at reasonable prices. Travelers of all ages can have a fun time whether it's a couple who seeks peace and quality time in the beauty of romantic sunsets or if it's the families with kids whose little ones can also enjoy the luxurious kids' zones and tell their friends all about. The various resorts like LUX south Ari Atoll, Kandolhu Maldives, Diamonds Thudufushi beach and Water Villas, Diamonds Athuruga Beach and Water Villas etc. are some other choices one can choose from. All of Ari Atoll Resorts provide the best facilities and friendly atmosphere.