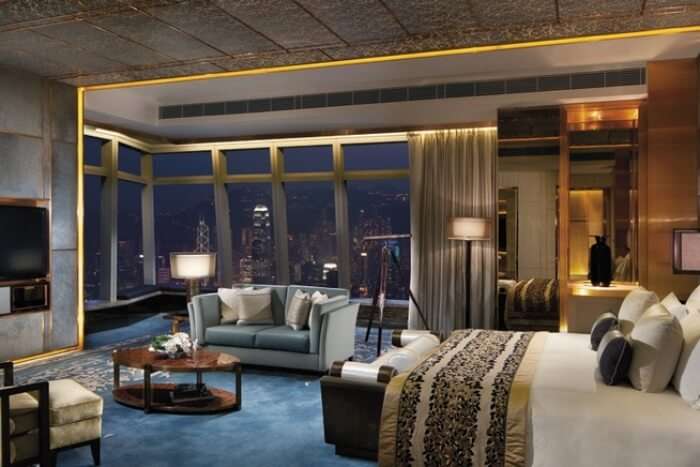 Overview
Hong Kong, the very modern city welcomes the visitors with lavishness and high sophistication to offer an incredible experience. The Hong Kong Luxury Hotels offers guests to take pleasure in every aspect of their services. Entertainment and extravagant events in Hong Kong makes an ideal place for a holiday to have a break from regular busy work schedule. The Vibrant city greets with world's best luxury hotels in Hong Kong offering impeccable amenities to give the best holiday treat for travelers. Private Helicopter tour services are available for flightseeing which provides immense pleasure to overview the city from the air. The sights of Victoria Harbour, the beaches, skyscrapers of Hong Kong from skyline are great to see. Hong Kong Luxury hotels are designed with elegance and well-furnished architecture compliments the holidaymaker with an overwhelming experience. The stylish rooms, outdoor pool, the spas and fitness center make the place more elegant and unique. The abundant space and royal look of these hotels are the excellent choices to cherish and celebrate the special moments of life. Nature and wildlife adventures, traditional temples, Long Ke Wan Beach, Lantau, and Hong Kong Disney land are some must-see destinations in Hong Kong.
Special Experiences
Hong Kong Luxury Hotels are the epitome of luxury that is evident in their wide range of top-class facilities and amenities, all striving to enthrall their guests. The luxury hotels in Hong Kong, are complemented with a sunken bar and infinity pool. The rooms of these hotels are beautifully designed and are kept with sheer care to offers guests a complete stay. all the rooms are clean and include state-of-the-art amenities. Further, some of the hotels also have a picnic area where families and couples can spend a perfect time. Also, the hotels offer spa services at the on-site spa centres. After a long day of touring and shopping, guests are welcome by masseur and masseuse at the in-house massage centres. For the additional comfort of business travelers, the hotels own a fully functioning business centre along with spacious areas for conferences and meetings.
Facilities
The facilities and amenities provided by almost all the Hong Kong luxury hotels are spectacular. Whether its soothing spa treatments or calming massages, these hotels leave no stone unturned when it comes to offering their guests sheer relaxation. These hotels also own a kids club that is filled with a small library, toys, and a pool. The drinking and dining options at Hong Kong luxury hotels will leave all the vacationers completely spellbound. Further, one can also avail laundry service, room service, 24-hour front desk, ticket service, and other various services that are designed for as per guests' requirements. These hotels not only provides excellent facilities for families and couples but also for business travels as well. They feature a business centre which is well functions can business travelers can make its use at a surcharge.
Dining
Hong Kong luxury hotels offer impeccable drinking and dining experience to all their guests. In most of the hotels, the skilled and star chefs are employed to cater private dining to make the moments more special and awesome. Furthermore, with authentic delicious cuisines, complimentary beverages are offered to have a wonderful dining experience. Guests can gorge on delectable cuisine, including Cantonese, Japanese Chinese, French, American, Italian, Continental and International as well. Travelers who are on a special diet can also order customized meals, also kid-friendly meals can be savored here on request. Travelers who wish to have meals privately in their rooms also have an option for room service.
FAQs
Q1. Do the Hong Kong luxury hotels offer spa and massage services?
A. Yes, most of these hotels offer massage and spa services to all their guests.
Q2. What are the kids-friendly services available at Hong Kong luxury hotels?
A. Complimentary baby amenities, welcome gifts, and children specific toiletries are available. Also babysitting services can be availed on request with extra cost.
Q3. What are some unique options available for viewing the city in these hotels?
A. The rooftop pool is available for refreshing at higher altitude. It gives the best panoramic view of the city and it will be mind-blowing.
Q4. Can a differently abled person stay comfortably in Hong Kong luxury hotels?
A. Most of the hotels have a certain number of rooms accessible to differently abled persons.
Q5. What are all the mode of viewing city other than road transport?
A. Helicopter services are available at Luxury Hong Kong hotels. A breathtaking tour via helicopter will be so thrilling and a tourist can feel like a bird watching the city from the sky.
In the south coast of China, Hong Kong is a place where one can witness a blend of the modern world meeting the tradition. The Hong Kong Luxury Hotels unveils the glamorous nightlife with royal lights and chandeliers offering a romantic atmosphere. It is not only just skyscrapers, but outlying lantau island and tai O fishing village will also surprise the calm traditional minds. Besides the cost, the best luxury hotels in Hong Kong comfort the guest with more personalized services and world-class amenities. A mouth-watering mouth can find its taste buds satisfied with multiple cuisines available in the city and hotels. From noodles to spicy crabs, from burgers to traditional Chinese cuisines, everything can be enjoyed at fine restaurants in Hong Kong. Whether a special event or a normal holiday tour, the accommodation in luxury hotels Hong Kong would be a delightful experience for anyone. The Hong Kong Luxury Hotels with unique features are listed, Mandarin Oriental Hong Kong, Grand Hyatt Hong Kong, The Ritz Carlton Hong Kong, The Mira Hong Kong Hotel, Langham Place Mongkok, JW Marriott Hong Kong, Kowloon Shangri-La, Four Seasons Hotel Hong Kong, InterContinental Hong Kong, Renaissance Harbour View.