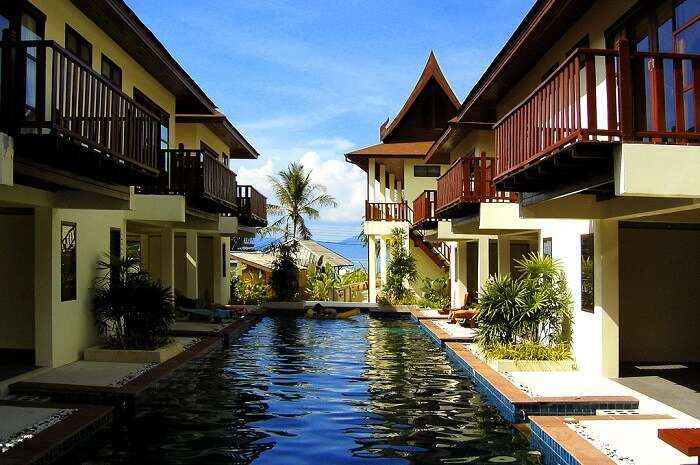 Overview
Blue waters, mesmerizing underwater wildlife and long reefs filled with beautiful corals, Krabi is a perfect holiday destination to unwind all the stress from work and daily life. But what makes a holiday absolutely unforgettable are the various Krabi boutique resorts that can cater to all the needs and whims and make the stay here a great one. Thailand is a preferred destination for travelers with all sorts of the budget but those who wish to splurge a little more, Krabi boutique resorts are a whole world in themselves. Boutique resorts in Krabi reflect the unparalleled beauty of the Krabi province in a way that one can experience the real beauty of this area from within the comfort of the resort. Wide expanses of green lawns where the guests can enjoy romantic walks with their loved ones or the powdery white sands of the private beaches attached to these resorts make these resorts a preferred choice to many who visit the amazing islands of Krabi.
Each of these hotels is also decked with many facilities for couples who come here to celebrate the start of their married life or for those who wish to reignite the romance in their relationship. From couples spa massages to candlelight dinners by the beach, these Krabi boutique resorts are sure to give travelers a romantic holiday like none other. This article will make all tourists understand what all can be expected from Boutique resorts in Krabi.
Special Experiences
Each of the Boutique resorts in Krabi has something special to offer in their own capacity and no matter where travelers choose to stay, they will have a wonderful time at the property. Lush green forests surround all the living quarters in these resorts where the guests can become one with nature while walking through the wide areas of greens. Another important aspect that Krabi boutique resorts pride themselves on is their closeness to the sea. As such watersports are a must in all these resorts. Thrilling activities like windsurfing, parasailing and jet skiing are a wonderful experience to all the adrenaline junkies while those who crave for peace and quiet can enjoy sea kayaking or canoeing. Hotel like the Phulay Bay, A Ritz-Carlton Reserve also offer walking and cycling tours. To add to the fun Sofitel Krabi Phokeethra Golf and Spa Resort have some exciting water slides in the resort that the guests can enjoy. Private beach areas adorn almost all the beachfront Krabi boutique resorts and of course Spa centers where travelers can enjoy authentic Thai massages are also a common site at all these resorts in Krabi.
Facilities
The Krabi boutique resorts pride themselves on the fact that their guests do not have to leave the hotel in the want of anything. As such these resorts are decked with all the world-class amenities that one could ever want. Plush rooms with a well-stocked bathroom, air conditioning, television with all the international channels as well as kids entertainment networks are a must to all these resorts. Along with this, the daily maid or room cleaning services, laundry and ironing services also take care that the guests do not have to worry about running out of clean clothes or a dirty room on the vacation. Outside the room, services like babysitting and childcare can be availed so that the children can also enjoy their vacation as much as the adults. Airport shuttle services are provided even in budget boutique hotels like Nakamanda Resort & Spa. A tour desk where travelers can plan the day, as well as Concierge services that can help the guests make reservations to any shows or events happening around town, is also a common site at these Krabi boutique resorts.
Dining
Thai food is considered a go-to or comfort food all around the world, but the Krabi boutique resorts are sure the surprise all the visitors with the multi-cuisine specialty restaurants where talented chefs create art that can tantalize the taste buds and leave everyone wanting for more. Boutique hotels like Amari Vogue Krabi present their guests with multiple dining options including beachside restaurants where one can enjoy hearty meals with sand between the toes. Krabi Boutique resorts are also well known for their amazing and delicious breakfast spreads that can give the day a great start. Bars with live entertainment and coffee shops where travelers can enjoy light snacks are another added point in these boutique resorts in Krabi that allow their guests to make the most of their stay. Live bands and amazing night shows ensure that the guests do not have to travel far to search for good evening entertainment.
FAQs
Q1. Will children enjoy themselves at these resorts in Krabi?
A. Yes, with options like childcare services and babysitting provided by the resorts, kids entertainment networks on television, special kids play areas and kids pools, as well as kids menus with all the foods that little ones will enjoy. Guests can rest assured that their children will enjoy their Thai vacation in Krabi.
Q2. What are the general check in check out timings in these resorts in Krabi?
A. The general check-in timings for these resorts are between 12 to 2 PM while the check out timing is before 12 PM.
Q3. Are pets allowed in these resorts?
A. No, these resorts in Krabi are not pet-friendly, and as such, it is advisable to not bring pets along.
Q4. Is the private beach area accessible to visiting guests?
A. No the private beach areas of these Boutique resorts in Krabi is accessible only to the in-house guests in order to take care of the safety and privacy of the guests.
Q5. Do these hotels have a gym or fitness center?
A. Yes, almost all the boutique hotels in Krabi have a gym or a fitness center on site. Certain hotels also provide yoga classes for their guests.
Overall, no matter which resorts travelers choose to stay at when visiting Krabi, holidaymakers are sure to have the time of their life here. Just to give all tourists a nudge down the right path, here are few names other than the ones mentioned above to start the search for Krabi boutique resorts: Bhu Nga Thani Resort & Spa, Anyavee Tubkaek Resorts, Aonang Phu Petra Resort Krabi, The Small Krabi etc. One can choose from a number of these resorts and enjoy a wonderful beach vacation. From thrilling water sports to peaceful surroundings, the resorts do not fall short in any aspect. One is sure to find the right combination of relaxation and excitement by accommodating at any of these resorts. The resorts also offer a delightful dining experience to the guests as well. One can indulge in a variety of cuisines along with some entertaining live performances. Guests at these resorts are sure to take home some cherishable holiday memories.