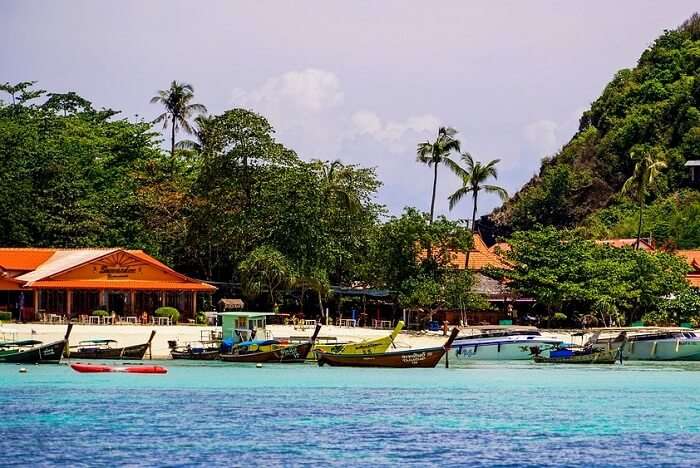 Overview
Krabi is the main region in the province of Krabi which in native is called Thesaban Mueang, and it is located on the west coast of Southern Thailand. Being the 3rd most visited place in Thailand after Bangkok and Phuket, Krabi certainly has no lack of love. It has become a good tourism hub, courting world-class hotels, resorts that constitute Krabi Family Resort. Krabi Family Resort are certainly aplenty, with beach resorts here are just incredible and offer some amazing things to do and to revere in, mostly to relax on a long vacation or even on a short do-it-all 2-day trip. It suits both needs. There are special beach-facing massages and relaxing parlors that are just incredible to experience. If travelers want to check out water sports like kayaking, sailing and paddle boarding, then Centara Grand Beach and resorts are the place to be. This place is a plush 5-star hotel cum resort that has an amazing view of the beach as well as some amazing facilities on offer. Whereas if the holidaymakers are looking for a modest option, then Golden Beach restaurant in Ao Nang is the treat. Reasonably priced, they have most of the facilities that other top-end hotels have on offer.
Special Experiences
A trip to Krabi can be amazing for a family, who is looking for a long break after a long period of work ad Krabi can really be the perfect place for them to visit. If tourists are looking to relax and play golf on the trip, then Sofitel Krabi Phokeethra Golf & Spa resort should be a primary choice when it comes to resorts here. This place has a mini-golf course along with an elongated swimming pool that looks beautiful from the balcony. If travelers have a predisposition to well-ranked Krabi Family Resort, then The ShellSea Krabi should be a go-to place here, made up just how the name sounds, travelers are at the comforts of the sea which is right by the resort area.
Facilities
Most Krabi Family Resort in Thailand offer services that are usually expected of luxury hotels. Pool-services here are excellent, and they need to be, a resort would just be an empty feeling without an excellent pool. There are also massage and spa services to be enjoyed. One must look out for resorts that have water-sport adventures on their itinerary for a complete experience of the holiday. The Krabi Family Resort here have good airport transport facilities and guests can also request for a 'concierge' who will usually be in charge of booking reservations in restaurants, theatres, and other such experiences. They also have car rentals along with good laundry, housekeeping, room service, and good valet parking facilities. Along with covering all these special needs, the staff in resorts like Dusit Thani Krabi Beach Resort are just very customer friendly and help guests out with many things such as directions, the know-how of the place to overall make it a complete holidaying experience.
Dining
The Krabi family resort here come with restaurants as well. This is to ensure a wholesome experience and get more visitors in, who don't like to engage in food reservations elsewhere, far from their place of stay. The restaurants here have multi-cuisine, so there is no reason to worry about food and whether travelers get accustomed to it. Alcohol, especially if one is a consumer of it, is a must-take here. There are mini-bars in the hotel room, along with good affectionate bartenders at the bar-zones, where there are plenty of customized drinks on offer which guests are bound to enjoy. The beach-side bars are available in a couple of resorts like Koh Jum Ocean Beach Resort, so one must make sure to check which resorts feature the same.
FAQs
Q1. What are the best areas to stay in while on a trip to Krabi?
A. The three best areas to stay in Krabi would be Ao Nang, Nopparat Thara, and Railay Beach.
Q2. What is the best time to visit Krabi?
A. During the summers such as June and July are a great time to visit Krabi. This is the best time as there are lesser people from the European region, who usually overcrowd it here between March-April.
Q3. Are Krabi family resort close to the airport?
A. Most of the hotels mentioned in this article are within a 100km radius from Bangkok airport and are even close to Phuket. From Krabi Airport, most of them are within the 10km radius and should make life really simple and easy.
Q4. What are some of the best 5-star resorts in Krabi?
A. Phulay Bay (Ritz Carlton), Rayavadee Resort, The ShellSea Krabi, Dusit Thani Krabi Beach Resort are some of the top choices.
Q5. Is there any airport-transit service available at Krabi family resort?
A. Yes, they give out excellent services to those who have made reservations at particular hotels, which adds on to a complete experience.
Deciding on which resort to reside at could be a completely confusing decision to make up, as most of them are similar and offer the same services, but there are a couple of resorts with amazing facilities, that should really help with the Thai itinerary. There are some others that one must check out the details of, before finalizing – Andakiri Pool Villa, Rayavadee Resort, Ban Sainai Resort. There are good transport services from the resorts' side if guests inebriated and unable to handle the wheel. The receptions at the Krabi Family Resort to have some amazing staff who are patient, courteous and always make sure one gets the best experience out of the Thailand trip. If travelers are one for venturing into the new, then Thai food is a must-have for those who are looking to blend into new cultures.