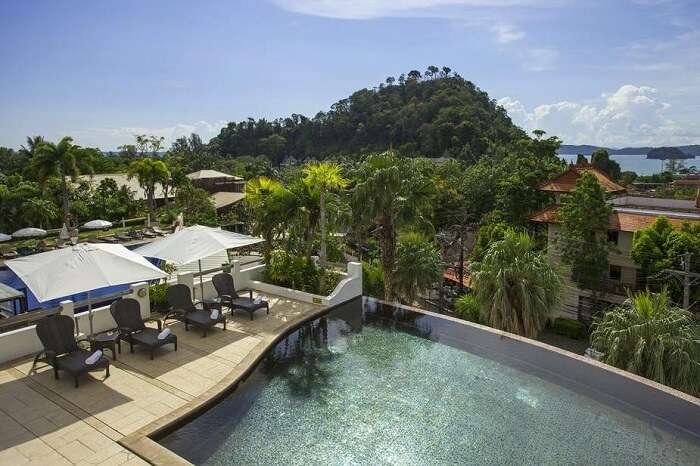 Overview
Krabi is estimated to be the 3rd most visited spot in Thailand after Phuket and Bangkok, known as a plush tourism hub, courting many world-class hotels, resorts that constitute Krabi luxury hotels. It has off-late become an ideal spot for wedding-shoots, honeymoons, success parties, and even family trips. Of course, it is most revered by couples who come here to celebrate their wedding, engagements or even important milestones in their relationship. Krabi luxury hotels are certainly aplenty here, with there being a wide range and variety of hotels to pick from to suit the taste and budget. While Luxury hotels tend to be on the expensive side and take a heavy toll on people's pockets, Krabi is reasonably priced. If travelers are looking for a less-crowded avenue that has great ambiance, then Villa Thalanena is the spot to be. With great suits, pool service and pick up service from Airport, this plush service is decisive in its approach towards its customers and fulfilling one's needs. Whereas the AliSea Boutique Hotel matches up to any expectations, too. If one is looking for impeccable decoration and ambiance, then Ban Sainai Hotel, an often secluded place, is an avenue that travelers shouldn't miss. The Ao Nang cliff beach too has reasonable pricing. Hop Inn Krabi is quite recommendable too.
Special Experiences
Such trips can be very important to families for bonding time as well as putting one's feet up, to relax in the sun. For a true 5 star-experience, Villa Thalanena should be the choice. With great amenities and ambiance, it doesn't fail to amaze us. In the same regard, The Shell Sea Krabi also gets the job done. Amari Vogue Krabi is styled just how it sounds, with great ambiance and designs to match one's trip's expectations. Since hotels, unlike resorts, have much lesser on offer, water sports adventures offered by these resorts could be the thing. Book reservations in hotels that offer packages to get one's adrenaline rushing.
Facilities
Most Krabi luxury hotels in Thailand offer the services that are usually expected of premium hotels. Apart from the usual swimming pool, these hotels come jam-packed with many other facilities that one can enjoy fully to their heart's extents. The ambiance has certainly received some pompous response from the visitor gone-by at these hotels. They come with good shuttling services as well as airport pick-up and drop, which is a must in luxury hotels these days to accommodate a hands-on easy-made trip for their customers. The massages and spa services are definitely not to be missed by visitors. Apart from these, the laundry, housekeeping and room-service departments don't just function but exceed the expectations when it comes to customer-friendly service of sorts.
Dining
Luxury Hotels are usually supposed to have good restaurants, but this cannot be taken for granted as some might be excellent in the way their accommodation is set out but the food can be equally disappointing. Not to worry though, Krabi luxury hotels have good restaurants with some of the best chefs serving up some delicious food that just reveres to our taste buds and style. Apart from Thai, there are other cuisines that can match up to any requirements. Especially for some who have a tendency to avoid sometimes bland or sometimes extremely spicy food that just cannot digest in their systems. The food services at resorts like Krabi Front Bay Resort are just tailor-made for people of that category, and it doesn't fail to amaze the diners. Alcohol too is quite the bomb here, with some great bar menus to go along with the food to make it a fine Wine n' Dine experience to remember and one never to forget. The bartenders have some exquisite tricks up their sleeves, so be sure to be amazed. Apart from the food and alcohol the other departments function just fine, so one won't have much to worry about.
FAQs
Q1. Where in Krabi should one must-go?
A. The three best areas to stay in Krabi would be Ao Nang, Nopparat Thara and Railay Beach. These areas have the majority of top resorts that could just be the perfect destination.
Q2. When to visit Krabi?
A. During the summers – June – July. This is the best time as lesser people from the European region visit then, who usually overcrowd it here between March-April.
Q3. Which hotels are closest to the airport in Thailand?
A. Most of the hotels mentioned in this article are within a 100km radius from Bangkok airport and are even close to Phuket.
Q4. Best Krabi Luxury Hotels?
A. Villa Thalanena, Ban Sainai Hotel, Ao Ning Cliff Beach
Q5. Do hotels in Krabi serve Indian food?
A. Yes, hotels in Krabi serve Indian food. Not all of them though, so make sure to scour through the restaurants and if guests only want Indian food, then make sure to ask them before reserving spots.
Having a gala-time with family definitely tops the wish-list of many bread earners, who like the occasional splurge of cash on extravagant tours that certainly turn out to be successes and great adventures for the entire family, ranging from the old to the young. Everyone is bound to have a good time when such tours are planned, and it is about time the family did the same too. Krabi luxury hotels certainly give one the best experience that anyone can have, which is definitely surfaced with positive reactions of huge smiles and laughter to go with. When travelers are given so many options, one if often bound to be spoilt for choice when it comes to the perfect choice of Krabi luxury hotels. This article states a few excellent ones that we recommend to our readers, who are at the will of their gadget screens to look up the ones we've mentioned to get further details.