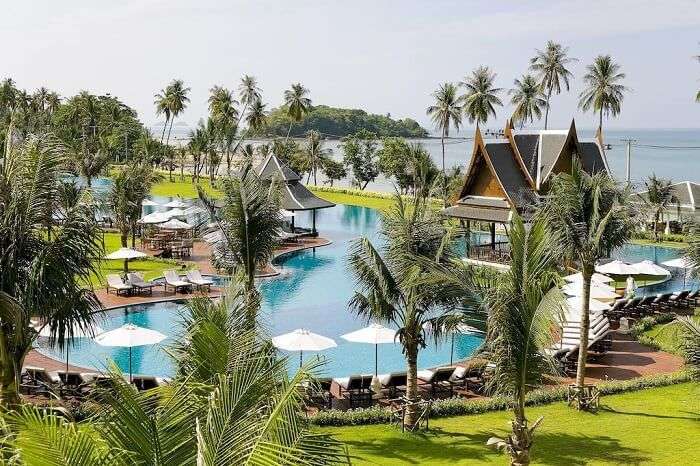 Overview
Krabi is known as a plush tourism hub, courting many world-class hotels, resorts that constitute Krabi luxury resorts. It is an ideal spot for a honeymoon, family trips but more-so it is made for travelers and their loved one as and when they wish to take a break from the real world and the views here are definitely out of this world with a comfortable stay, delicious food, and some even more amazing views. Krabi luxury resorts certainly are aplenty here, with many on offer. Getting a special Thai massage here is said to be a one-in-a-million experience, with not much that equals the amazing experience. With large rooms that suit the décor as well as an excellent swimming pool to go with, this resort has exclusive top-end facilities to match the price-tag.
Piman Boori Pool Villas Ao Nang comes next, and this resort has all the making of a perfect momentous trip for one to enjoy. Built with great excellence, it has the facilities and amenities to match the hype. Matching the standards and expectations of the trademark Ritz Carlton style, this one just amazes us. If tourists want to unwind by playing some golf, then Sofitel Krabi Phokeethra Golf & Spa Resort is the perfect stop.
Special Experiences
Trips of such kind can be very important to families as they can bond, make memories as well as get energized to head back into the reality of the boring home-to-work and work-to-home life which we all lead. This list has some great top-end resorts where one can certainly do the same, and there is no fear of losing out on too much cash, as its reasonable up to an extent. The golf and side-by-side experience of the pool at Sofitel Krabi Phokeetra is one to relish, with some great amenities and that's definitely a top recommended one. The resorts are loaded with things on offer, and it could be a great adventure, come what may.
Facilities
Most of the Krabi luxury resorts have some great things on view and offer. They match up to or better the standards set by other resorts, but this place certainly has some good benefits of visiting as stay at the resorts come with package offers to several water sports adventures, which are a must when in Thailand. Complimentary massages and spa services are dished out through coupons available at the receptions. The Phulay bay in accordance has some great food and offers a nightly service of barbeque, where all the favorite meats are there to be devoured. Apart from the regular services of food, swimming pool, massage and spa, these hotels also offer cars on rent. Laundry, housekeeping, and room-service departments have great customer-friendly staff that just do not create any hesitation in their customers.
Dining
The Krabi Luxury resorts are automatically attached to good restaurants for the benefits of their customers and visitors, to make a wholesome experience possible. A variety of cuisines including Thai are on offer here, with the majority trying their hand out at Thai cuisine, in order to get the plush experience of a drink by the beach, along with some extravagant meat dishes along with some dishes for the vegans too. There're poolside drinks, a mini-bar in the room and excellent shuttling services for the inebriated few who can't take to the wheel at times of alcohol consumption. Friendly staff and great makings for a family dinner are the trends here, with many families opting to dine at their resorts itself, to get a better experience of their stay.
FAQs
Q1. Is Krabi good for its resorts?
A. Yes, it is an often-visited spot where there are a number of resorts and hotels to match the taste when it comes to fine memories made.
Q2. What is the best time to visit Krabi?
A. During the summers – June – July. This is the best time as there are lesser people from the European region, who usually overcrowd it here between March-April.
Q3. How is the transportation system in Krabi?
A. Most of the resorts mentioned have excellent shuttling services that enable people to cover the distance that the entire of Krabi offers, to fulfill all their wishes.
Q4. Are there are any 7-star restaurants in Krabi?
A. No, but the services and looks certainly match up to that of some of the best in the world.
Q5. Do hotels in Krabi serve Non-Thai food?
A. Yes, resorts in Krabi serve all kinds of cuisines.
Luxury tours are now a trending feature among families that like to have a good time. What better place than Krabi, which is incredible and one does not find enough adjectives to express the likelihood of the family enjoying their trip here. The turn of the century has seen many more people travel abroad and explore regions in Thailand like never before. Krabi luxury resorts are the one-stop destination for such feasts of galore and raunchy extravaganzas one cannot define in words. The aforementioned list of Krabi luxury resorts certainly have a few masterpieces that are a must-visit, when in Thailand. The USP of Krabi is its nightlife, food and alcohol experience along with the fine lighting of the beaches to enhance the mood for the couples. The resorts have the same feeling about them as they offer great amenities and things one just couldn't envisage on trips elsewhere.