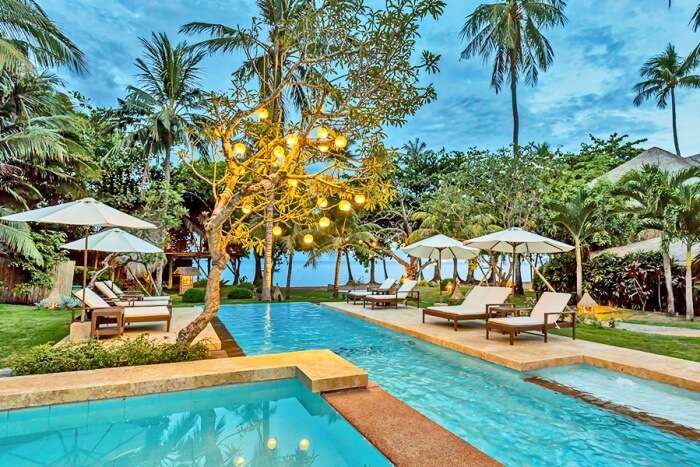 Overview
Hong Kong is the city of sky-soaring skylines, jam-packed city chaos and a densely populated melting pot of modernism & multiculturalism. The fast-paced busy city witnesses overwhelming visitors who look for Luxury Resorts in Hong Kong and relishing the opportunity to steer off their on-the-go city exploration.
The city has a plethora of such options that not only offer a great stay but also give many memories for a lifetime. Guests staying at these resorts are provided with various lavish facilities like a spa, sauna, business center, library steam room and much more. For one's ultimate relaxation, they boast of a swimming pool and also allows guests to have a relieving massage performed by expert masseuse and masseur. Apart from these, guests are also offered a wide variety of water activities which poses a great getaway from the chaotic life. Travelers can either opt for snorkeling, kayaking, fishing or can also go for diving, canoeing, and windsurfing. They also strives to impress their guests with the in-house dining and drinking options. Travelers can have a scrumptious breakfast, lunch and dinner in the on-site restaurants and guests who are fond of drinks are also like to get smitten by the stock of drinks these bars have. Luxury Resorts in Hong Kong leave no stone unturned in providing their guests with a memorable stay.
Special Experiences
Being luxurious properties, Luxury Resorts in Hong Kong are famous for providing their guests with an impeccable stay. There is a rooftop pool, infinity pool, heated pool and saltwater pool in these resorts which is a great way to have some relaxing time. Most of the resorts also own a spa centre where one can schedule for a therapeutic spa session or can also opt for various kinds of massages water es including, neck massage, couples massage, hand massage, back massage etc. Water sports enthusiasts also have plenty of options to enjoy. The resorts arrange various water activities including kayaking, snorkeling, windsurfing, fishing and canoeing.
Keeping in mind the best stay of children as well, the resort offers many options to keep them entertained. Many of the resources have a playground where kids can play freely or also walk down to the game room of these reports which are filled with various toys and gaming options. Notably, Luxury Resorts in Hong Kong also have special facilities for differently abled guests.
Facilities
Witness the charming elegance of the acclaimed style and aesthetics showcased by the renowned Luxury Resorts in Hong Kong that one can simply not forget on experiencing the relaxing and comforting facilities. Some fantastic options for spa therapies are offered here for complete rejuvenation and impeccable services of the personal salon are provided with the utmost sophistication. Some resorts offer complimentary vehicles to take a splurge in the panoramic views of city and harbor. An utmost experience of a holiday is by staying in some of the marvelous boutiques designed and decorated with the great indulgence of city's serenity. The crystal steam baths at divine suites and well-appointed rooms equipped with a tub for invigorating rejuvenation therapies are an outstanding leisure experience.
A trip to Hong Kong can embark a timeless experience that can allure a traveler to visit the city every year and get to spend some precious time at classy and premium Luxury Resorts in Hong Kong like The Peninsula, Ritz Carlton, Island Shangri-La etc.
Dining
Hong Kong is popular among foodies as it has myriad of dining options and enjoyable flavourful eateries around the corner. There are quite a number of Luxury Resorts in Hong Kong serving a variety of range of cuisines in breakfast to dinner. While staying in Hong Kong luxury resorts, one can experience the exquisite taste of French cuisine at the private dining accompanied by some famous International cuisines s well. The chefs at these hotels are well renowned and make sure that their guests have a happy meal. They also cater to special requests like customized menu and kid-friendly meals. While offering great dining options, these reports are also expert in offering drinking options. The resorts have a bar which is stocked with famous drinks and the bartenders here are an expert in making sizzling cocktails.
FAQs
Q1. Is there any room service offered at Luxury Resorts in Hong Kong?
A. Yes, 24 hours of excellent room service is provided so that guests can enjoy their stay in comfort.
Q2. What are the free places one can visit in Hong Kong?
A. Clock Tower and Chung King Mansions in Tsin Sha Tsui, Stanley Market, Po Lin Monastery, Symphony of lights etc.
Q3. Are pets allowed in these resorts?
No, most of the resorts don't allow pets on the property.
Q4. Can one avail laundry and dry cleaning service while staying at Luxury Resorts in Hong Kong?
A. Yes, these resorts offer laundry, and dry cleaning services at an additional cost.
Q5. Are there special facilities for differently abled guests?
A. Yes, some of the Luxury Resorts in Hong Kong offer facilities for making the stay comfortable for differently abled guests, However, checking the same with the hotel is advised.
Hong Kong is one of the favorite cities of many travelers to be visited in the world. The endless options to do and see can be overwhelming for the visitors that one can scratch his head in order to start its trip around the city. From shopping to dining and from culture to modern values, a lot of vibrancy can be offered at the popular tourist attractions. The impeccable facilities and services provided by Luxury Resorts in Hong Kong make one's experience more wonderful in the city. Cosmopolitan city offers the perfect combination of outdoor adventure and city life exploration. Some premium list of Hong Kong luxury resorts goes like Causeway Bay, Wan Chai, Gold Coast Hotel Silvermine Beach Hotel. These are some of the finest hotels that provide unique and diverse amenities with fantastic locations for sightseeing.