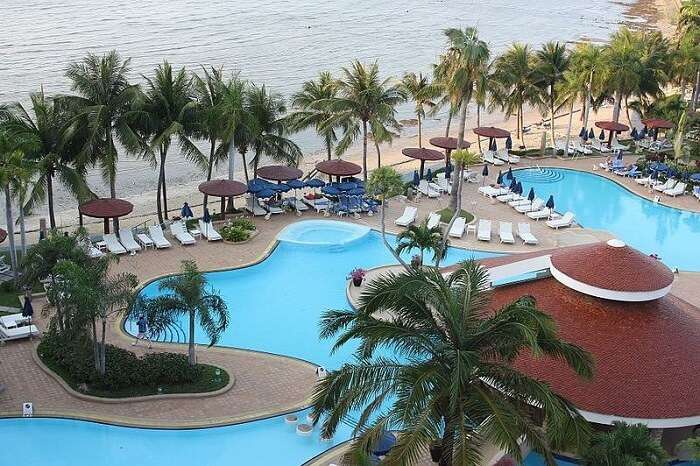 Overview
Luxury and comfort are two aspects that every person looks out for in an ideal accommodation for spending a great vacation time. Pattaya luxury resorts are sure to make this dream of every traveler come true with their exquisite accommodations and amazing facilities. Stay inside the wonderfully designed and stylised rooms and suites of these resorts and enjoy their great services and facilities managed by a team of highly cooperative staff and management. Spend some quality time amidst the lush pools, posh spa, and fitness centers. Have fun while enjoying water sports and activities offered by these resorts along with beautiful views of the sea. Dine at the best restaurants and eateries of these resorts and satisfy the taste buds. Needless to say, Pattaya luxury resorts welcome all travelers with open arms for a perfect vacation aided with equipped with every little thing that one could ever wish for.
Special Experiences
The special services at the Pattaya luxury resorts are some exclusive and worth taking deals to look up to. Intercontinental Pattaya Resort offers a free shuttle service to downtown Pattaya and has also got the provision for a speedboat to Koh La Island. Centara Grand Mirage Beach Resort has a worth experiencing water park that offers many adventurous water sports along with a game room that has also got the space for billiards. Royal Wing Suites and Spa manages a cooking school and theatre along with kids' and teens' clubrooms for its customers. Cape Dara Resort Pattaya has a 5-bedroom villa and also a beautiful infinity pool. Amari Ocean Pattaya Resort provides currency exchange, concierge and baggage storage services as well. These special facilities at the Pattaya luxury resorts are bound to occupy special places down the memory lane.
Facilities
The Pattaya luxury resorts provide classic facilities which ensure a comfortable and delightful time for their customers. Along with the basic facilities of lavish rooms and suites, Wi-Fi connectivity, laundry, room service, flat screen TVs, minibars, sitting areas etc. these resorts also offer amenities that make the stay an affair worth looking forward to. Siam Bayshore Resort Pattaya has butler service, private pools and/or sundecks in its upgraded rooms and villas. It has plush pools and a posh spa along with a 24 hours available gym. Pattaya Modus Beachfront Resort has an additional family lounge and kids' playrooms. Bike rentals are also provided at the Cape Dara Resort. Most of these resorts have smoke free premises. Spa and free parking facilities are also available. These hotels take proper care with their facilities to provide travelers with some refreshing time.
Dining
The dining options at the Pattaya luxury resorts are no less than the facilities offered here. Intercontinental Pattaya Resort brings for its guests, beachfront dining options including a global cuisine spot, tapas lounge, and casual grill. Royal Wing Suites and Spa has got 3 restaurants along with a bakery. At Dusit Thani Resort, guests can sample a wide variety of local and international dishes at Cascade Restaurant while the Bay restaurant here serves international skewers and offers views of Pattaya Bay. Cape Dara Resort Pattaya offers free breakfast. It has got a terrace bearing casual restaurant and an upscale Chinese restaurant along with a cafe cum bakery and swim up bars. The bartenders at the bars of these hotels work with full professionalism which keeps their customers happy and content.
FAQs
Q1. Do these resorts provide bikes on rent?
A. Yes, some of the resorts like Cape Dara resort do provide this service. It is advisable to check with the specific hotels before booking if that is a major influencer.
Q2. Are these resorts kids' friendly?
A. Yes, most of these resorts are kids' friendly.
Q3. Do these resorts provide currency exchange facility?
A. The facility of getting the currency exchanged is available at some of the resorts like the Amari Ocean Pattaya resort.
Q4. Is wheelchair accessible entrance allowed here?
A. Nearly all the luxury hotels in Pattaya allow wheelchair accessible entrance.
Q5. Does one need to pay for the shuttle service?
A. The shuttle service at some of the hotels is free while at others; it has to be paid for.
Pattaya luxury resorts ensure a complete package of comfortable, lavish and enjoyable vacations in the best possible ways. Live a few days managed by the great hospitality and the best of the services offered by these resorts. Enjoy all the basic facilities along with some special experiences provided by these resorts. Resorts like the Garden Cliff Resort And Spa and The Zign Hotel Premium Villa offer wheelchair accessible lift and entrance along with the facilities for the sauna. Visit the Pattaya luxury resorts for a vacation and live some amazing time that would last throughout a lifetime as a beautiful memory.