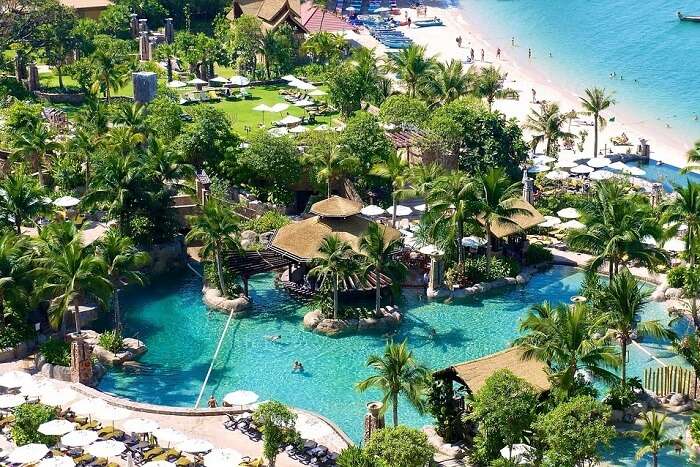 Overview
Pattaya is an amazing place that has been bookmarked as one of the best tourist destinations that are on offer. The city gets both solo-travelers and couples or even families, all kinds of people for that matter. Pattaya Resorts certainly come at a cost and an unfailing one at that, but travelers can be rest assured to have a good experience for sure.This is something that can be vouched for by many visitors here, who've all mostly had good experiences. First up there is the Le Bali Resort and Spa which offers some great spa services, which allows the guests to unwind and relax oneself from the hard schedule of work. Next, up there is the Avani Pattaya Resort, which is bound to send the chill waves down the spine as its beautifully built and decorated, to suit all the holiday needs. Renaissance Pattaya Resort and Spa is another special piece that comes to mind, this is one that will never come across as boring or unattractive. In fact, it comes across as a cozy, warm place with great affection. The Welcome World resort and Spa is also one of the best resorts to offer. Hotel Baraquda Pattaya – Mgallery is a resort that offers great views, extraordinaire comforts and is a place that is bound to take one's breath away.
Special Experiences
When it comes to special experiences, Pattaya Resorts like Achawalai Residence Village By Song offer all they can with their luxurious comforts, great ambiance, and even greater facilities. Resting by the pool is said to be a great feeling, so is checking out the water sports adventures that are on offer as packages from the resort's end. This is something one just cannot afford to miss out on, as the Thai experience would be incomplete without one such water sports adventure, which travelers must take part in to take in the true essence of Thailand. Resorts like The Agate Pattaya Boutique Resort are usually beachside, but in this article have focused on the ones that don't usually come by the beaches, this is to ensure that guests have a quiet, calm experience to make sure holidaymakers get the best experience possible. Pattaya Resorts certainly have a lot of variety and that shows in the choices we have put up.
Facilities
The facilities available at Pattaya Resorts are just unparalleled with the ones on offer elsewhere. All the departments have great servants and real hard workers of the industry that set great standards of hospitality in Thailand. The rooms come with the most unbelievable forms of simple decorations that are bound to catch the eye for sure. To ensure, people are aware of the culture and beauty of Pattaya, there are some eye-catching Pattaya Resorts. Resorts like Ravindra Beach Resort & Spa and Siam Bayshore Resort Pattaya are ranked the best in the world for their pool-side dinners/alcohol parties which serve up some great atmosphere and treats for visitors. If one has children along on the vacation, then some of the staff will be even willing to watch over them while the adults are busy with various activities. Some of the resorts even come with minimal play areas to cater to the needs of children-visitors. Massages and Spas here are a must and they need to be checked off the list at the soonest, so make sure to pick resorts based on the services they offer. Experience the best Thai customs by availing these benefits to make a perfect Thai trip possible!
Dining
The food at most of the Pattaya Resorts is tenderly good allowing one to have the best experience possible. There is a real trend of trying out Thai cuisines as such among the travelers who come here for a full-blooded experience that travelers cannot get anywhere else. One may get Thai dishes at a plush restaurant back home. But there is nothing like having it right here, on the mainland that is Thailand. The dining services are just fine, or more than fine and certainly come with the added-on luxury of having some alcohol along with the dinner, which could lead to having a perfect time within the limits of reality. The chefs and bartenders in resorts like InterContinental Pattaya Resort work hard to provide excellent services to their customers. Mini-bars in the rooms also ensure that alcohol is always within the reach and there is nothing impossible, when it comes to Thai ambiance, thus ending with Pattaya Resorts being ranked as some of the world's best.
FAQs
Q1. Where to stay in Pattaya?
A. The North, South and Central Parts are usually preferred by people who happen to visit.
Q2. Which is the best period to travel to Pattaya?
A. The summer is likely to give the best experience one can hope for.
Q3. What are the best travel accessories to carry?
A. Sunscreen, Shades, Magazines, short aqua-wear, eye-shade wear
Q4. Is it recommendable to eat outside or are the hotel restaurants any good?
A. Well, the resorts have good food service. They are highly recommendable.
Q5. Is there any Airport-transit service available at hotels?
A. Yes, they have excellent services. Shuttling services too.
To end with, we can certainly vouch for the luxurious experiences some former travelers have and hope that we could entice travelers into picking Pattaya as their favorable destination of choice for a holiday or an extended trip, to savor in some of what Thailand and Pattaya Resorts have to offer. So, make sure to enjoy the beaches, the pools, the alcohol, the food and carry home some great memories. Trips with families often end up being the best memories one can have. Extravagant sceneries, wonderful views are all part of this exposure and one just cannot fail to reminisce such moments in the future, when we tend to recall all our favorite memories gone-by. Thailand is one such relevant place that never fails to amaze anyone who visits. Many a family have been planning trips to this wonderland, with many of them coming away with some amazing memories. It's just a must-visit place that cannot be ignored. Lavish expenditures are a part of one's life cycle and Pattaya Resorts need just that. Not too expensive, but they are moderately priced.