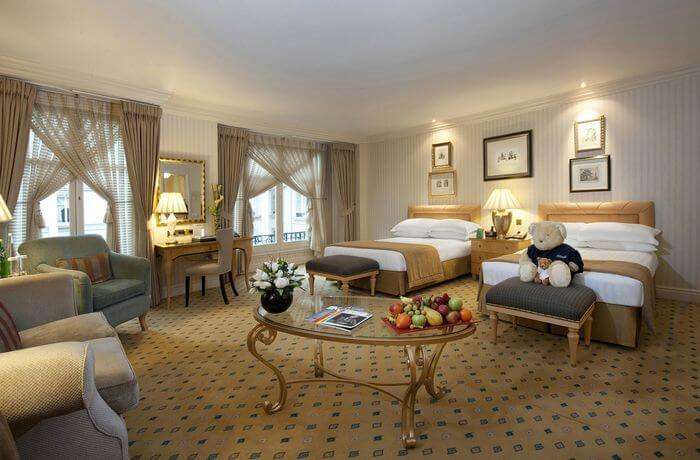 Overview
Hong Kong is heralded as the dynamic Asian city famous for its magnificent skylines, enigmatic tourist attractions etc. The city is inclined on the rich foundation of tradition and culture with the diverse treats of modern innovative luxuries. There are a fair number of Resorts for Family in Hong Kong encapsulated with excellent services. The visiting family can have the luxury to explore the arrays of the highlighted spectacles of the Hong Kong island and experience a very blissful stay at one of the best resorts thus having a sweet memorable time.
The vast and diverse metropolis, Hong Kong, is filled with magnificent arrays of sights, markets, nightspots, restaurants condensed at different locations. To enjoy the insights of the urban adventure of Hong Kong with family, the city makes this fascinating trip more pleasurable and comforting by providing the exceptional quality of service at Hong Kong resorts bedazzled luxurious rooms for kids and grownups. The diverse architecture of Resorts for Family in Hong Kong is drawn from the concept of urban rebranding with simple and pure community spaces bound to offer high-rise of special luxury to the guests in their rooms designed contemporarily.
Special Experiences
Emphasizing the picture-perfect location, Resorts for Family in Hong Kong are the delight retreats offering a truly luxurious and royal experience. The Seaview Holiday Resort which is one of the best Resorts for Family in Hong Kong, that offers yoga session for rejuvenation, onsite golf driving range, relaxation by swimming pool. Some upgraded rooms of these resorts offer panoramic sea views so that the guests can discover the beauty of the destination right from their comfort zone. Top-class facilities like an outdoor pool, fitness centre, salon, spa, massage centre are featured for guests to calm their senses. Some of the resorts also boast of an on-site shop and a gift shop where one can buy travel essentials, souvenirs and gifts for their loved ones. All these resorts are located near the major tourist attractions and provide easy accessibility. Water sports enthusiasts are sure to have an extraordinary time here as these resorts offer a plethora of such activities including windsurfing, kayaking, snorkeling, diving, canoeing and fishing.
Facilities
It can be stressful for the kids while strolling through the crowded streets of Hong Kong hence they can have an amazing time at playground which has been built at the rooftop of the Best Resorts for Family in Hong Kong including Disney Explorers Lodge. Grownups can find themselves acquainted at the tennis court and squash court. The ocean-sized swimming pool, small water park, and playroom are built for complete relaxation to the guests. Leisure time can be enjoyed at the well-equipped fitness Centre along with the spa and massage sessions. Travelers can enjoy tasting range of cuisines at the onsite Michelin star restaurants. Free rides for the visitors to the nearest tourist attractions are also offered by these resorts.
Dining
Travelers can enjoy spectacular dining experience in Resorts for Family in Hong Kon. These hotels maintain a refined in-house restaurant that serves lip-smacking delicacies in the pristine settings. Travelers can find a wide variety of cuisines at these resorts like American, Italian, Chinese, Thai, Japanese, French and International. The scrumptious dishes are prepared by using local and purest ingredients add an authentic to these cuisines. Travelers can also enjoy delectable American breakfast offered by many resorts. One can also have their favourate drinks at the on-site bar of these resorts. The bartenders here highly professional and are well versed with the requirements of their guests. Special requirements like customized diets and kid-friendly meals are also taken care of at the restaurants. For travelers wanting to have meals in their rooms can easily avail room services.
FAQs
Q1. Are kid-friendly meals served at the restaurant of these hotels?
A. Yes, most of these restaurants offer various options for kid-friendly meals.
Q2. Can one avail laundry service at the resorts?
A. Yes, all the resorts provide their guests with laundry and dry cleaning services at a surcharge.
Q3. Can one smoke in Resorts for Family in Hong Kong?
A. Smoking is not allowed in the rooms of these resorts. However, they have a designated area for guests wanting to smoke.
Q4. Do Resorts for Family in Hong Kong allow to bring pets on the property?
A. No, most of the resorts don't allow their guests to bring pets along.
Q5. Which payment modes are accepted in Resorts for Family in Hong Kong?
A. All types of payment modes such as cash, credit cards, and debits cards are accepted in these resorts to facilitate the guests.
The bustling cosmopolitan city, Hong Kong, has scattered islets with mesmerizing views. A tourist's escapade to Hong Kong can refresh their satiating urge for tasteful culinary adventure and city exploration. The breath-taking skylines make the city electric by filling it with energy. The city never stops surprising its visitors. For those who are visiting with their family, they can find the feeling of home away from home by staying at Resorts for Family in Hong Kong. The thrill and fun in Hong Kong can always be remembered somewhere at the back of the mind. Hong Kong is home to exhilarating sight views and world-class shopping spots in the world. Visitors can have the luxury of staying at best Resorts for Family in Hong Kong and enjoying their family time.