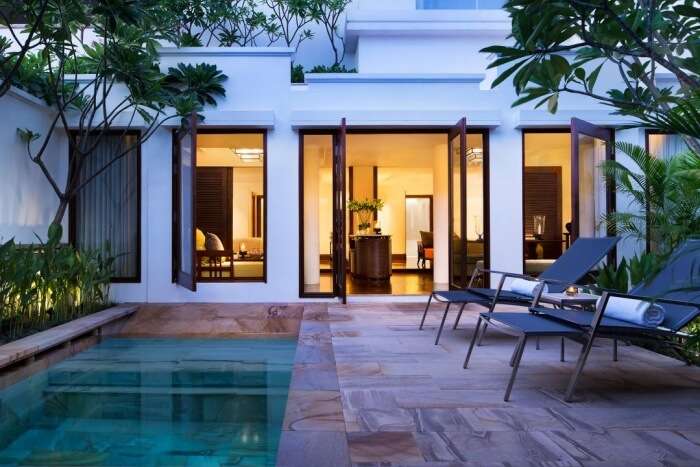 Overview
Siem Reap, a northwestern town in Cambodia, is one of the iconic tourist destinations to explore. This place is visited by mind boggling number of tourists every year and thus this town hosts variety of accommodation options. All these hotels offer star status and modern day facilities to the visitors so as to make their stay amazing and memorable. The main highlight of 3 Star Hotels in Siem Reap is their impeccable hospitality as they treat their guests with sheer politeness and warmth. Their immaculate services and gorgeous beauty leaves tourists with the desire to visit here over and over again.
If traveler is an ardent temple-lover then Siem Reap is perhaps the best option to discover. It is a bustling and a popular destination for tourists coming from all around the world. This city is a gateway to Angkor Wat, a mesmerizing and beautiful temple. Siem Reap is a thriving city in Cambodia that possess a variety of Chinese and colonial style building. It inherits a rich cultural legacy and pulsating nightlife. This has reinvented itself as an epicenter of chic Cambodia, with everything from great tours, backpacker party pads to world class dining and rejuvenating spas. With Siem Reap being the major tourist destination in the world, availability of 3 Star Hotels in Siem Reap do not pose any issue.
Special Experiences
3 Star Hotels in Siem Reap provide top of the line facilities so as to offer an amazing experience to the guests during their stay. Guests can relax and take a plunge in refreshing and well maintained outdoor swimming pools at Residence Wat Damnak, Reaksmey Chanreas Hotel and a lot more. Nestled amidst the major tourist attractions, these hotels are famed for offering stunning and ravishing city views to the tourists. Hotels like Mekong Angkor Palace Hotel feature a sundeck with lounge chairs so that guests can spend some peaceful time. A lush green garden and a large playground are available in some hotels where travelers can enjoy their leisure time and collect some beautiful memories. A tuk tuk and car services are available in 3 Star Hotel in Siem Reap in order to make visitor's trip travel-friendly. If kids are the part of vacation then one can book Tareach Angkor Villa and cut the expense of the kids below 11 years as kids 11 and under can stay here with their parents at no charge.
Facilities
3 Star Hotels in Siem Reap are furnished with all world class facilities and top class services. From laid-back rooms, modern bathrooms, work desks, AC, baggage storage, laundry service, housekeeping, tea and coffeemakers, parking, internet connection, mini-bars, room service to fitness center, swimming pool – indoor, outdoor and rooftop, on-site bar and restaurant, spa and wellness center, airport shuttle – these hotels have it all. Some hotels like Residence Wat Damnak, Okay Guesthouse etc offer rejuvenating spa and massage therapies to offer some peaceful experience. Some hotels offer well-equipped conference halls where business travelers can organize meetings and product launch conferences.
Dining
Almost all 3 star accommodations in Siem Reap are equipped with in-house restaurants where travelers can enjoy an exceptional dining experience in the plush and beautiful settings. From local to international, their menus have everything to tickle the travelers' taste buds. The chefs of these hotels are extremely courteous that they can immediately prepare food as per guests' choice without giving a single excuse. From breakfast to dinner, visitors can choose from an enticing selection of Asian and western dishes. The food is prepared from the fresh ingredients to add the authentic touch. Residence Wat Damnak is one such Hotel in Siem Reap where breakfast is cooked-to-order in an open air restaurant. Guests can unwind themselves at the on-site bar after a long tiring day. Their bars are well-stocked and thus allow visitors to sip on their favorite drinks while enjoying a peaceful evening.
FAQs
Q1. Which are some 3 star hotels in Siem Ream that feature kitchen in some rooms?
A. Residence Wat Damnak, Oriental Siem Reap etc are some of the 3 Star Hotel in Siem Reap that feature kitchenette facility.
Q2. Is room service available at 3 Stars Hotel in Siem Reap?
A. Yes, state-of-the-art rooms service is available in all hotels in Siem Reap in order to make travelers' stay a memorable experience.
Q3. Is there any hotel in Siem Reap where internet café is available?
A. Okay Guesthouse Siem Reap is a 3 Star Hotel in Siem Reap where internet café is available to facilitate guests.
Q4. Can travelers find currency exchange facility in 3 star accommodations in Siem Reap?
A. Yes, travelers can easily find currency exchange facility in 3-star accommodations in Siem Reap such as Residence Wat Damnak.
Q5. What payment modes are acceptable at the 3-star Hotels in Siem Reap?
A. Cash, Debit Card and Credit Cards – China Union Pay, Diners Club, Discover, JCB, Mastercard and VISA are the accepted payment modes.
Siem Reap is an exotic tourist destination and a gateway to the millennium old Angkor Wat Temple. Visitors come here to witness the iconic beauty of this temple but there are plenty of other things to do as well. This city is famed for offering contemporary massage therapies, delectable cuisines, plenty of tourist insights and a vibrant nightlife. Some of the notable 3 Star Hotels in Siem Reap are Ananda's Siem Reap, Oriental Siem Reap, Mekong Angkor Palace Hotel, City River Hotel, S Hotel Siem Reap, Gloria Angkor Hotel, Eureka Villas Siem Reap, Amour D' Angkor and a lot more. These hotels offer travelers the simple luxury of time and comfort. Spa services offered at most of the hotel are set to elevate one's mood or one can simply enjoy in the outdoor swimming pool with their loved ones. The staff at Hotels in Siem Reap is hospitable and highly-skilled. Guests visiting Cambodia with their partners, families or business colleagues must stay at 3 Star Hotels in Siem Reap.