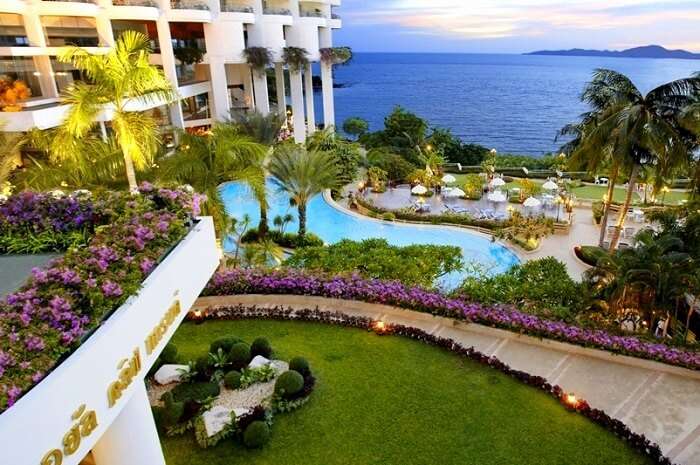 Overview
When traveling to Thailand, one of the major tasks is finding the perfect hotel that provides all the services one is looking for a perfect tropical vacation while still adhering to a budget. These 3 star hotels in Thailand give a good idea about all that one can get from a budget hotel in this idyllic destination. Made up of many islands, each unique in its own way, the hotels in Thailand represent all the beautiful contrasts that nature has bestowed upon this country. With the beach always a few feet away from these hotels, as soon as one steps foot at these mesmerizing properties, they are sure to be transported far away into a tropical paradise that is all about lush green spaces and hammocks tied to shady green trees.
The vibrant and varied culture of this amazing place is also reflected in its hotels along with all possible amenities that a traveler would expect. From the huge yet elegant lobbies to the well thought out rooms, all contribute in equal measure to make these 3 star hotels in Thailand such a favorite among all kinds of tourists.
Special Experiences
Thailand is known extensively for its stunning beaches and pristine blue waters where one can relax and play and enjoy themselves all day long. One such hotel that covers the beauty of this island extensively is the Cove, located on the Island of Phuket, one of the many 3 star hotels in Thailand which offer a multitude of water sports activities for its guests. One can enjoy parasailing, windsurfing, and other such exciting activities right within the hotel area itself while they also offer special services like diving tours for the more adventurous souls who wish to explore the vibrant and colorful life underwater. To make the stay even more special, some hotels like the PapaCrab Boutique Guesthouse can also arrange for tickets to sightseeing tours or any special programs happening around in the nearby area. Since Thailand is also famous as a honeymoon destination, the couples who come to the 3 star hotels in Thailand are also in for a special treat with certain hotels offering couples massages as well as bridal suites within their properties.
Facilities
3 star hotels in Thailand are well known for their high quality of services which are not compromised at any level for any reason. Though at times the number of services offered might not be as abundant, the staff waiting in all these hotels is highly trained and aim at making the visitor stay at their property as pleasurable as possible. Basic services like 24 hours wifi, television services, as well as parking facilities are available at all the hotels. Access to the private beach area in the Buri Beach resort or the spa and wellness packages that are offered by the Sarikantang Resort and Spa center also add that extra something required to make the holiday a special one. With room cleaning services, laundry as well as car rental services. Along with concierge service and outdoor swimming pools, these 3 star hotels in Thailand are no less than any other higher category hotel.
Dining
With many hotels like the Bella Vista Beach resort boasting of a restaurant right on the beach, many 3 star hotels in Thailand offer dining options with delicious food on the table. Guests can sit by the beach, and enjoy a scrumptious meal in a relaxed ambiance. With restaurants offering choices ranging from local Thai cuisine to International flavors like Indian, Mexican and Italian, all made from the freshest ingredients and bringing it from the kitchens of some very talented chefs. If traveling with children along, these restaurants are more than happy to prepare a special kids menu just for the young ones so that they can also enjoy themselves on this Thai vacation.
There are bars as well within the premises of the hotel so that one does not have to leave the property to get a drink. Certain hotels also boast of live performances where people can enjoy their alcohol accompanied by some amazing live music and other such shows to entertain during those evenings that one may wish to spend inside the hotel.
FAQs
Q1. What are some of the best 3 star hotels to stay at when in Thailand?
A. Some of the best hotels in Thailand are New Saim Riverside, Thai Royal Magic, Salad beach resorts and Sea me Spring resort that offer an enjoyable stay for guests when in Thailand.
Q2. Are the 3 star hotels in Thailand child-friendly?
A. Yes, most of the 3 star hotels in Thailand are child-friendly.
Q3. Will the hotels add an extra bed in a room free of charge?
A. Though most hotels offer this service free of charge, some properties may have a minimal charge to adjust an extra bed in the room.
Q4. Is exchange currency available at the hotel itself?
A. Yes, these hotels do offer currency exchange services, however, it is advisable to do it from a bank or other such institution.
Q5. Is there a provision to book tickets for shows or other performances from the hotel?
A. Most hotels in Thailand offer concierge services where one can get tickets to shows and performances booked from within the hotel itself.
World class services are always available at the beck and call of guests at these 3 star hotels in Thailand, so one must not underestimate the quality of services offered here. Budget friendly as they may be, these hotels have all amenities like currency exchange services, airport shuttles, laundry, coffee houses as well as gift shops just like any other higher category hotels in Thailand. A warm welcoming staff, both polite and efficient make the stay in these hotels truly special.