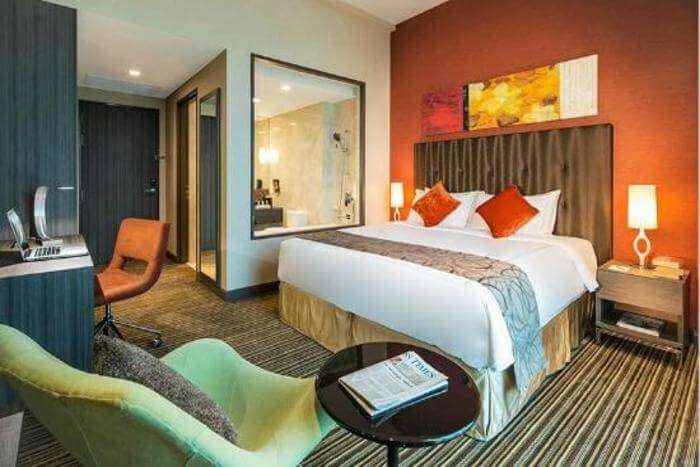 Overview
Known for its high-rise hotels and attractions, Singapore is one of the most-visited countries in the world and attracts visitors from all across the globe, be it for global summits, launches, personal visits or even official meetings. Singapore has staged it all and thus becomes a viable option to travel to.
Singapore has several attractions, but nothing comes close to the hotels in the country, which are just splendid and offer some of the higher services and facilities in the world, to match the city's decorations and lightings. Some 3 Star Hotels in Singapore match the cost of travel, which is inevitable due to the attractions the state has on offer. This country is like no other, as it doesn't have many big cities and is surrounded and mostly revolves on Singapore City, which is a country by itself. It's only pertinent that the hotels on offer here are on point to match up to the requirements of visitors' accommodation, and visitors range between travelers, foodies, socializers, families or even couples looking for a fun time. The 3 Star Hotels in Singapore offer a wide variety of facilities and amenities to make the guest' stay a complete and memorable one. For a unique, affordable option to visit the Park Avenue Changi Hotel, which is an excellent option for the travelers. The Hotel Mi is another top-ranked service which offers a great view from its high-rise rooms along with some plush facilities waiting to be savored. Aqueen Heritage Hotel Joo Chiat is another viable option for those travelers looking for a Porsche experience on the busy streets of Joo Chiat, which is a renowned street for its shopping avenues. The hotel is situated right there, in the middle of the hustle and bustle, to give the visitors a unique experience. The YMCA One Orchard is another excellent option that gives out some of the best facilities on offer in this range and is quite affordable in that regard. Next up is the Changi Cove, which is an excellent facility for visitors to feast on at the restaurant.
Special Experiences
Trips to explore Singapore often end up being good memories. The high-rise buildings, excellent shopping avenues, elegant restaurants, commercial lands all make for a great unforgettable experience which travelers cherish to the fullest. Some hotels come with packages to view some of Singapore's best, so make sure to book a reservation based on checking such fine details out. All these make for a great experience and 3 Star Hotels in Singapore not let the guests down. A of these hotel own ourdoor and indoor swimming pools where guests can have a completely relaxing time. One can also work out at the on-site fitness centre at these hotels. For travelers, traveling with kids, these hotels provides various facilities including kids' swimming pool, games room, and kids club as well. Hotel Boss, just as it is named, is a great venture which is a must-try when here, with fantastic rooms and hospitality on offer, it is an endless adventure which one can't forget. V Hotel Lavender is another option that is good and highly recommended for people looking for large rooms and great décor.
Facilities
The facilities offered by 3 Star Hotels in Singapore is nothing short of excellent, with almost everything on offer. Most of these hotel feature swimming pools, barbeques, spas, massage centers and also offer various recreational activities as well. Facilities including tour desk, 24-hour front desk, laundry & dry cleaning services, airport transfer, luggage storage, etc can be easily availed b these guests. Hotels gives free access to the wifi connectivity in rooms and public areas. The facilities overall are just divine, and it is recommended that travelers take the entire family or friends to these units of hotels, to divulge in the unique experience that is Singapore. There are great decorations at the room, and even mini-bards to boot, in the hotel rooms, which all in all makes for great Singaporean experience.
Dining
Singapore is a renowned world beater at food services and mot many countries match up to the standards of the food put up by chefs over here. With great Chinese food or even other cuisines, the 3 Star Hotels in Singapore do all that they can and work over-night to especially update the menus on offer here, to give their customers the ultimate experience. There is excellent alcohol being served too, catering to those who like to get inebriated. The customer service is brilliant here and doesn't leave a lot to be desired regarding quality and service-minded work from the staff.
FAQs
Q1. Are 3 Star Hotels in Singapore accessible from the Airport?
A. Yes, they aren't too far and are easily accessed by visitors here.
Q2. Are pets allowed at 3 Star Hotels in Singapore?
A. Most of the hotels don't allow pets in the vicinity.
Q3. Can one have food at hotels or outside?
A. The food served up at the hotels is quite good, but you're always welcome to check out some of the other good restaurants.
Q4. Do 3 Star Hotels in Singapore provide babysitting services?
A. Yes, most of these hotels provide babysitting services at an additional char.
Q5. Is there any Airport-transit service available at hotels?
A. One can always take the airport shuttle services offered by most of the hotels in Singapore, or they can still pay a small amount for a private airport pickup and drop.
There are many world-class 3 Star Hotels in Singapore that not only offer a comfortable stay but also make sure that their guests are happy with the stay. Most of these hotels have in-house restaurants that offer traditional and international cuisine. Guests can also take benefit of the well-equipped fitness centre featured at 3 Star Hotels in Singapore. The shopping avenues are jam packed and filled to the brim on all days, leaving no room for error and conjunction. These hotels also provide guests with all the amenities and facilities which are bound to make them completely satisfied with the stay.