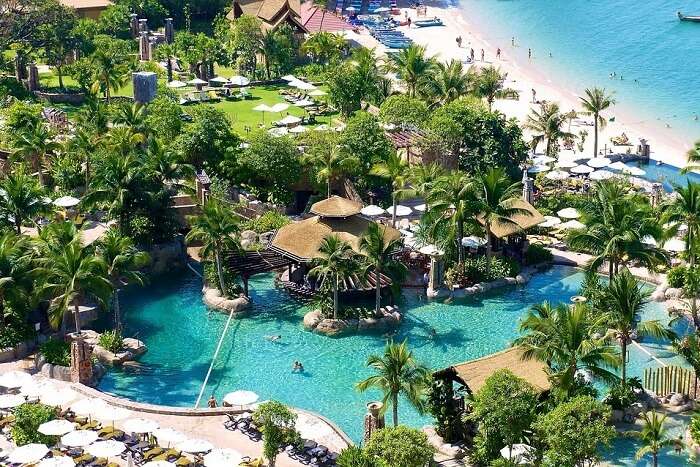 Overview
The success of a trip is ensured by comfortable accommodations available in the area chosen by vacationers. 5 star hotels in Pattaya, with their best services and exquisite locations, are everything that one looks for while choosing a complete package.The sleek rooms, Wi-Fi connectivity, room service, laundry service, minibars, sitting areas and fun activities make one's stay full of purpose and enthusiasm. The hospitality, care and commitment of the staff at the 5 star hotels in Pattaya are worth mentioning and will give travelers reasons to feel happy about the trip after experiencing the stay at these hotels.
Guests can Enjoy the great taste of the food served in the amazingly designed restaurants of these hotels. Guests can relax with spa and massage centres and feel energized and refreshed. The outdoor pools and activities are the sources of pleasure for one and all. Guests who do not want to break the much required routine workouts can take benefit of the gym facilities and fitness centres available at the hotels. Vacationers who are looking for a perfect holiday in Thailand must stay at 5 star hotels in Pattaya and relish every moment at its level best with excitement and enjoyment.
Special Experiences
The 5 star hotels in Pattaya offer some exclusive and special experiences for their guests to make their stay worth remembering and taking pleasure in. The Zign Hotel has 3 ballrooms along with a gym, spa and meeting space. At the Brighton Grand Hotel, shuttle services are available for the added convenience of the guests. The Royal Cliff grand hotel has a private beach, outdoor infinity pool, 2 hot tubs and 12 meeting rooms. It also has the provision of a cooking school, a tennis court and a well-equipped gym. Airport shuttle service can also be availed by making a request. The Hilton Pattaya also has an exclusive infinity pool for its customers. The special services at the 5 star hotels in Pattaya ensure a luxurious and lavish stay for anyone who checks in.
Facilities
The facilities at the 5 star hotels in Pattaya are available to make one's stay a memorable experience. These hotels have contemporary rooms with colourful accents, high-speed internet, TVs, minibars and safes. The suites have separate living rooms for added luxury. Brighton Grand Hotel offers modern rooms and suites that also have coffee and tea making equipment and a gorgeous sea view. The Royal Cliff Grand Hotel has posh rooms and suites which are fully air-conditioned and also come with provision of writing desks and balconies that offer gorgeous, panoramic sea views. Parking service is free at all the hotels along with free wifi. Outdoor pools are also there to make the experience more awesome. Also, many hotels have sun loungers and sundecks too. Guests who wants to have complete relaxation can schedule sessions at the on-site spa provided by most of the hotels. Also, fitness freaks can avail gym facilities to continue their fitness regime even while traveling.
Dining
The dining options and bars, managed by highly professional and skilled management and staff at the 5 star hotels in Pattaya are a treat to satisfy the cravings and appetite of the guests. With their mouth-watering delicacies served in the restaurants located at exquisite locations, guests will never run out of dining options. The Zign Hotel has 8 eateries and bars, including a Cantonese restaurant and a swim-up bar. The Hilton Pattaya has 3 restaurants and 2 bars which include a cosy Asian restaurant and a romantic rooftop lounge. The Mytt Restaurant has a bar, bakery and a contemporary restaurant. 2 upmarket restaurants and 2 sleek bars at the Brighton Grand Hotel are available to make the dining experience of the customers splendid.
FAQs
Q1. What are the most common languages spoken at the hotels in Pattaya?
A. Thai and English can be used to communicate.
Q2. In which hotels can one find an infinity pool?
A. Guests can checkout the Royal Cliff Grand Hotel or the Hilton Pattaya Hotel for the availability of an infinity pool
Q3. Is an air shuttle service available at 5 star hotels in Pattaya?
A. Yes, some of the hotels provide this service. However, it depends on the hotels whether this service is complementary or can be availed on special requests.
Q4. Do the hotels have a gym?
A. Yes, gym and fitness centres can be found in most of the hotels.
Q5. Do  5 star hotels in Pattaya have wheelchair accessibility?
A. Most of them do offer wheelchair accessibility, but one should confirm it out once before check-in.
5 star hotels in Pattaya stand as the most amazing places that one needs to stay at while the trip to Pattaya. One can spend a few days of comfort and luxury, planned with the best facilities and services available at every call of the guests. Wheelchair accessible entrance available at The Zign Hotel, Brighton Grand Hotel, Mytt Beach Hotel, Royal Cliff Grand hotel and Hilton Pattaya speak for the priority given to the comfort of the guests at 5 star hotels in Pattaya. The Hilton Pattaya takes it a step ahead and provides wheelchair accessible lift and parking as well. The heartwarming hospitality and facilities provided by the hardworking and highly efficient staff and management stay available 24/7 for the service, safety and satisfaction. Travelers visiting Pattaya should spend their holidays at the 5 star hotels in Pattaya and live it in the most desirable and enjoyable way.