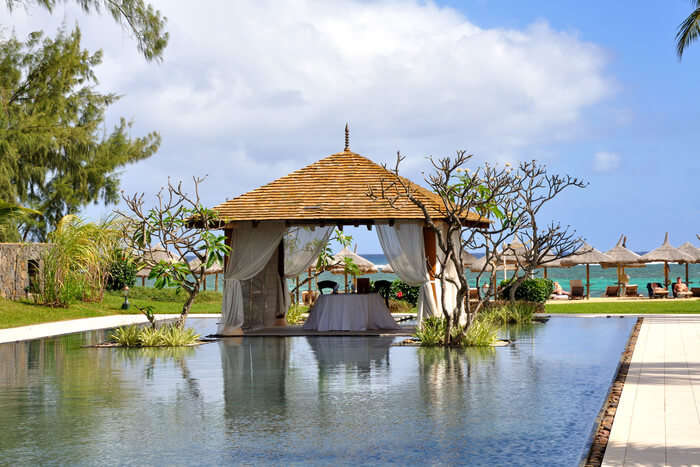 Overview
Mauritius is a ravishing place to plan a trip with family and friends amidst the tropical beaches. Bel Ombre is a small village with numerous beautiful hotels which offer spectacular services. Get the best amenities and views from these hotel located in the wonderful village. The most stressful thing while traveling is to get a good and reasonable hotel in a new destination. The perfect holiday is all about finding a good hotel in Bel Ombre Mauritius. One can book a suite in Outrigger Mauritius Beach Resort, So Sofitel Mauritius or Mauristudio which is an exceptional 5-star hotel. Villa Calypso, Villa Astreia and Chez Allan are 3 and 4-star hotels. Families and couples can bond more while enjoying numerous water sports activities or relaxing on the beach. Enjoy a wonderful stay at the luxurious hotels in Bel Ombre Mauritius to take this trip the best vacation ever.
Special Experiences
Guests can enjoy the Balinese massage and spa at the hotels which include full body treatment which includes head massage, foot massage, foot scrub, body scrub, and oiling. One can enjoy on the sandy beaches of Mauritius just outside the hotels like the Heritage Le Telfair Golf & Wellness Resort, the wonderful view from the room's window of the crystal clear beaches. Indulge in water sports like scuba diving, surfing, jet ski ride, ferry ride, gondola ride along with amazing Jacuzzi feels in the inbuilt swimming pool of the hotel. Some hotels like the Tamassa – An All-Inclusive Resort also give guests a chance to enjoy art performances, talent displays, bartender flame throws while enjoying special seafood. Play water volleyball with their friends and families.
Facilities
Spend time with a luxurious stay in amazing hotels with Wi-fi facilities and other best facilities to keep connected with the loved ones. The spas, casino, retro bars, gym, and swimming pools are provided to the visitors in the 4 star and 5 star Bel Ombre hotels Mauritius which give personalized and customized services to everyone. Blackout curtains, safe box, mini bar, hoth bathtubs, music system and air conditioners which are basic facilities which all rooms have. This trip would be the best trip of a visitor's life with a therapeutic massage at the massage parlor, spectacular food, flat screen tv, blackout curtains, wifi, king size bed, mini bar, radio, jacuzzi, hot tub, spa, dining area, and seating area. The rooms have wooden flooring along with modern furniture which adds to the beauty of the rooms with the best room service.
Dining
Restaurants at Bel Ombre hotels Mauritius have varied food items and platters which they serve with exotic wine and liquor which add charm in the evening. Hotels such as the Dinarobin Beachcomber or the SO Sofitel Mauritius usually have complimentary breakfasts and buffet dinners for the guests. The breakfast may also include Mauritian, Indian and Oriental platters. Enjoy the wonderful dining areas like sea facing, pool facing or near the pool.
FAQs
Q1. Do hotels in Bel Ombre have private beach access?
A. Most of the 4 and 5-star hotels in Bel Ombre which are located at the waterfront have their own private beach area reserved especially for the in-house guests of the hotel.
Q2. Can one expect discounts or offers to be valid when booking a hotel in Bel Ombre?
A. When visiting the off-season, one can definitely get plenty of offers and discounts from various hotels, however, in the peak season they will have to pay the full costs.
Q3. Is Indian food available in these hotels?
A. With hotels that have their own restaurants, the menu is well equipped with all types of international cuisine like Indian, Mexican, Chinese etc.
Q4. What language does the staff understand in the hotels in Bel Ombre?
A. One can communicate with the staff in English as most of them understand this language. However, guests can always call for a translator who can assist them with their requests.
Q5. Are airport shuttle services available in Bel Ombre Hotels?
A. 4 and 5-star hotels do offer free shuttle services to the airport, however, budget hotels do not. All the hotels no matter their category can always help travelers book a taxi to and from the airport.
Bel Ombre is a beautiful village in Mauritius but deciding a good and reasonable hotel is not an easy task in this place. Some of the best hotels in Bel Ombre are Mauristudio, Heritage Le Telfair Golf, and Wellness resort, Heritage The Villas and Villa Serenite. These hotels are amazing and they work hard to make the stay the most unforgettable memory of their lifetime. The hotels in Bel Ombre take good care of their guests and provide them ,with the best of amenities to make their stay in Mauritius a dream holiday. These hotels make guests trip to Mauritius, not just a vacation, but an experience of the lifetime.