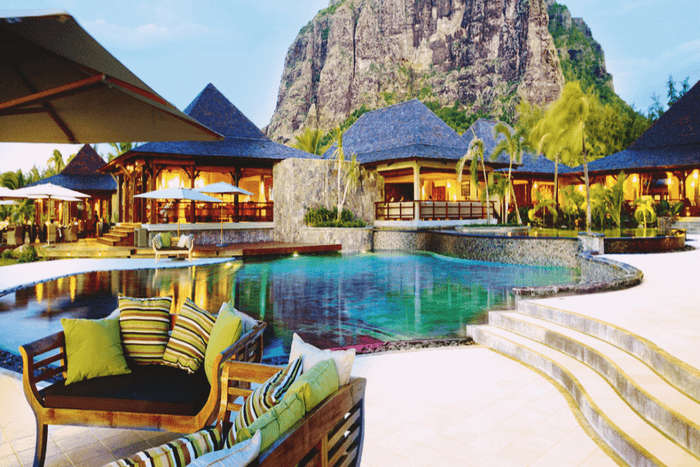 Overview
After all the stress of planning a perfect wedding, the couple deserves a break and get to unwind the best they can on the honeymoon. It should be the most rewarding of experiences and not yet another thing to worry about. Stranded midway between the continents of Asia and Africa, floating like a free spirit in the blue waters of Indian Ocean, Mauritius is one of the most romantic destinations of all time which one can pick with eyes closed.And the best hotels in Mauritius for honeymoon help to make it happen. There is no better way to spend some quality time with the special someone than in the palm-fringed private beaches and crystal blue swimming lagoons of Mauritius. Both east and west coasts of the island country are dotted with magnificent resorts, holiday homes, apartments and 3 to 5-star hotels in Mauritius for honeymoon for one to settle in with the partner for a week and soak in the magic of bright and sunny Mauritius.
Special Experiences
Every bit of the honeymoon is a special experience for the two newlyweds, and honeymoon hotels in Mauritius level up the charm of the new bond by providing just kind of comfort required during such a trip. Mauritius hotels are equipped with world-class facilities and offer all amenities a couple can desire for. One of the most premium accommodation is Maradiva Villa Resorts and Spa, which happens to be one of the best 5-star hotels in Mauritius for a honeymoon. They offer newlyweds exclusive villas with private plunge pools, couples massages and rose petal baths, romantic champagne breakfasts and private candlelit dinner with special menu and selected range of wines. Another unique feature is there in Turtle Bay in Balaclava, which is a beachfront pool suite with exotic semi-open bathroom overlooking the sea. The Oberoi Mauritius, Baie Aux Tortues arranges for stargazing tours for couples, which is something unique and so very romantic.
Facilities
The best hotels in Mauritius for honeymoon are all equipped with the most exotic experiences that one can imagine. Private pools to splash around with the loved one, relaxing couples' massages and arrangements for romantic dinners are common in all the romantic accommodations. One of the best resorts on the eastern coast of Mauritius is Trou d'Eau Douce, whose refreshing spa massage for a couple is a much-lauded one in all of Mauritius. The hotel offers special secluded rooms set back on Frangipani Island so that a couple can spend their intimate time with each other without any trouble. Sea-facing rooms are available in abundance as well, so that the next thing one sees in the morning is the vast blue stretch of Indian Ocean, which makes a perfect backdrop for a romantic setting.
Dining
Romantic dining with the significant other, far away from the world, amidst the crystal clear waters, is something no couple should miss out on their honeymoon. Some resorts take the idea of a secluded honeymoon dining to a whole new level. Riviere des Galets in South Mauritius is away from the humdrum of the city and offers the couple a unique romantic underwater meal at the Blue Safari Submarine restaurant – it does not get more romantic than this. Paradise Cove Boutique Hotel, a top-notch 5-star hotel in Mauritius for honeymoon has four restaurants to pick from and a pop-in bar. After sunset, the bar comes alive with live acoustic music and piano along with flowing cocktails in a unique blend – a perfect way to spend the evening with the spouse. One of the best dining experiences one can have is at 20 Degrees Sud. They have extensive a la carte menus, a Mauritian theme on Sundays and a cruise on the hotel's vintage 1920's motorboat Lady Lisbeth for eight people, or 4 couples to an exclusive restaurant on Flat Island, housed in a 19th-century ruin.
FAQs
Q1. What special offers do Mauritius hotels offer to honeymoon couples?
A. The honeymoon offers vary from hotel to hotel. Complimentary cocktail and fruit basket, flowers in the room, beachfront or beach-view room, couples massage and romantic dinners are the common facilities offered.
Q2. When should one book honeymoon hotels in Mauritius?
A. Mauritius can be visited at any time, but summers are especially enjoyable and also very busy. To get the best rooms, start looking for them online before the end of March.
Q3. What features should one look for in honeymoon hotels in Mauritius?
A. Make sure that the hotel has private pools, hot tub facilities, coffeemaker, and complimentary breakfast. These are the basic things there should be in any hotel.
Q4. Which beaches are the best for romantic hotels in Mauritius?
A. Le Morne, Balaclava, Flic-en-Flac and Riviere des Galets are some of the most romantic beaches here in Mauritius.
Q5. Which months are the cheapest for a honeymoon in Mauritius?
A. Winter months have the lowest rates in Mauritius. From November to February, travelers will get the cheapest deals for hotels, honeymoon or otherwise.
A honeymoon is the most cherished and memorable trip one takes throughout the lifetime, and there's no better destination than Mauritius to celebrate the bond of love. When booking these 5 or 4-star hotels in Mauritius for a honeymoon, the package often comes with complimentary drinks, romantic dinner arrangements, individual sea-view rooms, free pickup from airport and fresh flowers in the room upon arrival. Check-in time in most of these hotels is at 2 pm, so one might consider adjusting the flight schedule and further plans accordingly. Swimming pools are there with almost every hotel one can find, which means the first afternoon of the honeymoon trip can always be spent in the bright blues, unwinding the stress of the wedding and a long flight. Shangri-La Le Touessrok, Constance Le Prince Maurice, One&Only Le Saint Geran, St Regis Le Morne are some of the most premium hotels for honeymoon in Mauritius.