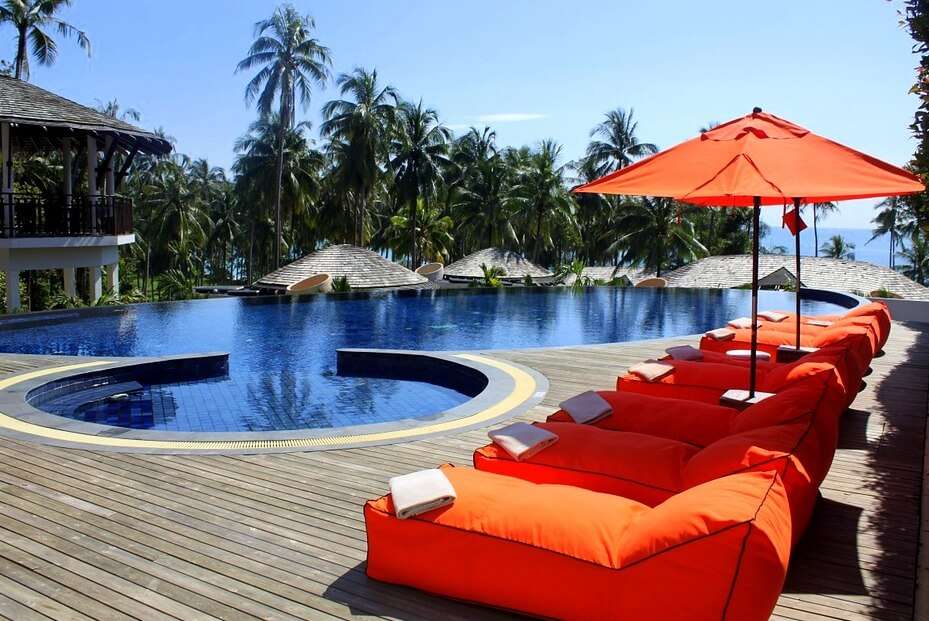 Overview
When planning on visiting Thailand for a honeymoon, couples look to find the best hotels in Thailand for a honeymoon for a pleasant stay. Although getting to Thailand is not hard or a difficult decision to make, the task of finding the apt hotel to stay in can be quite a task. With many things to worry about once travelers get to one of the most popular holiday and honeymoon destination in the Southern part of Asia, finding a hotel for a honeymoon is not what tourists need to worry about. Thailand is known for its superior quality of food and experiences thanks to its opulent beaches. To add to the experience, there is no shortage of great hotels in the country.
Wherever couples decide to visit, be it a city or a beach, they will always be able to find a good hotel to enjoy some time with their significant other. The best part about honeymoon hotels is that they offer special services for couples, which includes candle-lit dinners on demand, private space for dinner and various other services, including whatever travelers may demand. Other than this, all of these hotels come with chic structure, modern facilities, and amazing services. To add to the honeymoon experience in Thailand, one should find a list of the best hotels in Thailand for a honeymoon before taking a flight to the country. Decorated rooms, well-maintained gardens, vast choices of food in the restaurant are just the beginning of what these hotels offer.
Special Experiences
To find the best best hotels in Thailand for a honeymoon, one needs to know what these hotels offer. Most of the luxury hotels like the offer private pools; some even include freeform pools, villa-like spaces to help couples find their privacy, special accommodations on demand, decorated rooms, good music system, a retreat to the stunning beaches and more. Furthermore, couples can even find a private rooftop space in hotels like Bangkok Marriott Hotel Sukhumvit, when looking for the right kind of hotel for the honeymoon.
Additionally, one can even find hotels like the Chatrium Hotel Riverside Bangkok that offer a view of the river. One can find a riverfront hotel to enjoy the views of the tourist's choice in Thailand. Thailand's beaches are the perfect spot for honeymoons; some hotels even help one find amazing cruise options.
Facilities
The best hotels in Thailand for a honeymoon offer a host of facilities. The best feature of these hotels is the feature of offering private pools, which help couples spend intimate time with each other. What's more is that many luxury hotels not only offer in-hotel facilities such as laundry, dry cleaning, concierge services but also offer fun activity centers, a gym in the hotel and the cruise options in hotels like the Praya Palazzo Boutique Hotel Bangkok which help one enjoy the honeymoon.
To make memories on the beaches, couples could find a hotel near the beach, which would offer a room with the view of the beach and help the guests enjoy various beach activities such as sea kayaking, snorkeling and various kinds of water sports options. Additionally, some hotels even offer trekking options that help the travelers explore more of the city.
Dining
Dining is never a problem with any of the Honeymoon Hotels in Thailand. One could book a private space for their honeymoon and arrange the perfect dinner for them by talking to the hotel staff. The best hotels in Thailand for a honeymoon understand what it takes to create the perfect romantic dinner, which is why most of these hotels like the Aloft Bangkok Sukhumvit 11 come with pleasantly lit and decorated dining areas. What's more is that if couples wish to enjoy bouncing from one place to another, they can always go along with local restaurants for a better taste of the local Thai cuisine.
Thailand is mostly famous for its seafood. However, one can find Chinese food options, fusion dishes and various kinds of meat dishes to enjoy in most of the luxury hotels like AriyasomVilla.
FAQs
Q1. Will it be easy to find airport shuttle services at these hotels?
A. Luxury hotels in Thailand offer airport shuttle services. However, the concierge services can be used to get to the airport, if the need arises.
Q2. Does the staff speak in English at these hotels?
A. Yes, most of the hotels only hire those who can speak in English.
Q3. Is 24-hours dining service available at these honeymoon hotels?
A. Some resorts do offer a 24-hour room service, however, the restaurants are open for limited hours.
Q4. Is it allowed to bring pets along at these honeymoon hotels?
A. Most hotels do not allow guests to bring pets along. However, if the hotel's policy allows travelers to bring in pets, then one can.
Q5. Which currency is accepted at these hotels?
A, When visiting Thailand, one will need to bring or convert the currency to Thai Bhat.
Finding the best hotels in Thailand for a honeymoon would require travelers to make preparations before leaving for the country. Understand the various choices and have a look at what these hotels have to offer if tourists intend to find the perfect honeymoon experience in Thailand. With well-maintained gardens, vast choices of food, splendid outdoor pool and a plethora of other amenities, these hotels aim at creating the complete holiday experience for its guests. The rooms feature chic decor and amazing facilities for the guests. The hotels also arrange romantic dinner dates for couples if they prefer the same. Thes hotels are the perfect getaway for couples seeking to enjoy a holiday in this exotic destination. With such a large variety of hotels to choose from, Thailand has something for everyone.