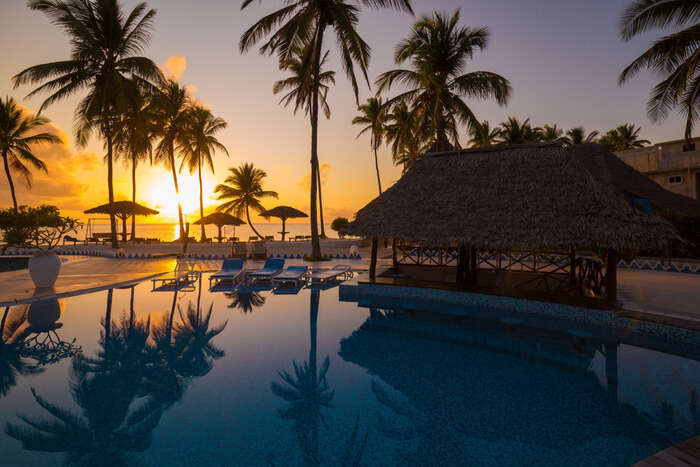 Overview
An enthralling holiday experience near tropical beaches and turquoise waters is the perfect destination for anyone.OK At Blue Bay Beach Resort Mauritius, visitors can enjoy beautiful coral islands with their loved ones and have a lifetime of experiences. Apart from the serene beaches and panoramic views, one needs a comfortable resort to spend their days as well. The best 5 star resorts in Blue Bay Beach Mauritius present all the visitors, tourists and travelers with best accommodations and breathtaking landscapes.
Deciding on a resort in Mauritius is a difficult job as each one has its own specialty. Blue Bay beach is flooded with exotic resorts which provide the best of services and comfortable lodgings. Visitors can even select the room type as per their budget and preferences. Some of the best resorts include Four Seasons Resort, Shangri-La's Le Touessrok Resort and Spa, LUX Belle Mare, etc. All these resorts are famous for their easy access to the beachside and beautiful coral islands. All the Blue Bay Beach Resorts in Mauritius work hard to make their visitors stay as pleasant and memorable as possible. They make a Mauritius vacation, an experience of a lifetime.
Special Experiences
Travelers can enjoy a multitude of adventurous sports activities offered by these 5 star resorts in Blue Bay Beach Mauritius. With the Indian Ocean frothing in the front yard, these resorts offer an opportunity where one can indulge in snorkeling, surfing, boating, parasailing, and scuba diving at the resorts itself. One can get pampered with a full body treatment that includes full body scrubs, foot massage, and facials for a stress-busting experience. Luxurious swimming pools under the wide umbrellas is the perfect place get a beach tan. One can sip a great wine and build sand castles with little ones. The resorts ensure luxurious stay by spending leisure time indulging in fresh seafood dishes or savoring creative desserts.
Some hotels like the Shandrani Beachcomber have all Inclusive offers fantastic views of the ocean from balconies that adorn every room, while Holiday Inn Mauritius Mon Trésor woos its guests with its private beach access.
Facilities
Most Blue Bay Beach Resort Mauritius offer the general amenities like free WiFi access, laundry services, fitness center, and an outdoor pool. Apart from traditional Mauritian food in the restaurants, most of them also offer exotic Italian delicacies, flavorful Chinese dishes, fresh seafood cuisines, and innovative desserts. Most of the resorts also offer wheelchair accessible areas and lifts. In some of the resorts like the Preskil Beach Resort, one can enjoy alcohol at their bars and unwind. Many resorts offer activity areas for kids and run imaginative and engaging activities for young minds. Some of its other facilities are a fitness center, tennis court, free parking, and shuttle services for easy transportation.
Dining
Most resorts in Mauritius have their fine dining restaurants as well. These luxurious resorts offer tasty delicacies which visitors can savor here. People can indulge in gourmet foods and mouth-watering Malaysian cuisines. One can enjoy a delectable platter and variety of cuisines like traditional Italian dishes, colorful Chinese cuisines, seafood dishes, and imaginative desserts for satisfying the sweet tooth. The food in 5 star resorts in Blue Bay Beach Mauritius is a pure treat for the senses. Wonderful dining experiences can be had at Sardinella Restaurant in Laguna Beach Hotel & Spa and at any of the five in-house restaurants at Shandrani Beachcomber – All Inclusive.
Generally, 5 star resorts in Blue Bay Beach Mauritius offers bars and pubs, so visitors can truly relish an exotic wine overlooking a beautiful landscape. The resorts have a facility of complimentary breakfast as well. They also offer a variety of dining spaces like outdoor seating on the beach or near the pool with a live cooking station and a dedicated butler.
FAQs
Q1. Is the staff at these resorts multi-lingual?
A. The staff commonly speak English and French. But multilingual staff person can be contacted upon request.
Q2. When are the resorts in Blue Bay most crowded?
A. The best time to visit is from March to early October. Hence, the hotels are usually crowded during this season. Make sure to book in advance if planning to travel at this time.
Q3. What are the best 5-star resorts near Blue Bay Beach?
A. Four Seasons Resort, Shangri-La's Le Touessrok Resort and Spa, LUX Belle Mare are some of the best resorts.
Q4. Do Blue Bay Beach Resort Mauritius here offer currency exchange services?
A.Yes, almost all 5-star resorts in Blue Bay Beach offer currency exchange services, however, it's always better to go to the bank or a designated center to change the money to get a better rate.
Q5. What are the resort services that guests can avail free of cost?
A. Free hotel services include Wi-Fi, telephone calls, television, bathrobes, and room service.
A great way to vacation in Mauritius is to spend holidays at these luxurious resorts with stylish interiors, oceanfront patios, delicious food, and beautiful, laid-back rooms. The Blue Bay Beach Resort Mauritius come with fun experiences such as snorkeling and boat trips in clear waters, full-service spas, and luxurious pool sides. The resorts believe in best hotel services and delivering top class suites and rooms that fit every budget. From relaxing massage services to exciting adventure sports, these resorts have it all. Even the dining experience here is extremely lavish with a great many options to choose from. The nightclubs remain well stocked and maintained by professional bartenders and waiters. The staff is polite, humble, and well trained and work dedicatedly to provide the visitors with top quality service. Apart from that, the food is made from fresh ingredients, herbs, spices and is aromatic. These resorts definitely go the extra mile to ensure guests leave with amazing holiday memories.