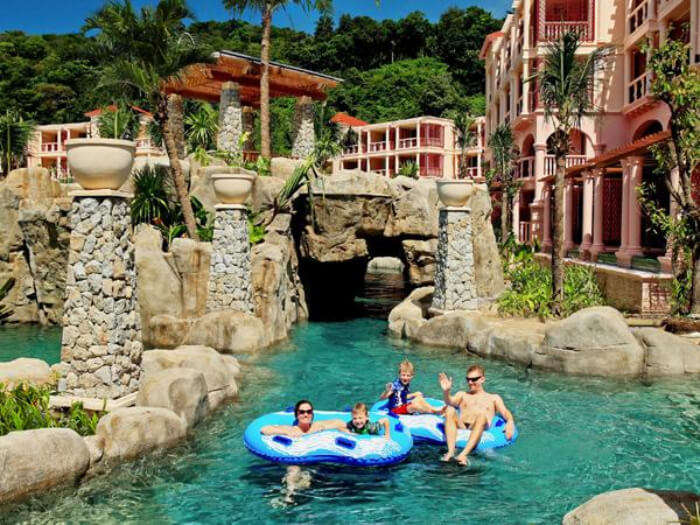 Overview
Choosing the right place for a stay during the vacations is a factor that holds a lot of importance. Family resorts in Singapore make this job a little easier for travelers while planning the next family trip. Enjoy the services provided by these hotels which include all the essential amenities like wifi connectivity, flat screen TVs, balconies, tea and coffee making facilities etc. along with the unique experiences that each of these resorts has got to offer.Guests can stay inside the plush rooms and suites and have the pleasure of experiencing the excellent hospitality provided by the well-trained staff and management of the family resorts in Singapore. One can enjoy the facilities that they have got especially for the little ones. Guests can dine in the most excellent restaurants of the city present inside the premises of these resorts and feel lighter at their trendy bars. The spa centres take care of the stress and tensions by easing them and leaving travelers with calm and a refreshed self. Family time over everything else deserves only the best, and it won't be wrong to say that the family resorts in Singapore do realise this fact.
Special Experiences
The family resorts in Singapore make the experience even better with the special services that they offer in their packages. Sofitel Sentosa Resort and Spa provides an airport shuttle service. It has 2-bedroom villas with private pool facility. These resorts also offer a meditation maze, tennis and squash courts. The Marina Bay Sands resort offers private gyms and butler service in its suites. The resort also has observation decks and a rooftop infinity pool. D' Resort at downtown East offers karaoke rooms, bowling and a movie theatre. These exclusive services make every moment of the stay exceptional.
Facilities
The facilities at the family resorts in Singapore are experiences that meet out with the expectations of their customers. The basic facilities are made available by every hotel like Wi-Fi connectivity, elegant rooms, flat screened TVs, highly courteous room service etc. Parking facility is also available. Sofitel Sentosa Resort and Spa offers beautiful gardens, Jacuzzi and spa. Marina Bay Beach Resort has the provision for car hire and sauna as well. Amara Sanctuary Resort Santosa provides a 24/7 room service along with four outdoor pools to enjoy it. D' Resort at Downtown East has a 24/7 convenience store along with kitchenettes in some of its suites. The facilities at the family resorts in Singapore are maintained by highly professional and skilled staff and management that give the guests no chances to complain.
Dining
For dining, the options available at the family resorts in Singapore give a fantastic experience. Marina Bay Sands Resort has 80 chic restaurants and bars which also include a sky bar which provides sweeping city views. D' Resort at Downtown East has a relaxed bistro and bar. The hotel also provides BBQ pits in some of the suites. Amara Sanctuary Resort Santosa has a refined restaurant along with a casual eatery with outdoor seating and a bar. The hospitality of the staff and management is visible while they make the meals unique. Some hotels also have amazing drinks and beverages- different concoctions that come together to tease one's taste buds and delight one's heart.
FAQs
Q1. Is wheelchair accessible entrance allowed in these hotels?
A. Yes, most of these resorts provide a wheelchair accessible entrance.
Q2. Are any performances or shows held at any of the resorts?
A. Yes, a few of these resorts do. Confirm before making the booking if this is an important part of one's travel.
Q3. Which languages do the staff here understand?
A. English is the most common language. Malay, Tamil, Mandarin Chinese, Standard Mandarin are also the official languages.
Q4. Can we have a 24/7 room service at the family resorts in Singapore?
A. Yes, at some of the resorts one can get this facility. Confirm with the authorities beforehand so that it doesn't seem surprising when one gets there.
Q5. Do the resorts accept credit cards?
A. Yes, most of them do. But it is advisable to keep some local currency at hand, in case of any emergencies.
Family resorts in Singapore stand as the ideal accommodation options for the next family trip to Singapore. Live a few days filled with comfort, luxury, enjoyment and the best of the facilities and services offered at these resorts. Resorts like Marina Bay Sands resort, Shangri-La's Rasa Sentosa Resort, D'Resort at Downtown East etc. provide wheelchair accessible entrance and lift. Some also offer wheelchair accessible parking. Kids' pools and clubs come as another feather in their caps. These facilities make these resorts suitable for one and all. The resorts also have in-house restaurants and 24-hours in-house dining that provide for guests food, as they like and when they like. These hotels are also a stone throw away from the most popular tourist attractions. The heartwarming hospitality of the staff and management at the family resorts in Singapore is sure to have a profoundly positive impact. They know what travelers are looking for and they make sure to give them that.