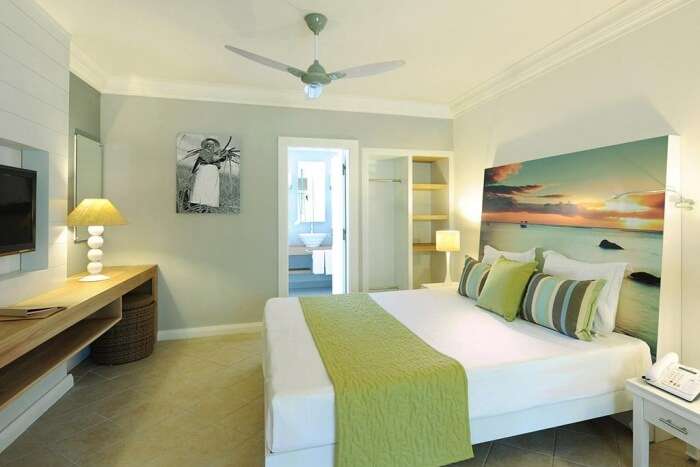 Overview
A relaxing vacation near the seashore might be the best holiday destination. At Grand Baie, one will be able to enjoy seaside walks and beautiful beaches with special sunrise and sunset experiences living at these amazing hotels. Grand Baie resorts are the next best thing about Malaysia, apart from the scenic beauty that the place has to offer. There are many resorts available at very reasonable rates and do not burn a hole in the pocket so that one can enjoy their vacation while they relax along the sea and have a complete sense of peace.These resorts in Grand Baie Mauritius will be provided with the best views and amenities. Guests will get accommodation in world class suits and quality rooms with the best hotel services. In these Grand Baie resorts, one can wake up just under the sun and even have their meal then and there as per their wishes. People will be spending their holidays in these resorts. with professionally built interior designs that also include an activity area for their children's play hours. These Grand Baie resorts will serve guests with professional spas and relaxation areas also, and that too at very low charges.
Special Experiences
Resorts in Grand Baie in Mauritius have some unique experiences for everyone which is sure to mesmerize guests. One can enjoy the beachfront that gives visitors an excellent tropical experience being so close to the sea with so many facilities will leave them speechless. With the water within a few feet of the entrance, resorts in Grand Baie make the holiday truly special by arranging activities like snorkeling, diving, and windsurfing for the wild as well as Sea Kayaking, and glass bottom boat rides which just want to lay back and relax. When in planning a stay in these resorts one can enjoy a jacuzzi, scrubs and marvelous foot massages which are some of the best stress busters in this world. One will have them at very nominal charges and any time and at any place they want. They will be at the disposal of the guest 24 hours a day. Baystone Boutique Hotel & Spa is a fine example of all that is special about the resorts in Grand Baie.
Facilities
When people are on their vacation, having some of the best facilities at their disposal is a fantasy and this fantasy of theirs comes true when they choose the resorts in Grand Baie in Mauritius. One will have facilities of room services at any hour in the day and night, balcony view rooms, sea view rooms, guests can even order their food any time during the day. The resorts have a well-trained staff that takes great care of guests for they believe happy guests means a great hotel. One will have 24 hours of free wifi service with quality network and high-speed processing. There are a number of services that resorts will also customize for the guests. Some of the resorts that offer all these luxuries are Royal Palm Beachcomber Mauritius, Le Cardinal Exclusive Resort and many more.
Dining
When it comes to dining, Grand Baie resorts have given proper attention to this field and are ready to amaze guests with some of the best meals and best cuisines like continental, Chinese, Indian, Japanese, German, Italian and international. No matter where they have come from, these Grand Baie resorts will make sure that their visitors do not miss out on the most important thing that they are habituated to. Serving cuisines from all over the world, guests can indulge in a large variety of delicacies. One must definitely not miss out on the local food dishes that are crafted by well-trained chefs at the restaurants of these resorts. The resorts also feature bars and lounges that service signature cocktails and mocktails.
FAQs
Q1. What are some of the budget-friendly resorts in Grand Baie?
A. Some of the cheapest resorts in Grand Baie are La Tonnelle Maison D' hotels, Hotel Le Palmiste, and Evaco Holiday Resorts. These are mostly preferred by tourists traveling with a tight budget.
Q2. What language should one use to communicate with the staff?
A. English is the most common language, and guest can communicate with the staff in this language very easily.
Q3. Which services are free of cost at these resorts?
A. Pickup from the airport, Wi-Fi, library, radio, music systems, activity areas, television, and room service are free of cost facilities.
Q4. What are the breakfast options that Grand Baie resorts offer?
A. One can expect a continental buffet breakfast, and they might also find halal meat items and vegetarian options as well.
Q5. Will there be Indian food items in the menu at the restaurants?
A. Yes, a few resorts offer Indian food in their menu, however, one need not worry since there are a number of Indian restaurants in proximity to the resorts.
To help guests find the best Grand Baie resorts, a few names one could pick one from are Baystone Boutique Hotel and Spa, Veranda Grand Baie Hotel and Spa, Le Blues, 20 Degree Sud Hotel, Royal Palm Beachcomber Luxury, and Tarisa Resort and Spa. These are the resorts from which one can expect the best facilities and staff members at their disposal. They have built a very good reputation because of their care and attention towards their customers. Guests should be looking for any one of these resorts when they visit Grand Baie. The resorts offer a plethora of amenities and experiences that guests can indulge in for a comfortable and memorable stay in Grand Baie.