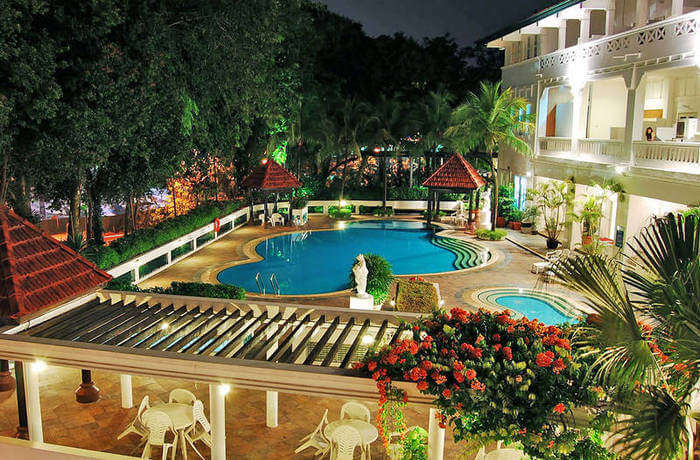 Overview
An island on the Southern coast of Singapore, the Sentosa island is located amidst the Palawan beach. For travelers with limited expenses, there are a variety of well-acclaimed and renowned budget hotels in Sentosa island that ensure a fantastic vacation for travelers.
The island is famous for the Universal studios and Marine Life Park amongst other attractions. It also harbors hotel and resort chains, with private access to the beaches. It is a charming part of Singapore and is undoubtedly happening and throbbing with adrenaline. It is bedecked food stalls, activities, amusement parks, and cable car facility. For those travelers who have a budget or a limit to their expenses, there are best budget hotels in Sentosa island which cater to all of the essential requirements, while also being equally considerate of the money and ensuring that one gets the most out of their vacation. The Perak Singapore, Hotel 1929, Harbour Ville hotel and Holiday inn express are some of the top affordable hotels in Sentosa island. With their chic and elegant ambiance and minimalistic interiors- they reflect subtle hints of splendor here and there with the vibrant staff and exquisite hospitality and services.
Special Experiences
Customized for solo, couple and family travelers- 1929 has a welcoming sense with their sensual lavender and Lemongrass fragrance that teases the senses. The hotel stays true to its name, and reflects an early 19th-century art and architecture, owing to the 1920s that it was built in. A 3-star hotel, the Harbour Ville is an ideal boutique hotel with large French windows that adorn the beautifully expansive rooms, and allow generous amounts of light to set in. Situated at a perfect location, the Harbour Ville grants easy accessibility to the Chinatown, Mt. Faber, Raffles city and other attractions at the city center. Hotels in Sentosa island offer just the perfect location to explore the city and help guests make the most out of their vacation.
Facilities
Irrespective of their availability at cost-effective or affordable prices, hotels in Sentosa island guarantee their customers with high-class hospitality, experienced staff, immaculate service and management that will give no scope for the guests to complain about. With a perfect mixture of retro and designer furnishings, the 1929 is placed in the center of the city's greatest bars and restaurants, which will satiate cravings for authentic cuisine and street food delicacies. The bubbling nightlife is the city's pride, and the bars are open till late nights, hence one does not have to rush their drinking and party endeavors. The Harbour Ville has exceptional facilities, such as their pocket butler which is a portable wifi device, their bicycle rental services, a well-equipped gymnasium and a quaint patio with a reachable snack-bar for the lazy evenings. The Holiday Inn Express on the other hand, has complimentary breakfast, an outdoor pool, daily laundry facility and a storage space for valuables and luggage.
Dining
The food stalls and restaurants in Sentosa are scattered throughout the city and will leave people spoilt for choices. There is something for everybody, and people are in for a treat if they want to taste the specialties and dishes from the Singaporean and Cantonese cuisine. With an on-site diner on its way, the 1929 is known for its decadent Japanese cuisine, Ice cream lobby and helpings of continental cuisine- all of it served underneath the stars. Apart from being an environmentally- friendly hotel with minimal plastic usage and appropriate usage, the Harbour Ville hosts Asian and International cuisine. With continental breakfast, the Hotel Inn has a wide spread of local, authentic and international dishes along with cakes and pastries that are a part of its buffet. Their Great Room is an on-site bar with a well-stocked liquor cabinet and experienced mixologists. Hotels in Sentosa island really go the extra mile to give their guests a taste of the authentic local food as well as give them options to try different cuisines as well.
FAQs
Q1. Are the hotels in Sentosa island too far from the Singapore Airport?
A. The distance between the Sentosa Island the Changi Airport, Singapore is about 26 km. Once you are in the main city, you will have to figure out the hotel you're staying at to reach there.
Q2. Is it easy to find Indian food in Singapore?
A. Indian food can be found at many places in Singapore. The Samy's curry restaurant, Khansama Tandoori restaurant and the Song of India are some of the most popular places where one can enjoy delightful Mughlai food.
Q3. How is the cleanliness and hygiene in the budget hotels in Sentosa Island?
A. The management does not compromise on the cleanliness and hygienic factor in these affordable hotels. They are clean, hygienic and very well-maintained.
Q4. How does one get to Sentosa Island from the city?
A. Cable car and ferry facilities are available to travel from the island to the city and back. Depending upon your choice of commute, you can take the pic.
Q5. Which are the best hotels closer to the airport?
A. Some of the hotels closer to the Changi Airport are Crowne Plaza, Aerotel Singapore and Capri by Frase Changi City.
Having been a fishing island, the island-city of Singapore has had an immense change into extravagance compared to other cosmopolitan and technologically forward urban zones on the globe, pulling in tremendous volumes of revenue for its guests and voyagers. The city has an everlasting intrigue that can leave a persisting etching in the memories, inducing one to return to this place, time and again. The place, as it delights in its mechanical advancement, is additionally all around familiar with its realness and conventional culture that has stayed flawless even after all these years. Hotels in Sentosa island help explore guests the true beauty of this island-city. One can enjoy the beautiful hospitality, warm ambiance and amazing scrumptious delights at the hotels in Sentosa and a great vacation will be in the waiting. One is sure to love the amenities as well as the experiences offered by these hotels that will add to their holiday experience and truly make it a memorable one.