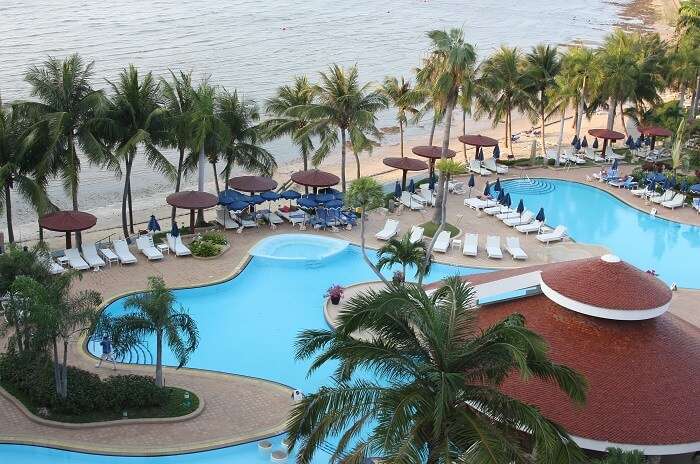 Overview
Every person wishes to have comfortable accommodation for spending his/her vacations which happen to be a very important part of our lives. The luxury hotel Pattaya is the perfect choice for a vacation to help in making it a great success.
Enjoy staying at the refined rooms and suites of these lavish hotels that take care of all the requirements that tourists have. One should make the most of the time and have fun while experiencing their great facilities and hospitality. Enjoy at the outdoor pools and the various activity centers offered by these hotels. Relax at the lush spa centers and feel refreshed by the beautiful views offered by the hotels. Savor the taste of the delicacies served at their exclusive restaurants and feel delighted at their well-managed bars. The luxury hotel Pattaya, in short, have got all that one can look for in an ideal luxurious accommodation for any vacation.
Special Experiences
The luxury hotel Pattaya have got the best of provisions to make one's stay lavish and magnificent. The special experiences offered by these hotels take the comfort and enjoyment of their guests to the next level. Royal Cliff Beach Hotel has the provision of cooking lessons for the guests along with a shuttle service. Hilton Pattaya Hotel has an infinity pool which adds to the luxuries of this hotel along with a chic spa and a golf course. Movenpick Siam Hotel Na Jomtien Pattaya has a plush spa that has been aided with 6 treatment room. The suites of this hotel have an exclusive lounge and bar access. Many of these hotels also provide paid baby care services so that one can relax and enjoy the vacation without any troubles.
Facilities
The facilities provided at the upscale luxury hotel Pattaya suffice to impress the guests. All the luxury hotel Pattaya have some important and common facilities which include elegant rooms, plush suites, Wi-Fi connectivity, flat screen TVs, minibars, parking facilities, laundry service, room service etc. These hotels have splendid outdoor pools and many indoor activities to offer. The spa at each hotel can be considered as a must go place for relaxation. The hotels also offer gym and fitness centers. Baraquda Pattaya – MGallery by Sofitel has a plush outdoor pool and provides breathtaking ocean views from its balconies. Mytt Beach Hotel offers cars for hiring and has the provision for sauna. Royal Cliff Beach Hotel also has the arrangements for steam and sauna at Fitz Club and soothing massages at Cliff spa. These facilities at the luxury hotel Pattaya suffice to make any vacation successful along with their remarkable hospitality.
Dining
The luxury hotel Pattaya give tourists an amazing dining experience which is enriched with both high quality as well as quantity. The Hilton Pattaya has 3 restaurants and 2 bars which include a cozy Asian restaurant and a romantic rooftop lounge. Grande Centre Point Pattaya Hotel offers a daily buffet breakfast with kids friendly meals, and it also has an amazing multi-cuisine restaurant where one can enjoy a lovely meal along with mesmerizing views. Movenpick Siam Hotel Na Jomtien Pattaya has 3 international restaurants inside its premises which serve delicacies of various cuisines from all across the world. It has also got a beach bar and cocktail lounge. A team of highly skilled and professional staff and management at each hotel look after their guests and serve them at these eateries and bars with great commitment and hospitality.
FAQs
Q1. Are pets allowed inside these hotels?
A. Most of these hotels are not pet-friendly. Hence, it is best recommended not to bring them along before confirmation.
Q2. Do the hotels allow smoking inside the premises?
A. Many of these hotels have restricted smoking inside their premises. Though, one must confirm if the hotel that they are planning to stay at has got smoking rooms like a few of the hotels in this region.
Q3. Can one have vegetarian food inside these hotels?
A. The restaurants do serve vegetarian food.
Q4. What are the most common modes of payment?
A. Debit cards are easily accepted at all the hotels. Some also accept cash payment. Other than this, each hotel has its own guidelines for payment procedures.
Q5. Do the hotels provide baby care services?
A. Yes, many of these hotels provide paid baby care services.
The luxury hotel Pattaya stand as a great choice for vacations at Pattaya. Enjoy the great hospitality, services, and facilities of these hotels that come with highly skilled and helpful staff and management. The luxury hotels of the area offer wheelchair accessible entrance for their customers that make sure to provide them with the required comfort and satisfaction. Come and spend a few days at the luxury hotel Pattaya like the Amari Nova Suites, Holiday Inn Pattaya, Ravindra Beach Resort & Spa and many more to make the next vacation a joyful memory.