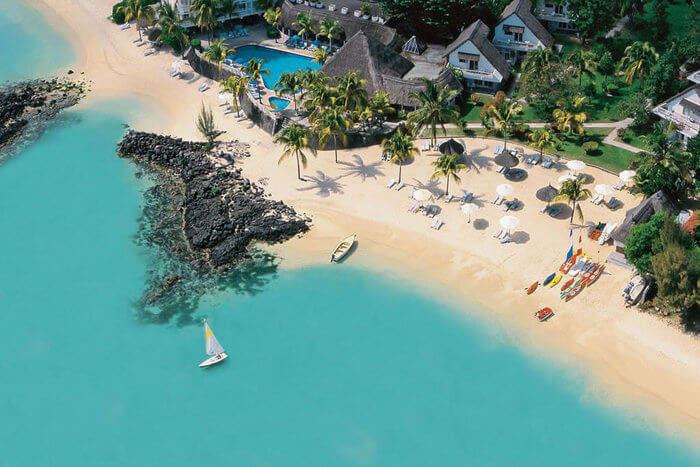 Overview
Resorts give the perfect combination of luxury paired with stunning views, premium services, and the best ambiance which one needs to have during their vacation. Resorts in Mauritius offer pristine beach views and a luxurious stay. They have comfortable rooms and provide the best services to its guests. Long Beach Resort in Mauritius is among the luxury resorts in Mauritius, and it offers the best view to its guests. The place gives the perfect beach view with white sand and cool highlands. The maintained gardens offer the best lush green view which is a treat to the eyes. There are various budget resorts as well which will give the perfect stay in Mauritius. Mauritius is bestowed with nature's beauty in the best possible way with pristine beaches and a wide variety of flora and fauna. The place witnesses a large number of visitors and travelers every year from across the world. Resorts in Mauritius also offer some romantic ambiance and is regarded as one of the best honeymoon destinations in the world as well. Head to these famous resorts in Mauritius for a comfy and cozy vacationing experience.
Special Experiences
Resorts in Mauritius have all the basic and general facilities required by a visitor while on a trip to Mauritius. Apart from the many general amenities of these resorts, there are various resorts offering some exclusive and premium services which are rare and special and cannot be availed at any resort. Gold Beach Resort and Spa is a resort which has special mini fridge facility in its rooms. This resort also has an International restaurant and bar service which offers terrace access giving the perfect panoramic view of the many oceans located nearby the resort. Sundeck facing the beach, pool, gym, and spa facilities are among some of the exclusive facilities which one can avail at this resort . Tarisa Resort also has a special hot tub facility. These resorts in Mauritius with extraordinary services will give the best luxurious stay here. Maradiva Villas Resort and Spa has airy rooms and pool services.
Facilities
The basic amenities are offered by all the resorts in Mauritius. Some of the general facilities which one can avail at the various resorts in Mauritius are large rooms with free Wi-fi facility to let people always stay connected to the outside world. Parking facilities, comfortable rooms offering serene views from the resort are the other general facilities. Laundry services, babysitting, room service, cleaning, bars, and restaurants are also necessary amenities offered by many resorts in Mauritius to provide guests with a highly wonderful stay and help them cherish the trip to Mauritius. Bars at the resort serve some refreshing drinks, and restaurants offer some of the best dining experience for people while in Mauritius. Rental car and shuttle facility make the travel and sightseeing experience across Mauritius greatly comfortable and hassle-free as well. These amazing facilities offered by the resorts are sure to leave guests with a wide smile and a highly satisfying stay at Mauritius.
Dining
Most of the resorts in Mauritius provide restaurant and dining facilities to their guests where they can gorge on some amazing and delicious food. These restaurants serve the best quality of food with premium services to their customers. The bars which are located within the resorts are sure to give the best wine and dine experience ever. One can munch on the many delectable dishes served at these restaurants and satisfy their hunger cravings. These restaurants have the perfect sea facing view to provide guests with a romantic and calm ambiance while one can enjoy a hearty meal. The chefs are co-operative and entertain special requests too. The waiters and staff at the restaurants serve in the best way possible and give guests the best services which will make their dining experience highly appreciated. Enjoy the meal at this superb restaurant and have a great trip to Mauritius.
FAQs
Q1. Is advanced booking in hotels a must when traveling to Mauritius?
A. The peak holiday season is during the winter months of May to December and to ensure that the stay here is uninterrupted, it is advisable to book in advance when traveling during this season.
Q2. Which are the best areas to stay in Mauritius?
A. Flic en Flac, Balaclava, and Trou aux Biches are some of the areas which will give the best staying and A. accommodation facilities in Mauritius and enhance their stay here greatly.
Q3. What are the special facilities offered by the Gold Beach Resort and Spa in Mauritius?
A. Gym, spa, pool, mini fridge in rooms and sundeck are some of the unique and special facilities which can be availed at the Gold Beach Resort and Spa in Mauritius.
Q4. Is there Wi-fi facility in the resorts in Mauritius?
A. Yes. Most of the resorts in Mauritius offer free Wi-fi services to its guests.
Q5. How are the restaurant facilities in Mauritius?
A. The resorts in Mauritius offer great dining facilities. The chef and waiters at these resorts are highly co-operative and disciplined and provide premium quality services.
Most of the resorts in Mauritius provide amazing and superb facility to their customers and in return earn their goodwill and positive feedbacks. With a wide choice of resorts available in Mauritius, it is extremely difficult to choose the best resort for the stay in Mauritius. Some of the well-known and famous resorts in Mauritius are Gold Beach Resort and Spa, The St, Regis Mauritius Resort, Tarisa Resort, Maradiva Villas Resort and Spa, Shanti Maurice Resort and Spa, Hilton Mauritius Resort and Spa. All these resorts have amazing facilities and amenities and are sure to make the stay in Mauritius worth it. These resorts provide all the services required by their guests in the best way possible to give guests a rejoicing and amazing experience. Visitors are sure to have an unforgettable stay at these resorts.