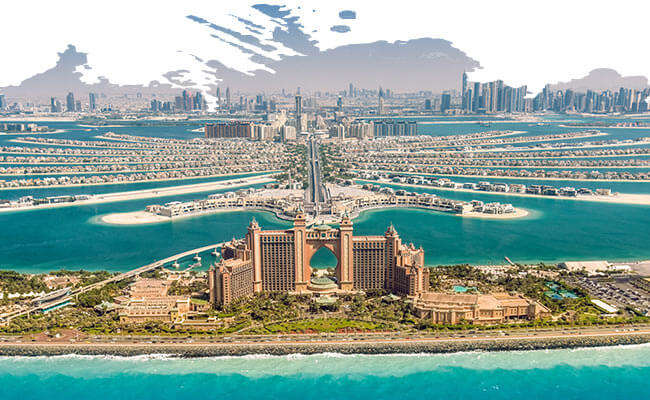 Dubai is a kaleidoscope of magnificent skyscrapers, swanky malls, beaches, amusement parks, and traditional souks. Dubai is bright, vivacious and full of life. The city looks pretty and with so much to do, Dubai attracts tourists round the year. Before you get boggled with what to do and check out; here is our recommendation on top things to do in Dubai, for people of all age groups. Try these experiences and make your Dubai trip worth in every sense.
15 Best Things To Do In Dubai
The various fun and amazing experiences in Dubai have been noted down, right for you. Read more to know the most amazing things to do in Dubai.
1. Desert SafariDhow Dinner Cruise
2. Hot Air Balloon Ride
3. Skiing at Ski Dubai
4. Helicopter Ride
5. Quad Biking
6. Wakeboarding
7. Souk Tour
8. Night View from Burj Khalifa
9. Shopping at the Swanky Malls
10. Indoor Skydiving
11. Visit to Dubai Aquarium and Underwater Zoo
12. Luxury Yacht Tour
13. Explore Dubai Global Village
14. Leisure Time at Kite Beach
1. Desert Safari – Explore The Sprawling Desert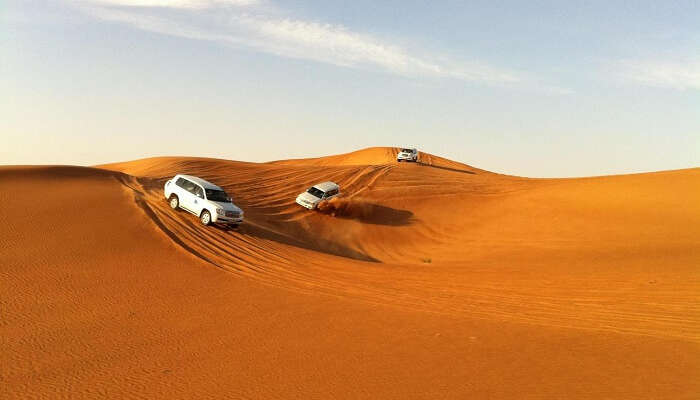 Desert safari is one of the must-try and most fascinating things to do in Dubai with family, particularly with kids. Desert safaris here include camel safari, dune bashing sandboarding, and quad biking. Not only these adventure activities but you will be attending electrifying fire shows, Tanura shows, belly dance and your day will end with scrumptious barbeque dinner. It is half a day activity and no Dubai trip is complete without this!
Location: Al Qudra Desert, Dubai
Opening hours: 3:30 pm to 9: 30pm
Tickets: INR 5095/person
Must Read: 20 Best Places To Visit In Dubai With Family in 2020 For A Holiday Like None Other!
---
Dubai Holiday Packages On TravelTriangle
---
2. Dhow Dinner Cruise – Enjoy The Stunning View Of Dubai Skyline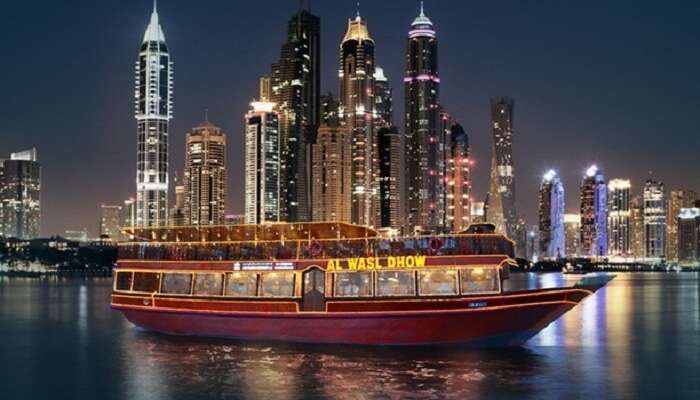 After spending the entire day in the city, how about cruising and dining in a traditional Dhow on Dubai creek? The view of the city with glittering skyline at night is astounding while the pleasant 3-hour long cruise and sumptuous dinner makes it one of the best things to do in Dubai. This romantic excursion is offered by many agencies who offer handsome deals.
Location: Dubai Creek
Opening hours: 8:30 pm to 11:30 pm
Tickets: INR 850/person
Suggested Read: Dubai New Year 2020: A Guide For The Celebration
3. Hot Air Balloon Ride – Don't Miss This Ultimate Thrill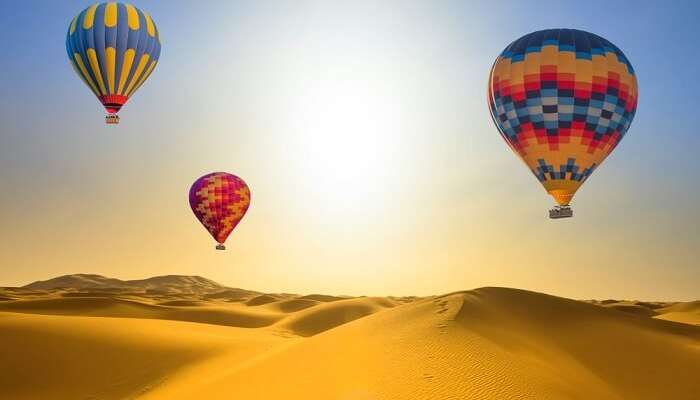 Flying in a luxurious hot air balloon over Dubai desert sounds like a dream. But this is one of the most adventurous things to do in Dubai and one can easily try this astounding experience while holidaying in Dubai. Floating at 4,000 ft from the ground; one can experience the world's first in-flight falcon show during Dubai Hot Air Balloon Ride. Such an experience will surely create unforgettable memories and the view from this great height will leave your jaw drop.
Location: Tiffany Tower – Suit no: 1202 – Cluster W – Dubai
Opening hours: 9 am to 5 pm
Tickets: INR 25,000/person. Ride plus breakfast. Half a day
Suggested Read: Visit These 10 Top Art Galleries In Dubai To Feed You Mind And Soul With Ethereal Art
4. Skiing At Ski Dubai – Ski Resort In A Desert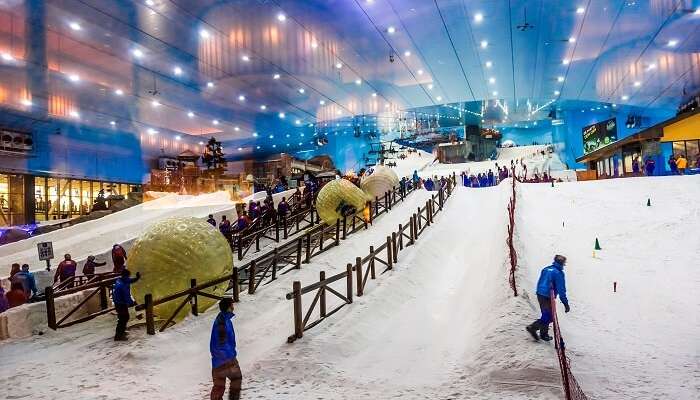 Settled at Mall of the Emirates, Ski Dubai is among the fun places to see in Dubai. People can enjoy indoor skiing, snowboarding, tobogganing and play with snow, make snowballs and creatures. For all those who have craving for ultimate thrill and adventure; skiing at Ski Dubai is one of the most exciting things to do in Dubai on a holiday.
Location: Ski Dubai, Mall of the Emirates, Sheikh Zayed Road – Dubai
Opening hours: 10 am to 11 pm
Tickets: INR 4111/ person
Suggested Read: Bungee Jumping In Dubai: 7 Tips Every Beginner Should Be Aware Of
5. Helicopter Ride – Fly In A Helicopter Over The City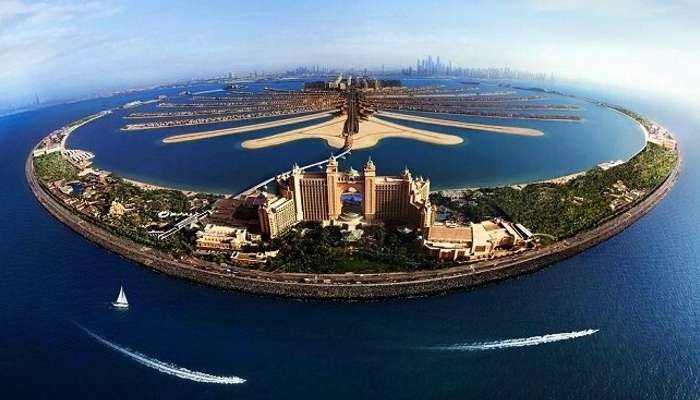 Dubai is a fantasy-filled destination and there are a lot of things which adventure junkies and thrill-seekers will love to indulge in. One such thing is the helicopter ride over Dubai city. The experience of 25 minutes long helicopter ride will offer a breath-taking view of the Burj Khalifa, Dubai Creek, The Jumeirah coastline, Wild Wadi, The Palm Jumeriah, and The World Islands. Certainly, this is one of the fun things to do in Dubai, that no one should miss.
Location: Atlantis, The Palm. Nasimi Beach Parking, Atlantis Hotel, Palm-Dubai
Opening hours: 8 am to 6 pm
Tickets: INR 12594/person
Suggested Read: 10 Exquisite Coffee Shops In Dubai To Get Your Soul Caffeinated!
6. Quad Biking – Dune Bashing At Its Best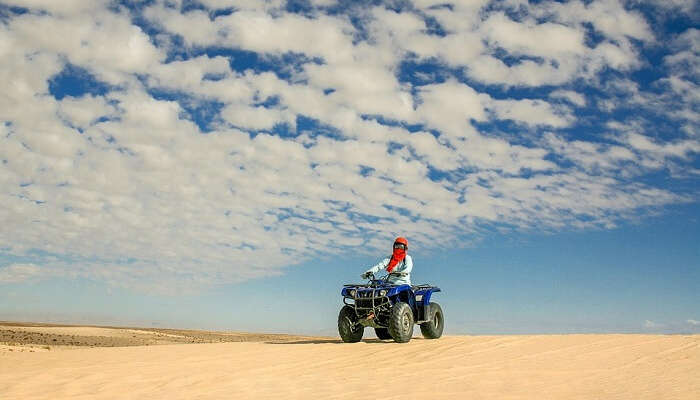 Imagine yourself riding through and bashing the dunes while driving a four-wheeled bike in Dubai. What could be more exhilarating? Get ready to try one of the most adventurous things to do in Dubai all by yourself. Ride the dunes, drive through, bash them and enjoy a super thrilling ride in the deserts.
Suggested Read: 53 Tourist Places In Dubai: Do Not Come Back Without Visiting These Marvels In 2019

7. Wakeboarding – Perfect Delight For Adventure Junkies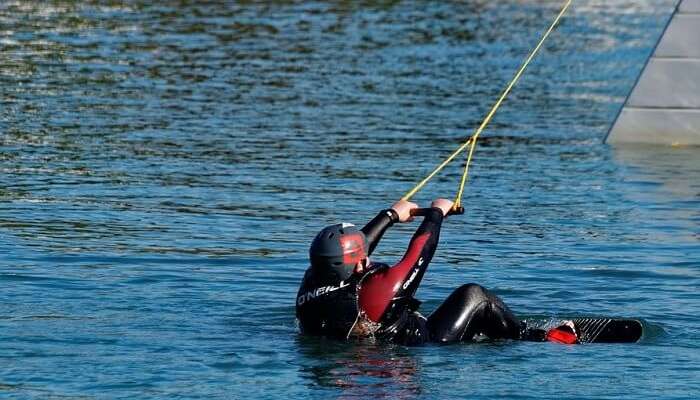 Adventure enthusiasts visiting Dubai can experience wakeboarding and wake surfing at Marina. Thrilling rides are given to all who crave for this fun and even wake camps are organised for adventure junkies. Though not one of the top things to do in Dubai, wakeboarding has gained tremendous popularity in no time.
Suggested Read: 10 Most Fabulous Places To Enjoy Desert Camping In Dubai
8. Souk Tour – Retail Therapy Always Works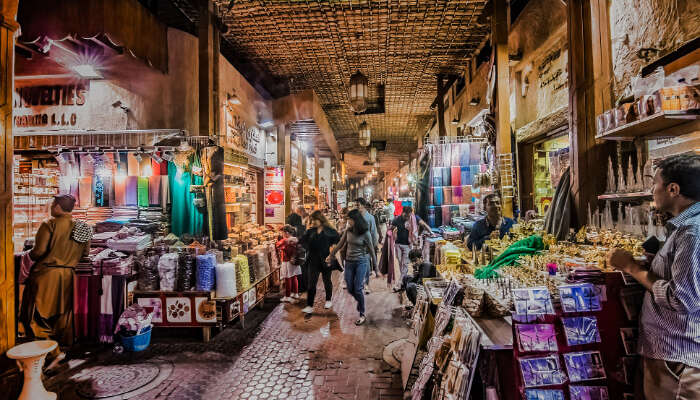 Heads up, shopaholics! Dubai is a shopper's heaven. Besides having plush malls, Dubai is blessed with traditional souks which are antique market places. Local traders have their shops in the souk and they present the best of products at most competitive prices. In Dubai, there are quite a few souks but exploring the popular ones like Gold Souk and Spice Souk is one of the exciting things to do in Dubai, particularly for a refreshing retail therapy.
Suggested Read: Aquaventure Waterpark: Slides, Rides, Sharks, Sting Rays And More In Dubai
9. Watch Sunset From Burj Khalifa – The Best Panoramic View Ever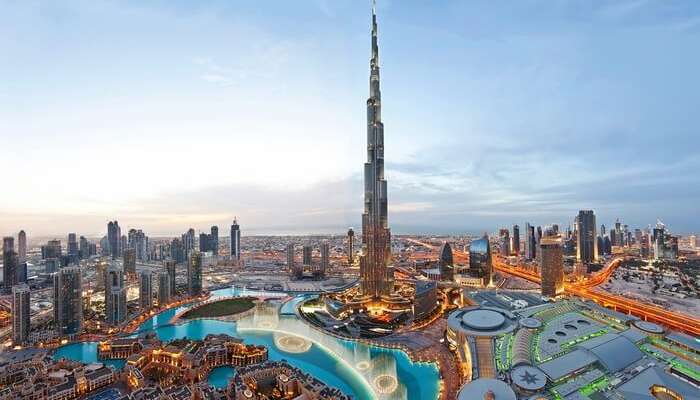 Nothing can be more fascinating than watching the sunset from 124th and 125th levels of Burj Khalifa, the world's tallest tower. With a jaw-dropping 360-degree view over the Arabian Gulf, Burj Khalifa is a favourite hotspot for all kinds of tourists and experiencing the beautiful sunset view from there has surely been one of the best things to do in Dubai with family.
Location: 1 Sheikh Mohammed bin Rashid Blvd – Dubai
Opening hours: During sunset. The total duration is 1 and a half hours.
Tickets: INR 4417/person
Suggested Read: Everything You Need To Know About The Transcendental Dubai Opera
10. Shopping At The Swanky Malls – Eat, Shop And A Lot More!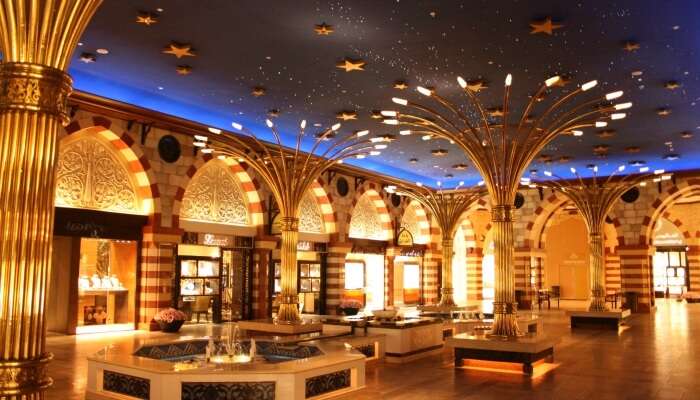 Even if souks have been an enthralling experience, none can leave Dubai without visiting the ritzy malls. With high-end couture, boutiques, top-notch brand outlets, and world-class restaurants and other recreational activities; malls in Dubai like Malls of Emirates, The Dubai Mall, Dubai Marina Mall, etc. buzz round the year with tourists and local people. Walking through these high-end malls is an experience by itself and counted as top things to do in Dubai for shopaholics.
Suggested Read: Bastakia In Old Dubai: The Ancient Foundation Of The Dazzling City Of Dizzying Heights
11. Indoor Skydiving At iFly – An Experience Of Its Kind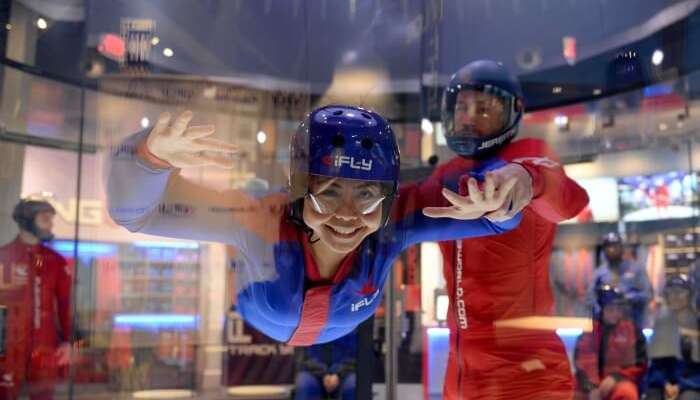 This one is surreal activity that must be included in the list of the most fun things to do in Dubai. iFly offers various packages for indoor skydiving, specially designed for kids, first-time flyers and professionals. There is the double vertical wind tunnel at iFly that takes you to a whole new level of simulated, gravity-defying skydiving experience. With world-class security measures, get charged up to enjoy the amazing indoor skydiving experience, guided by professionals and experts.
Location: Third Floor, Play Nation Area, City Centre Mirdif، Ghoroob, Sheikh Mohammed Bin Zayed Road, Dubai
Opening hours: 12 noon to 10 pm.
Tickets: INR 3500/ person
Suggested Read: Nightlife In Dubai: What's In The Store For The Kind Of Traveler You Are!
12. Visit Dubai Aquarium And Underwater Zoo – Fun And Frolic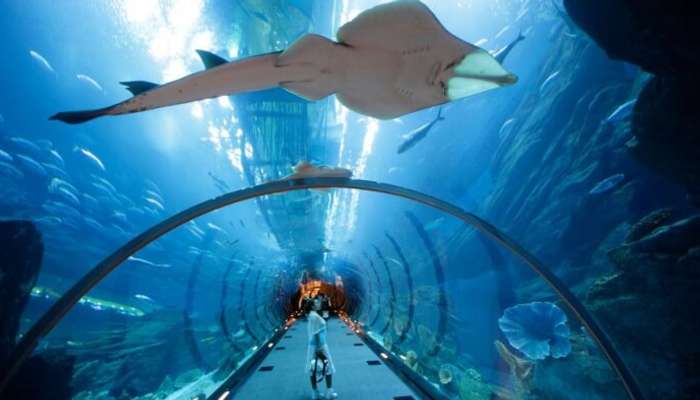 If you are shortlisting things to do in Dubai with kids, this has to be on the list. Counted as one of the largest suspended aquariums of the world; Dubai Aquarium is home to numerous aquatic animals like fish, sharks, octopuses, dolphins, etc. One can also enjoy a glass bottom ride over the tank and those who are daring at heart can indulge in snorkeling activities. Located at the ground level of Dubai Mall; this is the perfect place to hang out after a hearty shopping.
Location: The Dubai Mall
Opening hours: 10 am to 12 midnight
Tickets: Starting INR 1741/person
Suggested Read: Dubai Marina: The One Stop Destination For Breathtaking Panorama And Unparalleled Luxury
13. Luxury Yacht Tour – Sail Along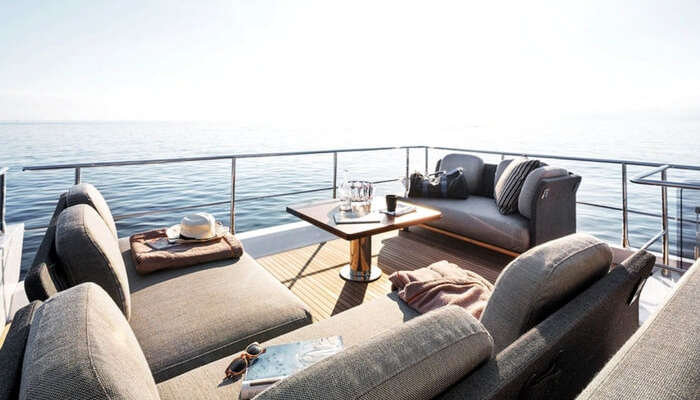 One can explore the entire Dubai Marina and Dubai Creek in a stylish luxury yacht. Sail along and enjoy the stunning views of Hotel Atlantis, Burj Khalifa and Dubai skyline. Sunbathe and chill out at the upper deck of the yacht while hot fresh barbeque breakfast will be served on board.
Tickets: IBR 4054/person. The ticket price includes a ride plus breakfast.
Suggested Read: 5 Experiences From Our 3 Days In Dubai Jaunt That Altered Our Worldview
14. Explore Dubai Global Village – Ultimate Fun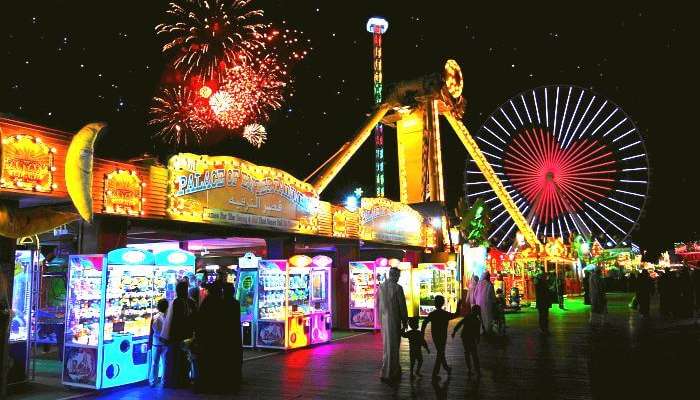 Dubai is truly a family holiday destination with so many things to do in Dubai with family. While talking about this, count Dubai Global Village; a complete package of fun, amusement, and recreation. From rides and carnivals to experience centres, shops and food; this place entertains visitors of all kinds. Come here with family and kids, spend the entire day and leave with a bunch of unforgettable memories.
Location: Emirates Road – Exit 37 – E311 – Dubai – United Arab Emirates
Opening hours: 4 pm to 12 midnight
Tickets: INR 290/ person
Suggested Read: Hold On To Your Money Because Indians Can Now Shop At Dubai Duty-Free Using Rupee
15. Leisure Time At Kite Beach – Stroll, Sunbathe And Watch Sunset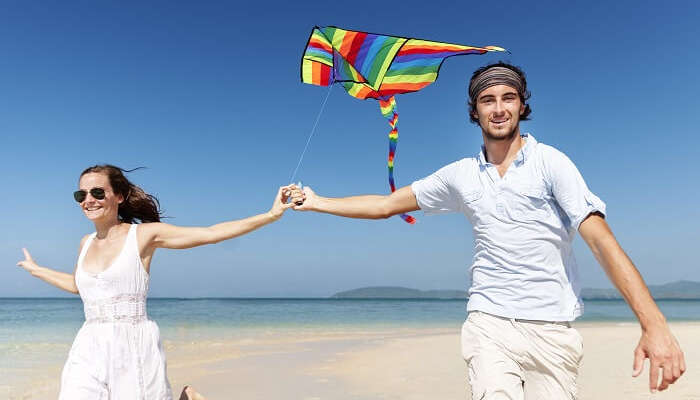 Dubai is known for some pristine and less explored beaches and Kite Beach is surely one of them. Adorned by blue water, this sun kissed beach along the Arabian Gulf makes it a perfect spot for sunbathing, leisure walks and stunning sunset views.
Location: Kite Beach – Dubai
Opening hours: 10 am to 10 pm
Further Read: Dubai In September 2019: An Ultimate Handbook To Answer Your Questions Instantly!
With so many engaging and interesting things to do in Dubai; one should start planning a vacation right away. Plan your Dubai trip with Travel Triangle and experience these amazing things to do there as they offer the most awesome vacation time!
Frequently Asked Questions About Things To Do In Dubai
Q. Which are the places to visit in Dubai on a 3 days trip?
A. Some of the places to visit in Dubai during a 3-day trip include:
– Burj Khalifa
– Palm Jumeirah
– Burj Al Arab
– Dubai Aquarium
– Dubai Desert
– Wild Wadi Water Park
Q. Which is the best time to visit Dubai?
A. The best time to visit Dubai is during winter months, particularly from November to April. If you wish to enjoy Dubai Shopping Festival, plan in January and February.
Q. Which are the best places to stay in Dubai?
A. The best places to stay in Dubai are Atlantis The Palm, Four Points By Sheraton, Burj Khalifa, Hyatt Regency, etc.
Q. Which are the popular malls in Dubai?
A. The popular malls in Dubai are:
– Ibn Bauta Mall
– Mall of the Emirates
– Dubai Mall
– Dubai Outlet Mall
– Global Village
– City Centre
– City Walk
Q. Name some famous waterpark in Dubai?
A. Popular water parks in Dubai are:
– Legoland Water Park
– Aqua Fun Water Park
– Laguna Water Park
– Wild Wadi Waterpark
– Splash Pad
Q. How many days are required for a Dubai vacation?
A. 4-5 days are enough for a fulfilling Dubai vacation.
Q. What is to shop in Dubai?
A.The best things to buy in Dubai are Aladdin Lamps, Camel Milk Chocolates Dates, Spices, Lanterns, Persian Rugs, perfumes and hookahs.
Q. What can families do in Dubai?
A. There are many activities like Sandboarding, watching dancing fountain, going on a desert safari, visiting the Dubai spice souk and the gold souk.
Q. Where can one see New Year fireworks in Dubai?
A. Burj Khalifa, Mohammed Bin Rashid Boulevard, Souk al Bahar and Al Manzil Plaza are some of the places where you can witness the best New Year fireworks in Dubai.
Q. What is the currency of Dubai?
A. The currency of Dubai is known as Arab Emirate Dirham (AED). One AED is equivalent to 19.52 INR and it keeps on changing on a day to day basis.
---
Looking To Book An International Holiday?
---
People Also Read:
Things To Do In Pattaya Things To Do In Mauritius Things To Do In Bangkok
Comments
comments