Dubai is an excellent choice for a family holiday. It is one world-class city that delivers stellar hospitality, amazing adventures, and a shopping experience like none other. Offering a perfect blend of tradition and modernity, there are a lot of interesting places to visit in Dubai with family. Ranging from natural to man-made, there are marvels in this city that no family should ever miss on their holiday and to help you find those marvels, we bring you the top 17 Dubai places to visit with family. Make sure you visit all these places with your family to live some of the best days of your life with your loved ones while on a Dubai city tour.
17 Best Places To Visit In Dubai With Family
Dubai is one of those holiday destinations that offer entertaining plans for the entire family. The are beaches for you to chill with them, water parks, aquariums, museums and a lot of other places that equally excite the kids, youngsters, adults, and even senior citizens. Head to these top tourist places in Dubai on your family vacay:
1. Legoland® Dubai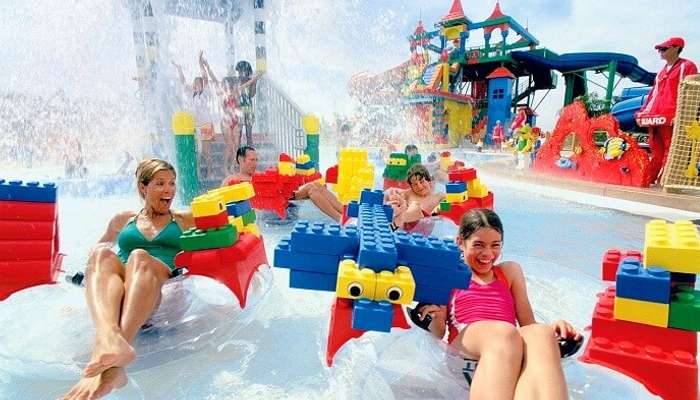 Legoland Dubai is every child's dream come true and we believe, a parent's too for we have all played with Lego bricks in the past and created so many things and memories. Those toys have now come to life in the form of a fully featured amusement park that not only offers the best of water slides, restaurants, and games but also a lot of entertainment options. For those who want to spend a perfect day having fun with your loved ones, the Legoland is one of the best places to visit in Dubai with a toddler.
Timings: 1:00 PM – 10:00 PM
Entry Fee:
AED 295 or INR 5137 (Legoland Dubai)
AED 240 or INR 4180 (Legoland Water Park)
Location: Sheikh Zayed Road, Opposite Palm Jebel Ali – Dubai – United Arab Emirates
Suggested Read: Dubai's New Visa Policy Is The Perfect Reason To Celebrate For Indian Passport Holders
---
Dubai Holiday Packages On TravelTriangle
Travel Dubai in Luxury. Visit grand Burj Khalifa or the breathtaking Palm Islands. Enjoy Dhow Cruise, International Buffet Dinner, Dubai City Tour, Desert Safari, Ferrari World and Abu Dhabi City Tour. Book your Dubai holiday package on TravelTriangle.
---
2. Aquaventure Waterpark
One of the best water parks in Dubai, the Aquaventure Waterpark Dubai is Middle East's and Europe's number 1 water park and has one of the best water slides in the world for an adventure like none other. Apart from the slides, the park also has various other entertaining options like Dolphin Adventure, Ultimate Aquarium Dive, and The Lost Chambers Aquarium.
Timings: 10:00 AM – 7:00 PM
Entry Fee (Outside visitors): From AED 100 or INR 1741 to AED 310 or INR 5400 (depending upon adult or kid and rides included)
Location: Atlantis The Palm, Crescent Road – Dubai – United Arab Emirates
Suggested Read: 27 Places To Visit In UAE For A Lavish Vacation In 2019
3. Ski Dubai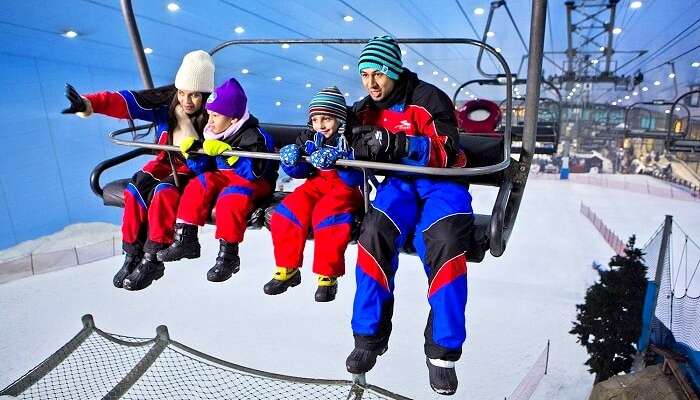 Located in the Mall of Emirates, the Ski Dubai is one of the finest places to see in Dubai with family. It is very hard to imagine a ski resort in a desert but the genius people behind it have managed. Travelers can enjoy skiing, tobogganing, snowboarding, and even play with Snow Penguins. One of the most entertaining family attractions in Dubai, this is one is a must for all.
Timings: 9:00 AM – 12:00 AM
Entry Fee: From AED 160 or INR 2786 to AED 510 or INR 8833 (depending on adult or kid, rides, and other inclusions)
Location: Sheikh Zayed Rd – Dubai – United Arab Emirates
Suggested Read: Dubai Group Tours: A Smart Choice For The Modern Traveler
4. Dubai Creek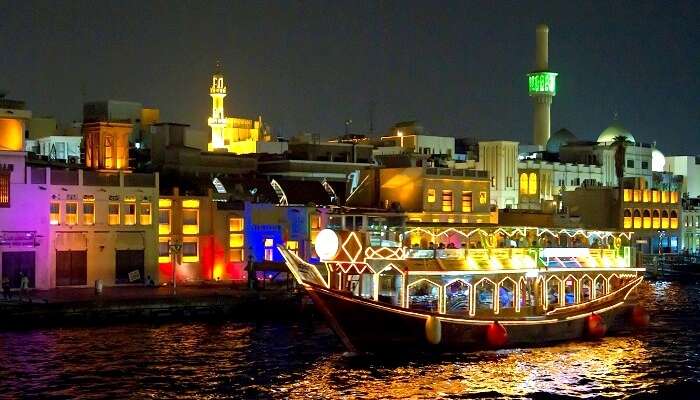 One of the oldest and finest places to go with family, the Dubai Creek offers experiences that take you back in time. The creek and its ferries offer a unique way to explore the city and one can use water taxis here to look at various points of attraction. Dhow Cruise is one of the famous tours here and is surely a must try for those who want to experience the grandeur of Dubai from a laid back perspective. Families can enjoy sumptuous meals and in boat entertainment as they continue with their boat ride.
5. Jumeirah Beach Park In Dubai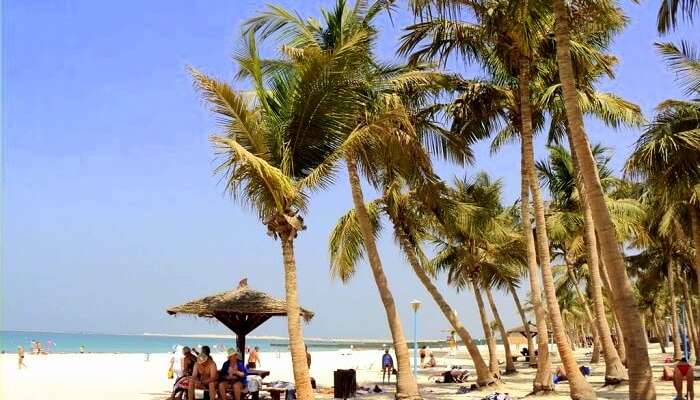 Spanning 12 hectares, the Jumeirah Beach Park is one of the finest Dubai family outing places. This hybrid park is a fine blend of sand and grassland and more than ample space for picnics and get together's amidst nature. Families can make full use of its various facilities like children's play area, barbecue area, picnic tables, showers, food kiosks, volleyball area, and a lot more. To spend a truly relaxing day in Dubai with your loved one, we highly recommend this one.
Timings:
7:30 AM – 11:00 PM (Thursday & Friday)
Rest of the days (7:30 PM – 10:00 PM)
Entry Fee:
AED 5 or INR 88 per person
AED 20 or INR 350 per car
Location: Jumeirah Road – Dubai – United Arab Emirates
Suggested Read: 5 Stunning Places To Visit In Palm Jumeirah In 2019 You Should Not Miss Out On
6. At The Top/At The Top Sky – Burj Khalifa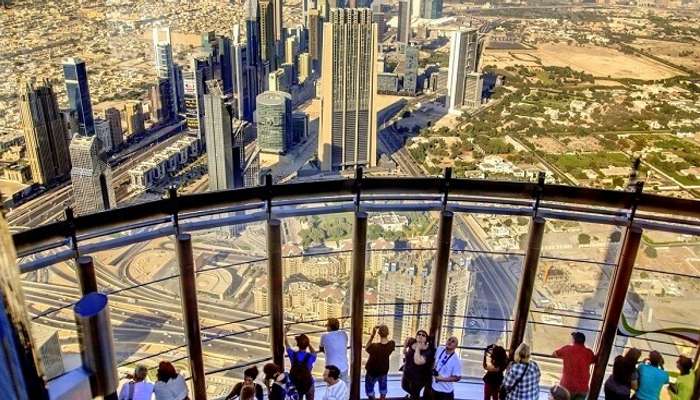 At The Top and At The Top Sky is one of the best places to visit in Dubai with family. The tour takes you to the 124th and 125th floor of the tallest building in the world and offers a panoramic experience of the entire city. The view from the 124th floor which has an observation deck is, for lack of words, incredible. And if by chance you have taken the more premium, "At The Top Sky" tour at Burj Khalifa, then you will skip those lines and move up straight away to the 148th floor for an even more high flying experience. No matter what you choose, there would be moments in this whole excursion that none of your family members would forget for a long time.
Timings:
At The Top
Non-Prime Hours: 8:30 AM – 5:00 PM & 7:30 PM until closing
Prime Hours: 5:30 PM – 7:00 PM
At The Top Sky
Non-Prime Hours: 8:00 PM until closing
Prime Hours: 9:30 AM – 7:00 PM
Entry Fee:
At The Top
From AED 125 or INR 2177 to AED 300 or INR 5225 (based on prime hours and immediate entry option)
At The Top Sky
AED 350 or INR 6096
AED 500 or INR 8709
Location: Burj Khalifa، Sheikh Mohammed bin Rashid Boulevard, Downtown Dubai – Dubai – United Arab Emirates
Suggested Read: 10 Romantic Things To Do In Dubai At Night For Couples On A Holiday
7. The Dubai Fountain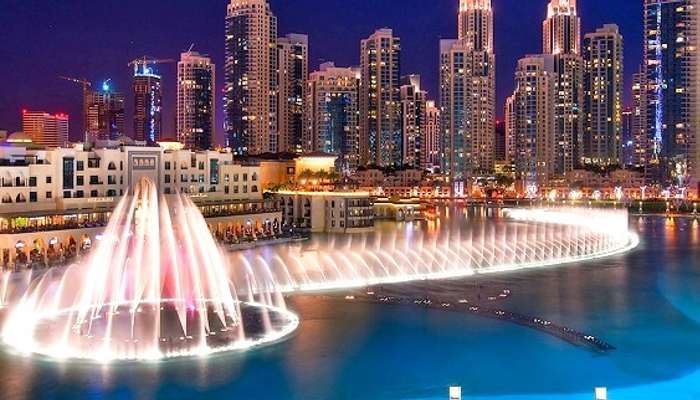 The Dubai Fountain is one of the best places to visit in Dubai with parents. This is the world's tallest performing fountain is a delight for those who witness it. At more than 900 feet in length, it's size equals to more than two football fields. The fountain performs to a range of Arabic songs from classical to contemporary is a treat for the senses.
To further elevate their experience, travelers can also take the Dubai Fountain Lake Ride at the same time the fountain is performing. Offering a front seat to the best sound and light show in the world, we are sure you will not regret this.
Timings: 7:00 PM – 11:00 PM
Entry Fee: Free
Location: Fashion Parking – Dubai Mall – Sheikh Mohammed bin Rashid Blvd – Dubai – United Arab Emirates
Suggested Read: Witnessing The Best Of Dubai On An All Women Family Trip
8. Desert Safari Dubai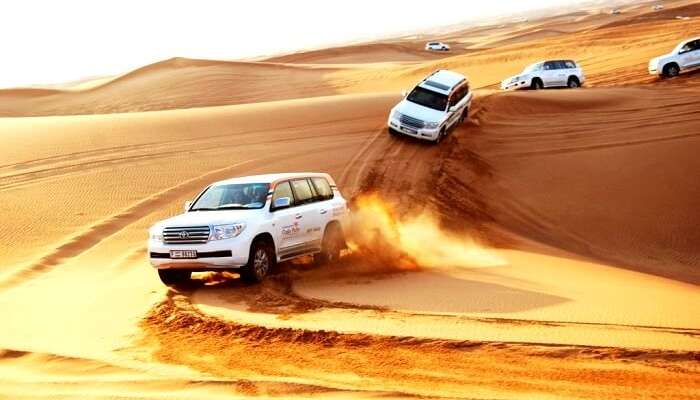 When it comes to best things to do in Dubai, the Desert Safari comes on top. The Dubai Desert is one of the best places to see with family and its experience is even better. Combining dune bashing, sunset camel ride, safari, and a traditional Arabian right experience, go for this one if you are a lover of all things authentic.
Timings:
8:30 Am – 11:30 AM (Morning)
4:00 PM – 10:00 PM (Evening)
4:00 PM – 9:00 AM (Overnight)
Entry Fee: For package prices, refer to the website below.
9. Dubai Aquarium & Underwater Zoo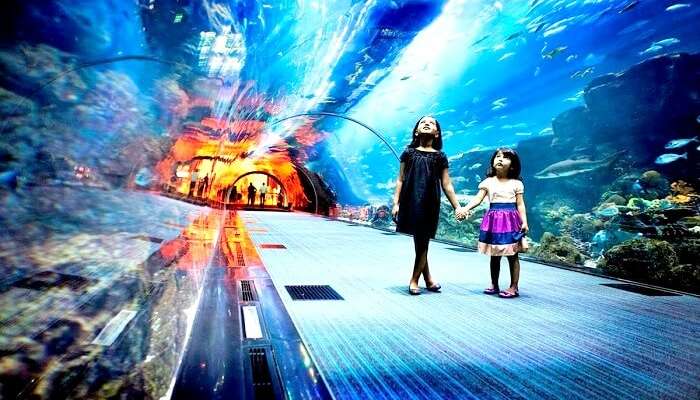 Dubai Aquarium and Underwater Zoo is one of the best places to visit in Dubai for kids and families alike. This aquarium comes amongst the largest suspended aquariums in the world and one has to really witness it to feel its splendor. It is located on the Ground Level of The Dubai Mall and thus is a perfect option for those who want a dose of shopping and entertainment. The 10 million aquarium tank is home to thousand of aquatic animals and has more than 140 species. There are more than 300 sharks and rays and this includes the largest collection of Sand Tiger Sharks in the world.
To make the most of your visit, travelers can choose to do a glass bottom ride over the tank, take a dip for a fine cage snorkeling activity, shark dive, or choose a more conventional way of exploring by walking through the 48-meter tunnel that offers a 270-degree view of the aquarium.
Timings: 10:00 AM – 12:00 AM
Entry Fee:
From AED 100 or INR 1741 to AED 300 or INR 5225
Location: Ground & Level 2, The Dubai Mall – Dubai – United Arab Emirates
10. Dubai Miracle Garden
Dubai Miracle Garden is truly a miracle to have a flourishing garden full of thousands of flowers blooming in a desert and you have to be here to believe it. Incredibly beautiful in all its arrangements, this is one place that will mesmerize you. Every flower arrangement is unique and certainly a treat to the senses. This is one of the best places to visit in Dubai with family and we bet you won't be disappointed.
Timings: 9:00 AM – 6:00 PM
Entry Fee: AED 40 or INR 696 per person
Location: Al Barsha South 3, Barsha, Dubailand Area – Dubai – United Arab Emirates
11. Dubai Marina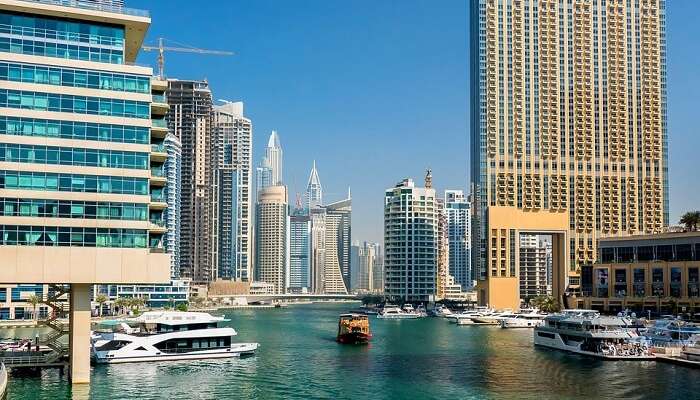 One of the most sought after attractions, Dubai Marina is a posh waterfront neighborhood where you can enjoy a fine dining experience. It is one of the elite places to go in Dubai with family where tourists come from all around the world. Yo must enjoy dinner on the dhow cruise that stands over the water and enjoy the views of high rise buildings surrounding you.
Location: Residential district in Dubai, United Arab Emirates
12. Wild Wadi Water Park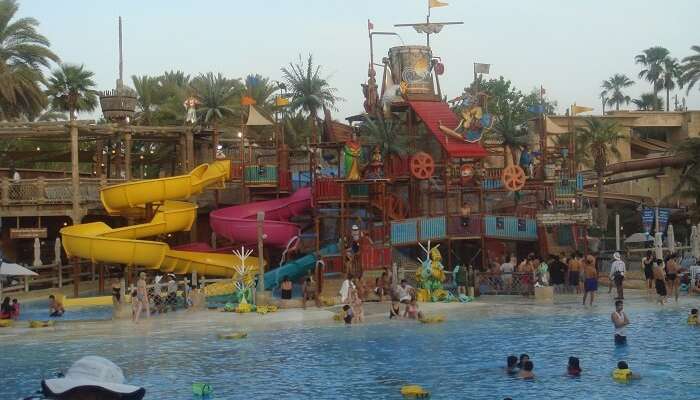 If you are looking for fun places to go in Dubai with family, then Wild Wadi Water park is where you should come. Amusement parks are anyway fun and with exhilarating rides in this park, you and your kids will have a time of their Dubai trip. Even adults can take part in water sports activities and quench their thirst for adventure. There are two great restaurants inside the park where you can enjoy dining with your family.
Location: Jumeirah Street, Next to Burj Al Arab، Jumeirah 2 – Dubai – United Arab Emirates
Timings: 10 AM – 6 PM
Entry Ticket: INR 6500 for adults, INR 6000 for kids
13. Global village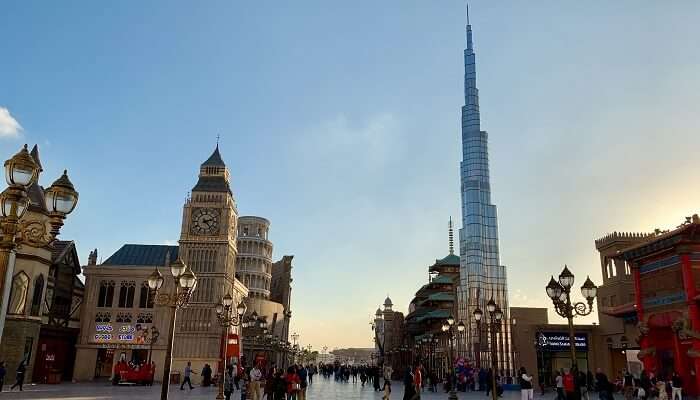 A perfect retreat for the children, the Global Village is one of the most popular tourist attractions in Dubai with family. These extravagant 40 pavilions are set up around October to April where there are people from different countries showcasing the local products. Apart from that there is a true global adventure which awaits for the kids to explore and enjoy. There are funfair rides, music concerts, magic shows and comedy shows which can be enjoyed by both adults and children.
14. Kite Beach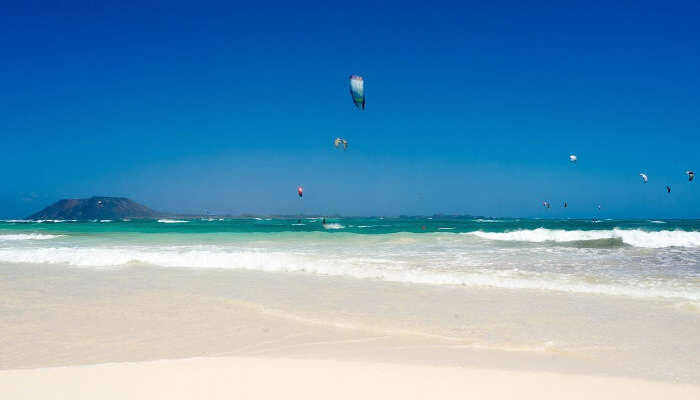 Dubai is not just a destination which is known for its incredible architecture, but apart from that this place is also famous for beaches. There are many pristine beaches and apart from that there are watersports which adds an edge to the vacation. The kite beach is one of the places in Dubai which adorned by emerald waters alongside the Arabian Gulf. Apart from this, the place also offers the travelers to enjoy with kids on outdoor trampolines and freshly paved Skate Park.
15. Ferrari World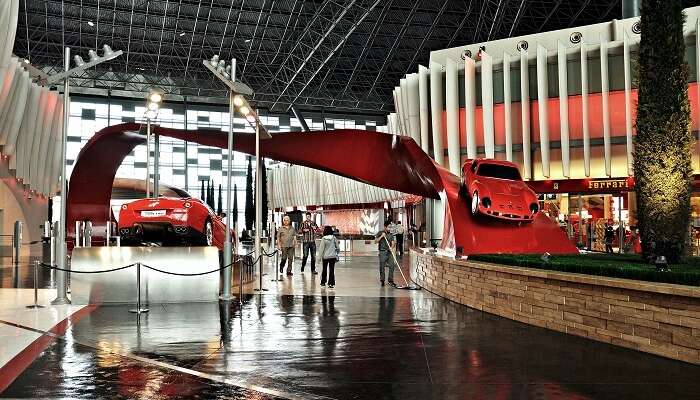 Ranking as one of the best family places to visit in Dubai, Ferrari world is the world's largest indoor theme park which doesn't fail to surprise the kids. There are around 17 Ferrari-rides and attractions which adorns the place. Apart from that the place also ensures that the visitors also enjoy a fine-dine experience and shopping.
Timings: 11AM-8PM
Location: Ferrari World, Abu Dhabi
Price: INR 4,950 per adult
16. IMG World Of Adventures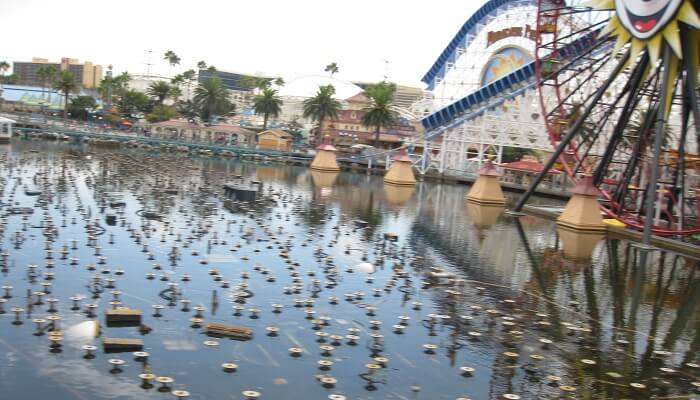 This place is a haven for the kids who are a big fan of Marvel and Cartoon Network characters. The IMG World of Adventures is the new theme park in Dubai which is one of the best Dubai places to visit with family.There are some of the major attractions like indulging into adventures with Ben 10, The Powerpuff Girls, The Hulk, Iron Man and The Avengers. Apart from that there life-size dinosaurs waiting to intensify your adrenaline rush.
Timing: 11AM-8PM
Location: IMG Worlds of Adventure, Sheikh Mohammed Bin Zayed Road – Dubai
Price: INR 3,390 per adult
17. Kidzania Dubai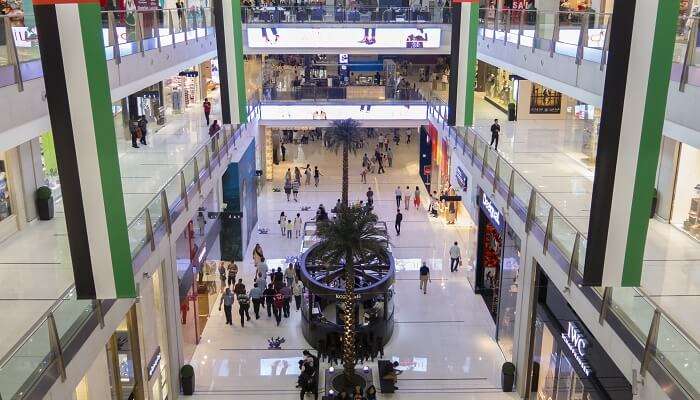 Kidzania is a perfect place to start the adventurous expedition with your kids while in Dubai. From learning and witnessing the Kinder chocolate factory to Flight Simulator, there are a lot of educative things to do around at this place. There are role-play activities for kids to enjoy and also themed packages which will surely enhance your skills.
Timings: 9AM-11PM
Location: Dubai Mall, Financial Centre Road, Dubai
Price: INR 1398 (For Adults), INR 3449 (For Kids)
Further Read: Desert Safari In Dubai: Top 10 Experiences And Attractions
Dubai has so many tourist attractions that you can easily plan a weeklong vacation here. And now, you also know all about the exciting places to visit in Dubai with family. So, when are you planning your next vacation to this wonderful desert oasis? And if the answer to that is soon, then we have you covered. Simply choose and plan your Dubai Family holiday with TravelTriangle and let us give you the best trip of your life!
Frequently Asked Questions Related To Dubai Family Holidays
Q. Is Dubai worth visiting for a family holiday for 4-5 days?

A. Dubai is one of the best family destinations in the world and surely has a lot to offer when it comes to family experiences. The above-mentioned places to visit in Dubai are the best ones and apart from these, one can also enjoy shopping and sightseeing. To visit Dubai for 4-5 days would be an ideal duration since you can fill each of your days with interesting attractions.

Q. How to book the best family Dubai tour package?

A. One can find various Dubai family packages both offline and online but if the traveler really needs to customize their package as per their own needs, requirements, and budget, then they can opt for TravelTriangle.com which offers personalized packages to all.

Q. Can you drink alcohol in Dubai?

A. Dubai is the tourist hub of UAE and therefore drinking is much lenient for tourists and non-Muslims. You need to obtain a license to buy alcohol. The legal drinking age in Dubai is 21. Drinking in the streets and public places is an offense.

Q. Which are the places to visit in Dubai on a 3 days trip?

A. Some of the places to visit in Dubai during a 3 day trip include:

1. Burj Khalifa
2. Palm Jumeirah
3. Burj Al Arab
4. The Lost Chambers Aquarium
5. Sahara Desert
6. Wild Wadi Water Park
Q. What can families do in Dubai?

A. There are many activities like Sandboarding, watching dancing fountain, going on a desert safari, visiting the Dubai spice souk and gold souk.

Q. How many days are sufficient for Dubai?

A. People can spend upto 3-5 days to explore the various attractions in Dubai along with enjoying a holiday like never before.
---
Looking To Book An International Holiday?
Book memorable holidays on TravelTriangle with 650+ verified travel agents for 65+ domestic and international destinations.
---
Comments
comments