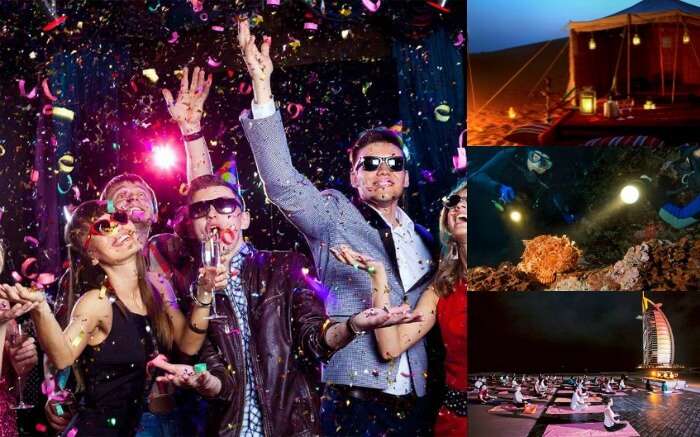 Dancing to flickering disco lights when the bass drops or listening to the melody of calm ocean waves in the moonlight, nightlife in Dubai will put on the face you want it to.
Want to imbibe the Arabian vibe? Or maybe dive deep into the ocean to experience the aquatic wonderland? You may also grab your favorite cowboy hat and boots to wander across the wilderness of the populous urban settlement that Dubai is.
Nightlife in Dubai is a bright palette, and when you're on your Dubai holiday, you've got to see a thousand colors this city unfolds as soon as the sun sets. And that's why I am presenting this list of things to do in Dubai at night for every kind of traveler. The list is split according to 4 kinds of travelers:
Up-for-fun Tourists – Who lose themselves in the excitement and are always up for party, adventure, and shopping
Culture Vultures – Who love to observe and understand the local people and culture of the city
Explorers – Who make it a point to cover all the top attractions
Retreat seekers – Who love calm, peace, and serenity
Things to keep in mind while enjoying Dubai's sizzling nightlife
But before we move to the nightlife attractions, here are some things that must be kept in mind. Dubai, though happens to be highly developed, is conservative in some cases. It's advised to keep a track of the listed things before you head out to enjoy nightlife in Dubai:
Many clubs in Dubai have strict dress codes, such as heels and dress for the ladies, and shirt and trouser for gentlemen. It's always best to confirm with the club you're going to.
When clubbing in Dubai during Ramadan, confirm that the club you're intending to visit is open. Most of the clubs in Dubai are closed during this holy month.
Locals require a license to consume alcohol. Even though tourists are served alcohol in bars without any question, not having the license can get you in trouble in case of a brawl or any other issue.
---
Dubai Holiday Packages On TravelTriangle
Travel Dubai in Luxury. Visit grand Burj Khalifa or the breathtaking Palm Islands. Enjoy Dhow Cruise, International Buffet Dinner, Dubai City Tour, Desert Safari, Ferrari World and Abu Dhabi City Tour. Book your Dubai holiday package on TravelTriangle.
---
Best of Dubai's nightlife
Up-for-fun Tourists
1. Tap your feet and get high on spirits in hip bars and clubs of Dubai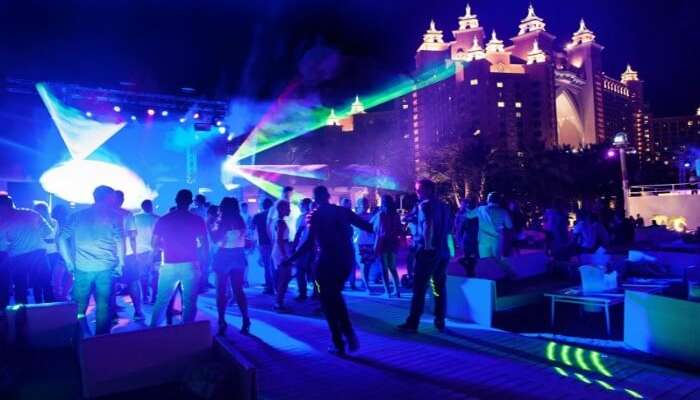 Put on your best attire and let the groovy music take control! Nightlife in Dubai clubs stays dynamic till 3:00 am, but the bars close at 1:00 am. Entry is usually restricted for 25-year-olds and above. Legal drinking age is 21 years, and you'll find many clubs adhering to the rules. Also, drunken driving is strictly intolerant in Dubai, so make sure you book a cab after the fun night.
Best clubs in Dubai: Club 360, Chi@The Lodge, Nasimi Beach, Trilogy, Boudoir, and People by Crystal
Wondering about what to order with the drinks? Here are 20 Exotic Dishes From Dubai Cuisine That Serve As The Gate Pass To Heaven
2. Dive-in to witness the marine life like never before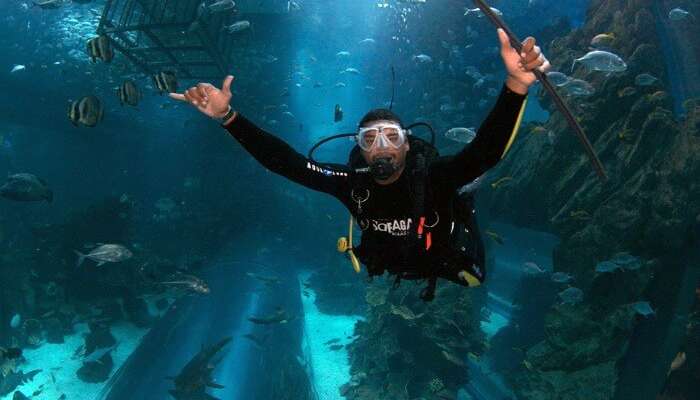 With the night growing darker, the sea starts getting more thrilling. Taking a dive deep down the ocean at night is not the thing for faint-hearted, which actually makes this one of the most daring things to do in Dubai at night. It takes courage and enthusiasm to get along the vibrant marine life at the dark hour.
The east coast of Dubai is a treasure for the divers because of its crystal clear water current, where they can find varied species of fishes, marine plants, and even turtles having a good night's sleep.
As a necessary mention, this activity welcomes professional divers (PADI certified advanced divers) who have taken a dive within last six months. These 45-50 minutes of dive require participants to carry/wear their own swimwear, however, the diving kit is provided in most cases. At least two people are sent for a safe dive.
Where: Fujairah
Charges: Start from 200 AED
Must Read: 6 Best Rooftop Bars In Dubai That Will Make You Feel On Top Of The World
3. Play golf under the star-lit sky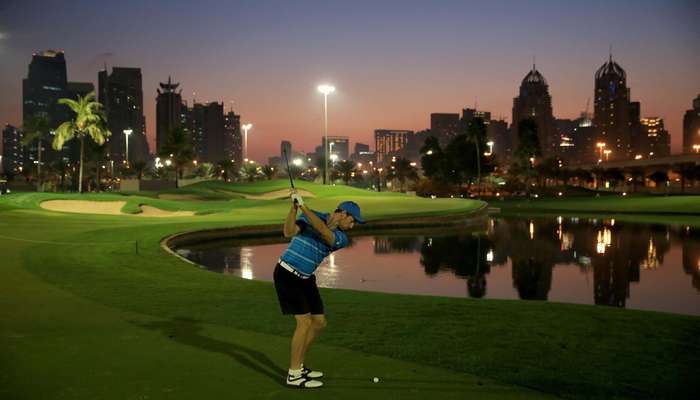 There is never an unapt time to play golf and real golfers know it to be true. Faldo – an 18-hole golf course lets you indulge in this sophisticated game, right under the stars. It is open seven days a week, from 4:00 pm until midnight and that makes it one of best places to visit in Dubai at night.
Being spread across a vast expanse, Faldo tests the endurance of real golfers. The landscape looks gorgeous with grassy terrain reminiscent of the sand dunes, doing justice to its original name, Wadi. The golfing experience is made remarkable with bunkers, and freshwater and salt lakes around.
Where: Faldo Golf Club
Charges: Start from 230 AED
Timings: 4:00 pm – 12:00 am
Suggested Read: Visit Dubai In April 2019 To Have A Vacation Full Of Amazing Marvels And Miracles
4. Feel like a royalty while horse-riding in full moon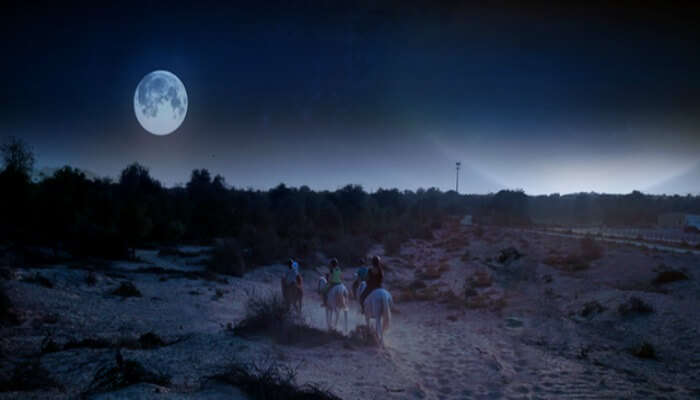 When the moonlight embraces dense woods and glow worms come out that's when you ride the white horse through immense wildlife parks and sandy forests enveloped with trees. This 90-minute guided horse ride will mesmerize you as you trail quietest hideouts of Dubai.
The well-experienced instructor ensures that you are safe, regardless of your level of expertise.
Where: Mushrif Equestrian Club, Mushrif Park
Charges: Start from 299 AED (approx)
Timings: 8:00 pm – 9:30 pm (Participants are requested to reach by 7:30 pm)
Suggested Read: 10 Best Dubai Beach Resorts For The Perfect 2019 Beach Vacation In The Middle East
5. Shop your heart out at the popular night markets in Dubai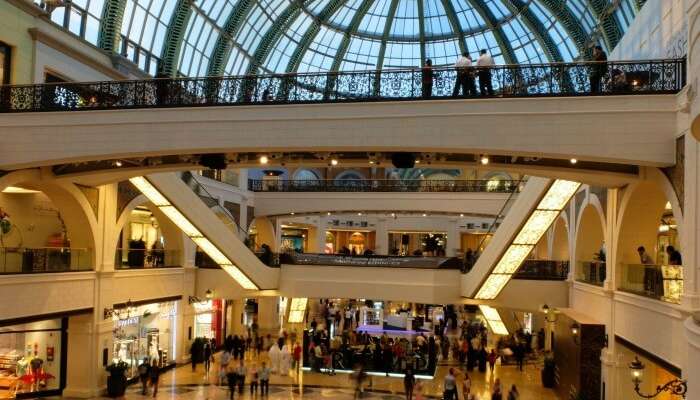 In a city that's all about glam, why shouldn't the shopaholics get lost in all the glitz it has? So the good news is that shopaholics needn't think of what to do in Dubai at night. Right from the streets to luxurious malls, shopping in Dubai is nothing less than a haven for those who love to shop.
Here in this city, you can shop in one of the largest shopping destinations in the world, The Dubai Mall; where you can bag just about anything from Arabian handicrafts to branded apparels to luxury cars. Most shops are open till 10:00 pm and some even until midnight, especially during weekends. There is so much to see and buy in these incredible shopping places in Dubai that even if you're a window-shopper you'll end up having a gala time.
Best shopping destinations in Dubai: Dubai Shopping Mall, The Mall of Emirates, Wafi Mall, Deira Gold Souk and Al Fahidi Street.
Suggested Read: 7 Best Markets In Dubai In 2019 For Pampering The Shopping-Freak In You
Culture Vultures
6. Live the night of your life by going for an overnight desert safari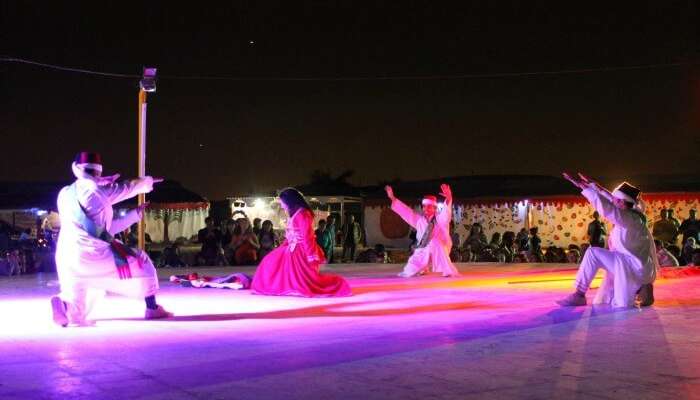 Dubai's rugged desert is enticing in every sense, and surely you cannot walk out of this city without having a taste of the desert safari. The whole affair gets more alluring on a starry night when the ambiance is beautified with an electrifying Arabian vibe. And trust me, it beats the glitz of even the best night parties in Dubai.
Gorge on sumptuous buffet dinner while you sit back and watch the belly dancer flaunting her swift moves. Draw rings of shisha smoke, go dune driving and enjoy a camel ride – live it all up before dozing off in your tent. Emirati breakfast will greet you good morning with an unforgettable experience of desert safari coming to an end.
What's special: Cultural performances will keep you entertained through the night. There are a myriad of activities to do, such as henna painting, sand skiing, quad biking, camel ride, sunset photography and more.
Where: Liwa Desert – one of the awesomest places to visit in Dubai at night
Charges: 250 AED (depends from company to company)
Timings: Pickup starts in the afternoon around 2:30 pm and drop takes place next day around 8:30 am (depends from company to company)
7. Indulge in the Emirati vibe onboard Dhow Cruise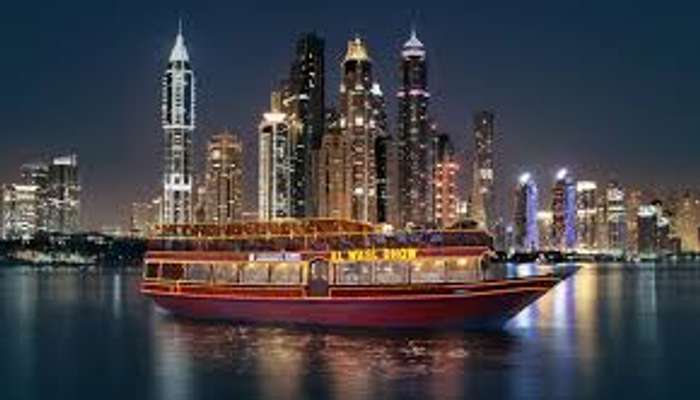 Your list of favorite things is going to expand a little, right when you'll get onboard the colorfully-lit Dhow Cruise. The delicious and lavish dinner on the cruise will get tastier with spectacular views of some of Old Dubai's favorite landmarks that will greet you along the way.
On the inside too, this cruise is full of life. You'll agree on this when Tanura and belly dance performers will steal the show, and your heart away.
What's special: Savor authentic Arabian coffee, which is followed by buffet dinner
Where: Deira Creek (next to Sheraton Creek Hotel)
Charges: 250 AED (approximate cost for adults)
Timings: 8:30 pm – 10:30 pm (pickup starts at 7:00 pm)
8. Experience the festive spirit during Ramadan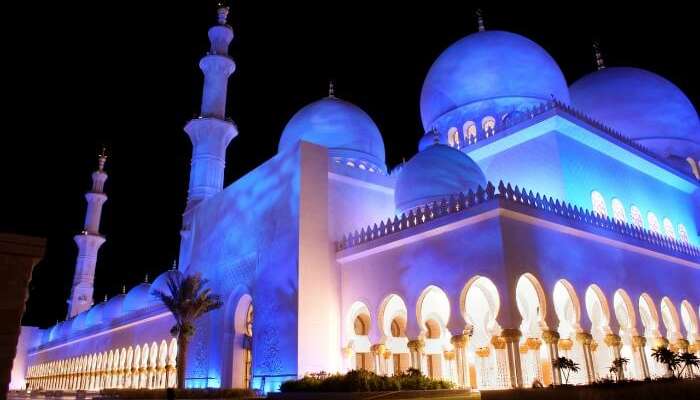 Ramadan is celebrated in the ninth month of the Islamic calendar (June-July), and is the time for merrymaking and remembering Allah. Each of Dubai's nooks get in the festive spirit. Contradictory to what's popularly believed, Dubai doesn't close down during Ramadan. However, the streets get less crowded and hotels rates drop down.
So why not make the most of this holy time and be a part of any of the following events and tours that take place during Ramadan?
Go on photography tour

– You can relive the moment through photographs and even can make others feel the essence of that moment through photographs. Capture Dubai's most prepossessing sights during the holy month of Ramadan with Gulf Photo Plus.

Attend RWAQ Ramadan at The Walk JBR

– The month-long event exhibits the heritage through different zones dedicated to food, art, and lifestyle.

Watch Ramadan football tournament in Dubai Sports City

– If you're a football enthusiast then Ramadan nights will be full of fun for you. During this time, Dubai Sports City arranges action-packed football tournaments.

Ramadan night market

– Dubai's World Trade Center bustles with Ramadan stalls that sell everything from clothing to handicraft. The market also features kids' play area, henna painting section, food court, and many contests and competitions.
Explorers
9. Glance at Dubai's skyline from Burj Khalifa
Being on cloud nine is old-school, we're going way above that – to Burj Khalifa, the tallest building in the world. There is no denial whatsoever, that Burj Khalifa is the most fascinating spot in the whole of Dubai, and indeed among the best in the world.
Skyscrapers, choreographed fountains, highways, and everything illuminates to make the eyes shine in utter awe. From where else could you get a better view of the glittering nightlife in Dubai?!
Where: Level 124 and 148
Charges: Start from 125 AED (adults, non-prime hours, 124 level) and 350 AED (adults, non-prime hours, 148 level)
Timings: 8:30 am – 12:00 am (last entry at 11:00 pm)
Must Read: Burj Khalifa Will No More Be The Tallest Building In The World
10. Tour the top attractions of the city at night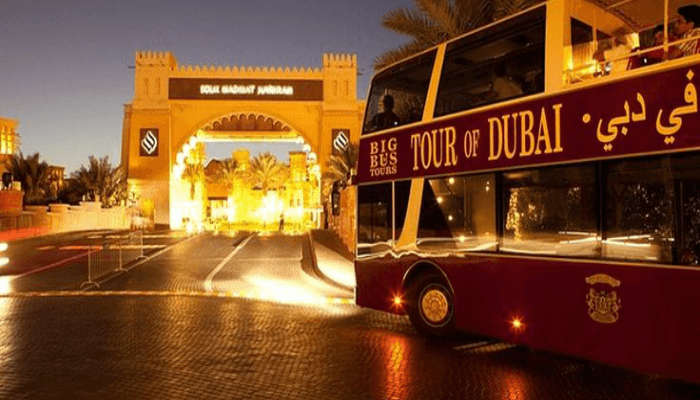 Live up the nightlife in Dubai and tour its heart-stealing sights with an English-speaking guide. This sightseeing tour of Dubai will get you acquainted with the city's history, legends, and facts. You'll find yourself dwelling in the inspiring story of Dubai's journey – from a fishing hamlet to one world's most influential and developed cities.
Some of the key highlights of Dubai night tour are Burj Al Arab, Atlantis the Palm, Dubai Marina, Burj Khalifa, and Jumeirah Lake Towers.
Where: You can opt to commence the tour from – Deira City Centre, Dubai Mall, and Souk Madinat Jumeirah
Charges: 132 AED (approx)
Timings: The tour starts at 7:15 pm (from Deira City Centre), 7:45 pm (Dubai Mall) and 8:15 pm (Souk Madinat Jumeirah)
Retreat Seekers
11. Gaze at the twinkling stars with Dubai Astronomy Group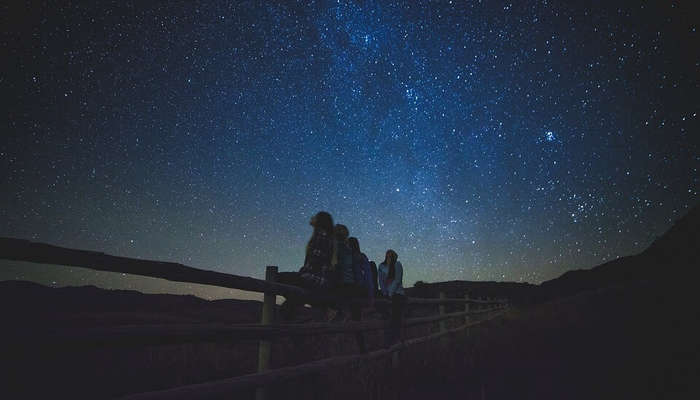 Have you always been fascinated by the idea of stars and universe? Then your haven in Dubai is with the Dubai Astronomy Group. There is not just stargazing, the group gathers to witness other celestial events like Saturn opposition, Mars opposition and Mercury Transit (when Mercury appears in front of the moon).
For astronomy enthusiasts, this is among the most delightful things to do in Dubai at night. To be a part of this, you need to fill out registration forms and send it via email. The meet, or the 'party', mostly takes place in special astronomical events, in the desert area.
Charges: Free of cost (depends from event to event)
12. Rejuvenate yourself with a full moon Yoga session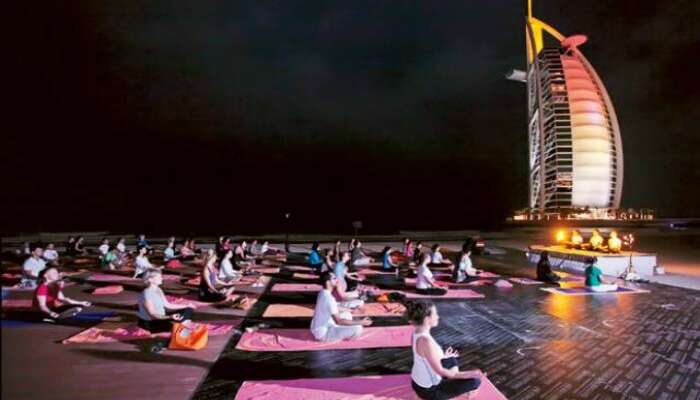 Yoga refreshes the mind and soul; now think about going on the journey of self-discovery right under the moonlight. Nightlife in Dubai can be full of hustle and bustle, but those longing for peace have their haven set right in the heart of Dubai. Experience sheer tranquility as you try asanas, beside the Arabian Gulf and the Burj Al Arab Jumeirah.
Soothing classical melody and song of gentle sea waves will calm your senses, while the Yoga guru leads you towards absolute silence within. It's not just about the background and the aura merely. Moon, according to the Vedas, emits strong and positive effect on human body and mind.
Where: Talise Spa, Madinat Jumeirah
Charges: 119 AED
Timings: The session takes place once a month, and the exact timings are notified
So, whether you're a party animal, an adventure junkie, shopaholic, or Yoga-enthusiast, whatever is your travel style there is something in the store for you in this Emirati gem when it comes to nightlife in Dubai.
Further Read: 14 Reasons Why Dubai Will Ruin Indians For Life
---
Looking To Book An International Holiday?
Book memorable holidays on TravelTriangle with 650+ verified travel agents for 65+ domestic and international destinations.
---
Comments
comments