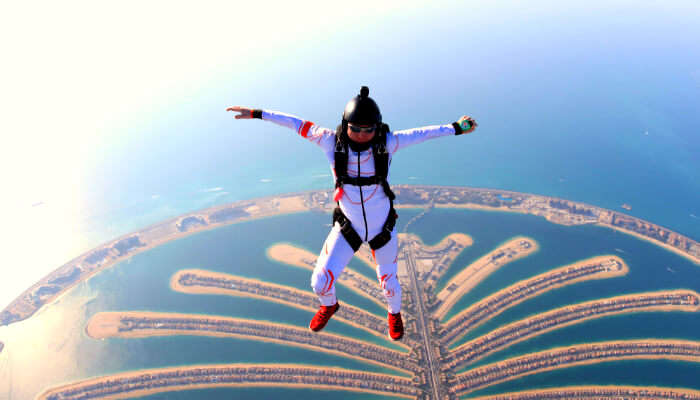 Dubai, one of the most futuristic cities of the United Arab Emirates (UAE) is one of the most popular holiday destinations in the world. The geographical landscape of this city makes it one of the best places to host various exciting and thrilling sports. Check out these top adventure sports in Dubai that you must surely experience on your visit to this happening city.
Infact, Dubai is synonymous to adventure as a myriad of adventure activities exists here that you wouldn't normally find everywhere. If you like to get high on adrenaline, then Dubai is your adventure-junk capital.
Top 15 Adventure Sports In Dubai
Here are the top 15 adventure sports in Dubai that you must indulge in to make you holiday a wonderful time:
Dune Bashing
Sandboarding
Skiing
Skydiving
Bungee Jumping
Shark diving
Flyboarding
Microlighting
Racing
Jet skiing
Hot Air Balloon Ride
Seabreacher Ride
Water Jetpack Ride
Indoor Skydiving Experience
Ziplining
1. Dune Bashing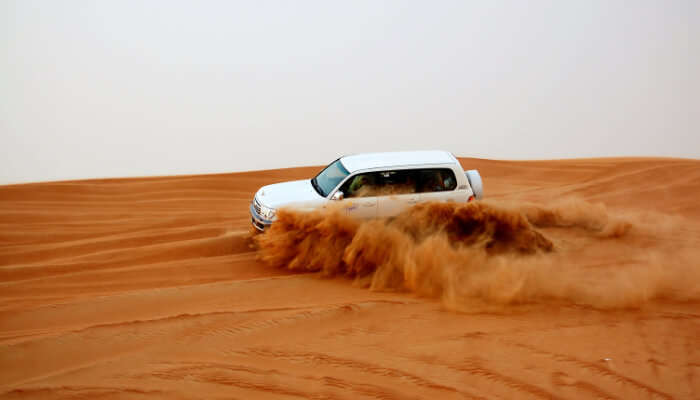 Just like sandboarding, dune bashing is also one of the must adventure sports to do in Dubai. But for this fun activity, the minimum age limit is as low as 3 years. This is why dune bashing in Dubai is one of the best family adventure sports too. Get into the SUV and ride at a high speed, bashing the sand dunes. The popular model, Big Red, widely used for this sport in Dubai is among the latest SUVs in the world and runs at a speed of 250,000 square miles. You can even combine this experience with a desert safari in Dubai.
Cost: INR 3,900
---
Dubai Holiday Packages On TravelTriangle
Travel Dubai in Luxury. Visit grand Burj Khalifa or the breathtaking Palm Islands. Enjoy Dhow Cruise, International Buffet Dinner, Dubai City Tour, Desert Safari, Ferrari World and Abu Dhabi City Tour. Book your Dubai holiday package on TravelTriangle.
---
2. Sandboarding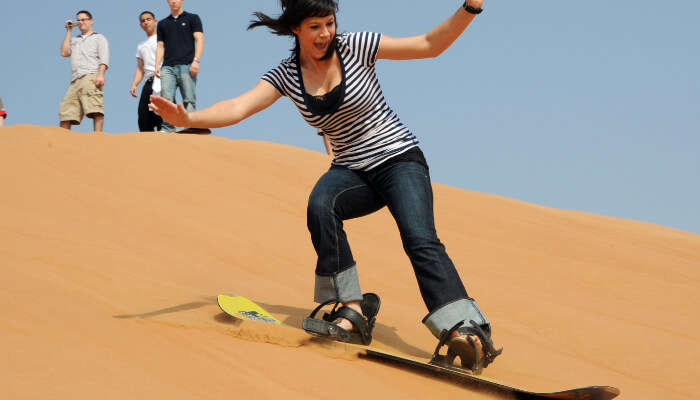 Dubai being a city located amidst sandy desert, sandboarding is one of the best adventure sports in Dubai to indulge. It is a thrilling experience to slide and glide down the sand dunes of the city's deserts. One of the top places to do snowboarding is the tallest sand dune of Dubai, Al Hamer, which is 100-meters high. The minimum age to enjoy this sport 13 years.
Cost: INR 4,200
Must Read: 12 Dubai Museums That Let You Witness The Heritage & History Of The City
3. Skiing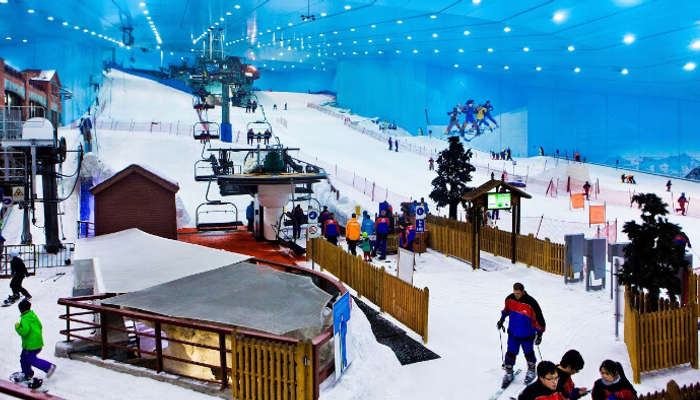 You must be surprised to see skiing listed among the top adventure sports in Dubai, but it is true. You can experience skiing in Dubai too. The Mall Of The Emirates located at the Sheikh Zayed Road features a special indoor ski resort known as Ski Dubai. Anyone at or above the age of 3 years can enjoy skiing here. Ski Dubai has slopes with rails and jumps that even experiences skiers find challenging.
Cost: INR 17,000
Suggested Read: 22 Free Things To Do In Dubai And Experience Over The Top Luxury Without Spending A Penny
4. Skydiving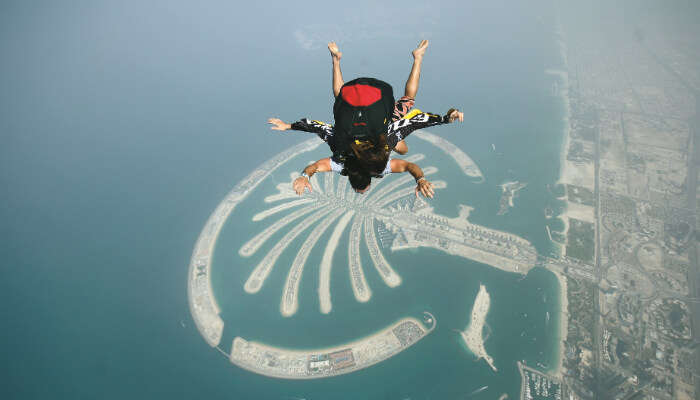 With such a futuristic architectural landscape covering the land and sea of the city, skydiving is one of the top adventure sports in Dubai. Challenge your fear by jumping off a SkyDive Dubai plane and falling-free from a height of 13,000 feet. Feel the rush of adrenaline as you fall at a speed as high as 201 kilometers per hour. To indulge in this activity, you have to be above the age of 18 and should not weigh more than 100 kilograms.
Cost: INR 30,000
Suggested Read: 20 Exotic Dishes From Dubai Cuisine To Try In 2020 That Serves As The Gate Pass To Heaven
5. Bungee Jumping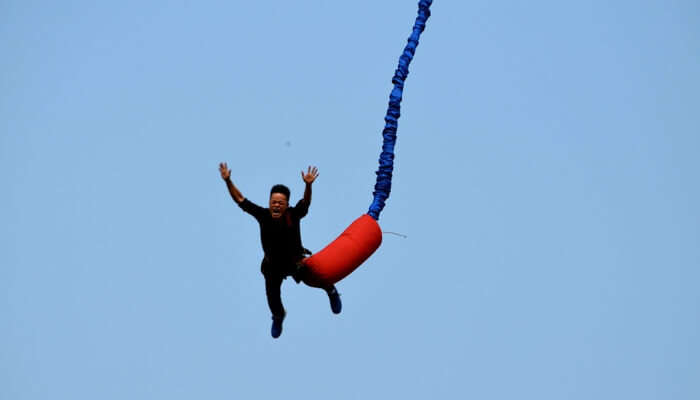 How can bungee jump not be in the list of adventure sports in Dubai, when the Bungee Jump World Record was set in this city. Yes, the record was made at the Dubai Autodrome in 2014 by hosting 151 jumps within the duration of 24 hours. This is one of the extreme adventure sports and requires a lot of courage and spirit. Dubai Gravity Zone is one of the top places experience this adventure activity in Dubai. For a 50-metre-high jump, you the minimum age limit is 14 years and maximum weight is 120 kilograms.
Cost: INR 7,000
Suggested Read: Bungee Jumping In Dubai: 7 Tips Every Beginner Should Be Aware Of
6. Shark Diving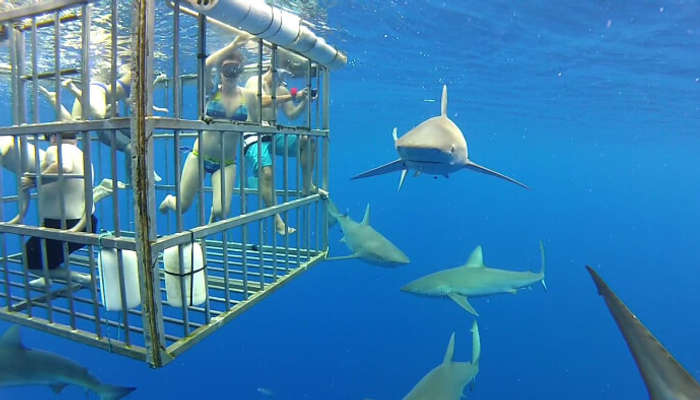 Dubai is well known for its grand and futuristic shopping malls but The Dubai Mall is grabbing the attention of all the adventure junkies. The mall features a huge tank aquarium where diving activities are hosted. If you are 10 years old or above, you can swim with the sharks and many other marine species. The tank has over 33,000 aquatic species in this tank. You can also learn scuba diving through a short diving course offered here.
Cost: NA
Suggested Read: 15 Things Not To Do In Dubai Or You'll Land In Deep Trouble On Your Vacay In 2020
7. Flyboarding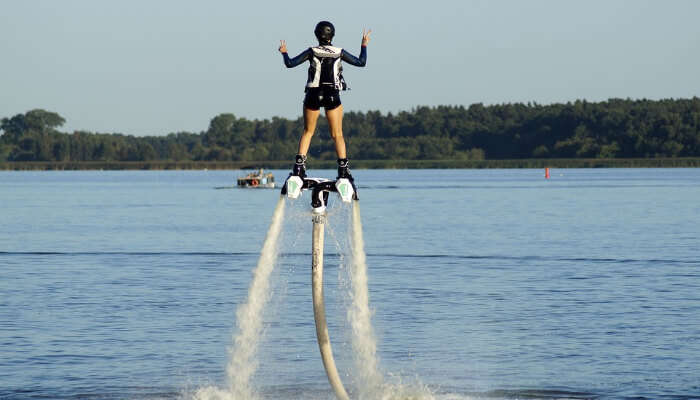 Flyboarding is one of the exclusive adventure sports in Dubai and is done by many celebrities too. Enjoy the thrill of flying over water with the help of a hydroflighting device to enjoy the stunning cityscape of Dubai at a speed of 40 kilometers per hour. Indulge in flyboarding at the gorgeous Jumeirah Harbour. Anyone above the age of 18 years can experience this amazing sport. Make sure you carry a swimwear too.
Cost: INR 5,800
Suggested Read: 8 Spas In Dubai That Will Help You Unwind Yourself After A Long Day
8. Microlighting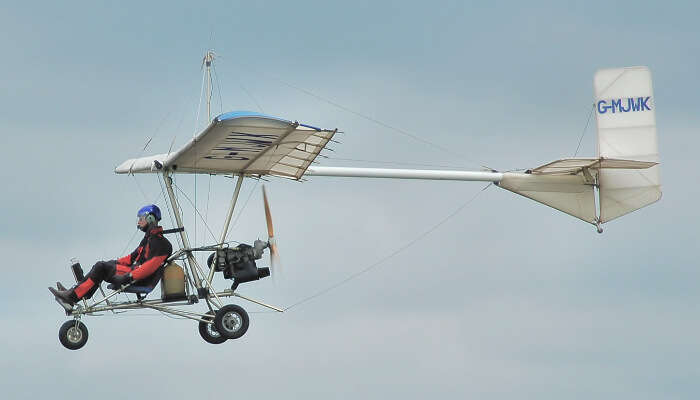 Microlighting, also known as Ultralight is a lightweight fixed-winged aircraft that lands at a very slow speed. It is usually a one or two-seater aircraft which takes you on a 15-minute flying trip. If you are 14 years of age or above, get ready to experience this sport. You would be flying over mountains and deserts. This is one of the most exciting air sports in Dubai.
Cost: INR 2,900
Suggested Read: 17 Places To Visit In Abu Dhabi For Those Who Want Everything From One City
9. Racing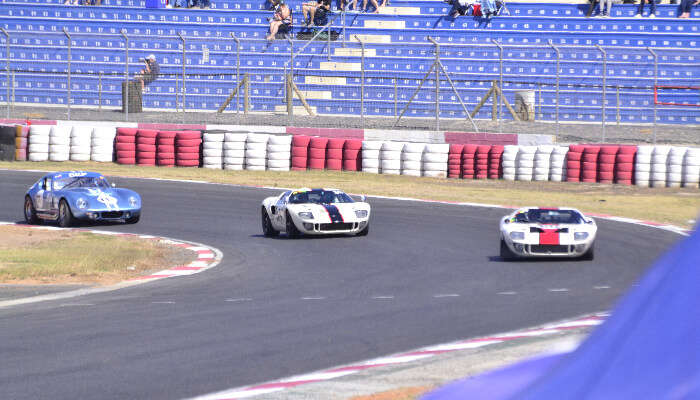 Indulge in the mind-blowing activity of racing at the longest straight circuit of the world. This racing circuit is located in Motor City of Dubai. Race in a BHO single-seater at a speed of 100-kilometers per hour in just 4 seconds. You need to be at least 21 years old to be able to participate in this extremely thrilling adventure. Also, anyone under 118 kgs can enjoy racing.
Cost: INR 1,400
Suggested Read: Top 5 Bridges In Dubai That Will Connect You To The City Like Never Before
10. Jet Skiing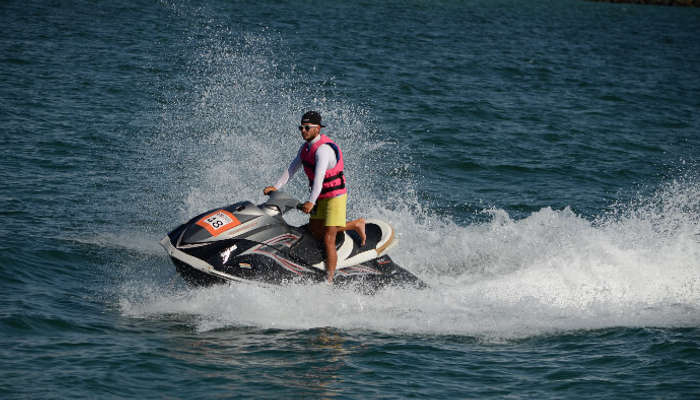 Jet skiing in Dubai is not just one of the top adventure water sports in Dubai, it is also one of the best ways to enjoy sightseeing in Dubai. Explore the popular places of Dubai from the Persian including Gulf Burj Al Arab. Roam the sea near Dubai in speed, on this jet-skiing adventure tour.
Cost: INR 12,400
11. Hot Air Balloon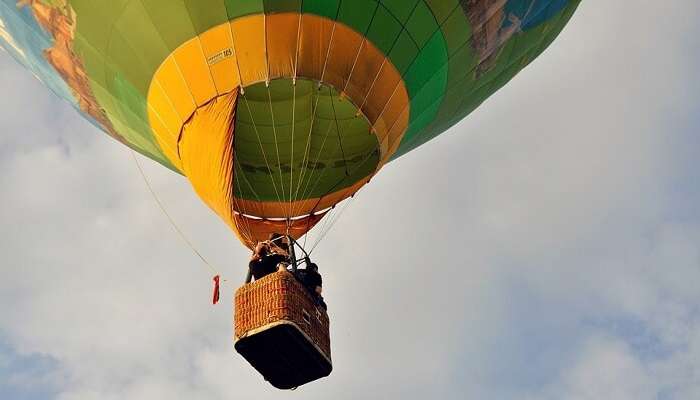 What is a better way to enjoy Dubai skyline than riding a hot air balloon? After all, it involves you in sky high. Enjoy the bird's eye views of Dubai from up above in the hot air ballon. Lay your eyes on the Persian Gulf, Burj Al Arab, and Burj Khalifa. It is one of the most amazing adventure sports in Dubai and you must definitely sign up for it. Keep in mind to book your rides in the early morning as the sun gets harsher as the day passes.
Cost: INR 17,300
12. SeaBreacher Ride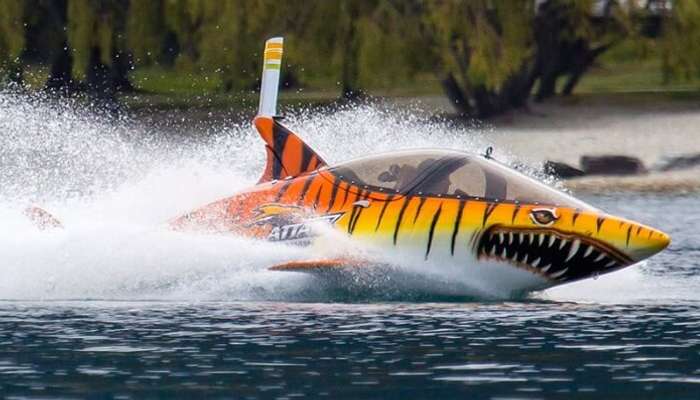 You must be wondering what a seabreacher ride. If you ever happen to see taking one, you will surely be tempted to try it for yourself. The activity involves a watercraft in the shape of a shark that has the ability to float on the water and going underwater. Think how much fun it would be riding one of these. Isn't it one of the exhilarating adventure sports in Dubai?
Cost: INR 8,590 per person
13. Water Jetpack Experience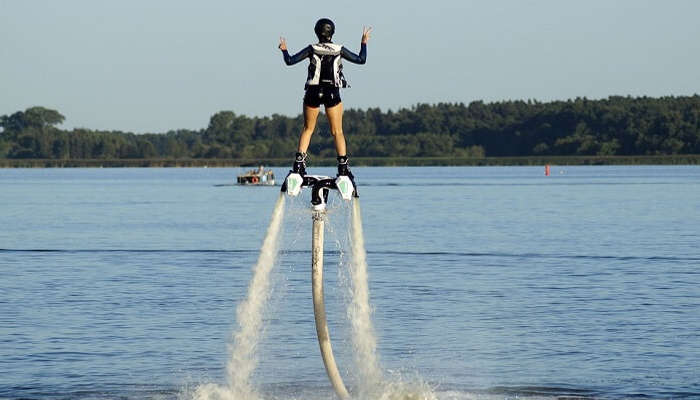 Water Jetpack Experience is one of the most unique water adventure sports in dubai. If you want to go past jet skiing and parasailing experiences, this one should definitely be on your list. The hydrosport looks tempting in the movies and video games and you won't be able to resist it. Your whole body weight is carried up by the saddle with the force of water.
Cost: INR 6,800 per person
14. Indoor Skydiving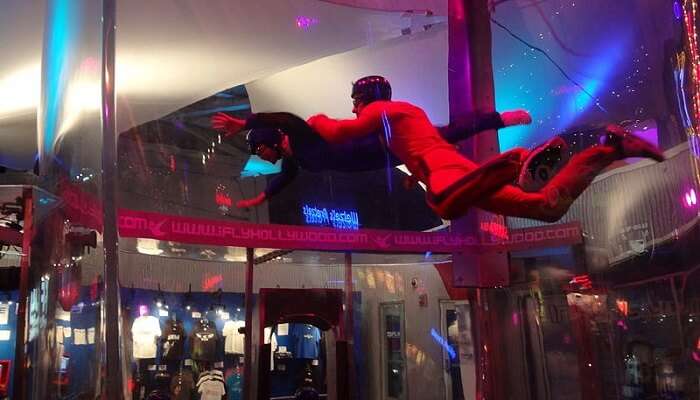 If you are afraid of heights, there is still a way that you could enjoy skydiving. Dubai brings to you indoor skydiving. Head to Ifly in Dubai where you will be able to fly in the sky with the help of vertical movements created by a fan device. You will be able to soar up to 3 m high in the air. The best thing is that you do not require any prior training. You will be provided with safety equipment and a professional during the activity.
Cost: INR 4,000
15. Ziplining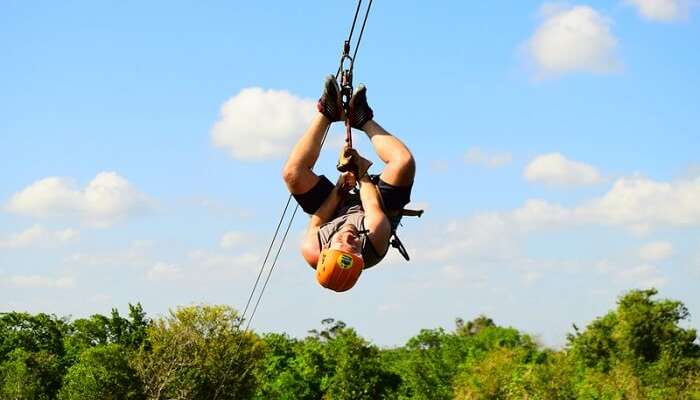 Go whee from a height of 1,800 ft above the ground attached to a zipline. Believe me, this is the most thrilling adventure experience in Dubai that you can have on your vacation. The whole activity takes place in mere seconds with a speed of 60-70 km/hr but the adrenaline rush lasts for long. Also, the breathtaking views of the city come with the experience. So, there you go. There are two spots where you can enjoy a really good ziplining experience: Dubai Marina XLine, and Dubai Fountains
Cost: INR 12,000 onwards
Further Read: 53 Tourist Places In Dubai: Do Not Come Back Without Visiting These Marvels In 2020
Experience all the above-listed adventure sports in Dubai. Plan a trip to Dubai and come here with your wonderful family, ready-for-anything kind of friends, or even your partner.
Frequently Asked Questions About Adventure Sports In Dubai
Q. What is Dubai famous for?
A. Dubai is known for its peaking skyscrapers, amazing architecture, lavish lifestyle, heavenly cuisines, biggest manmade islands and so much more. Dubai is the best place for adventure seekers who can try all kinds of air, land as well as water sports.
Q. Which are the best places to visit in Dubai at night?
A. Here are some of the most amazing places to visit in Dubai at night for an amazing vacation:
1. Dubai Aquarium & Underwater Zoo
2. Dubai Creek
3. The Dubai Fountains
4. The Arabian Desert
5. Lost Chambers
Q. What age can you indoor skydive?
A. The minimum age for indoor sky diving is at least 3 years. Kids under 18 years of age need to be accompanied by a guardian to sign their waiver for indoor skydiving.
Q. What sports are popular in Dubai?
A. Horse Racing, Camel Racing, Falconry, Golf, and Soccer are some of the popular sports in Dubai.?
Q. What is dune bashing in Dubai?
A. Dune Bashing is an activity where you drive a vehicle like 4×4 jeeps or high power Quad bikes in the desert sand.
Q. What do you wear to dune bashing Dubai?
A. Since the activity is held in the desert, it is suggested that you wear light-colored clothes with flip-flops or sneakers. You should also wear sunglasses and a hat to be safe from the sun and sand.
Q. How much does desert safari cost in Dubai?
A. Dubai Desert Safari costs from INR 1,000-8,000 depending upon the experience.
Q. Can you wear shorts in Dubai?
A. It is normal to wear shorts or knee-length clothes in Dubai except for the places where there is a dress code.
---
Looking To Book An International Holiday?
Book memorable holidays on TravelTriangle with 650+ verified travel agents for 65+ domestic and international destinations.
---
People Also Read:
Adventure Sports In Bhutan Adventure Sports In Bali Adventure Sports In Croatia
Comments
comments