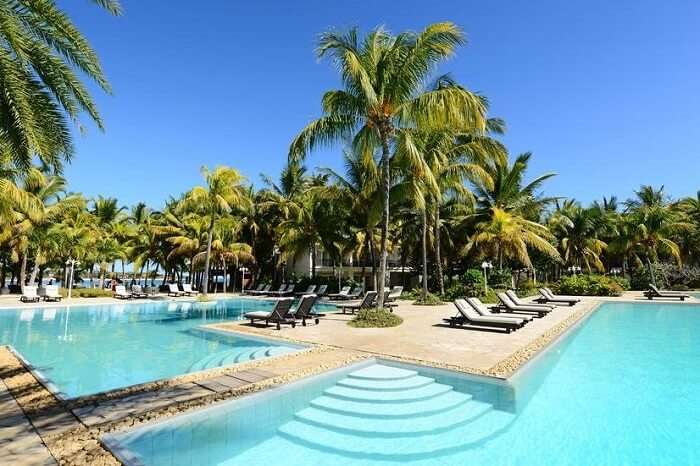 Overview
Mauritius, an island nation in the Indian Ocean is a much sought-after tourist destination, thanks to its pristine beaches, lush greenery, and beautiful alcoves. This place has a very pleasant ambiance, and the beaches are generally not too crowded. Much like the beaches, the 4 star hotels in Mauritius are very private and offer a once-in-a-lifetime experience. Many of these hotels also offer activities like scuba diving and undersea walking for the guests, to enjoy the most amazing experience ever. Travelers can experience the secret little beaches and alcoves attached to most of the hotels to bring back a lot of precious memories. The hotels in Mauritius also have transportation facilities for the guests to go around places and so that they don't have to worry about transportation. One can also opt for local guides that these 4 star hotels in Mauritius provide. These hotels offer a luxury stay and a great value for money so that guests don't have to stress out about finding the best deal while being busy planning a dream vacation to this beautiful island. بتواي
Special Experiences
The 4 star hotels in Mauritius go the extra mile in making sure that they empower the guests with the most pleasant and hassle-free stay while enjoying the hospitality provided by them. Elegance and a well-trained staff together make every day spent in these hotels a memorable one. Special experiences like the 24-hour casino at Le Suffren Hotel and Marina or the specially created picnic area in Zilwa Attitude are what make the travelers holiday very special. Other than all the indoor extravaganza, 4-star hotels in Mauritius Also have a lot to offer when it comes to outdoor activities. With most hotels situated on the beachfront, the hotels offer diving courses and water sports like diving, snorkeling, and windsurfing either on site of offshore.
Facilities
The best 4 star hotels in Mauritius offer a wide variety of standard and luxury services. From 24 hours room service to complimentary breakfast, there is no limit to the kind of services that are offered to the guests. Most hotels have inclusive laundry and dry-cleaning services as well, owing to a high demand of such services in beach destinations. بطوله اليورو 2022 Most of them also offer spa services and pools to add to the long list of offerings. Some hotels have bars as well so that can be enjoyed with a drink or two after a tiring day out. The staff is well trained and extremely competent to cater to all the requirements raised by the guests. They also have in-house restaurants where various dishes can be savoured. If the traveler is on the lookout for particular services such as Jacuzzi, Le Meridian is the perfect retreat that should be booked, or travelers could pamper themselves by participating in the Yoga classes at La Pirogue A-Sun Resort.
Dining
The 4 star hotels in Mauritius have restaurants as well so that the guests don't have to wander around looking for a place to eat, and instead can enjoy a sumptuous meal in the room itself. The restaurants in the hotels are also well maintained for those who want to ditch the room and enjoy the service of eating out. Most restaurants of the 4-star hotels in Mauritius have both indoor and outdoor restaurants, the latter offering mesmerizing views with the perfect sound of waves and cool breeze. Most hotels are inclusive of bars so that if one craves for some alcohol to feel more relaxed, they don't have to look too far. While most restaurants serve Mauritian and Continental cuisines, the guests can also find Indian food in some hotels.
FAQs
Q1. Which area should one stay in Mauritius?
A. Balaclava, Flic en Flac, Grand Baie, Trou aux Biches are famous places in Mauritius.
Q2. Do hotels accept foreign currency?
A. Though almost all hotels in Mauritius accept foreign currency, the exchange rate they extend to guests is through the roof. It is advisable to have the currency changed beforehand. سكريل بنك
Q3. Which 4 star hotels in Mauritius are closest to the airport in Mauritius?
Holiday Inn Mauritius Mon Trésor, L'Auberge du Domaine de Saint Aubin, Le Peninsula Bay Beach resort, etc.
Q4. Which are some of the best 4-star hotels in Mauritius?
Hilton Mauritius Resort and Spa, Mauricia Beachcomber Resort and Spa, Radisson Blu Poste Lafayette Resort and Spa, Victoria Beachcomber Resort and Spa, are some of the best 4 star hotels in Mauritius.
Q5. Do hotels in Mauritius serve Indian food?
A. Yes, hotels in Mauritius do serve Indian food. Some hotels that do are The Oberoi, Nitzana Mauritius, The Address Boutique Hotel, etc.
The 4 star hotels in Mauritius have a beautiful, pleasant, and homely atmosphere so that guests and their loved ones can kick back a have a great time. The list of 4 star hotels in Mauritius that one can choose from include, Veranda Paul et Virginie Hotel and Spa, Le Meridien Ile Maurice, Cape Point Seafront suites and penthouses, Hennessy Park Hotel, Holiday Inn Mauritius, Ambre Mauritius, etc. These hotels give the most amazing services and have the highest number of satisfied customers. The stay here will ensure that travelers have the best time in Mauritius, not just while they are out exploring, but also when they want to return to the hotel after a tiring day out.