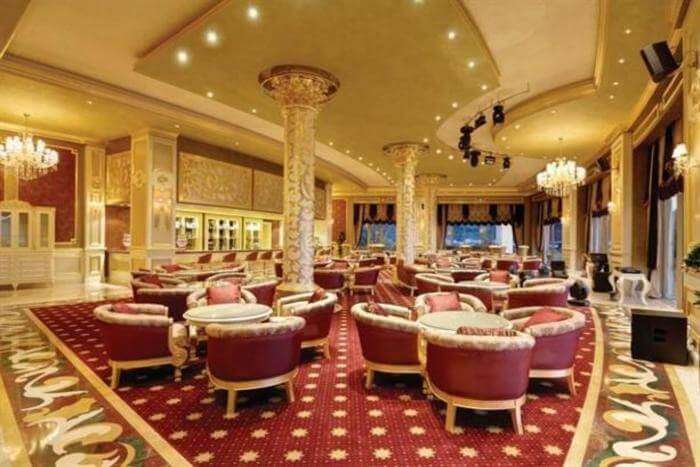 Overview
Dubai is a perfect blend of age-old traditions and ambitious futuristic vision encased in the vivid desert splendor. Traveling to Dubai is all about luxury and memories. And the 5 star hotels in Dubai are just the perfect place to experience this. Fearlessly embracing the future, Dubai has brought to realization audaciously high buildings along with the palm-shaped islands.All these things about this desert city draw tourists to it, like bees to honey, from all over the world. Hotels here are just as ambitious, dynamic yet culturally rooted where the comfort of the guests is their foremost priority. As such hotels  are all about lavish living and ample services at the beck and call of their guests.
There are many things that one can speak about when describing the 5 star hotels in Dubai, but one aspect of these hotels that cannot be put into words is the ultimate sense of comfort and peace that travelers get during their stay in these hotels. While the area around the city is arid desert, some of the best 5 star hotels in Dubai are filled with lush greenery, well-maintained lawns, and enchanting gardens. An evening walk or a lazy afternoon in these gardens, amidst the trees, can surely make one feel lively and rejuvenated within no time.
Special Experiences
Being a country where one can never run of out things to do for fun, the top 5 star hotels in Dubai try to keep up with the number of experiences that they provide for their guests. These hotels make sure that their guests do not have to leave their hotels in search of anything. Royal Central Hotel The Palm located at Palm Jumeirah, provides for its guests an exclusive private beach area where they can relax by the sea without a care in the world. These hotels are also preferred among honeymooners due to the various couples oriented facilities that they provide. Couples massages or couples spa session can be availed at all the best 5 star hotels in Dubai. Special Honeymoon suits, candlelit dinners and small gifts in the hotel rooms can set the mood for the romantic getaway right from the time the travelers arrive.
Facilities
With luxury being the norm for all the top 5 star hotels in Dubai, travelers can expect some of the best and latest amenities and facilities at these hotels to keep them happy. Dubai has grown from just another town in the desert to a sprawling city that made it to UNESCO's list of world's most creative cities. Also being highly tourism oriented, the hotels , as well as all other categories, are expected to maintain a certain level of efficiency that is closely monitored. Inside the room, the guests can expect a well stocked and clean bathroom, televisions with international networks, mini-bars and mini-refrigerators, newspapers, room services, daily maid services, and at times safety deposit boxes and cupboards with locks as well.
Dining
Food in Dubai is influenced by the multitude of cultures that thrive here. Minimalistic yet delicious cuisine used to be a specialty of this desert region, but with the growth of globalization, one can manage to get the whole world on their plates at the 5 star hotels in Dubai. One can find multiple dining options within the hotels here. For example, the Waldorf Astoria Dubai Palm Jumeirah gives its guests the option of choosing from any one of the six diverse restaurants serving Arabic-inspired cuisine at Mezzerieor the fine-casual dining at Social. Southeast Asian flavors can be tried at the LAO, and the holidaymakers can enjoy delicious cocktails and excellent drinks at any one the 6 bars at this hotel. Hotels like the Sofitel Dubai The Palm Resort & Spa brings for its diners cuisines ranging from French and Italian to Indian and Asian at one of the three restaurants here.
FAQs
Q1. Are these hotels in Dubai child-friendly?
A. Yes, right from services like childcare and babysitting to outdoor play equipment, designated play area these hotels provide lots of facilities for the little ones. The breakfasts have kid-friendly food items, and during meal times guests can always ask for the special kid's menu.
Q2. Do 5 star hotels in Dubai provide currency exchange services?
A. Most of the 5 star hotels in Dubai provide currency exchange services at the hotel itself.
Q3. an the hotel help travelers book tickets for performances and shows happening around town?
A. Yes, there are tour desk and concierge services at these hotels which can give the information regarding any live events happening around town and also book the tickets to these shows.
Q4. Do these hotels organize city tours?
A. No, the hotels in Dubai do not organize any city tours as such, but the tour desk at the hotels can always help book a city tour with a trusted company.
Q5. What are some of the free services provided by 5 star hotels in Dubai?
A. Wifi, concierge services, airport shuttle, barber and beauty shop, spa massages, daily maid services, as well as access to private beach area, gym and fitness center and swimming pool are some of the free services provided by the hotels.
There is no doubt that the travelers will be pampered like royalty when staying at any one of the 5 star hotels in Dubai. These hotels are so famous not only because of the many amenities that they have but also because of the staff and other people who work here. With warm, welcoming smiles and practical and strict work ethics, the members of the team at these hotels leave no corners dusted when it comes to making the holiday great for their patrons. Some hotel names to ponder on, apart from the ones mentioned above are JW Marriott Marquis Hotel Dubai, DUKES Dubai Hotel, Roda Al Murooj Hotel, Grand Hyatt Dubai, Mövenpick Hotel Ibn Battuta Gate. 5 star hotels in Dubai are sure to make the stay for any traveler much better than expected.