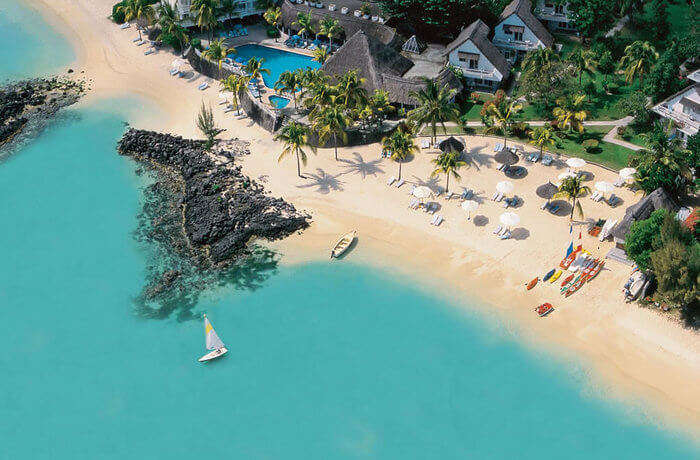 Overview
International travel is fun, but the planning of a trip is a massive task in itself, and one of the biggest concerns can be hotels. However with a little help, one is sure to find the right accommodation for their stay. The rich culture and vibrant customs that have deep roots amongst its people and warm hospitality imbibed by the recent boom in tourism, Mauritius, as a travel destination, has so much to offer.One can choose from the various 5 star hotels in Grand Baie Mauritius, or the extravagant nightlife, relaxing and therapeutic spa treatments and adrenaline pumping water sports activities; everything needed for a memorable holiday is available on this amazing destination. One such crown jewel that decks Mauritius is Grand Baie, or as the Dutch called it, 'Bay without an end'.
With some of the best 5-star hotels and multiple dining options, Grand Baie is one of the first names that pops to the mind when one thinks of traveling to Mauritius. Traveling solo or celebrating a honeymoon, a trip with family or an official offsite trip, 5 star hotels in Grand Baie make it an ideal choice, whether one wants to spend just a weekend or more than just a few days. Resplendent architecture and historic buildings tucked away in quiet corners make it a delight to head out on bikes or cycles and explore this mesmerizing little fishing village.
Special Experiences
With the prime attraction in Grand Baie being the watersports and other water-based activities, most of the 5-star hotels in Grand Baie Mauritius, offer attractive watersports packages that one can avail at amazing prices. Most of the beachfront 5-star hotels in Grand Baie Mauritius, have their own little slice of a private beach where guests can sunbathe and relax and go for a swim without any troubles or worries. Baystone Boutique Hotel & Spa offers an outdoor swimming pool for its guests. Royal Palm Beachcomber Mauritius offers private patios with all its suites. Hotels also have tie-ups with well-reputed cruise companies and can offer tours for coral viewing and snorkeling. The most mesmerizing tours offered by certain hotels takes visitors into the sea in glass-bottomed boats, and almost all the hotels offer options to enjoy water skiing, jet skiing, parasailing, and other such activities.
Facilities
All 5-star hotels in Grand Baie Mauritius, and some even 4 or 3-star ones offer basic amenities like good fitness centers and gyms, Wi-Fi and room service facilities. Well trained staff and warm hospitality is a mandatory feature of all properties in Grand Baie. Elegant suites, private beach area, and in-room dining services are some of the perks of living in a high-end hotel. Watersports and spa facilities are also available to both in-house as well as visiting guests.
Best 5-star hotels in Grand Baie Mauritius, also offer room services so that guests can come back after a tiring day at sea and find their rooms cleaned and made up. For those looking to just relax for a while, putting greens can be enjoyed by groups of all ages along with a dip in the infinity pools.
Dining
Attentive hosts, friendly waiting staff and efficient functioning, are an important part of the dining experience here in Grand Baie. All the 5-star hotels in Grand Baie Mauritius, have amazing restaurants on site, where one can enjoy traditional Mauritius food cooked by the best chefs or choose to dine at any one of the multi-cuisine restaurants. Le Lounge beachfront restaurant at Baystone Boutique Hotel & Spa offers multicuisine fare overlooking the sea. With so many delicacies to choose from, one is sure to have a delightful dining experience at these hotels.
FAQs
Q1. Do hotels offer assistance in watersports?
A. Most hotels that have their own private beach, often offer water sporting activities like kayaking, snorkeling and wakeboarding.
Q2. Do these hotels offer parking facilities?
A. Yes, hotels in Grand Baie offer parking facilities.
Q3. What are the different spa services offered by these hotels?
A. Guests can avail massage, couple massage, sauna and hair services at the hotels in Grand Baie.
Q4. Which area should one stay in when in Grand Baie?
A. Those looking to participate in the vibrant nightlife and experience the city with all its sights and sounds, The Central is the right choice, while those looking for some peace and quiet should head out to Pointe aux Canonniers.
Q5. What is the tipping culture in Mauritius?
A. Salaries in Mauritius are generally low, and hence tips are appreciated. However, it is not mandatory.
Tropical gardens and shaded patios, sunny beaches and white sand are all a part of the charm the 5-star hotels in Grand Baie Mauritius. Tourists flock here not just because of its beaches but because of the world-class services and amazing locals. Warm welcomes and enchanting decors set each 5-star hotel property apart from each other, with their distinctive styles and various kinds of clientele each hotel caters to. Here is a list of the best 5 star hotels in Grand Baie Mauritius, which are well suited for all types of travelers: Royal Palm Beachcomber Mauritius, Hôtel 20° SUD – Relais & Châteaux, Paradise Cove Boutique Hotel and some familiar 5 star hotel brands such as The Westin Turtle Bay Resort & Spa and The Oberoi Mauritius. With unparalleled views of the ocean, top-notch water sports facilities and relaxing indoor activities are sure to make all who visit Grand Baie feel rejuvenated and leave guests wanting for more.