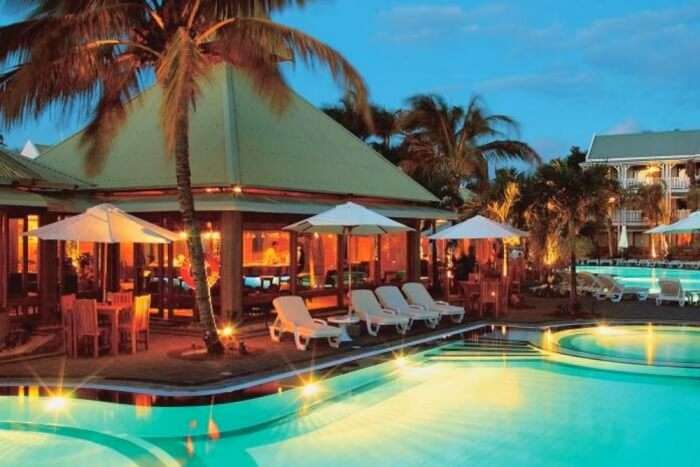 Overview
Grand Baie was one of the first destinations to rise to fame as a tourist destination in Mauritius, and as such the hotels in Grand Baie Mauritius have also grown and developed to suit the needs of its many tourists who flock here irrespective of the season. The best way to describe these hotels is as constantly changing and evolving to be able to serve their customers in the best way possible. Hotels near Grand Baie Mauritius are built to exude an air of opulence with their bright sunlit rooms and awesome outdoors that can give guests the feel of the tropical island without having to venture outside of their hotel. Utilizing their area to the maximum, Grand Baie hotels & resorts try to accommodate all the facilities that one could want for within themselves. Whether people are looking for a hotel to extend their stay after a business meeting or they are searching for a place to stay for a fun family vacation hotels in Grand Baie Mauritius are sure to please people, no matter what they require. Warm, welcoming staff and efficient services all come together to form the epitome of pleasurable stay experiences here in Grand Baie.
Special experiences
Open sky, sunny days and the Indian Ocean lapping at the doorstep make it a norm for beachfront hotels in Grand Baie Mauritius to have water sports activities that their guests can enjoy from within the hotel itself. Diving, snorkeling, windsurfing, and many more such thrilling activities can be arranged by the hotel for guests, all they have to do is ask. Super luxury hotels like Hôtel 20° SUD – Relais & Châteaux can provide world-class experiences for people when it comes to water sports or just sitting on the private beach and relaxing in the sun. But budget hotels like Merville Beach, Grand Baie are no less when it comes to amazing services. Keeping in tune to the holiday vibe in all of Mauritius, hotels in Grand Baie Mauritius offer unparalleled services and mesmerizing views of the Ocean to all its visitors.
Facilities
More than all the great things that hotels can do for their guests, the smaller things are what make the stay at the hotels in Grand Baie Mauritius so amazing. Here the staff know and understand that tips have to be earned and as such, one can always expect polite service and warm smiles to greet guests for the entire duration of their stay. Services such as a spa where one can go to relax after a tiring day, infinity pools to lounge in, are common to all the hotels along with massage parlors, beauty salons, outdoor pools, shuttle services, room service and in-room dining options, air-conditioned rooms, and others. Some hotels boast of special services like the access to a Salt water pool in Baystone Boutique Hotel & Spa and golf course access at the Villa O'Soleil budget hotel.
Dining
Well trained wait staff and talented chefs make dining in the hotels in Grand Baie Mauritius a truly wonderful experience. Tantalizing local cuisines, as well as recipes from all around the globe, can be found on the menus of the in-house restaurants. Hotels like the Azure Beach Boutique Hotel do not have on-site restaurants but do provide amazing in-room dining options where guests can enjoy a delicious meal served right in their room. Coffee shops and Bars are also a common sight in all the hotels in Grand Baie Mauritius where one can start their day with a steaming cup of coffee and end it with a relishing drink accompanied by some live music. Themed dinner nights are also another unforgettable experience that guests can enjoy in hotels like Merville Beach, Grand Baie.
FAQs
Q1. What is the best way to get from the Airport to the hotel in Grand Baie?
A. Grand Baie is about 50 minutes away from the International Airport, and the best way to get from there to the hotel is by an airport shuttle service operated by almost all the hotels.
Q2. Are special dietary requirements of guests accommodated in the hotels in Grand Baie?
A. Yes, all one has to do is ask, and the chefs in the restaurants at the hotels in Grand Baie will do their best to give a wholesome meal with their dietary preferences.
Q3. Is there a 24-hour front desk service in the hotels in Grand Baie?
A. Most hotels do have a 24-hour front desk service as well as a concierge service.
Q4. Do all hotels in Grand Baie welcome children?
A. No, some hotels like the Baystone Boutique Hotel & Spa do not welcome children. It is always advisable to check with the hotel before booking.
Q5. Is there a luggage storage facility in the hotels in Grand Baie?
A. Yes, all hotels in Grand Baie allow people to store their luggage and go out to explore the city in case of early arrival or a late departure.
Searching for best hotels in Grand Baie Mauritius when planning a vacation can be a bothersome task, but when the destination is Grand Baie, people cannot go wrong no matter what they choose. For budget travelers hotels like Veranda Grand Baie Hotel & Spa, Le Blues, Ocean Villas, Pereybere Hotel & Spa, Bleu de Toi Boutique Guesthouse are a few options to look at where guests can find the same warmth and hospitality as anywhere else on the Island. Options for travelers with deep pockets are abundant. One can choose from Royal Palm Beachcomber Mauritius with its 3 heated pools and 3 a la carte restaurants, Mauricia Beachcomber boasting of 2 infinity pools giving amazing views of the ocean, Baystone Boutique Hotel & Spa with its beachfront restaurant that allows guests to enjoy a meal with sand between their toes.