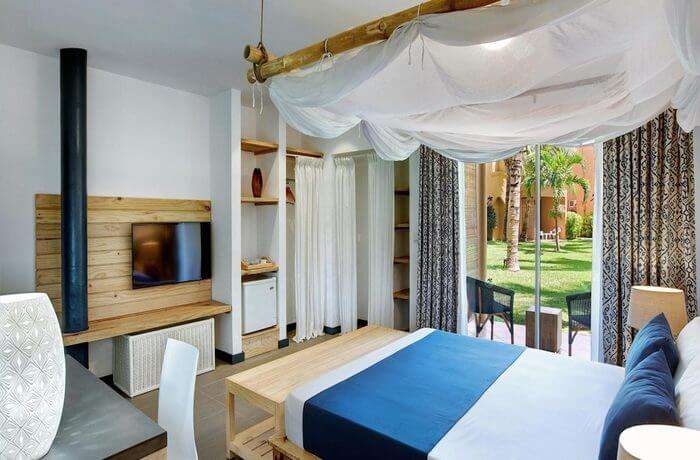 Overview
The hardest task when one is planning their vacations is determining the accommodation. And here are a few tips about hotels in Pointe Aux Piments. This place is known for its calm and soft ambiance. Here in these hotels, one will get all the peace that they are looking for, and with that, they can relax and enjoy the mesmerizing views that these hotels have to offer. Travelers will surely have a great time on the beach side with their partner or their family. The overall experience is truly spectacular.In these hotels, one can enjoy relaxing massage and beauty treatments as well. These hotels are completely safe, and guests will not have to worry about the safety of their family, especially children. With lavish amenities come heavy expenses however even the budget-friendly hotels in Pointe Aux Piments offer a variety of experiences to their guests.
Special Experiences
Hotels in Pointe Aux Piments are known far and wide for providing more than just regular facilities. Here,one will have some special experiences in hotels like Recif Attitude and Voile Bleue, facilities like hot tubs and steam rooms in which people can enjoy and relax to the fullest of their expectations. Not just these activities will leave a guest relaxed and calm, it will also allow them to have a healthy glow on them because of the fantastic experience. One can even call masseuse in their room if they are not feeling like to get massaged in any other place. They will charge guests with the very nominal amount for this service. They will even provide people with personal yoga and gym instructors so that one can exercise and do yoga as per their own time and with privacy. One will be surprised with the services that these hotels provide with, all guests have to do is that they have to ask and let them know whatever it is they want, and they are sure to get it. The hotel will get it done for guests, no matter what.
Facilities
Guests are probably going to have the best vacation of their lives because of these hotels in Pointe Aux Piments. And it is so because these hotels such as the La Margarita or Sunset Reef Resort & Spa will provide people with some of the best facilities that they can even expect. Guests can get their bags and shoes repaired with 24 hours service of repairing men assigned particularly for these kinds of tasks so that they will never have to delay their plans just for the sake of broken bags or torn shoes. Facilities like rooftop breakfast and lunch, traveling facilities for sightseeing and travelling to and from the destinations, massages from different kinds, and the most needed one is that they have given one the access to 24 hours of high-speed quality Wi-Fi so that they do not feel disconnected while they are far away from their loved ones. And this not the extent of it, one can also order meals from a variety of food items and many cuisines. They have properly trained and skilled staff members providing with the best assistance and services during the stay.
Dining
Food is the first word that comes to the mind as soon as guests come back to their hotel after a day's trip. These hotels in Pointe Aux Piments serve guests with the best food items that one can indulge in. Cuisines like continental, Chinese, European, International and anything guests would like to have on their table will be made available for people in very less amount of time. And this is not the extent of it, one can also enjoy some live performances while they are having their favorite meals. With so any dishes to choose from, guests can enjoy a variety of meals at these restaurants. Guests can also try their hand at the local cuisines in Mauritius as well.
FAQs
Q1. What are the complimentary services that hotels in Pointe Aux Piments offer?
A. The free of cost services include radio, swimming pool, billiards, room service, T.V, telephone calls, libraries, Wi-Fi services and playrooms for children are totally free of cost.
Q2. Does these hotels offer Indian cuisines?
A. Yes, these hotels offer many cuisines and one will surely be able to enjoy almost all of their favorite Indian dishes.
Q3. Which are the languages that the staff at these hotels speaks?
A. English is the common language among the staff.
Q4. Do hotels in Pointe Aux Piments offer babysitting services?
A. Yes, most of these hotels offers babysitting services to the guests.
Q5. Do these hotels have wheelchair facilities?
A. Yes, wheelchair facilities are offered at most of these hotels.
Pointe Aux Piments hotels are classy, sophisticated and overall fantastic, allowing guests to have a calm and relaxing vacation while still enjoying all luxuries possible. They can enjoy massage and spa experiences and relish good food, all under one roof. One can also go for a relaxing swim or head to the beach to enjoy some thrilling water sports. There is not end to the fun that guests can enjoy at these hotels. For guests that want to explore the night life, Pointe Aux Piments is a great choice. One can find the hotels and accommodations based on their space preferences and budget. These hotels have something to offer to all guests, be it couples or families with children, everyone can enjoy a relaxing vacation at these hotels in Pointe Aux Piments.