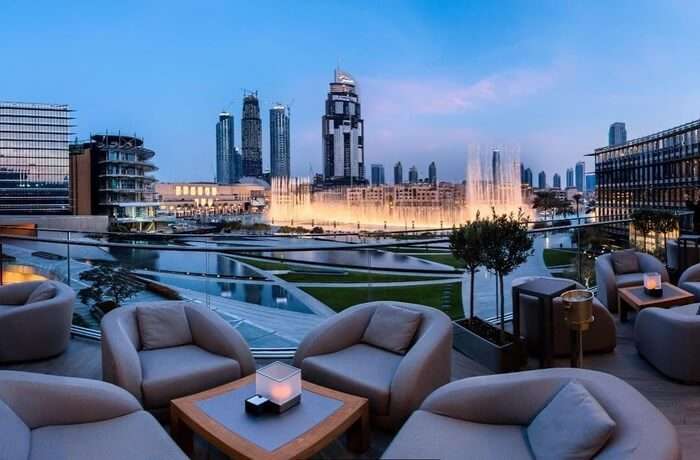 Overview
A destination that promises not only enjoyment but also comfort is where one longs to go on a holiday. The luxury hotels in Dubai in all their glory are the perfect accommodation for a holiday in Dubai. Guests can stay inside these ideal and exquisite hotels that take care of every customer's needs and expectations. Well equipped with all the facilities and services, these hotels are like a traveler's paradise in Dubai.Dine at the fantastic restaurants and diners that cater all the demands and expectations in the best possible ways. The hospitality and conduct of the highly skilled and trained staff and management warm a traveler's heart as no other thing does. Luxuries like whirlpool baths, hot tubs, infinity pools, spa, sauna etc. add to the superb experience offered by the luxury hotels in Dubai. From cooperative room service to appropriate shuttle services, these hotels do not lag in any regard. To say it in short, the luxury hotels in Dubai welcome one and all with open arms to spend a vacation with a little more meaning and lots of smiles.
Special Experiences
While making sure to take care of every guest's comfort and enjoyment, the luxury hotels come with some amazing and exclusive services. Burj Al Arab Jumeirah offers snooker tables, libraries, cinemas and private elevators in its suites. It also has a helipad and the provisions for airport shuttle service. Armani Hotel Dubai provides suites with bars, studies, gyms, dining areas as well as views of Dubai Fountain or the Arabian Gulf. Park Hyatt hotel has the arrangements for a golf course, four hot tubs, a gym and a spa with a sauna and a hammam. The experiences of these services at the luxury hotels in Dubai become memories for a lifetime.
Facilities
The facilities at the luxury hotels in Dubai make sure to transform one's vacation into a pleasurable time filled with comfort and joy. Stay inside the elegant and lush rooms and suites of these hotels having stunning interiors. The rooms are equipped with all the necessary facilities like Wi-Fi connectivity, flat screened TVs, tea and coffee making facilities, minibars, DVD players etc. Laundry service, room service, and parking facilities are also provided. Most of the hotels also have baggage storage, currency exchange, and concierge services. Grosvenor House offers butler service along with cars for hiring and childcare facilities. Five Palm Jumeirah Hotel adds separate lounges, private pools, hot tubs, kitchens and outdoor showers to its suites. Burj Al Arab Jumeirah offers Egyptian linens, butler service, and designer toiletries along with a kids' club. These facilities at the luxury hotels in Dubai are sure to make one's trip filled with joy and lavishness.
Dining
None of the hotels can have a pleasing reputation if they are unable to serve up to the satisfaction of their customers. The luxury hotels in Dubai take this fact very seriously and leave no stone unturned in making dining a worthy experience. Armani Hotel Dubai has eight chic restaurants that include Italian and Japanese options. Grosvenor House has 13 eateries and bars, including an opulent bar with DJs and a two-story Latin restaurant. Five Palm Jumeirah Hotel possesses three chic restaurants, two cafes, and 3 bars. Park Hyatt Dubai Hotel includes chic dining options like the French and Thai cuisines along with indoor and outdoor bars and a shisha bar. The professional and hospitable bartenders, staff and management, are the keys to the successful and appealing dining options at these hotels.
FAQs
Q1. Do these luxury hotels in Dubai provide an airport shuttle service?
A. Yes, airport shuttle provisions are available but may be charged for by some of the hotels.
Q2. Are currency exchange provisions available?
A. Many of the hotels do have this facility. Confirm beforehand about the availability of this provision to avoid any disappointments, but it usually comes out be very expensive, it is best to compare the prices across 2-3 vendors and then go ahead with the one offering the best rates.
Q3. Are the hotels pets' friendly?
A. No, nearly all the hotels do not welcome pets. It is for the best not to bring them along.
Q4. What is the appropriate mode of payment?
A. It depends from one hotel to other. Credit cards or debit cards work at most of the places. Few may also accept cash in the local currency or dollars.
Q5. Do they provide childcare facilities?
A. A few hotels do have the provisions for this service in their package. Do confirm before checking in.
The luxury hotels in Dubai stand as some amazing options for the wanderers traveling to Dubai from all across the world. From the perfect accommodations to ideal facilities and eateries- they have got everything to make a dream vacation come true. The wheelchair accessible facilities available at most of these hotels make sure that nobody is devoid of the opportunity to rejoice inside their premises. Also the baggage storage, concierge and currency exchange facilities take one's comfort to another level. Guests can spend a few days of luxury and dissipation away from the regular and monotonous lives with the special services and treatment meted out by the luxury hotels in Dubai.