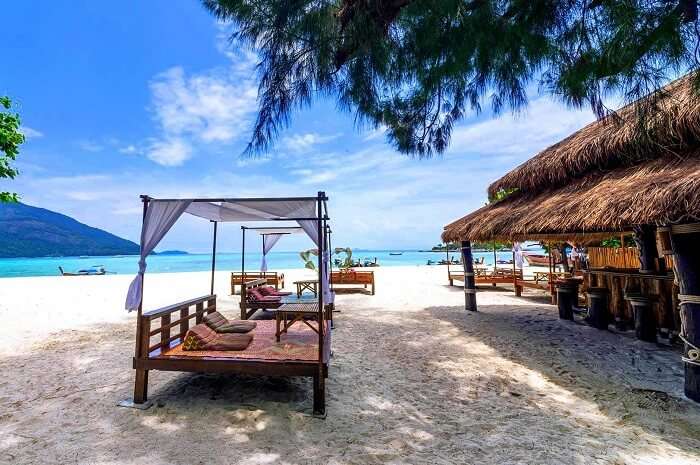 Overview
If travelers are looking to enjoy a tropical honeymoon, then there is nothing better than a visit to Thailand. The beauty of this South Asian country is unmatched when it comes to finding the perfect beaches to relax. Booking some of the best Thailand honeymoon resorts and going along with a plan to visit the country is the best way to go about the honeymoon. Although the beauty of Thailand is a given, finding the perfect resort can become quite a task. However, these resorts will help couples find out which one suits them best. Thailand is known for its majestic palaces, fun parks, an amazing line of eateries and wonderful beaches. To find the best possible experience here, one will, without a doubt, need to spend some time at a beautiful resort, which will add volumes to the Thai memories.
Most Thai resorts come loaded with luxurious features and accommodations. The chic and stylish look of these resorts only begins to scratch the surface when we talk about what they have to offer. From classy dining in their respective restaurants to impressive spa sessions and facilities to help couples enjoy the wonderful Thai landscape, there is hardly anything that travelers would miss here at Thailand honeymoon resorts.
Special Experiences
When it comes to looking for the best feature of choice of Thailand honeymoon resorts, it has to be the natural abundance these resorts have to offer. In hotels like The Tubkaak, Krabi Boutique Resort travelers will be able to find picturesque beauty, coconut tree plantations and impressively maintained gardens. What's more is that these resorts offer a luxurious front to enjoy the Thai landscape. If couples choose beachfront Thailand honeymoon resorts like Zeavola Resort & Spa, they will find a luxurious beach view from the room as well as have a space in the resort which overlooks the beach. Additionally, most of these resorts offer various special facilities, such as an activity center for couples, couple massages, couple spas, and an adventure center. These experiences are perfect to add to any romantic getaway and enhance the holiday experience.
Facilities
When couples are deciding options for Thailand honeymoon resorts, they will most definitely find nothing that these resorts fall short of. Even budget resorts like Pacific Club Resort and Spa help one find various luxurious amenities. Travelers will find that these resorts also offer the option of finding the best trek routes. Some resorts are located at the center of a city, which allows the guests to venture out and find golf courses, malls and other places where one would like to spend some time with their significant other.
Additionally, if one opts for beachfront resorts, apart from offering a honeymoon suite that adds to the experience, travelers will also find that these resorts are located only a short walk away from the beach. Tired of spending the day indoors, take a brisk walk along the shoreline to enjoy some time with their significant other!
Dining
Dining at the resorts is always a great experience. Thailand is known for its multi-cuisine restaurants and resorts like the Outrigger Koh Samui Beach Resort and Dusit Thani Krabi Beach Resort. Resorts in Thailand help one find the perfect amalgamation of Thai dishes on the menu. What's more is that not only can the guests enjoy authentic Thai food, travelers will also be able to enjoy the delicious seafood options. Furthermore, there is never a shortage of meat dishes; whether diners want it grilled or deep-fried, there is something for everyone. Additionally, if one wishes to find something different than what the resorts offer, couples can also take a walk around the resort to find local restaurants that offer local dishes and various other fusion dishes.
FAQs
Q1. Do Thailand honeymoon resorts allow pets inside?
A. There are a good number of resorts in Thailand that are pet-friendly, however, most resorts do not allow pets inside.
Q2. Can airport shuttle service be availed at these resorts?
A. Yes, most resorts offer an airport transfer service to the guests.
Q3. Can one find concierge services at Thailand honeymoon resorts?
A. Yes, almost all resorts offer guests concierge services.
Q4. Does the staff speak in English at these resorts?
A. Yes, most of the resorts have staff who are fluent in English.
Q5. Can one avail spa services at Thailand honeymoon resorts?
A. Yes most resorts feature a spa that offers a variety of exotic massages.
Whether the tourists wish to spend some time in one particular city or wish to spend the honeymoon touring the country, there are ample of luxury resorts and budget resorts to choose from. Every resort comes with its iconic structure, which stands apart from the others. Apart from this, the one similar feature that all resorts in Thailand have to offer is that they all come with large gardens that allow one to relax with nature around oneself. To help travelers make the right choice, a few names of Thailand honeymoon resorts that couples can look at to make the best if their honeymoon are Anda Lanta Resort, Phi Phi Island Village Beach Resort, The Emerald Cove Koh Chang. These resorts are sure to offer the experiences that one look for in a perfect honeymoon getaway. One can enjoy the scenic views, lush greenery, and the tropical beaches all at one place. Some resorts also offer candlelight dinners and couple massages to provide guests with an amazing honeymoon retreat. No doubt, Thailand makes a great choice for couples on their honeymoon.