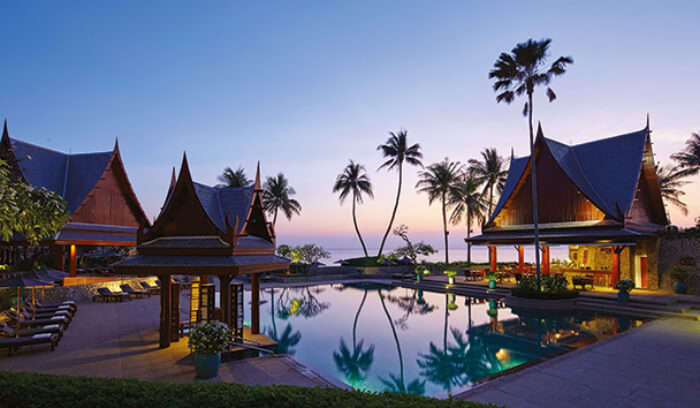 Overview
Thailand is a seaside paradise that welcomes people from all across the world for some quality time amidst the enchanting beaches, drool-worthy views, beautiful temples, and captivating islands. For spending vacations at a place like this, the accommodation that one chooses to stay at should be equally stunning and so are the Thailand resorts. Stay at these resorts situated at excellent locations and live under the hospitality of their highly skilled, professional and committed staff and management. Guests can enjoy the excellent facilities and services offered by the Thailand resorts that make the stay comfortable and content. Have a relaxing time at their spa and massage centers and feel energized. Have fun while availing the thrilling and adventurous activities offered by the best resorts in Thailand both in the water and on land. One can savor the taste of the delicacies served at the refined restaurants and cafes of these resorts and loosen up a little in their worth enjoying bars. The Thailand resorts offer a great deal of enjoyment, adventure, comfort and pleasure for every heart.
Special Experiences
Every resort in Thailand has something exclusive and special to offer. Iniala Beach resort has the provision for arranging market tours, cooking classes, bike tours and yacht trips for its customers. The Kamalaya Resort provides yoga and meditation classes along with plunge pools, a steam room, and outdoor lap pools. The amazing buffet, beautiful scenic views of the private beach and the scuba diving facility are the key attraction of Holiday Inn Phi Phi Island. Many resorts provide shuttle service from the airport and local shuttle as well. Infinity pools, whirlpool tubs, bike, and car rentals, theatre rooms, fitness centers etc. can also be availed at the best resorts in Thailand. These unique experiences offered by the Thailand resorts are worth mentioning and make a traveler's dream vacation come true.
Facilities
The Thailand resorts provide their customers with excellent facilities that include elegant rooms, lavish suites, Wi-Fi connectivity, flat screened TVs, minibars, laundry services, room service etc. Parking facilities are free of cost. Spa and massage centers are also available for the relaxation and refreshment of the customers. Outdoor pools, water sports, and water activities are also made available. Many sports centers like tennis courts, golf courses, billiards rooms etc. are also provided by the best resorts in Thailand. The Kamala Phuket Resort has luxe villas that take inspiration from fictional characters and include thatched units, elevated pod like quarters and nest themed accommodations. Trisara Resort offers a complimentary 15-minute photo shoot session. These facilities make every moment at these resorts special in itself. If one wants to experience luxury at its best and price is not a constraint then one must book a stay at resort W, Koh Samui, it surely will be an experience to die for.
Dining
At the Thailand resorts, one finds a lot of dining options to choose from. The resorts have their one to multiple restaurants and bars that serve the guests by the amazing hospitality provided by their staff and management. Some of them serve buffet breakfast. The Trisara Resort offers an outdoor dining area that serves local, western and seafood dishes along with a bar that serves light snacks and drinks. The Iniala Beach Resort provides an Haute restaurant and a bakery along with a bar. The Kamalaya Resort has a restaurant that specializes in health foods. Poolside bars and swim-up bars are also available at many resorts.
FAQs
Q1. Which are the most commonly spoken languages in Thailand?
A. That is the most commonly used language in the country. English is also standard in tourist areas.
Q2. What kind of food do these resorts serve?
A. These resorts have their exclusive restaurants where food from various cuisines is served, including Thai, Indian, Chinese and international delicacies.
Q3. Can we avail water sports and activities at these resorts?
A. Yes, many of the resorts provide the facilities for water sports and activities, especially the beachfront resorts.
Q4. Is it an ideal place for me to have a family vacation?
A. Yes, Thailand serves as an ideal location for family vacations.
Q5. Do these resorts provide shuttle service to and from the nearby airports?
A. Yes, one can find many resorts in Thailand that provide shuttle services.
Guests can make the most of the next vacation and stay at the Thailand resorts to make them an everlasting memory. Enjoy the beautiful views offered by these resorts while staying inside their premises. Become a fan of their great hospitality and professionalism shown by their staff and management. Most of the 4-star and 5-star resorts in Thailand provide a wheelchair accessible entrance for the comfort of their guests. Some of them offer wheelchair accessible lift and parking as well. The best resorts in Thailand also provide sauna and steam baths. Come and spend a few days of the next holidays in the Thailand resorts and make them a proper combination of comfort, joy, entertainment, relaxation, and enjoyment.