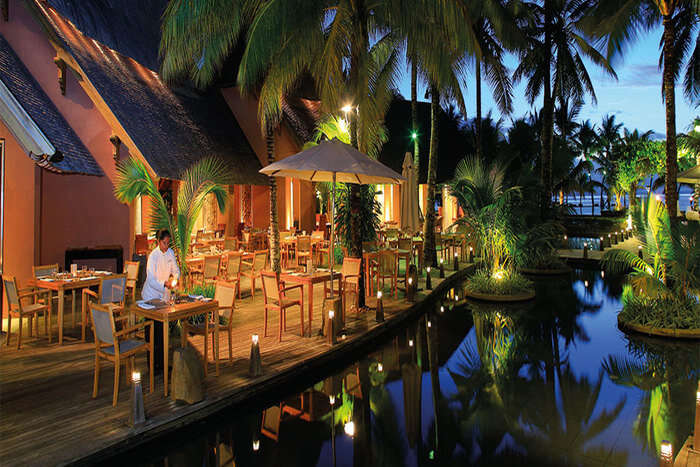 Overview
Situated in the Pamplemousses district of the northern coast of the island of Mauritius, Trou aux Biches is a beautiful small town with one of the most beautiful beaches on the island. For a place as gorgeous as this, Trou aux Biches resorts Mauritius is the perfect destination for every visitor to make their vacation even more memorable. Live in the elegant rooms designed by master class architects and designers and enjoy free Wi-Fi connectivity, parking, breakfast buffets, beach access, entertainment and relaxation in one complete package. Enjoy the lovely view of the ocean alongside the fine and amazing facilities provided by these Trou Aux Biches resorts. One is sure to find it refreshing and rejuvenating by planning a stay this resorts. Trou Aux Biches resorts serve as a visitor's best partner to savor the precious moments at Trou aux Biches as one of the most unforgettable moments of one's life.
Special Experiences
Trou Aux Biches resorts ensure the rejuvenation and entertainment of their visitors with some special services that they provide. Trou aux Biches Beachcomber Golf Resort & Spa offers upgraded suites and some special luxurious rooms available at the beachside. The Trou Aux Biches spa resorts have exclusive facilities for their guests like the Sunset Reef Resort provides a direct sea view from nearly all its rooms and also the spa facing the same, which create both relaxation of the mind and a perfect view for the visitors. Many of the resorts have spacious conference rooms and provide their guests with the required privacy. Golf courses, tennis courts, and some special water activities are among the luxuries that one can enjoy at Trou Aux Biches resort. With so many experiences to choose from, one will spend some entertaining leisure time even while resting at the resort.
Facilities
Trou aux Biches resorts have all the facilities available from basic amenities to luxurious offerings. Cherish staying at well furnished and amazingly designed rooms of these resorts. They cater to the basic services of flat TVs, free Wi-Fi connectivity, lavish sitting areas, decks, and minibars and dedicated room services. Additionally, babysitting service and baby care areas are present for the easiness of the guests. Some of the resorts keep these services complimentary while others charge for them. Many resorts like Le Palmiste Resort and Spa provide thrilling water sports. Kids' clubs, outdoor pools, and even children pools are offered by most of the Trou Aux Biches resorts Mauritius. Free breakfast, laundry, and parking services are available. A few resorts come with special facilities like fitness centers, gym, and sports centers. The hospitality and facilities at these resorts are certain to please any traveler's heart.
Dining
Trou aux Biches resorts in Mauritius serve delicious food in their special restaurants inside the resort premises. Some of the resorts have multiple restaurants, each specialized in its own cuisine like the Trou aux Biches Beachcomber Golf Resort & Spa has 6 restaurants facing the ocean that provide a perfect dining arena. Most of the resorts offer buffet breakfast or lunch and involve everything from local to international cuisines on their menu. The refined restaurants and cafes like those at La Cardinal Exclusive Resort are every tourist's weakness. The management and care of the staff at the resorts of Trou aux Biches set goals for other hotels all across the world. Marvelous bars handled by skilled bartenders and staff, make the stay even livelier. The food at these restaurants is sufficient to satisfy guests' appetite without any regrets.
FAQs
Q1. Do these hotels have a dress code?
A. Yes, some of the hotels observe dress codes which are casual but have a few restrictions varying from one hotel to another.
Q2. Do these resorts feature private beaches as well?
A. Although most of the resorts are beachfront properties, some of them also feature private beaches for the guests.
Q3. Do the resorts serve vegetarian food?
A. Yes, the resorts are very refined and serve nearly all the cuisines. One can find vegetarian food here as well.
Q4. Are the Wi-Fi services to be paid for?
A. No, nearly all the resorts provide free Wi-Fi connectivity. One must still confirm before checking in.
Q5. Are the live performances to be paid for separately?
A. No, the live performances are generally complementary and a part of the hotel's services.
While planning a visit to the Trou Aux Biches resorts one can relax at the world-class spa and indulge in a variety of recreational activities. One can live every moment in front of the ocean with amazing views of sunsets. These resorts cater every interest of the guests and are concerned and dedicated in creating a memorable trip experience for them. With resorts like Casuarina Resort and Spa and the Trou aux Biches Beachcomber Golf Resort & Spa providing wheelchair accessibility, the comfort of the visitors reaches another level. The staff at the hotel are cordial and friendly and make every effort to ensure that each guest has an enjoyable stay at the resort. Guests can enjoy the special services of relaxation pools, yoga terrace, beauty parlors and realize that Trou Aux Biches resort try every little thing to make one feel the ease and comfort of home. Those planning a visit to Trou aux Biches will get to experience the amazing services offered by these resorts that work hard to execute a dreamlike vacation. One is sure to leave Mauritius with some fond holiday memories.