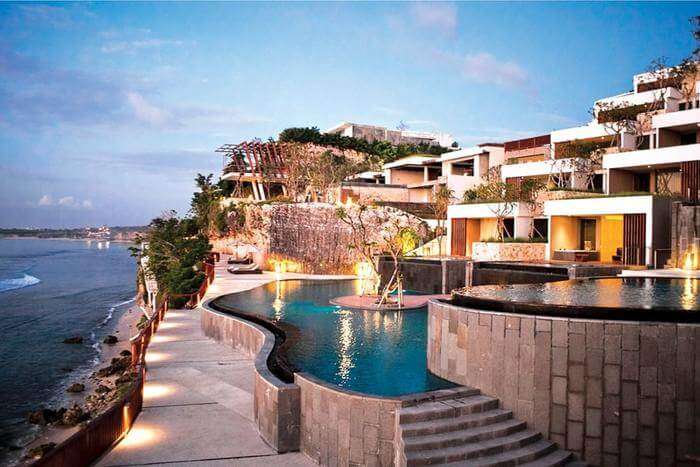 Overview
Indonesia is a country from among the Southeast Asian regions and is formed by volcanic islands. This destination is popular for its beaches and the beauty of nature. It has a vibrant ambiance and vibe making it one of the most visited destinations by families and honeymoon couples.
The resorts in Indonesia seem to make the most of scenic beauty, by offering rooms and pools giving a breathtaking view of the trees, forests, and mountains. The rooms are built and structured in a very authentic manner not losing out on the culture of Indonesia. Since this country has more of a tropical vibe and surrounding, the resorts have incorporated the same within them, which ultimately gives the visitors the feel of both traditional as well as a contemporary stay. Indonesia Resorts are a great accommodation choice since they suit the needs of all kinds of travelers- be it solo, couples or travelers with their families. The resorts offer their guests a wonderful and unforgettable stay while providing with various luxurious and basic facilities including 24-hour front desk, shuttle service, car rental, spa & sauna facility, babysitting services and many more.
Special Experiences
Indonesia is a country known for its vibrancy and pristine nature. People visit this destination to get a break from busy schedules and to be able to spend quality time with loved ones. Special experiences offered by resorts within their vicinity will help make their stay and memories truly memorable. Such special experiences that are offered Indonesia Resorts will also help them retain back customers who would prefer visiting the destination and the resort over and over again. The Munduk Moding Plantation Nature Resort & Spa, a 4-star resort is surrounded with beautiful scenic views, coffee trees, rice paddies and also mountains. It is one of the top luxurious resorts for a stay. It offers its visitors with outdoor BBQ facilities, making a BBQ night experience memorable. They also offer activities like horse riding, hiking, walking tours around forests, special movie nights, and canoeing making their visit to this destination an unforgettable one. The Kuda Laut Boutique Dive Resort is a beautiful resort owns a private beach. This resort is located along the Siladen Island. It has special services like private Jacuzzis and hot tubs, also have saltwater pools and plunge pools. Moreover, it also offers beauty services, so as to cater to all health wellness services like spa and also services like manicure, pedicure, and waxing services. All these experiences of visitors memorable urging them to spend time with their loved ones at Indonesia Resorts.
Facilities
Accommodations are one of the most important factors that visitors pay attention to. Indonesia Resorts offer all the basic and also luxurious facilities to their guests in order to make their stay completely memorable. Such services that the visitors want the resorts in Indonesia to offer include, Daily maid service, Ironing service, laundry, shuttle service, Air conditioning, and Family rooms. The Six Senses Uluwatu, that offers basic services and facilities for its visitors and guests. Some of these facilities include Daily maid service, Trouser press, Shoeshine, Ironing service, Dry cleaning, Laundry, clean and tidy beddings, good smelling rooms, and much more. And they also provide basic reception services like Lockers, Private check-in/check-out, Concierge service, Ticket service, Tour desk, Currency exchange, Express check-in/check-out, and a 24-hour front desk.
Dining
The Indonesia Resorts a provide a variety of cuisines since they have visitors visiting this destination from all around the globe. The resorts make sure to keep a flexible food service so that they can cater to the preferences of their customers. Food is an important aspect that will make ones stay even more pleasant. Indonesia Resorts offer an array of Traditional and international cuisines including authentic Indonesian cuisine, Asian cuisine, Italian Cuisine, American Cuisine, French Cuisine, and sometimes Indian cuisine as well. The HARRIS Resort Barelang Batam is a resort that welcomes its guests with a sweeping view of the seas. It offers buffet services or Asian breakfast to its guests. It also offers a variety of international cuisines for its visitors from many other neighboring countries. It also has special menu curated for kids.
FAQs
Q1. Are pets allowed in Indonesia Resorts?
A. Most of the resorts in Indonesia do not allow or accommodate pets. However, it is better to enquire before confirming stay.
Q2. Do Indonesia Resorts have special services for disabled guests?
A. The resorts definitely offer special services for disabled like wheelchair services and also pickups and drops.
Q3. Do the resorts in Indonesia cater to Vegan and vegetarian food preferences?
A. Majority of resorts in Indonesia have a flexible menu. They always cater to the preferences of their customers and also offer vegan and vegetarian food when requested for the same.
Q4. Do the resorts in Indonesia provide babysitting services?
A. The resorts in Indonesia offer services like babysitting and child services.
Q5. Do Indonesia Resorts offer to pick up and drop services for the airport?
A. Most of the resorts in Indonesia offer airport shuttle services.
Booking a resort in Bali is a fantastic idea for anyone whether traveling on a budget or one is a luxury traveler. Indonesia is buzzing with tourist activity throughout the year and resorts are easily available here. The resorts in Indonesia also provide with pampering spa treatments, playing area for little ones, indoor play areas, special children television network are a few among many other varieties of services. The restaurants and bars offer rather scrumptious food and luscious drinks with or without spirits, per travelers' taste. Also, fitness centres at Indonesia Resorts is a treat for fitness freaks who don't want to miss their fitness regime while traveling as well. These resorts make sure to provide all the facilities which one might need while the stay.