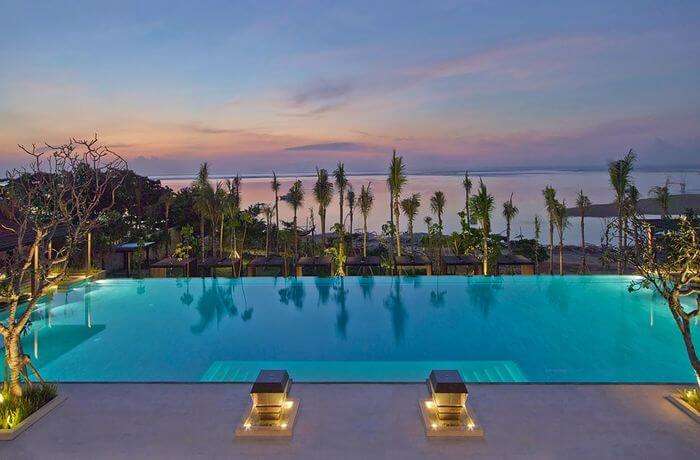 Overview
Indonesia is a world-renowned tourism destination that offers a variety of activities and experiences to behold. Bali, a beautiful sight and an amazing place to visit for travelers, offers many experiences. Bali houses some beaches, hotels, resorts, excavated stone-lands that make for great viewing.The region positively oozes of brilliance, freedom, and class and can be experienced with every activity here. Resorts in Sanur offer just the perfect accommodations for a luxurious and a memorable holiday experience.
Bali is the most promising tourist destination in Indonesia and has been regarded as a world-beater of the tourism industry. The beaches, flora, and fauna all stand out here, as the best aspects of this nation and region. Bali offers some fantastic picturesque moments along with the ultimate holidaying experience to its visitors. Destination weddings too are big here, and people really look forward to spending a vacation here. Resorts in Sanur certainly offers something new and different compared to the other areas when it comes to surprising the guests that visit these resorts. These resorts are a breath of fresh air to take when it comes to the unique experiences offered. Sanur, in particular, is a vibrant region that enclaves a variety of hotels and resorts and is widely regarded as one of the best areas in Bali, to visit.
Special Experiences
Bali as an experience is meant to stand out apart from the other places of visit, and it does. The plush Villas, hotels, and resorts all make for a great experience. The resorts here are massive in size and add to the overall experience of living a luxurious lifestyle, for travelers visiting Bali. Sanur resorts certainly don't lack any of this. These resorts are located in close proximity to the beach giving guests access to all the fun that comes along. Apart from the usual services, the resorts offer spa and massage sessions, along with some exciting water sports and adventures. The Parigata Resort & Spa is reasonably priced and is known as a must-see enterprise in Sanur tourism. The Prama Sanur Beach Bali is yet another option to choose, as it houses some fantastic rooms, with excellent service and ambiance that is sure to attract visitors.
Facilities
The facilities in Bali are spoken of very highly. In Sanur too, the facilities are excellent and impeccable when it comes to customer ratification and satisfaction. These facilities are marvelous and guests will find everything they need for a comfortable stay. From fitness centers to the swimming pools, the resorts have it all. There also spa and massage therapy sessions offered at these resorts. One must definitely try their hand at a Balinese massage when visiting the Sanur resorts. The rooms are quite brilliant, and if travelers are staying at villas, then there's an even merrier stay planned exclusively for visitors that is sure to leave them mesmerized. Most Sanur resorts have poolside barbeques for the guests. The Mercury Resort Sanur is perfect if travelers want to lay down by the beach on a chair and read the newspaper. Another reasonably priced option is the Sri Phala Resort and Villa, which has excellent decor and great amenities.
Dining
Sanur resorts offer an exquisite dining experience thanks to the well-trained chefs that work hard to update their menus and improve the quality of the food. Sanur resorts are features a variety of cuisine options for guests to choose from and give them a wholesome choice of delicacies to choose from. Whether it's international food or the local Balinese cuisine, one will find it all here. Some of the resorts feature one or more resorts that serve different cuisines. There is also a snack bar in some resorts where guests can enjoy light meals and beverages. Sanur resorts also feature bars where guests can enjoy signature cocktails and mocktails of their choice. One is sure to enjoy an excellent feast at these resorts.
FAQs
Q1. Do the restaurants at these resorts cater to guests with special dietary needs?
A. Yes, if the staff of the hotel is informed in advance, the guests can enjoy some fantastic food that is made as per their dietary needs or restrictions.
Q2. Is the breakfast buffet at Sanur resorts, kid-friendly?
A. Yes, these hotels generally have a special kids menu as well as there are child-friendly food items included in the breakfast buffet.
Q3. Do these resorts have wheelchair access?
A. Yes, all the luxury and semi-luxury hotels have wheelchair access. There are a few hotels where the entire area of the hotel is wheelchair accessible,
Q4. Can one shop inside the resort itself?
A. There are gift shops or mini markets inside the hotels and as such the in-house guests at these hotels can avail some fantastic discounts at these shops.
Q5. Do Sanur resorts offer currency exchange services?
A. Some hotels do provide currency exchange services while almost all the hotels accept foreign currency.
Sanur resorts offer an unparallel experience to guests visiting these resorts. From luxury spa facilities to exciting water sports, these resorts have it all when it comes to providing guests with a variety of experiences. The staff at these resorts are extremely cordial and assist guests throughout their stay. One can get tickets to various tourist attraction through the resorts itself. Most of the resorts in Sanur are located close to the beach where one can spend some quality time with their loved ones. However, these resorts are most known for their spa and massage therapies that one must definitely try when in Bali. The resorts house luxurious massage centers which offer Balinese therapies for rejuvenation. The resorts may also have one or more restaurants where one can relish in a number of lip-smacking dishes and cuisines. One must not miss out the opportunity to gorge on the local delicacies while staying at these resorts. With the number of amenities and experiences these resorts offer, one can enjoy a great vacation in Bali.