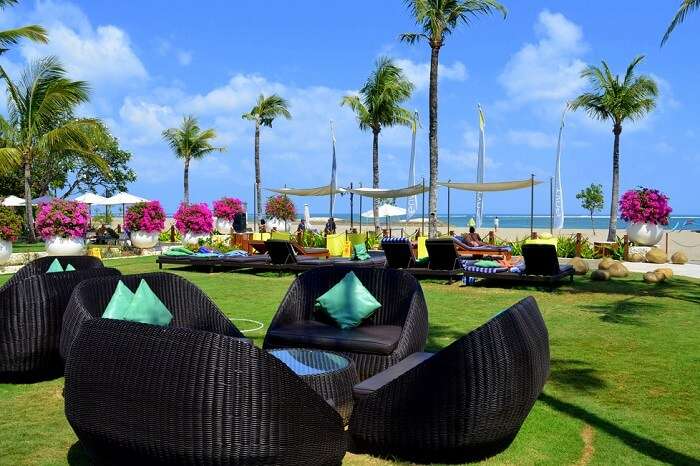 Overview
Kuta is a beach area to the south of the main island of Bali, and is famous for its party-centric environment. As is offers a serene beach area, vacationers from all around the world come here and forget the chaotic city life. Bali Kuta resorts and Kuta resorts are renowned worldwide for their beauty and peace. They offer top-notch facilities and amenities to vacationers. While enjoying a beachfront stay, guests can also take advantage of various water sports offered by these hotels including kayaking, snorkeling, windsurfing, fishing, and diving. For ultimate relaxation of travelers, the hotel also provides calming massage services and spa treatments. Travelers who don't want to miss their fitness regime while traveling have a choice of working out at the on-site gym. While offering a wide range of facilities, the hotel also offers comfortable accommodation options. The rooms are elegantly designed as per the taste of every traveler including families, honeymooners, couples and business travelers. Most of the resorts also house a fully functioning business center, meeting and conferencing rooms where business travelers can host meetings and conferences. Further, resorts also offer all the basic services such as a 24-hour front desk, ticket service, laundry service, luggage storage, tour desk, room service, on-site ATM and shuttle service as well. Some of the most famous Bali Kuta resorts are Suris boutique hotel, Baking Sari resort and spa, Bali Sandy resort, Baking resorts and many more.
Special Experiences
The Bali Kuta resorts are famous for their special facilities too. These services are designed in a manner that the customers get to spend a lavish stay while here. Some of the most common yet intriguing facilities that are provided in these resorts are spa and beauty services, babysitting services, wellness centers, massage and sauna centers, steam room, outdoor pools, rooftop pools, pool bars and sun loungers for a perfect sunbath atmosphere. Many resorts also consist of gift shops and safety deposit box so that one can be tension free about the valuables and at the same time one does not have to move from place to place to find gifts for family and friends. If one is adventurous, this resort also provides with car rentals so that one can go on long rides and explore the city.
Facilities
One can expect a wide range of comforting facilities in Bali Kuta resorts The rooms are spacious and face towards the sea letting in the sea breeze. One can also enjoy a serene and beautiful view from the balcony. The rooms are spacious and come with king-sized beds along with AC and blackout curtains. There are attached bathrooms which come with complimentary toiletries. The resorts even offer laundry, dry cleaning and ironing services, at an additional cost. Almost all necessary facilities are always taken care by the room service such as toiletries, clothing etc. in today's time there is no work without the internet, so almost all hotels and resorts are enabled with free wifi. The rooms are kept clean, and the sheets are changed every day so that the customers can stay comfortably. Further, guests can also plan their tours while taking help of the tour desk.
Dining
Bali is famous for its seafood, and Bali Kuta Resorts hire best chefs in the town to several the best local delicacies made out of seafood to its customers. Most of the resorts offer a variety of cuisines including traditional Indonesian cuisine, French cuisine, Italian cuisine, Mediterian cuisine, American cuisine, Continental cuisine, and International cuisine as well. Travelers who are on a specific diet can also order meals as per their requirements. Keeping little travelers in mind, these restaurants serve kid-friendly meals which are not only healthy but also tickle the taste buds of kids. Along with excellent dining service, the resorts also offer fabulous drinking services. Most of the resorts maintain a bar which is equipped with the world's famous drinks. The bartenders are highly skilled and know well the taste of their customers.
FAQs
Q1. Do Bali Kuta Resort offer passes to the traditional shows in here?
A. Yes, most of the resorts offer passes to the cultural shows so that the customers can enjoy their best.
Q2. Do the resorts have ATM and gift shops?
A. Yes, most of the resorts have the facility of ATM and gift shops.
Q3. Are the resorts pet-friendly?
A. Yes, most of the resorts are pet-friendly.
Q4. Which language does the resort staff understand?
A. The staff in these resorts can converse in English.
Q5. Is there currency exchange services in Bali Kuta Resorts?
A. Yes, there are currency exchange services in most of the resorts.
Kuta, being one of the most visited places, offer a variety of resorts. The Bali Kuta Resorts are created in a manner so that one could get the atmosphere of being at home. While staying at these resorts guests are offered multiple facilities for a comfortable and hassle-free stay. One can get soaked up into the outdoor pool or can also head toward the fitness center for a heavy workout. The spa center offers extraordinary therapeutic spa treatments. In some resorts, one can also find gift shops which offer beautiful souvenirs and gifts. Other than these, they also provide services like laundry, tour desk, luggage storage, on-site ATM. The staff of these resorts are extremely friendly and amiable and can converse in language including Indonesian, English and sometimes Hindi also. Vacations are assured to experience a blissful stay at Bali Kuta Resorts.