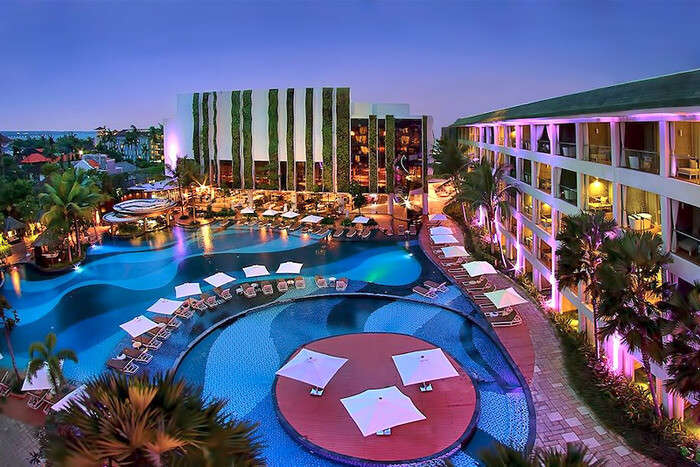 Overview
A mix of fun, frolic and everything adventurous, Bali is a premier tourist destination that invites people in its embrace and makes them want to stay there for as long as they can. Booking a trip to Bali is a great idea for anyone who is looking for a place to relax and indulge in some adventure too.However, no trip is complete without booking the perfect hotels because a stay makes a very important part of any tour and Bali is no different. The only difference in this city, however, is that there is no dearth of amazing options to stay, be it budget hotels or the luxurious ones.
Bali is visited by more than 5 million people around the globe. Hence, making it one of the peak destinations for excursions. Be it families, or a group of friends, it is visited by them very frequently. Even couples love this place as it is pretty romantic. Apart from beaches and active mountains, the place is also loaded with temples which are extremely sacred and traditional. The island is also filled with sea caves, lakes, and surfers as well. One of the hottest spots in Bali is, Canggu which is filled with numerous things that travelers are captivated by. Some of the activities that are famed in this location include surfing, watching sunsets, local street food, coffee joints, renting villas, golfing on the ocean, and temples. Due to a great footfall, there is a wide range of Canggu Hotels where guests can not only find a comfortable stay, but also they can experience myriad fun & frolic moments.
Special Experiences
The Canggu hotels makes sure that their guests are enthralled by the services they provide. Customers can be part of an exotic itinerary that involves traveling to different places across Bali that are fully guided and provided with transport. One can also learn surfing and various other things as well. Post-tour, they can soak themselves in heated pools and dine alongside the pool itself. They can also have private dining session with their companions as well. Bali has vast golf courses as well and customers can avail golfing too. The hotels also have therapeutic centers that have the Balinese, Thai, and Swedish massages. They also have aromatherapy and reflexology as well. The Haven Suites is a great hotel with a fabulous pool, bar, and spa. Even the FRii Echo Beach Hotel is well-known for the same.
Facilities
Canggu hotels are also renowned for their essential facilities. The hotel rooms are provided with both bathroom and personal care accessories which include towels, face creams, face washes, shaving kits, and dressing gowns, moisturizes mirrors, and slippers. The rooms are also provided with a king size bed, bed sheet, blanket, and pillows. They also have blackout curtains, television, radio, telephone, minibars, and seating areas as well. Other facilities that are common to all customers at the hotel includes gym, healthcare, help desk, storage, dry cleaning, laundry, and parking. For example, the Como Uma Hotel is known for its suites, family rooms, and minibar. While the Kirana Hotel is known for its air conditioning system, bar, and suites. There are also many hotels which own a swimming pool in order to give their guests a complete relaxing stay.
Dining
The Canggu hotels also provide great dining experiences to guests apart from special experiences and amenities. The chefs hold masters in culinary arts and can make any type of cuisine. Some of the famous cuisines one can order include Balinese, Chinese, Japanese, Indian, Dutch, German, French, and much more. Apart from all this, they also have a sports bar where people dance to EDM and enjoy light food and hot drinks. The Tugu Hotel is a 5 star hotel that is known for its restaurant, bar, and lounge.
FAQs
Q1. Do Canggu Hotels offer customized itineraries across the city?
A. Yes, the hotels do offer customized itineraries across Bali.
Q2. Do Canggu Hotels have car hire facilities?
A. Yes, the hotels do have a car hire facility.
Q3. What are the free services customers can avail at the hotels in Bali?
A. The free services customers can avail at the hotels in Bali include help desk, storage, parking, internet access, and call making facilities.
Q4. Is there internet available in public places at Bali?
A. Yes, there is internet available in public place at Bali.
Q5.What is the currency of Indonesia?
A. The currency of Indonesia is the Indonesian rupiah.
Canggu Hotels provide tourists with numerous tours, outgoings, and sightseeing packages across Bali. They also have heated pools where tourists can enjoy a water sport. Apart from this they also have dining areas which can be alongside swimming pools or private. The hotels also have a great therapeutic center that will reinvent one's life through a Balinese, Thai, or Swedish massage. The hotel rooms are provided with hygienic and clean bathroom essentials and are spic and span. They are also provided with vital furniture, gadgets, and devices. When it comes to dining, these hotels have restaurants, sports bars and many other options. Canggu Hotels is a great option for the guests visiting Bali to experience a magical holiday.