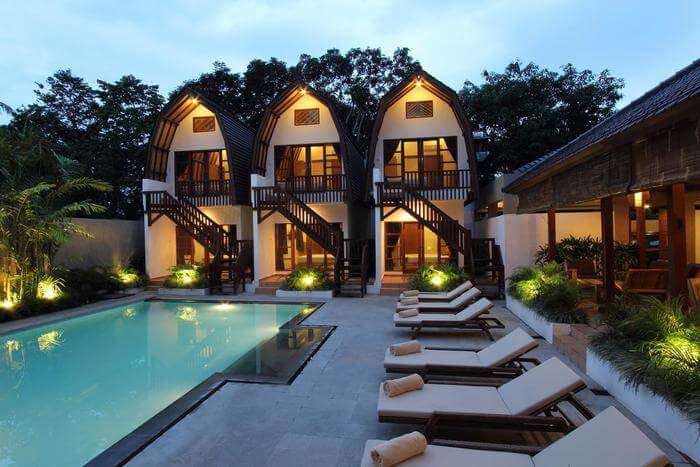 Overview
Canggu is a coastal village located by the south coast of the Indonesian island in the city of Bali. This place has more of a tropical vibe, owing to be surrounded by beaches and beautiful looking rice paddies. This place is known for its colorful beaches, surfing beach waves and also amazing nightlife. Canggu is a resort village, due to a wide variety of resorts, because of plenty of tourists visiting this place with their family, friends and loved ones.
Canggu Resorts provide its guests a view of breathtaking scenic beauty. Canggu is surrounded by aromatic coffee trees, rice fields, and majestic mountains. The resorts have outdoor pools and accommodations giving the visitors an unforgettable experience. The view of lush greenery provides tourists with ultimate relaxation and a peaceful environment. All the resorts offer basic facilities including free wifi, luggage storage, daily maid service, laundry & dry cleaning service, ATM-onsite, and many more. Along with these, the resorts also offer special services like massage facility, spa, gymnasium, water activities, business centre etc. These resorts not only provides a comfortable stay, but also a luxurious one which are sure to give travelers myriad memories.
Special Experiences
People like visiting a variety of destinations so that they can create more memories with their family, friends and loved ones. Special experiences simply make memories even the more memorable. Such experiences which the visitors get to experience creates an urge for them to visit places again and again. The Canggu Resorts offer such amazing experiences, helping their visitors creating unforgettable memories.
The Ngeluwungan Boutique Villa a 4-star resort at Canggu offers services like body scrubs and full body massages. Giving their guests a relaxed feeling, especially for those who want a break from the busy schedules. It offers a variety of activities like snorkeling, hiking, and fishing which can be enjoyed together and along with family members, friends, and family.
The Lv8 resort a luxury 5-star accommodation offers its guests with amazing top notch services. Some of the services include outdoor BBQ facilities and outdoor bonfire. They offer activities like live music performances which can be enjoyed with family members and loved ones. The hotel also has cooking classes for those who want to learn the cuisines in Bali, which will help create unique memories.
Facilities
People while planning for a visit to any destination, the very first aspect they look out for is accommodations. Visitors looking out for accommodations to have specific expectations from the resorts, which can make their stay comfortable. Such basic facilities can either make or break visitor's views and expectations from a resort for stay. Basic facilities that Canggu Resorts offer are dry cleaning, laundry services, clean and tidy rooms, and beddings, no insects or pests in rooms, room services, and many other facilities. The Sheraton Bali Kuta resort offers facilities like Daily maid service, Ironing service, Dry cleaning, Laundry, Air conditioning, Room service, and clean and tidy rooms. Also, for luxurious stay, Canggu Resorts offer its guests facilities to calm their senses. These facilities include Spa, sauna, swimming pools, and fitness centre as well where one can get completely rejuvenated.
Dining
The Balinese cuisine is very popular at Canggu. Canggu Resorts offers a mix of cuisines from the Southeast Asian regions with a hint of tantalizing amazing flavors. Since Canggu has tourists visiting from all across the globe the resorts here offer a wide variety of cuisines so as to cater to their different needs and preferences. The Courtyard by Marriott Bali Seminyak Resort offers all kinds and varieties of international cuisines to fulfill the choices and preferences of their visitors. They also offer special diet meals especially for the health conscious folks when requested. The make meals curated for kids making sure they satisfy the taste buds of their younger guests. Also, Canggu Resorts feature in-house bars that offer an array of cocktails and mocktails.
FAQs
Q1. Are pets allowed in Canggu Resorts?
A. Some of the resorts do allow pets, but they have additional charges for the same. Therefore an inquiry beforehand would be helpful.
Q2. Do Canggu Resorts have special services for differently abled guests?
A. The resorts take special care of differently abled guests, with wheelchair services and pickups and drops.
Q3. Do the resorts in Canggu-Bali cater to Vegan and vegetarian food preferences?
A. The resorts in Canggu-Bali, offer vegan and vegetarian food when requested for the same.
Q4. Do the resorts in Canggu-Bali provide babysitting services?
A. Majority of the resorts in Canggu-Bali, offer babysitting services.
Q5. Do the resorts offer to pick up and drop services for the airport?
A. Yes, the resorts in Canggu offer shuttle services to and fro from nearby airports, creating ease and convenience for their visitors,
Canggu has a variety of resorts both luxury and affordable. For those who are traveling and visiting this place on a budget need not worry. One must definitely visit this place and the resorts located therein to experience the vibe and ambiance which will be one of a kind. Canggu Resorts has a lot to offer to its guests including world-class amenities leading to a happy and content stay for vacationers visiting Canggu. Some of these resorts own a swimming pool where guests can relax and calm their senses, while some have a fitness centre for the guests who don't want to miss their fitness regime. While providing facilities like Laundry services, 24-hour front desk, daily maid services, concierge services, tour desk, airport transfer and many more, Canggu Resorts make sure to provide their guests the best of stay.