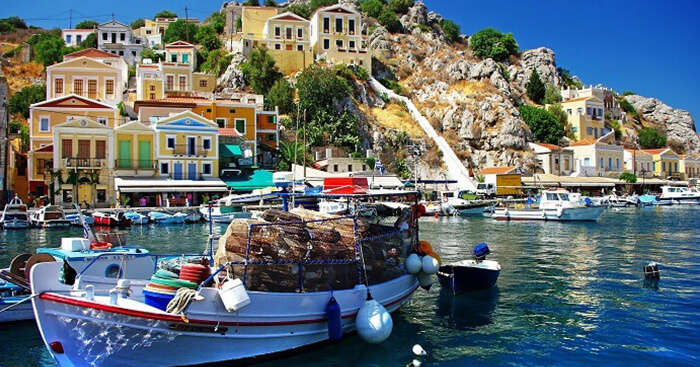 The beauty of Greece doesn't need any introduction. The Greek gods have designed their country with utter perfection. There are many tourist places to visit in in Greece that are simply awe-inspiring. There are beautiful landscapes and sceneries which will leave you spellbound, delicacies and beverages will gladden your foodie soul, and locals who will enchant you with their stories and local folklore. From the architecture to the locals, Greece will make your vacation extraordinary for sure!
Top 20 Places To Visit In Greece In 2019
Here are a few of the many mesmerizing places to visit in Greece that must be on your itinerary when you're booking Europe tour packages. Have a look before you plan your amazing vacay.
1. Athens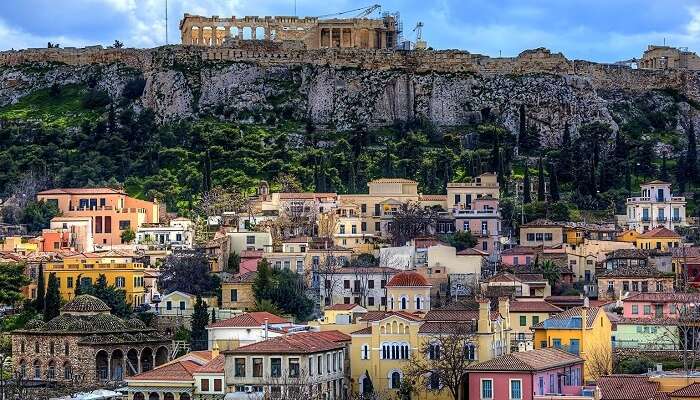 Athens showed its jazzy side to the world after the 2004 Olympics. Now the ancient city of Athens is recognized by its modern subways, spotless streets, well-manicured parks, remarkable freeways, and ultra-warm people. The extraordinary melting pot of mythology and modernism, it is a city that boasts of stunning modern architecture as well as striking historical monuments. From the pillars of the Acropolis to the Temple of Zeus, places to visit in Athens, Greece are many in number.
Don't miss: Beautiful flowers at National Gardens, precious artifacts at New Acropolis Museum, the stunning views from Mount Lycabettus, colossal ruins at the Temple of Olympian Zeus, the ancient Greek temple of Erechtheum, hills of the Ancient Agora, historical neighborhoods of Plaka, the well-preserved Temple of Hephaestus, prehistoric antiques at National Archaeological Museum, and Goddess Athena's famed temple of Parthenon
Where to stay: If you are looking for luxury stay options, pick from Hotel Grande Bretagne, Hotel King George Athens, and Hotel N.J.V. Athens Plaza. Here, the price ranges from INR 30,000 to 10,000 per night. For budget hotels look at Economy Hotel Athens, Athinaikon Hotel, and Dorian Inn Hotel. They would cost you around INR 3,000 per night; which according to us is a real steal deal!
What to eat and where: Crab appetizers at Spondi, Japanese barbeque at Kiku, Mediterranean cuisine at Estiatorio Milos Athens, exotic cocktails at Gb Corner, Sushi at Kohylia, and gourmet dishes at Funky Gourmet
Must Read: Visit Greece In March For A Vibrant, And Colourful Spring Vacation
---
Europe Holiday Packages On TravelTriangle
Explore the most beautiful places to visit in Europe, from Paris to the Venice canals and from the Greek islands to the Swiss alps. Book customized packages by expert agents on TravelTriangle. Inclusive of airport transfers, cab, resort, sightseeing and meals. Best holiday experience Guaranteed. Book Now
---
2. Chania Town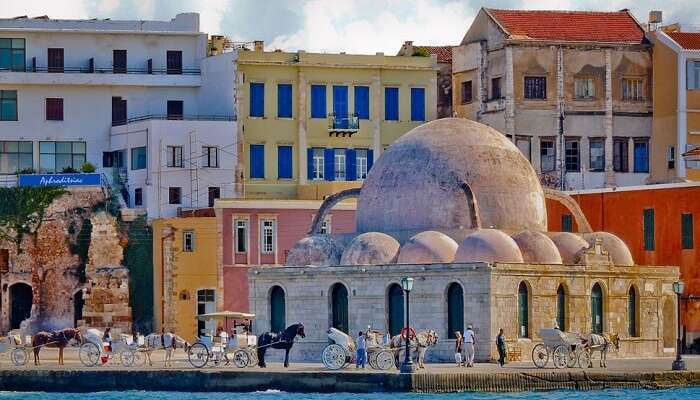 Chania Town's center of attraction is its Old Venetian Harbor. The uncommon architecture of the place has been a backdrop to many Hollywood movies and TV series. It is one of the best places to visit in Greece for its cobbled streets and more than welcoming natives. The lighthouse proudly overlooks the panoramic views of the city. Many romantics and couples find themselves staring off into the sea while holding each other dearly.
Don't miss: Colorful boats and old architecture at the Old Venetian Harbor, beautifully manicured Botanical Park, artefacts at Chania Archaeological Museum, the popular landmark of Chania Venetian Lighthouse, remarkable display of Greek architecture Ancient Aptera, the happening Iguana Beach, the golden sand of Agii Apostoli Beach, the mysterious Topolia Gorge, and the remarkable Venetian Fortress
Where to stay: Take your pick from La Maison Ottomane, Casa Delfino, and Alcanea Boutique Hotel for ultimate luxury. The price range for them would be somewhere between INR 40,000 to 10,000 per night. Renieris Hotel, Alexis Hotel, Doge Traditional Hotel-Apartment are the best budget options you can find in Chania Town. They would cost you around INR 2,000 to 4,000 per night.
What to eat and where: Fresh organic salads at To Stachi, fish dishes and breweries at Colombo Kitchen & Bar, bouquet of wines at Kritamon Wine Bar, seafood and wine at Salis, finger-food at Akrogiali Taverna, and open kitchen at To Maridaki
Suggested Read: 10 Best Athens Beaches For A Rejuvenating Experience Amid The Serene Views
3. Santorini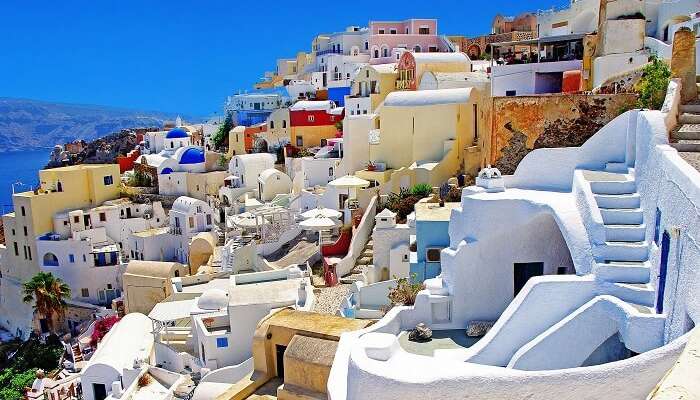 Remember the iconic song 'Tauba tumhare ye ishare' from 2003 hit, Chalte Chalte? Well, Santorini was the natural setting for that song. It looks exactly like a fairyland, flattering with whitewashed buildings, haphazard but cute little colorful houses, spiral pathways, towering sapphire domes, and stretches of azure water and equally azure sky. The houses and hotels are built on cliffs which add the appeal of the place. Santorini is one of the most popular Greece's tourist attractions.
The phenomenal beauty, along with its cozy homes and little bistros are legendary. There are several ancient monasteries, churches, cathedrals, monuments, and buildings which add to the character of the place. It's one must visit place in Greece; one where you should set foot at least once in your lifetime.
Don't miss: Bella Aurora & Thalassa cruise, views from Skaros Rock, sunsets at Amoudi Bay, exhibits at Museum of Prehistoric Thera, murals at Lignos Folklore Museum, sailing experience at Santorini, thrill of Fira Hiking Trail, wine-tasting tours at Santo Winery, rocky sand at Perissa Beach, beauty of Santorini Volcano, and ruins of Ancient Thera
Where to stay: Mystique Resort, Vedema Resort, and Kastelli Resort are the best luxury stay options within a price range of INR 80,000 t0 15,000 per night. Some of the best budget options are Caldera Butterfly Villas, Mirsini Pansion, and Meli Meli which could cost you as less as INR 1,200 on off nights too.
What to eat and where: Wide selections of wine at Heliotopos Wine Bar, cheesecakes at Metaxy Mas Tavern, finger foods and local wine at Kapari Wine Restaurant, Chicken and Pork Gyros at Pitogyros, seafood at To Psaraki, grilled food at Terra Nera, and rooftop dining at La Maison
Suggested Read: 9 Best Honeymoon Destinations in Europe In May, June and July
4. Hersonissos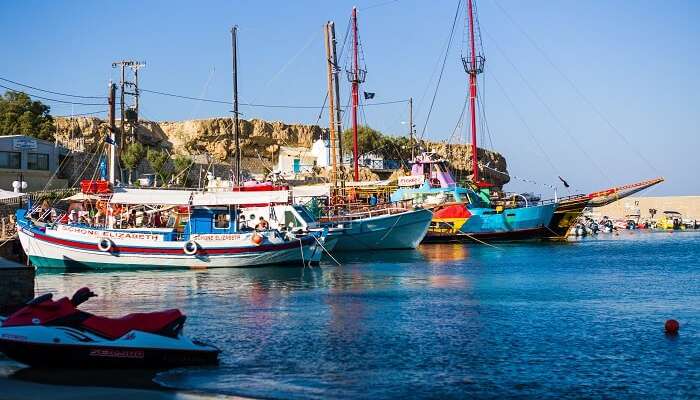 One of the most popular tourist places in Greece is Hersonissos, an old port town. Perfect for a complete family vacation, it has amusement parks, pearly sand beaches, intriguing museums, ancient ruins and local shopping hubs to explore. Also, Hersonissos is famous for its fresh and delicious seafood. The simple and earthy beauty of the town has its own charm. No wonder, it is considered to be one of the best places to see in Greece.
Don't miss: Seaworld at Aquaworld Aquarium & Reptile Rescue Centre, exhibits at Lychnostatis Open Air Museum, stunning horses at Arion Stables, rides at Star Beach Water Park, happening Labyrinth Theme Park, mysterious Cave Of Zeus, engaging Cretan Farm, and peaceful Vrontisi Monastery
Where to stay: Some of the best luxury hotels are Aldemar Knossos Royal Villas, Pilot's Villas Luxury Suite, and Amirandes Grecotel Luxury Hotel with a price range of under INR 30,000 per night. Anthoula Village Hotel, Romantica Hotel Apartments, and Maria Hotel Studios are the INR 3,000 per night.
What to eat and where: Octopus delicacies at The Alchemist, fish platter at Zachos Taverna, shrimps platter at Taverna Harakas, dips and breads at Med Cafe & Restaurant, coffee at Coffee Island, Nautica, Greek delicacies at Mythos, tapas menu at David Vegera, and summery drinks at Casa Nostra Bistro
5. Rethymnon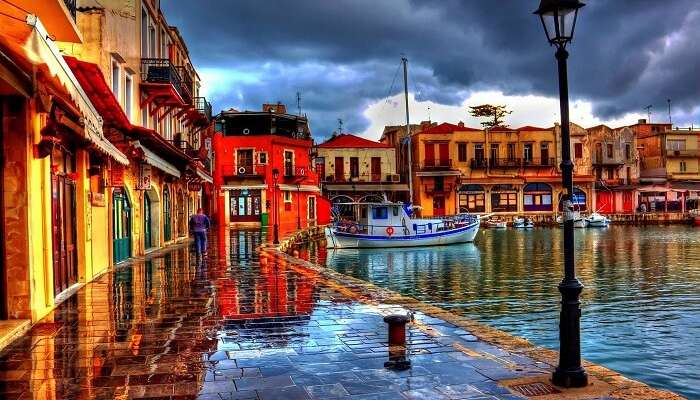 Looking for some good places to visit in Greece? Well, Rethymnon is a well-preserved old Venetian town, often considered to be one of the best places to visit in Greece. The stunning buildings and ancient architectures of 16th century reflect strong influences of European and Moorish styles. The magical waterfalls can be perfect for a romantic evening hide-out. The remarkable Cave Church of St Anthony Gorge is another attraction. Enjoy the scrumptious fresh feta, sprinkled with olive oil and local herbs while enjoying the views of colorful, lively docks.
Don't miss: The charms of Rethymnon Old Town, peace of Sacred Monastery of Arkadi, opulence of The Venetian Fortezza, tranquility at Moni Preveli Monastery, liveliness at Venetian Harbor, wooden artifacts at Museum of Wooden Sculptures, ammunitions display at Rethymno Military Museum, beautiful Rimondi Fountain, and the popular St Anthony George
Where to stay: Rimondi Boutique Hotel, Bellagio Luxury Boutique Hotel, and Aquila Porto Rethymno are the best luxury stay options with a budget of about 20,000 per night. Afroditi Hotel, Elina Hotel, and Hotel Palladion are the best budget hotels in the area.
What to eat and where: Cretan food at Thavma Coffee Drinks & Cretan Food, fresh sea fish delicacies at Zefyros Family Fish Taverna, drinks at Pagonas Place, dessert jars at Goules, salads at Mikro Livadi Restaurant, and homemade Cretan food at Vassilis Restaurant
Suggested Read: 15 Greek Islands That Must Figure In Your Greece Travel Itinerary
6. Mykonos Town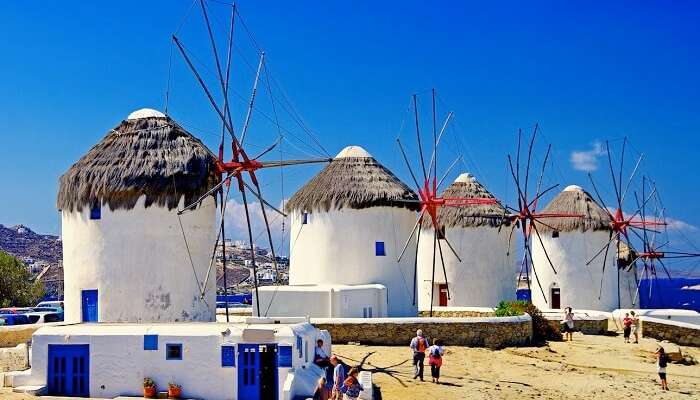 The classic whitewashed buildings with blue towering domes signify the Greek architecture. There are several meandering streets in Mykonos that are charming to the fullest. Iconic windmills have become the center of attraction of this quaint city. The rich culture of Mykonos and the authentic delicacies of crabmeat are the major crowd pullers.
Don't miss: Gondola ride at Little Venice, old-world charm of Matoyianni Street, exhibits of Aegean Maritime Museum, displays at Rarity Gallery, iconic Windmill, happening Kalafatis Beach, beautiful Church of Paraportiani, views from Armenistis Lighthouse, and golden sandy beach of Megali Ammos
Where to stay: Belvedere Hotel, Harmony Boutique Hotel, and Mykonos Theoxenia Boutique Hotel are the best luxury accommodations. They come at a price of about INR 20,000 to 8,000 per night. Best budget stays are Omiros Hotel, Hotel Spanelis, and Damianos Hotel Mykonos with less than INR 3,000 bucks per night.
What to eat and where: Cakes at Gioras Wood Medieval Mykonian Bakery, pasta dishes at La Cucina di Daniele, summer salads at Funky Kitchen, Italian at M-eating, cheeseburgers, and rolls at Pepper Mykonos, seafood at Captain's Seafood, Italian beverages at D'Angelo Mykonos, and Greek platter at Vegera
Suggested Read: Top 12 Rhodes Restaurants To Set Out On A Culinary Excursion
7. Tsilivi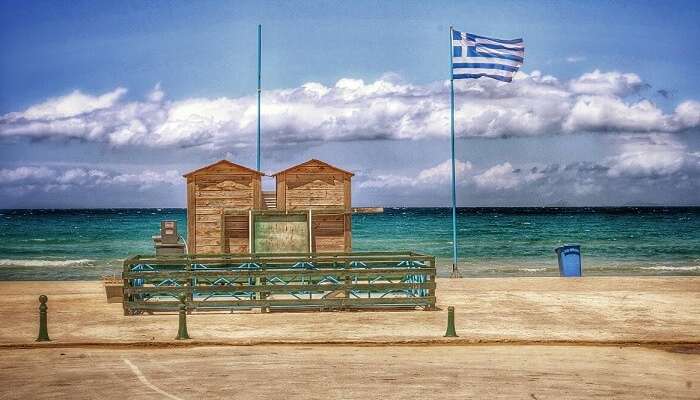 The golden Greek beach town is spectacular; its beauty and neatness is mindblowing. Venetian observatory at the northern point is perfect to overlook the city and get acquainted with the awe-inspiring history of the place. A perfect vacation destination, Tsilivi is suitable for surfing, parasailing, sunbathing and indulging in delicious food.
Don't miss: Fun rides at Tsilivi Waterpark, engaging games at Fantasy Mini Golf, ceramic displays at Adamieion Ceramic Art Studio, boat tour to the Gorge, bowling game at Bowl'm Over, and horseback riding at Athina & Dennis Horse Riding Centre
Where to stay: The Lesante Luxury Hotel & Spa, Azure Luxury Villas, and Tsilivi Beach Hotel are some of the best luxury picks. They would cost you somewhere around INR 20,000 to 8,000 per night. Alexandra Beach Hotel, Neraida Studio, and Zante Maris are the best budget pick with a price range under INR 3,500 per night.
What to eat and where: Cocktails at Paradise cocktail bar, Greek Traditional at Cafe Ouzeri, deep-fried icecreams at The Halfway House, finger-foods at Summertime Snack Bar, breakfast menu and mocktails at Sunset BLVD, and Lebanese platter at La Meze Tapas & Wine Bar
Suggested Read: Wildlife In Greece: Best Places To Spot The Glorious Fauna In This Stunning Country!
8. Apokoronas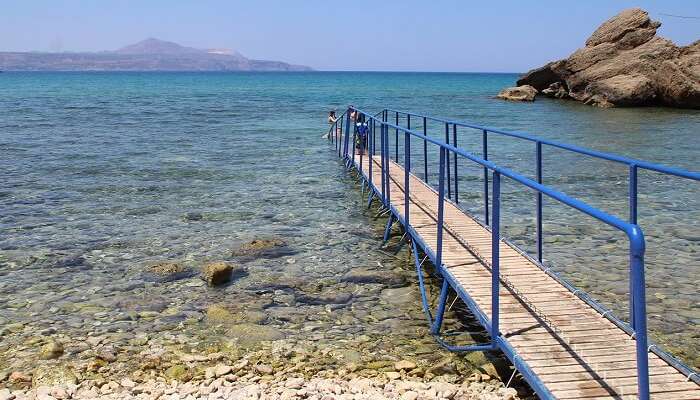 Lush greenery and pure blue water of Apokoronas are spell-binding. It is known for its bread baking and cheese tasting guided tours. The shallow water beaches are apt for paranoid kids and non-swimmers to splash around. One of the most unexplored places in Greece, Apokoronas can be your personal hideaway, offering the bliss of a quiet and serene vacation.
Don't miss: Stunning Lake Kournas, happening Kalivaki Beach, fun cooking lessons in Vamos, beautiful Agios Nikolaos Church, wellness treatments at Georgioupolis Beauty & Massage Wellness Center, the lively Ombros Gialos Beach, artifacts at Folklore Museum, and mysterious Samonas Cave
Where to stay: Some of the best luxury stays in Apokoronas are Corissia Princess Hotel, Kiani Beach Resort, and Kalyves Beach Hotel, ranging in between INR 30,000 to 12,000 per night. Porto Kalyves Seaside Apartments, Villa Irini, and Asterina are the best budget options with tariff less than INR 3,000 per night.
What to eat and where: Aubergine dip salad at Georgia's Traditional Taverna, food bowls at Parasia Rakadiko, slow cooked casserole dishes at Markos' Place, pizza at Vasilikos, English breakfast at The Cotton Club, spinach and cheese pies at Gavalianos Kafenes, and Greek platter at To Yaladiko
9. Meteora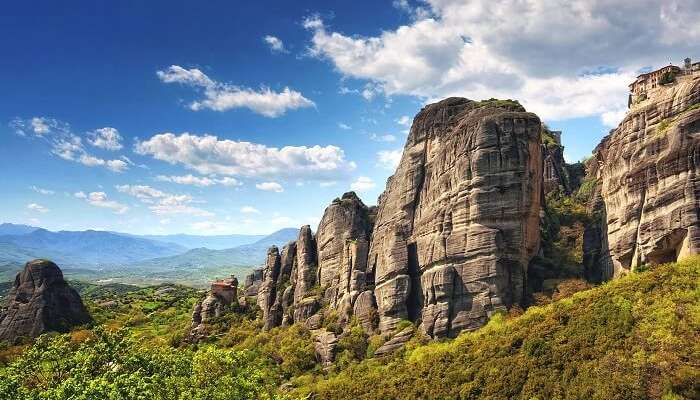 The English translation of the Greek word 'Meteora' is suspended in the air. The phrase aptly describes the monasteries of Meteora that are almost like suspended in the air, over the huge rock cliffs. The monasteries at the altitude of more than 1,200 feet overlook the misty valleys and well-settled villages of Kalambaka and Kastraki. Some of the monasteries take back to early 14th century. It absolutely tops the chart of most beautiful places in Greece.
Built to seek spiritual isolation and religious freedom, these monasteries have paths which are simply thrill oozing – winding paths, narrow steps and sometimes, even less than just suspended planks. However, it is assured that the destination will be worth it all.
Don't miss: Peaceful spots like Holy Trinity Monastery, Great Meteoron Monastery, Varlaam Monastery, Agios Stefanos, Roussanou Monastery, and Megalo Meteoro Monastery. Also, don't even think about missing the Meteora rock climbing Kalambáka, Kastraki village, Meteora Thrones, and Theopetra Prehistoric Cave
Where to stay: Every one of the perched monasteries offers decent accommodation along with food, free of any cost. However, if you are looking for nearby hotels, you can take your pick from Divani Meteora, Hotel Meteora, Dellas Boutique Hotel, Alexiou Hotel, Pyrgos Adrachti, Hotel Kaikis, and Kosta Famissi Hotel. They will cost you around INR 3,000 bucks per night.
What to eat and where: Old traditional Greek delicacies at Restaurant Meteora, rice bowls at Taverna Panellinio, platters at Greek Tavern Skaros, Greek food at Taverna Gardenia, coffee at Melydron Cafe, and Saganaki & Mousaka at Stefanos Tavern
Suggested Read: Top 8 Homestays In Greece That Are Perfect For An Excellent Mediterranean Vacation
10. Crete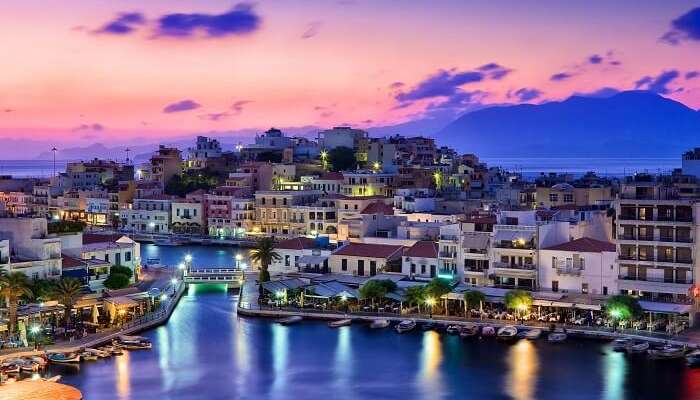 The list of best places to visit in Greece is incomplete without a mention of Crete. Crete is a spacious land of contrasting landscapes – expansive coastlines, rolling mountains, lush greenery, and rocky terrains. There are quiet villages as well as bustling metropolitans. The largest island in Greece, Crete is known for its interesting Greek archaeological sites and heritage monuments. However, you cannot disregard its beauty. It is also one of the safest places to visit in Greece.
Don't miss: Beautiful Elafonissi Beach, stunning White Mountains, deep blue water at Balos Lagoon, artifacts at Heraklion Archaeological Museum, wilderness of Spinalonga, Samaria Gorge National Park,sunset at Falassarna Beach, peaceful Sacred Monastery of Arkadi, wine tasting tours at Manousakis Winery, shacks at Stalis Beach, and opulent Palace of Knossos
Where to stay: Blue Palace Resort & Spa, Minoa Palace Resort & Spa, and Ilianthos Village Luxury Hotel are the best luxury hotels in Crete. They would cost you around 30,000 per night. Papadakis Villas, Village Heights Golf Resort, and Niriis Hotel are your best picks for budget options.
What to eat and where: Desserts at Yaourtaki Greek Frozen Yogurt, Greek platter at Georgia's Traditional Taverna, organically prepared natural food at Ntounias, best steaks at The House Steak Restaurant, drinks at Taverna Harakas, and mocktails at Cafe Dimitris
11. Nafplio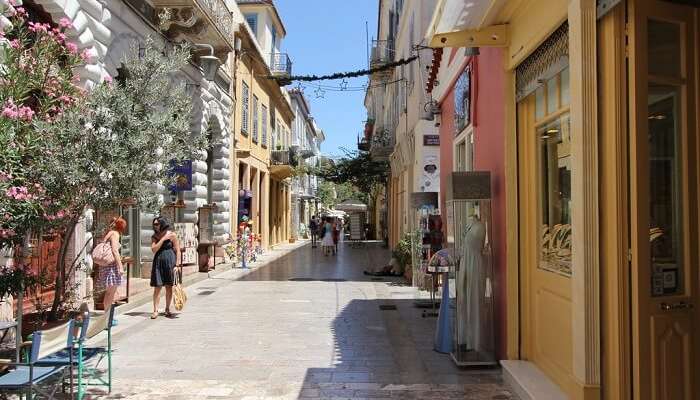 A playground of Athens elite, Nafplio has been shaped by a variety of cultures over the years. Wandering around, you will find the marks of the Ottomans, Byzantines, and Venetians on the architecture and the cuisines. The seaport town is one of the most beautiful and romantic towns of Greece. Originally the first capital of Greece, this is where you will learn the history of Greece in the most exciting ways. It is one of the unique places to visit in Greece.
Don't miss: Explore the Palamidi Fortress where you will have to climb up 900 steps but the stunning views from the top make all the effort worth it. Your next stop should be the Bourtzi Fortress which offers incredible views of the ancient town. In the evening, wander in the streets of the town where you will find the most charming house. At first, you may mistake that you are in Italy.
Where to stay: Nafplia Palace is for those who like the luxury. Treat yourself to the beautiful settings, private beach, and plenty of luxury starting at just INR 16,000 per night. If you are under budget, Hotel Byron will be an appropriate choice for you and is located in a good location for exploring around. The tariff begins from INR 3,000 per night. If you wish to stay in the old town to experience the charm, Aetoma Hotel is a good choice The 18th-century mansion is located right in the heart of the old town and can enjoy breathtaking views of the sea.
What to eat and where: Must try the Grilled Octopus and Chicken in Ouzo sauce along with a salad of eggplant and garlic. Kavalaris Corner makes the best Greek appetizers in the town while Pidalio in the new part of the town is where you can grab drinks. 3Sixty is the most sophisticated restaurant in Nafplio and Pidalio Mezedopoleio is known for Mediterranean and vegan options.
Suggested Read: In Pictures: 35 Most Beautiful Cities In Europe Will Make You Want To Trip There Now!
12. Corfu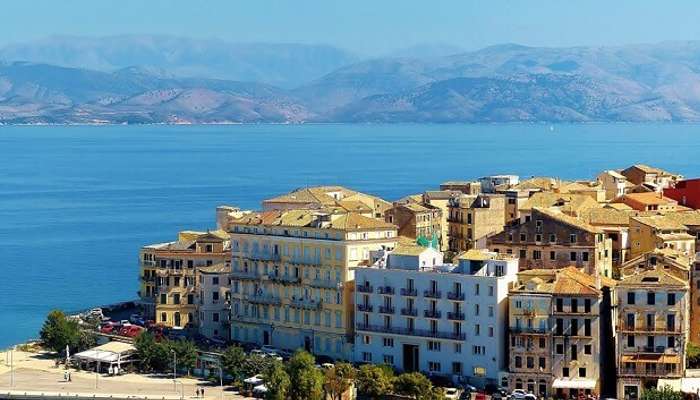 An island located on the northwest coast of the country, Corfu is a place of rich cultural heritage and definitely one of the best islands to visit in Greece. Find your perfect paradise on one of the many beaches this island has to offer. The rugged mountains in the backdrop give a perfect contrast to white sandy beaches. Apart from sunbathing on the beach, it offers a vast array of things like going on an olive tasting tour or visiting the ancient monastery.
Don't miss: Gorge at Agni Bay is one little gem which you should not miss during your visit to the island. Also, make a point to witness the dramatic Cape Drastis on the northerly point of the island. Vlacherna Monastery is another famous tourist attraction in the town. Do not miss the nightlife of Sidari on Corfu Island for the world. Then, there is also the old fort of Corfu which is a relic worth seeing.
Where to stay: Sidari Resort and Kavos Resort are tourists' favorite place to stay on the island. Pink Palace at Agios Gordios beach in Sinarades is one of the best budget accommodations on Corfu Islands with the tariff starting as low as INR 2,100. If you want to enjoy the beautiful bays and mountainous coastlines, you can stay in one of the villas like Corfu Villa Portamaki.
What to eat and where: Being an island, seafood and shellfish are the famous delicacies of Corfu. Sykomaïtha, a fig-based cake is another specialty of this town which you must definitely taste. The Venetian Well is one of the fine dining options on Corfu Island. Taverna Kalami is where you can enjoy the local cuisine and seafood. The Old time Cafe Bar Bistro is famous for Greek and Mediterranean cuisine.
13. Sifnos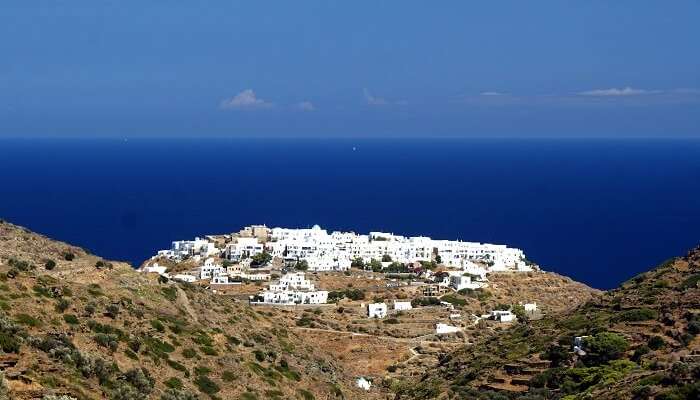 Image Source
This is a cycladic place where you will want to take your hiking boots along with your flip-flops to go out exploring the natural beauty as well as the villages of this island. While here make sure to visit the Sifnos trails, which are a network of paths that have developed here in just the event years and are the largest ones in the whole of the Aegean. Actually, there's over 100 km to explore in here. The trails will take you to quaint chapels, temples, villages, farmhouses, and more. You can enjoy this with Aegean in the backdrop.
Don't miss: The Cycladic Gastronomy Festival- Nikolaos Thelemites that takes place over three days in the month of September.
Where to stay: You can stay at the Verina Suites and Pool Bar or the Smaragdi hotel or any other amongst the variety of hotels there.
What to eat and where: Try the Absinthe and the Drimoni, which offer great Katziki mastela (goat cooked in a clay pot), a Sifnos specialty.
Suggested Read: DO NOT Leave For Europe Without Packing These 8 Things
14. Therasia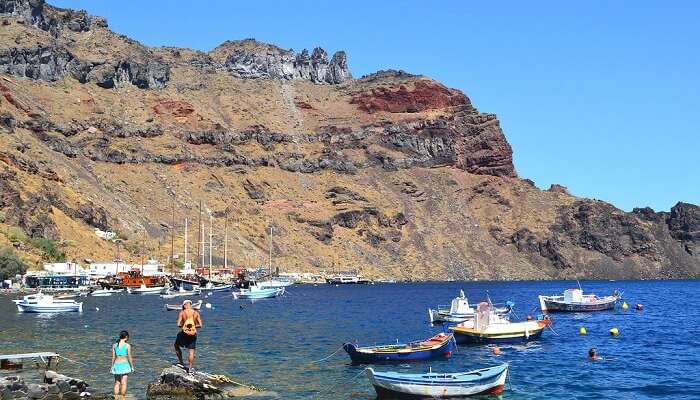 Image Source
Santorini is a famous cosmopolitan island now but if you want to know what it was before tourism took over then you can get a taste of the cycladic and volcanic island over on Therasia. This is a very underrated destination which has just 250 residents and as for tourism, it just receives day trippers from Santorini. People here mainly arrive to explore the charming settlements and serene churches here. But there are also well paved out hiking routes which offer amazing panoramic views. These hiking routes pass between dry stone terraces built centuries ago. Therasia is the place people go to when they seek solitude away from the crowd.
Don't miss: Go to the Perivolas Hideaway, which is a boutique guesthouse, check out the chapels and villages which dot this island.
Where to stay: You can stay at the Blue Dolphins, which is a 2-star hotel or at the 5-star Residence Suites.
What to eat and where: Go to the Panorama restaurant and the labros restaurant. Try out the swordfish pasta over at Il Cappero.
15. Patmos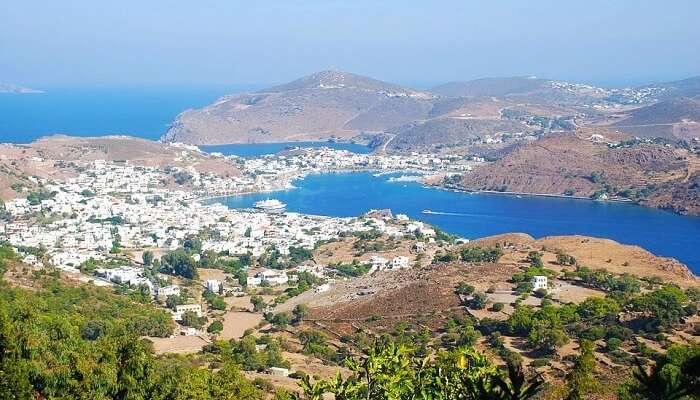 Image Source
It is a beautiful island which has a pretty village and is built around a monastery which was dedicated to St. John the Theologian. He is famously believed to have penned down the book of Revelation on that island. Visit during the months of July and August. The International Film Festival of Patmos, as well as the Patmos Religious Music Festival, is held during the same time. But there's more to do here as just last year sporting events were also added in the summer itinerary as Patmos Revelation. It is a three-day event in which participants take place in running or swimming (open water) races which take place at the end of June.
Don't miss: While here make sure to visit the beautiful beaches like Psili Ammos, Lambi along with the almost uninhibited islands of Arkoi and Marathi.
Where to stay: You can stay at the Patmos Atkis Suite and Spa which is a 5-star hotel or for something more in a budget and homely, you can try out the Iliolosto studios.
What to eat and where: Try out the cocktails at Pleiades Bar Restaurant, go for Benetos if you have kids with you. Try their smoked eel and steak.
Suggested Read: 9 Best Greece Wedding Venues For A Charming Fresh Start To A New Chapter In Your Life!
16. Nisyros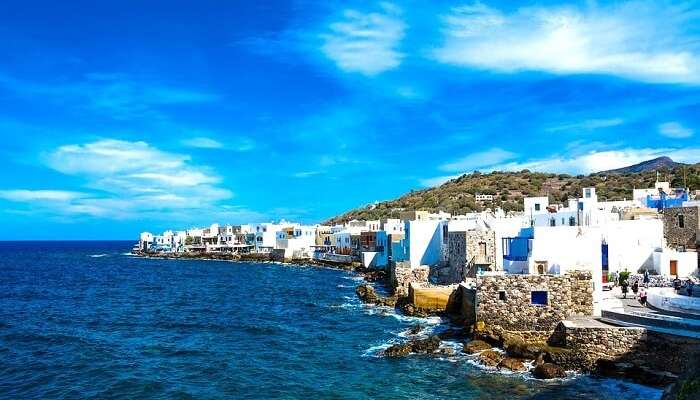 Image Source
This island is famed for the volcano here and it is an active one. This is one of the few Aegean islands which has managed to avoid development and maintained an authenticity about it which has made it a favorite destination amongst the creatively inclined. There are tonnes of thongs to do here, like walking in the hydrothermal craters of the volcano, exploring the areas between the pristine but quaint homes, enjoy a glass of refreshing iced tea and more.
Don't miss: Relax your body in the thermal springs over at the municipal baths, visit the Sterna Art Project- a nonprofit exhibition for artists who create works in this island and draw inspiration from its landscapes.
Where to stay: While here you can stay at the two-star Porfyris hotel or in the Maria Eliza which is a house apartment if you are looking for some budget options.
What to eat and where: Get the local flavors and eat at the Tavernas. Head to Taverna Panorama or restaurant Irini which are both cozy but casual places with great seafood. Taverna Bacareto is the place to head to for more gourmet food.
17. Parga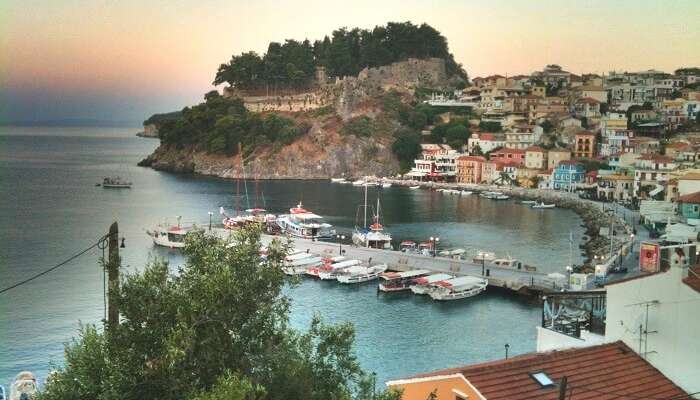 Image Source
Situated right on the western coast of Greece and surrounded by the Ionian, Parga is a mainland destination but with its own island feel. The town is a vision to behold with picturesque narrow streets which lead to Parga's castle and offer amazing views over the beautiful bay. There are beautiful long sandy beaches which will allow you to enjoy shimmering quiet empty stretches of sand. You can spread your beach towel in here and go for a dip into the sea. For those interested in archeological adventures, Parga is actually close to many archeological sites which include the temple of necromancy situated right next to the mighty Acherontas river (linked to the underworld in the classical age). Spring is a great time to head here because it will allow one to enjoy the clear water flowing through a lush forest and you can enjoy rafting or boating.
Don't miss: Parga with its historical sites like the temple of necromancy, it's beautiful flowing rivers and forests where you can undertake rafting and hiking is a place where there is something for everyone.
Where to stay: Stay at the Parga Olympic hotel, Acrothea hotel which offers a luxurious service. But for something more within a budget, check out Lichnos or Irini Studios.
What to eat and where: Head to the Bacchus restaurant, Med Club Parga or Sakis for some authentic food in here.
Suggested Read: Keep These Athens Travel Tips In Mind To Avoid Any Hassle On Your Trip To Greece
18. Zagori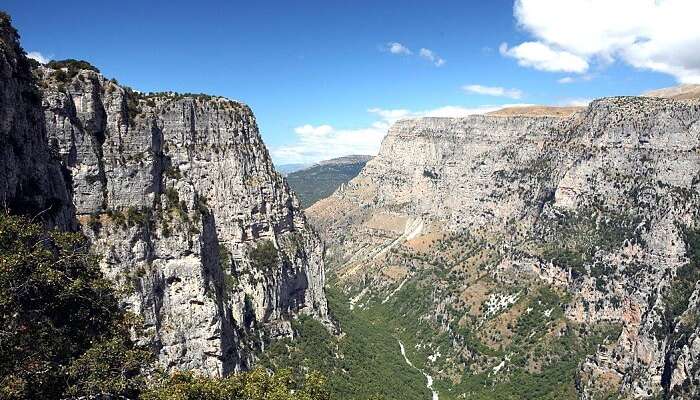 Image Source
This area falls in the region of Epirus and is a jewel in the Aegean crown. A mountainous place, this is a favorite winter vacation spot and its incredible natural beauty has made it a popular place for foreign visitors during the summers as well. Zagori comes with well-marked routes which pass through vibrant forests, stone bridges, streams, rivers, deep gorges, monasteries, and more than 45 villages. All of this spans hundreds of kilometers and so Zagori is really a hikers paradise. There are lots of activities for the adventurous hearts and the routes are used for the summer Zagori Mountain Running event, mountaineers take on the challenge to climb up the alpine Drakolimni Lake or to one of its peaks. The rivers of Zagori allow for plentiful options to engage in canoeing or rafting.
Don't miss: Zagori is for the nature lovers and for people who live life with thrill. There's everything from hiking to mountaineering and rafting to just straight up plunging into the waters which can be done.
Where to stay: Zagori has the best eco-lodge in the world called the Aristi Mountain Resort. There are also 4-star hotels like Villa Paroraria where you can stay in. But if you are looking for something which can fit a budget then Artemis Apartments, Hotel Gousias, and Tsironis Rooms will be the places to look at.
What to eat and where: Try the Astra Inn or the Beloit Restaurant for authentic Zagori food. Make sure to taste Zagori pies here. The food here is organic and authentic.
19. Kefalonia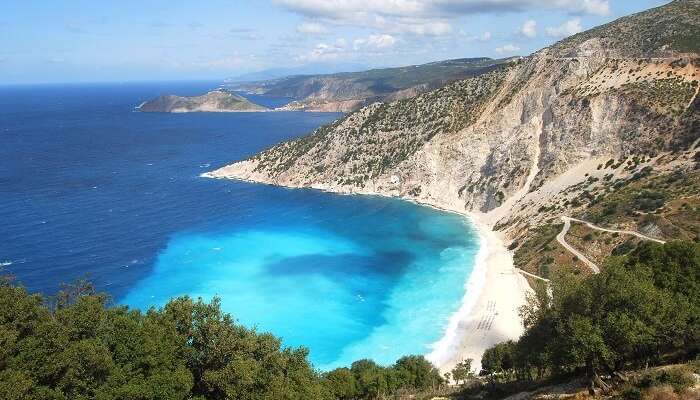 Image Source
It is the Ionian's largest island and is popular for its beautiful beaches and vibrant forests. This is one of the best places to get some wine tasting going on as local families over here have traditions of winemaking. But in some of these winemaking places, you will get to see more than that as some places host music events or film screenings during the summers as well.
Don't miss: The SeaΝema Open Air Film Festival, the wine tastings, the Sarastro Festival which is a yearly event organized for electronic and indie music fans.
Where to stay: You can stay at the Odyssey Hotel or the Thalassa Boutique Hotel. Both are 4-star. They come at a cost of INR 7,000. For something more within a budget, you can try out Oskars studio and apartments which is a down to earth hotel, of the Sierra Maria Studios which are holiday apartments. These start from INR 3,000.
What to eat and where: The Mikelatos Restaurant, Votsalo Restaurant, and Taverna Socrates are favorites. While there try out stuffed octopus, dolmadakia, fried mixed vegetables and small meatballs prepared with potatoes, courgettes, spices and such.
20. Cape Sounion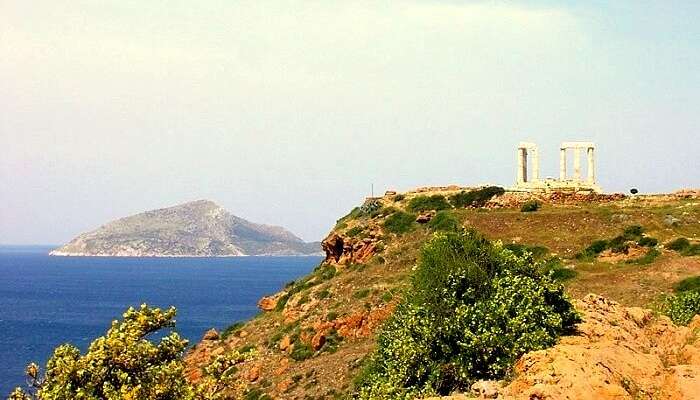 Famed for its temple of Poseidon, Cape Sounion is an eminent spot in Greece as it has ruins of the temple of the Greek Sea God, Poseidon. A spectacular site for those who would like to relive Homer's Odyssey, Cape Sounion is a perfect destination for all history buffs as well as Greek literature lovers.
Don't Miss: The Temple Of Athena
Where to stay: You can stay at the Cape Sounio Grecotel Exclusive Resort as it is quite popular among tourists.
Further Read: Journey To The Greek Isles: Why It's A Must On Every Indian's Bucket List Now!
Greece is full of historical wonders and has mythology which dates back thousands of years. Its prowess in literature is equally matched by the natural surrounds it and the food which has been born from it as a result. Greece offers everything which a traveler could ever want. Which one of these tourist places in Greece has made it to your special bucket list of the year 2019? Greece is a popular destination among honeymooners and explorers; there are many nice places to visit in Greece for honeymoon! If you want to explore this Mediterranean country, plan an exciting trip to Greece and have a unique holiday experience.
Frequently Asked Questions About Places To Visit In Greece
Q. Where is the most beautiful place in Greece?
A. Some of the most beautiful places to visit in Greece are Santorini, Corfu, Nafplio, Knossos, Rhodes, Meteora which one must add in the list and have a great time in this beautiful country.
Q. Is Greece worth visiting?
A. Greece is known for a vast range of attractions like the ancient ruins, whitewashed villages, sunny beaches and delicious cuisine. All these reasons makes Greece a place worth visiting country.
Q. Where should we go in Greece?
A. Athens, Lake Vouliagmeni, Thessaloniki, Milos Island, Paros. Karpathos Island are some of the best places to go in Greece.
Q. Where in Greece is not touristy?
A. Some of the non-touristy places in Greece are Donousa, Anafi, Kimolos, Iraklia and Folegandros which are the hidden gems of the country and are waiting to be discovered by mankind.
Q. Which is the best Greek island?
A. Santorini, Mykonos, Crete, Paros are some of the best Greek Islands which one must definitely visit during their vacation to this beautiful country.
Q. What to see in Greece in 7 days?
A. Athens, Mycenae, Palamidi, Mystras, Delphi are some of the best places to see in Greece when you're planning a vacation for 7 days.
Q. Which is the most beautiful island in Greece?
A. Santorini is one of the most beautiful in Greece which is known for its exotic islands and fine streets.
Q. What should one wear in Greece?
A. Make sure to carry your sunglasses and sunscreen lotion and alongside that also pack your tank tops, vests, shorts, mini-skirts and light dresses which are bright colorful shades reflecting the season.
Q. What part of Greece has the best beaches?
A. Mykonos in Greece has the best beaches which is followed by Crete, Lonian and Cyclades.
Looking To Book An International Holiday?
Book memorable holidays on TravelTriangle with 650+ verified travel agents for 65+ domestic and international destinations.
---
People Also Read:
Europe For Couples Trip To Europe In May 8 Days In Greece
Comments
comments