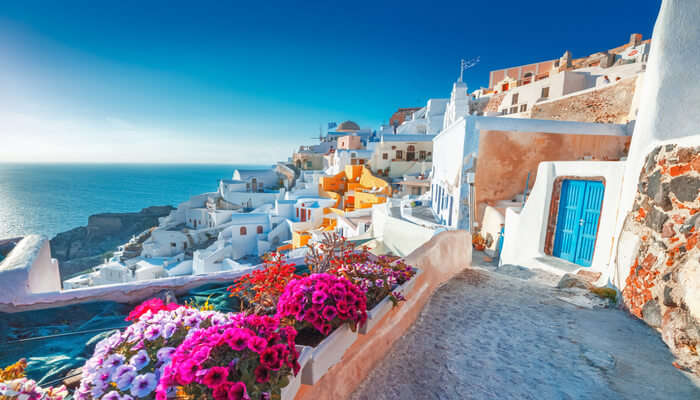 Greece is often counted as one of the best tourist places in the world. With all the interesting sightseeing options, Greece has a lot to offer to the visitors. Out of all the enchanting destinations in Greece, Santorini has a special place in everyone's heart. The island is located in the southeast region of Greece and is one of the most beautiful places to visit. Santorini is the ideal place for couples who are looking for the perfect getaway destination. Apart from being a favourite among the couples, Santorini also caters to the needs of other guests. Be it a group of friends or a family trip that you have planned to Santorini, the place will treat you best. Before you pack your bags for Santorini, you need to know about some of the best places to visit in Santorini and that is where we come in. To help you out, we have prepared a list of all the top and popular destinations in Santorini that can make your holiday a memorable one. Let's walk you through the different places you can visit in Santorini.
10 Best Places To Visit In Santorini
There are plenty of places to visit in Greece and Santorini is one destination that you cannot miss visiting. If you had to visit all the top destinations on the island, it will at least take you 20 days to get done. Since you cannot afford that long a holiday, we have shortlisted only the best of the places that are a must-visit. Here you go with the list.
1. Pyrgos
Pyrgos is one of the villages that is quite popular among visitors and is actually one of the top places to visit in Santorini. It is located in the center of the island and is very close to Fira. What makes this place interesting is the remnant of an old fortress that once stood in Pyrgos with great pride. The fortress was destroyed by an earthquake but you can still visit the ruins for a great experience. The atmosphere around the village is ideal for couples. During the Holy Trihari Celebration, you can enjoy the beautiful candlelight around the village. The celebration takes place just the day before Easter Sunday or on the night of Great Friday. If you are looking forward to having a great time with your partner or family then this place could be the perfect choice for you.
Location: Santorini Island, Greece
Best time to visit: February to June and October to December
7 Lavish Cruises In Santorini That Will Let You Fly Off The Volcanic Caldera
2. Fira
Santorini is named the most beautiful island in the world for a reason. Places like Fira is what makes the island special to the visitors. Fira happens to be one of the most interesting places to visit in Santorini. Located on the west coast, it is known as the administrative and capital of Santorini. Without paying a visit to this wonderful place your trip to Santorini Island is incomplete. You can find plenty of attractive places in Fira. For example, the two main museums to visit in Fira are Thera Archaeological Museum and Thera Prehistoric Museum. Those of you who want to dig deep into the history of the place can take this as your starting point. The good thing about the city is that it is accessible by a variety of public transportation including cable cars, buses, and taxis. But if you wish to explore the city to the fullest then walking is the best option.
Location: Aegean Sea, Santorini Island, Greece
Best time to visit: Late April and early November
3. Akrotiri
Akrotiri is famous for its Minoan civilization. The ruins of the civilization are still there and attract thousands of tourists all-round the year. Although Akrotiri doesn't have much to offer, it remains one of the best places to visit in Santorini for the travellers. The place has a unique charm about itself which draws you closer to it. The actual town in Akrotiri is made of mud and brick. It is well preserved for hundreds of years. The roof built over the town protects it from strong winds from causing any damage. Other than the ruins of the ancient civilization, there are two beaches in Akrotiri which include Vlichada and Red Beach. There are many places close to Akrotiri that are worth visiting.
Location: Thera 84700, Greece
Best time to visit: From 8 am to 8 pm all days of the week
10 Hotels in Greece That Are A Treat For The Senses!
4. Ammoudi
Ammoudi is a beautiful harbour in Santorini and one of the most popular tourist places to visit in Santorini. It is divided from Oia with 214 steps. This is the perfect place for all sea lovers because you will find plenty of fish and seafood in the area. This 19th-century harbor is mainly known for its traditional tavern, Dimitris. If you want something better or modern then you can visit any of the new restaurants located in Ammoudi. The restaurants in the area are popular for the delicious flavors and reasonable prices. If you have been planning for a candlelight dinner with your partner then this could be the best place to arrange for a date night. You can spend a lovely time over a delicious seafood menu and quality wine.
Location: Santorini Island, Greece
Best time to visit: Day or afternoon
5. Nea Kameni
If you are looking for interesting places to visit in Santorini then Nea Kameni is the place for you. One of the main reasons to visit the place is because it is located in the middle of three islands of the Caldera that witnessed the eruption of the volcano. Nea Kameni is mainly famous for the largest crater called, Daphne. Visiting this place is nothing less than a lifetime experience. Walking around the crater, capturing the areas around it and exploring the wide variety of rocks, there are so many things that make the place special. You can also dive in the warm waters and have a nice time out here. Visiting this place will surely awaken your senses. If you are in Santorini then visiting this magnificent place is worth it.
Location: Santorini Caldera, Greece
Best time to visit: Late spring, early summer or falls
12 Best Resorts In Greece That Make You Feel Like Royalty
6. Oia
When talking about the most popular places to visit in Santorini, we simply cannot forget to mention about Oia. The place is mainly popular for its beautiful sunsets that draws tourists from different corners of the world. Located 12 k up the coast of Fira on the northern region of Santorini, this is one of the must-visit places in the island. Crowded with white-washed houses and cozy streets, the place has a unique feel about itself. You can find a lot of chic hotels to enjoy your stay here. You will also find several interesting waterfront eateries where you can enjoy your meals. If you love seafood then this could be the perfect place to satisfy your taste buds. You can reach Oia by the local KTEL bus. If not, then you can walk down the trail along the cliffs that are located above the Caldera.
Location: Santorini Island, Greece
Best time to visit: Late April and early November
7. Caldera
Another one of the beautiful places to visit in Santorini is Caldera. This place is the result of a massive explosion that blew the center of the island. Calder is basically, a sea-filled volcanic crater that was formed some 3600 years ago. Although it is one of the top tourist spots, it remains to be the home of volcanic activities. Many operators and agencies offer a one-day tour to Caldera by boat. If you want to explore the place in the best way possible then you should book any of the tours offered by the agencies operating in the area. These tours also include bathing in hot springs and lunch on Thirassia. You can enjoy some of the stunning views of the island across the water. If you are travelling with your family, then this could be one of the most interesting tours for you to try.
Location: Southern Aegean Sea
Best time to visit: Late April and Early November
15 Santorini Hotels With Terrific Views And Unmatched Hospitality
8. Red Beach
Located close to Akrotiri site, Red Beach is one of the most stunning places in Santorini. The view of the spectacular cliff wall is something you haven't seen before. You can easily access the beach along the path from the Akrotiri site. You can also take a bus or drive from Fir to reach the beach. But if you want something better then you should take the water route by boat from Akrotiri, Perris and Kamari ports. The beach remains crowded during the summertime. So if you are planning to visit the place in summer make sure that you book yourself a prime spot to enjoy the amazing views of the red cliff against the blue waters. However, you need to be careful while hanging around this place as it is prone to landslides. This is why many of the sections on the beach have been cut off from public access. So, if you are wondering about the activities to enjoy in Santorini, Red beach is the perfect spot where you can indulge in water sports or just relax by the beach.
Location: Greece
Best time to visit: During the summer months
9. Therasia
Therasia or Thirasía is a majestic island in the volcanic island group of Santorini in the Greek Cyclades. Lying in the northwest of Nea Kameni, just next to Santorini, this small island is unperturbed by modern lifestyle as well as urbanity and lets you witness flawless natural landscapes. The captivating geological formations and black beach add great charm to this place. Notably, the island is only 9 sq. km in size and houses only 319 permanent inhabitants. So, if you want to explore some unexplored gems while sightseeing in Santorini, this is the place to be. The distance from Santorini to Therasia is just 11 km and you can reach here in just 1.5 hours.
Location: NA
Best time to visit: June to December
5 Indian Restaurants In Santorini To Savor Indian Cuisines In This Greek Paradise
10. Ancient Thira
Lying on the east of Prophet Elias Mountain and separating the coastal villages of Perissa and Kamari, Ancient Thera lets you witness the intriguing ruins of Hellenistic temples and foundations of Roman and early-Byzantine buildings. While gazing through ruins, you will witness old administrative buildings, religious spots, a gym, and a theatre as well. The place dats back to the 9th century BC. Moreover, you can also spot a great collection of clay figurines, statues, pots, statues, and artefacts at the Archaeological Museum of Fira. So, if you are wondering about historical places to see in Santorini, Ancient Thera is your ultimate spot.
Location: Santorini 847 00, Greece
Best time to visit: February to June and October to December
Well, now you know about some of the happening and popular places in Santorini. This will help you to plan your holidays accordingly. A place like Santorini needs to be enjoyed and explored thoroughly. To get the most out of the place, you should plan for a longer holiday so that you can cover as many places as possible. Whether traveling with friends or family make sure that you make your trip a memorable one. With this list of places, your holiday plan in Greece seems sorted.
For our editorial codes of conduct and copyright disclaimer please click here. 
Frequently Asked Questions About Places To Visit In Santorini
What are the top attractions to visit in Santorini?
If you wish to visit the best places in Santorini, make sure to check out places like Pyrgos, Fira, Akrotiri, Ammoudi, Nea Kameni, Oia, Caldera, and Red Beach.
What is Santorini known for?
Santorini is an exotic honeymoon destination near Greece in the Aegean sea, which is renowned for the luxurious stepped hotels with amazing views of the sea, comprising various water adventures that you can enjoy with your loved ones.
Can I visit Santorini during the current Covid situation?
Yes, Santorini is one of the safest places to visit during the current Covid situation. However, you need to follow all the covid protocols like wearing a mask when in public, maintaining required social distance, and sanitizing hands at certain intervals. Also, make sure to check the Covid update of the destination you're planning to visit.
What are the best things to do in Santorini with your family?
Watching a movie at the Open Air Cinema Kamari, taking a helicopter tour, visiting the Kamari Beach, indulging in various watersports, and going on a food tour are some of the best things to do in Santorini with family.
Is Red Beach in Santorini safe to visit?
Red Beach is one of the most stunning tourist spots in Santorini. It is mainly famous for its red cliffs and aquamarine waters. Since the place is prone to landslides, you need to be careful while visiting here. You should not access the areas that are prohibited to visit. Other than this Red beach is completely safe to visit.
What is the best time to visit Santorini?
If you are planning a trip to Santorini then the best time would be late April and early November when the weather is warm and pleasing. This will allow you to enjoy water activities and nightlife better in Santorini.
How to reach Santorini?
To reach Santorini, you need to board a flight to Athens from Western Europe. Next, you need to get ferry tickets from the Athens port. Now take a cab ride to Piraeus ferry port. You can now enjoy your ferry ride to Santorini. It takes around 5 hours to reach Santorini from Athens if you opt for a high-speed ferry. But for a conventional ferry, it may take up to 8 hours or so.
Are there any luxurious hotels to stay in Santorini?
Santorini is one of the best places in Greece and therefore, you will find plenty of luxurious hotels here. Some of them are Santorini Royal Suites, Residence Suits, and Loizos Stylish Residences.
---
Looking To Book An International Holiday?
---
People Also Read
Places To Visit In Norway Places To Visit In Switzerland Places To Visit In Denmark